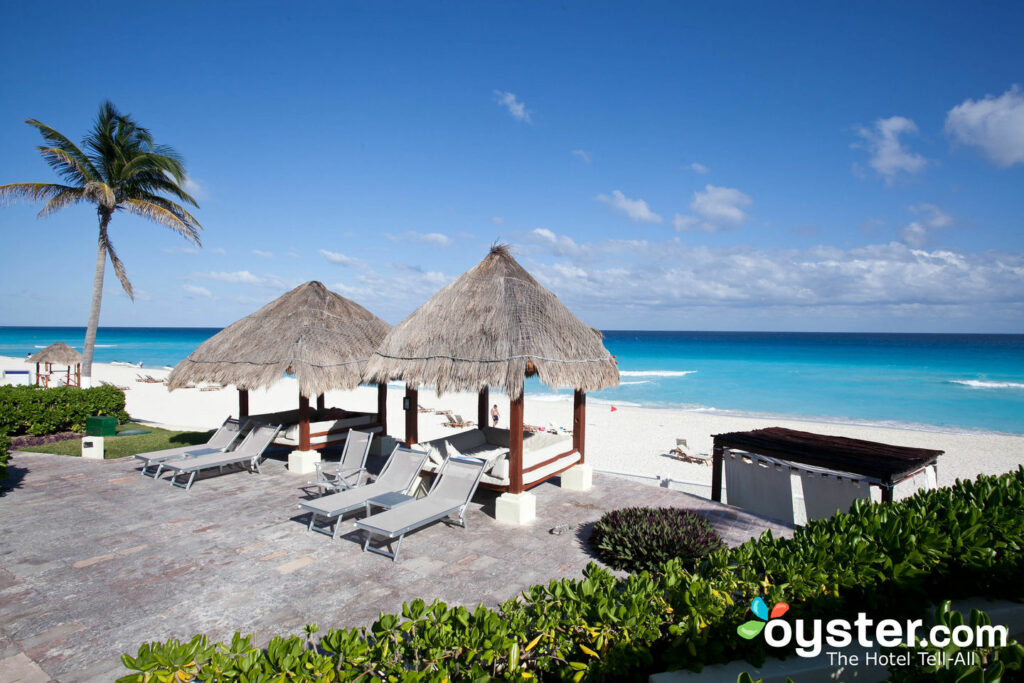 Relax on the beach or book cultural activities? All-inclusive resort or boutique hotel? The whole point of a vacation in Mexico is to decompress, but with so many choices and possible unforeseen events, you might find yourself more stressed than ever. The good news: planning can help make your getaway go smoothly, whether it's your first time traveling south of the border or you're a seasoned jet-setter.
To help, we've consulted several travel experts and asked them to share their top tips on how to have a stress-free vacation in Mexico. For starters, Victoria Schennum, Latin America specialist at Audley Travel, says, "Don't try to pack too much into a short trip. With the cities, pyramids, and wildlife in Mexico, there's a lot to do and it's best not to rush through it. Instead, really enjoy your time in the places you want to see most." Here are 10 more essential tips.
1. Exchange your dollars before you go.
"Exchange money through your bank ahead of the trip," says Eric Espino, founder of . Caught short? Withdraw from an ATM, ideally with a fee-free card. "This will ensure you get the best market rate and don't have to worry about showing a lot of cash in public when you exchange at a hotel desk or exchange house."
2. Learn where the quality medical care is.
https://www.instagram.com/p/BBP8T-oLHbb/
"When traveling to Mexico it's a good idea to know where the closest medical facilities are located and the best way to access them in case of an emergency. Hospitals and doctors in Mexico do not function the same way as in America," says Randy Bonds, owner of Travel Yucatan. "Travelers can rest assured that typical medical care is a fraction of the cost [than the U.S.], and most of the time, very affordable. A large portion of medical professionals throughout Mexico were trained in America and many are talented enough to handle emergency needs. I've had friends and colleagues who have received a variety of medical care throughout Mexico. Not being able to find quality medical care in popular travel destinations in Mexico should not be a major concern."
However, travel insurance might be a way to alleviate any remaining stress for some. "Travelers that have special medical needs or concerns should consider purchasing specific medical insurance that will cover their time in Mexico," he says.
3. Do thorough research before you book.
"Happiness is all relative — hotel food, beaches, rooms, amenities, and activities can vary significantly per hotel and destination," says Lisa Wright, a Playa del Carmen . "Your idea of an awesome breakfast spread might be very different from someone else's, so preparing is half the battle. Read reviews, check local blogs for insight, and explore the destination before you arrive, so you can take full advantage of it once there." Luckily, we know a really great site where you can do your due diligence.
4. Reach out to local experts.
Take your pre-trip research a step further by reaching out to local experts for guidance. This can be anyone from a favorite travel blogger who's based there to a bartender at a favorite cocktail joint you discover while visiting. "Not only do they know the greatest and safest destinations, but they also have insider knowledge of the lesser-known beaches, the best Mayan ruins, and where to find an unmissable margarita or two," says Daisy Cropper, a digital content specialist at Insight Guides.
5. Go all-inclusive.
If you want a stress-free vacation, opt for staying at an an all-inclusive property. The Royal Hideaway Playacar, for example, is just a short drive from shopping along Playa's Fifth Avenue, but still secluded enough to have a peaceful vacation. Plus, children under 13 are not allowed in the resort, so those looking to spend a quiet vacation will probably find this to be more relaxing than many other hotels in Riviera Maya. In addition to being adults only, the resort features a beautiful stretch of sand plus six pools. "Once you arrive at an all-inclusive, there's nothing left to do except enjoy the sun and fun stress-free," says Liz Dahl, president at Boomer Travel Patrol. Foodies will enjoy six excellent restaurants, including a chef's table. Other on-site perks include a full-service spa and free non-motorized water sports. Bonus: "At Royal Hideaway Playacar, they even offer a master tequila tasting class, where guests can sample small-batch bottles they can't find anywhere else in the world," says Whitt Kelly, who represents the resort.
Another pro tip: If you're looking to get off the resort, choose an all-inclusive property that has partnerships with local tour companies (think El Cid properties), says Julio Birrueta, director of the Mazatlan Tourism Board. "They work directly with Pronatours, allowing guests to arrange seamless airport pick-up and access to the most popular local tours from the convenience of their hotel lobby," he says.
Check out our full list of best all-inclusive resorts in Mexico.
6. Time it right.
"Ditch the beach vacations in Mexico during December and January, especially over the holiday. It's their high season and you could go to the same beach for quite a bit less just by waiting a few weeks," says Lindsey Epperly, a luxury travel consultant and owner of Epperly Travel. Still keen on going then? "Take a cultural tour of the internal side of Mexico. San Miguel de Allende is just a short jaunt from Mexico City and offers some of the most unique and approachable culture in the entire country," says Epperly.
7. Sign up for SENTRI or Global Entry to speed up wait times.
https://www.instagram.com/p/BHNDJa7jVNN
Global Entry and SENTRI are two U.S. Customs and Border Protection programs that help alleviate long waits for qualified travelers. You'll want to apply for these well before your vacation, but a little extra work could go a long way when it comes to stressful airport lines.
Those heading to Mexico by car should check out SENTRI, which was originally developed for U.S.-Mexico border crossings, says Keith Shadle of EasySentri. It helps you pass through immigration quicker on the way back. And although it involves an application and interview process, Shadle says, "it's well worth it from the time-saving standpoint. I use it weekly and it saves me hours at the border."
For those flying out of Mexico, Global Entry airport kiosks speed up entry into the country. Even better, it works with all international flights back to the U.S. Essentially, "pre-approved, low-risk" travelers get to skip the immigration queue, register their entrance at the kiosk, and head straight to baggage claim.
8. Be smart about taxis.
Taxi drivers in foreign countries can sometimes scam tourists. Luckily, if you know what to look out for, Mexico makes it easy to grab a cab. "These days, most tourist destinations in Mexico have set fares that are posted near taxi stands," says Tanner Callais, the founder of Cruzely. "Still, taxi drivers can try to take advantage. Before you hop in, confirm the price of the ride and make sure that the rate is for multiple people, if you're traveling with others."
9. Pack some preventative care.
https://www.instagram.com/p/BMrXs9JAWzc/
"All-inclusive indulgence, exotic fruits, and too much sun and tequila can cause your tummy to rumble and have you bolting for the closest toilet," says Wright. "Activated charcoal will calm your stomach and turn liquids into solids. This stuff is a lifesaver!" Another must-pack: Pepto-Bismol. "Drink as a precautionary measure. And just like sticking to bottled water, the cost is minimal compared to what it could be if you get sick," says Espino.
10. Be aware of unexpected costs when renting a car.
Planning to venture outside your resort? Bonds recommends that travelers double check if their insurance policy covers car rentals in Mexico. If not, the actual cost of renting a car might be far more than what you signed up for. Also, keep in mind that outside of touristy areas, the quality of road signs and conditions might be a little subpar. This is not always the case, especially in places like Riviera Maya. "The government considers this area very important for tourism income, so they have done a great job in building a better road system for visitors," says Bonds.
Keep an eye out for toll roads, too. "Even though there are always free roads, they're often in such bad condition that it's highly recommended to avoid them by taking toll roads," says Bonds. "These toll roads can be much more expensive than what a driver would experience in America. Some can cost more than $20 USD, so being aware of this ahead of time will help avoid any surprises."
Related Stories:
All products are independently selected by our writers and editors. If you buy something through our links, Oyster may earn an affiliate commission.