You don't have to be in your golden years to know about the golden age of flying. Those were the good ol' days: dressing to the nines, cocktailing with fellow passengers, lavish hospitality -- you know, the stories your grandparents tell you. Today we're grateful to grab a bag of Doritos on JetBlue or get handed a bag of biscuits with our coffee on Delta.
Flying Economy on domestic airlines rarely impresses Americans these days -- hence those McDonald's-toting, pajama-wearing passengers. But many international airlines are still doing it right, and, frankly, cater to their own domestic passengers much better than our airlines do here in the U.S. Much progress has been made over recent years with new systems for Wi-Fi, in-flight entertainment, and chef-designed meals -- giving fliers much greater choice and variety to occupy their time during a flight, especially on long distance routes. Itching to book that flight? Here are our 10 favorite airlines for flying the distance.
1. Asiana Airlines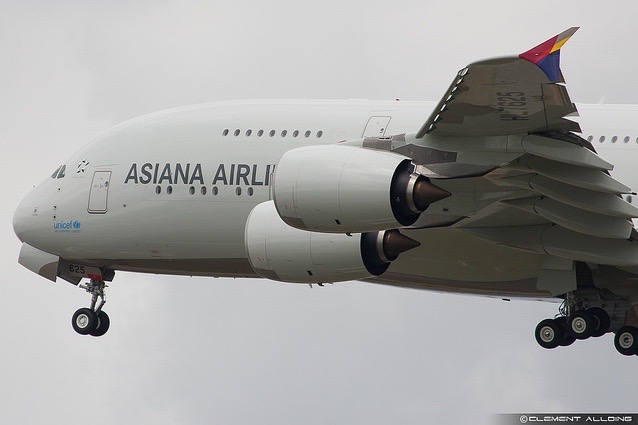 You have to love an airline that refers to its Economy Class as "Travel Class." South Korea's Asiana Airlines has a seat pitch at 33 inches, and free In-Flight Entertainment with individual screens loaded with the latest movies and shows to keep you entertained. Meal service includes the Korean mainstay Bibimbap, and more recently the airline implemented the award-winning "Nutritious Ssambap" — a traditional Korean meal loaded with fresh ssam vegetables and nuts. Meanwhile, free high-quality wines in Economy Class are selected by a team of sommeliers. All planes provide in-seat AC power, and basic amenity kits (including slippers) are provided to all passengers on long-haul routes.
2. Singapore Airlines
Like the perfectionist city that it calls home, Singapore Airlines is known for outstanding service, generous sized meals, self-serve snack bars, padded seats with footrests and optional lumbar support, and large warm blankets. Passengers have in-seat power or can use the 10.6-inch LCD personal screens to browse the over 1,000 entertainment options (movies, tv programs, music, games and apps) on KrisWorld — the airline's in-flight entertainment system. Economy class menus include a blend of Asian and international dishes chosen to reflect the cultural flavors of the airline's destinations. In fact, there's a team of eight chefs — including Alfred Portale of NYC's Gotham — that make up the airline's International Culinary Panel, which is constantly creating new dishes.
3. Virgin Atlantic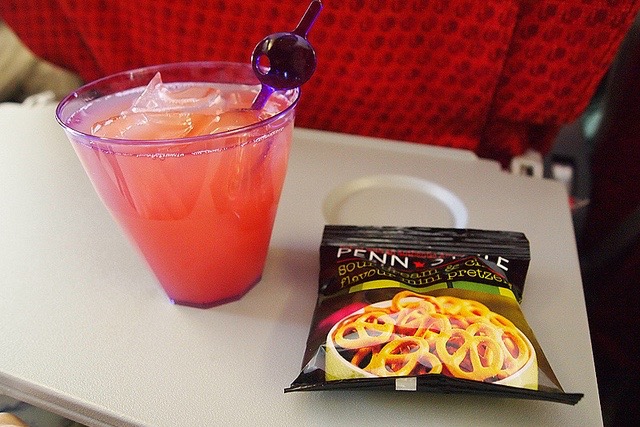 While many airlines choose a traditional vibe, Sir Richard Branson's Virgin Atlantic stands out for the hip and contemporary in-flight environment — even in economy class. Everyone receives a bottle of water upon settling in as they peruse the amenity kit and K-iD backpacks for little ones. The personal seat-back TV is full of curated entertainment options, and the smartly-dressed British crew is quick to offer free pre-dinner cocktails. For the main event, there's a tasty three-course meal including a cold starter, choice of three hot main dishes, pudding, cheese and biscuits, and fresh bread, along with either red or white wine. Then its finished off with tea, coffee, or hot chocolate. Depending on the flight, the crew will offer afternoon tea, breakfast, or another light meal later on before landing.
4. Cathay Pacific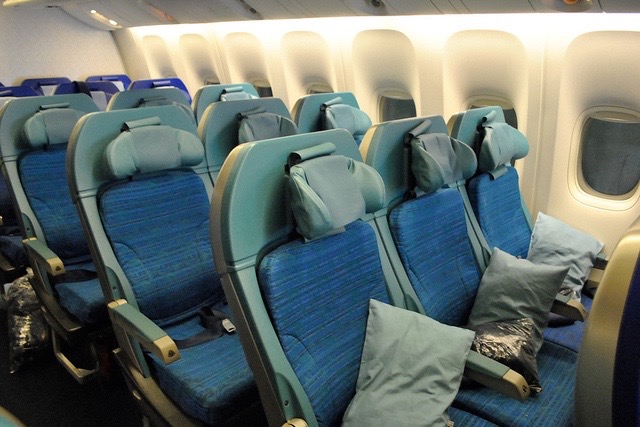 Comfort is key for Hong Kong-based Cathay, and economy seats for long-haul flights are the LEAP® Live Back™ upholstered seats, each with an adjustable headrest. Each aircraft includes in-seat power, and on-demand entertainment from the airline's award-winning StudioCX (provided in 10 languages) with a whopping 100 movies, 500 TV shows, 888 music CDs, 22 radio channels, and over 70 games. Or you can connect your iPod, iPhone, or iPad to stream your own music and movies to the screen. Storage options at each seat help keep everyone organized with amenity pockets, hooks to hang coats or sweaters, and cup holders without lowering tray tables. Meal service offers free cocktails and regional main dishes, while First Class passengers traveling to London, Paris, New York, Toyko and Milan receive à la carte menus designed with partner Mandarin Oriental Hotel Group.
5. Emirates
Most of us have heard about the Dubai-based airline's luxurious first-class cabin, but the economy class cabins provide a good deal of awesome perks as well, starting with the 100 pounds of luggage allowance at check-in (most airlines allow 50 pounds). Seats are equipped with power outlets, ambient lighting, and the award-winning in-flight entertainment system called Ice with 2,000 channels of programming in multiple languages. Recently, Emirates invested $20 million to equip its entire fleet with Wi-Fi. On most fleets, flyers can get online for free for the first 10 MBs of data — enough for email, social media, and light surfing, and for the next 600 MBs of data, fliers only have to pay a $1 fee. Gourmet meals are served with free wines, beers, spirits, and other hot and cold beverages, while kids get Fly With Me Animals and Lonely Planet Kids Packs.
6. Thai Airways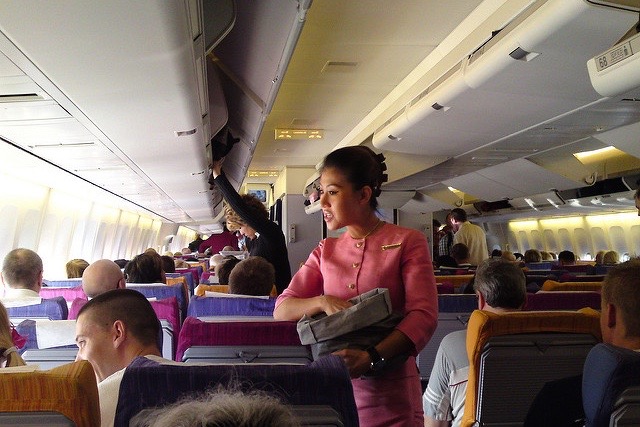 Since the early days, Thai Airways has set the bar with elegant cabins and gracious hospitality. In fact, their economy seats are amongst the best in the industry starting with some of the most generous legroom. Passengers have access to an extensive media library and in-flight entertainment system with multi-lingual movies, TV programs, news, travel and music, or they can learn the basics of a new language in-flight and even practice meditation with the new AVOD system. In-flight cuisine includes meals inspired by the flavors of Thailand with tropical fruits and fresh produce from local farms and artisanal crops in the northern hill country along with free wines, spirits, juices, and hot and cold beverages. Economy Class toilets are supplied with fragrant toilet water, while eye shades and ear plugs are also available on request.
7. Oman Air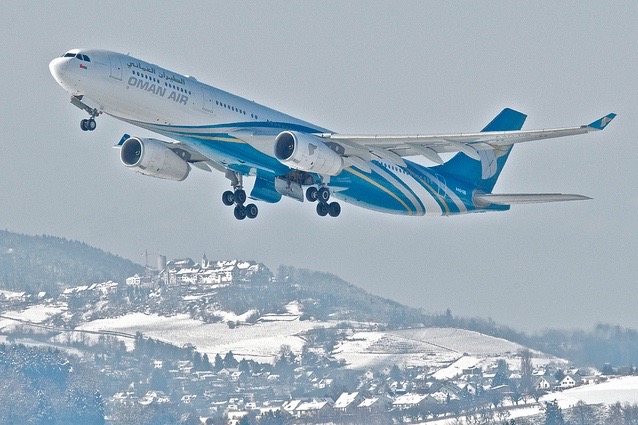 Each of Oman Air's well-designed economy seats boasts a padded cover, one-piece composite seat back structure, and raisable armrest on the aisle side, not to mention a 34-inch pitch. Economy class passengers also have access to a PC power port and Ethernet plug, though it is shared with the neighbor. Friendly crew members start the dining experience by offering hot and cold towels followed by a choice between international and Arabic dishes, along with free hot and cold beverages. The best part: you can connect to Wi-Fi on smart phones for low rates starting at $5 ($15 for laptops).
8. Qantas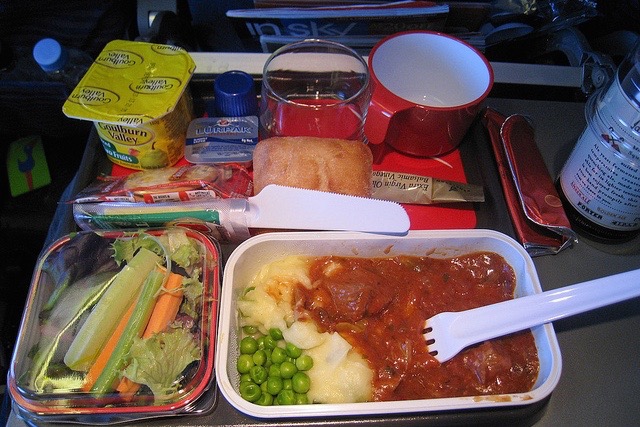 Australia's flag carrier offers a fun and authentic Aussie travel experience starting with the free bespoke Bickfords welcome drink after take-off, as well as snacks like Maltesers throughout the flight. For International Economy, there's the new dining experience, which means no more trays and quicker service, with meals being delivered and cleared faster. What's more, customers in Australia can choose their meal (lamb koftas, honey chicken salad, yellow curry) up to 12 hours prior to departure by using the Qantas app. In-flight entertainment includes 1,500 options on A380 and B747 aircrafts.
9. Etihad
Etihad provides a solid economy experience, beginning with 100 pounds of free luggage. Once seated, passengers can check out the full-sized fleece blanket and amenity kit, complete with a reversible "Do not disturb/Wake me for meals" eye mask and earplugs. Etihad's E-BOX entertainment system provides over 750 hours of on-demand programming viewable on screens that are at least 10.6 inches wide, or watch TV on one of several channels, including one devoted to sports. Passengers have three meal options (one vegetarian and one inspired by the flight's destination) and a great menu of beverages and snacks served from the cafe menu, not to mention free international beers and wines.
10. Air New Zealand
Known for outstanding service, Air New Zealand likes to say that the trip from Los Angeles to Auckland is more enjoyable than New York City to Los Angeles — and they might be right (even though it's more than twice as long). All planes include on-demand entertainment and Kiwi-inspired cuisine — fruit salad and scones with jam and cream for an afternoon tea snack, anyone? — accompanied by free New Zealand wines. If flying on a 787 or 777-300, passengers have the ability to order food and drinks directly from the seat and can reserve something called the Economy Skycouch, a set of three seats with leg rests that swing up to create a couch/bed in the sky for families or couples.
Related Links:
All products are independently selected by our writers and editors. If you buy something through our links, Oyster may earn an affiliate commission.