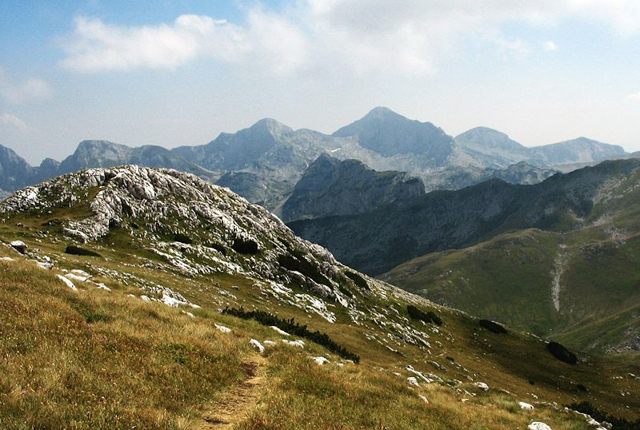 In an increasingly connected world, where speed is at a premium, walking is probably the ultimate slow travel experience. What better way to get in touch with nature, soak in breathtaking scenery, and create a memorable experience than by embarking on a long-distance hike? In the past three years, a number of long-distance trails have opened up in different corners of the world, offering a variety of landscapes for avid hikers to explore. Here are 10 recently opened trails that are sure to provide an epic experience for adventure seekers.
1. Old Ghost Road, New Zealand
https://www.instagram.com/p/BbLBjVpni_H/
The Old Ghost Road is a long-forgotten gold miners' road in the northwestern tip of New Zealand's South Island. It passes through four ghost towns along the way, hence the name. Built in the 1870s, the 53-mile-long trail was revived in 2015 as a hiking and mountain biking trail and is New Zealand's longest continuous single track. It starts off at a low elevation at Lyell Historic Reserve, a former miners' settlement, and continues north, passing through native forestland, green valleys, river gorges, and up steep peaks. Because of the challenging climbs and narrow winding paths, only experienced mountain bikers should attempt the trail on two wheels.
2. Via Dinarica, Balkans
Starting in the mountains of northern Albania, the Via Dinarica continues in a northwestern direction through Montenegro, Bosnia and Herzegovina, and Croatia before ending where the Dinaric Alps begin in Slovenia. This 783-mile-long trail is split up into three color-coded sections. The White Trail was completed in 2016 and is the most demanding as it scales the highest peaks of the Dinaric Alps. The Blue Trail is still under development and is less challenging due to lower altitudes, but still rewards folks with sweeping views of the Adriatic Sea. The Green Trail is made up of mostly forest paths winding through the lower mountains of the Dinaric Alps. Of the three, this one is ideal for cyclists, thanks to its well-maintained bike trails. Long-distance walkers can camp at sites located along the trail or spend the night in one of the mountain huts or farm stays.
3. Chalkup21, United Kingdom
Opened in September 2017, Chalkup21 is one of the United Kingdom's newest walking trails. It combines recreation with art appreciation. The coastal path runs for 17 miles from Deal to Capel-le-Ferne near Folkestone, passing above Dover's famous white chalk cliffs and through seaside villages like St. Margaret's Bay and Kingsdown. Designed for walkers, cyclists, and cultural vultures, the trail features public artworks and sculptures, as well as examples of 21st century contemporary architecture, like the White Cliffs Visitor Centre whose grass roof and wooden walls blend seamlessly into the natural environment.
4. Masar Ibrahim al-Khalil, Palestine
Completed in 2017, the Masar Ibrahim al-Khalil trail starts in the Palestinian village of Rummanah, near the city of Jenin, before continuing for 205 miles south to Beit Mirsim near Hebron. This route is part of the 670-mile Abraham Path, which extends from Turkey through Syria, Jordan, Palestine, and Israel. On foot, the journey takes 21 days and passes archaeological sites, Bedouin villages, arid desert landscapes, and verdant cultivated fields and olive groves. There are plenty of opportunities to interact with rural communities at the family homestays and guesthouses dotted along the way. Another accommodation option is to stay in Bedouin-style tents.
5. Kangaroo Island Wilderness Trail, Australia
Nature lovers searching for a rugged trail in a remote location should look no further than the Kangaroo Island Wilderness Trail, inaugurated in late 2016. Kangaroo Island can be reached via a 30-minute flight from the city of Adelaide, and at least five days are needed to complete the whole trail. The journey starts at Rocky River in Flinders Chase National Park, taking in coastal landscapes and passing iconic landmarks like the eroded granite boulders of Remarkable Rocks and Admirals Arch, a natural rock arch. Another impressive natural highlight awaits at the end of the trail: Kelly Hill Conservation Park and its incredible underground network of caves, plus 52 plant and animal species. Yes, kangaroos do roam here but so do wallabies, koalas, possums, platypus, fur seals, and dolphins. Hikers need to register online before embarking on the 38-mile trip. There are designated campsites scattered along the trail as well as private accommodation options.
6. Sinai Trail, Egypt
Egypt's first long-distance hiking trail was opened in late 2015. Covering 125 miles, the Sinai Trail commences in the coastal town of Nuweiba on the Gulf of Aqaba and then winds its way up to the highlands of Saint Catherine and its monastery, located at the foot of Mount Sinai. This is a 12-day journey that leads hikers through arid desert landscapes, up rocky peaks, across sandy dunes, and over verdant valleys. But the experience is not all about the stunning physical geography; the trail also passes through territories inhabited by three different tribes. The canyons that snake toward the Red Sea are the home to the Tarabin tribe, while the green oases found in the middle of the desert are where the Muzeina tribespeople live. Finally, the mountains are where the Jebeleya tribe can be found.
7. Transcaucasian Trail, Georgia and Armenia
Still under development, the Transcaucasian Trail will be the only long-distance hiking trail that goes through the Caucasus Mountains once it's complete. Work began in 2015 to create a trail through Georgia and Armenia, but plans are underway for it to eventually extend to Azerbaijan. When this ambitious project does achieve its goal, the route will cover 1,864 miles through the Greater and Lesser Caucasus Mountains and connect two dozen national parks. The two sections ready to be explored are a six-day walking trip in Armenia's Dilijan National Park and a 10-day long-distance hike through upper Svaneti, a region in northwest Georgia made up of medieval villages and stunning mountain vistas.
8. The Great Trail, Canada
The world's longest trail officially opened in 2017 for Canada's 150th anniversary. Stretching across the entire country, The Great Trail is a network of more than 500 trails covering almost 15,000 miles — 14,912 to be exact. Also called the Trans Canada Trail (or Sentier Transcanadien in French), it's a multi-use trail that can be followed on foot, by bike, or even on horseback, skis, or a snowmobile. There are also several stretches made up of waterways that can be navigated by canoe or kayak. There's no better way to explore Canada's diverse landscape, but to complete this entire mega-trail you would need two years!
9. Jordan Trail, Jordan
Unveiled in 2017, the Jordan Trail crosses the entire country and takes hikers through a variety of landscapes, terrains, and climates. The entire 403-mile journey would take about 36 days to complete, but the trail is broken up into eight stages crossing through eight different regions — perfect for those looking for a shorter trek. The route follows the Great Rift Valley (which runs from northern Syria to central Mozambique) and covers a variety of different terrains, from flat and easily navigable surfaces to narrow paths winding through high elevations. Hikers will need to do some rock scrambling at certain sections, but the trail is not so challenging that it requires the use of ropes or special equipment. However, a moderate level of fitness is required. Accommodation options range from family stays to campsites to hotels to eco-lodges. Highlights along the trail include the Dead Sea canyons (called "wadis") — Wadi Mujib is arguably the most spectacular — the Dana Biosphere Reserve and its many diverse species, the ancient city of Karak and its castle, and the sublime old city of Petra (Jordan's best-known attraction).
10. Path of Ios, Greece
Greek island inhabitants had traveled on foot for centuries, following the rocky paths that connected one settlement to the other. On the hilly island of Ios, located in the South Aegean Sea, the municipality recently took the initiative to clear and restore these age-old paths, opening them up to walkers again in 2017. Walkers can choose from five routes that cover different regions and aspects of the island's natural topography. The first begins in Hora, a traditional Greek village with typical whitewashed facades, and follows the cobblestone paths past hilltop churches and chapels, olive groves, vineyards, and orchards. Along the second route, ramblers can enjoy views over Mylopotas Bay, the Odysseas Elytis Theatre built entirely of stone, and traditional windmills that are ubiquitous across the Greek islands. The third route will be of interest to history and archeology lovers. In Ellinika, you'll find the Church of Panagia and the archaeological site of Skarkos, where the earliest traces of human presence on the island were found. The fourth and fifth routes lead to two of the island's many beaches — one stretches from Hora to Kolitsani Beach, while the other connects the port to Valmas Beach.
You'll Also Like:
All products are independently selected by our writers and editors. If you buy something through our links, Oyster may earn an affiliate commission.