This weekend, New York City will truly be the "City That Never Sleeps" as throngs of locals and visitors alike rock out at the fourth annual Governor's Ball. This three day music fest features headliners Outkast, Jack White, and Vampire Weekend, as well as dozens of others from across the musical spectrum. And next weekend, a dusty stretch of Tennessee will see thousands of people camp out in the name of all that is rock 'n roll at Bonaroo, where Mumford & Sons, Passion Pit, Paul McCartney, and Macklemore & Ryan Lewis lead a stellar line-up. It may be too late to book your tickets to either of these extravaganzas (of course, anything's possible if you're willing to pay ten times the original price on StubHub), but that doesn't mean you have to kiss your quest for the perfect summer music fest goodbye. With June's arrival comes a slew of stages across the United States that are set to get you dancing well into the summer nights ahead. Featuring everything from bluegrass to dupstep, these ten summer music fests are not to be missed. And true to form, we'll tell you where to stay for each too.
1. Electric Daisy Carnival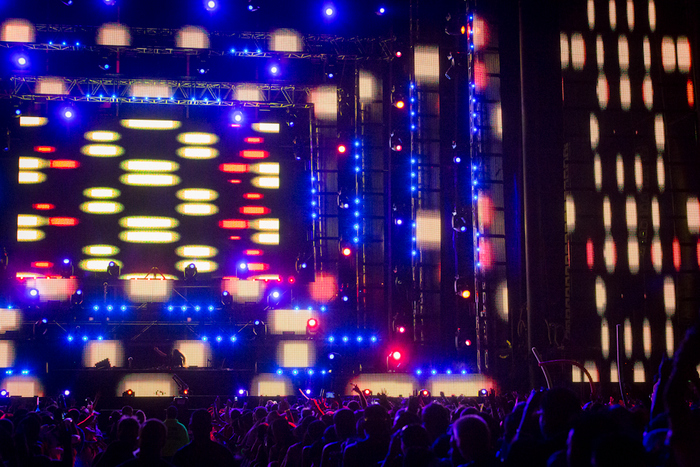 Photo Credit: Keith Hamm, Flickr
Taking place in Las Vegas from June 20-22, EDC is an electronic music-lover's (trippy) dream. Essentially one large rave replete with dubstep beats and neon lights, EDC attracts over 300,000 to The Strip for a chance to hear major DJs, such as Above & Beyond, Avicii, Martin Garrix, and Eric Prydz, spin into the wee hours.
Stay: EDC takes place about a half hour away from The Strip, at the Las Vegas Motor Speedway. But unlike at other festivals, revelers are not allowed to park on premises, and the Nevadan heat forces many to find A/C elsewhere. Thankfully, Vegas has plenty of hotel options at hand. The Palms, known for its crazy parties and celebrity stopovers, is an apt choice for festival-goers.
2. Vans Warped Tour
Photo Credit: Rachel Fishman, Flickr.
It's the 20th anniversary of this multi-city music fest, which means even bigger names and more impressive sets than years past. Taking place from April to August across the United States, this is one festival that just about anyone can find a way to attend before the summer is out. The close-out performance will take place August 3 in Denver. Anticipated performers include The Devil Wears Prada, Mayday Parade, and Beartooth.
An hour outside of Denver, the Arise Music Festival will take place in Loveland, CO in August. Beats Antique and Galactic are two of the headliners, but the fest also features yoga intensives, art installations, interactive workshops, and a documentary film festival.
Stay: If you're going to be in Denver for the last performance, the Hotel Monaco is one of the city's best options. Its bright, quirky decor, free nightly wine hour, and open-arms pet policy are sure to win over visitors. And, after a long day of jamming, relaxing at Denver's best day spa can't be a bad idea, either.
3. Lollapalooza
Photo Credit: Eyton Z, Flickr.
The lineup for Lolla 2014 is absurd — in a fantastic way. Headliners of the three-day festival include Eminem, Outkast, the Kings of Leon, Arctic Monkeys, Skrillex, Calvin Harris, Lorde, The Avett Brothers, Childish Gambino… the list goes on for a long while. Taking place in the Windy City from Aug 1 to 3, Lollapalooza also shows off Chicago's amazing food scene, with a farmer's market on-site. It even encourages parents to bring the kiddies along to Kidzapalooza. You gotta get them started early.
Also in Chicago, the Pitchfork Festival will call Union Square home in July. Headliners include Beck, Neutral Milk Hotel, and Kendrick Lamar.
Stay: For music lovers with a penchant for kitsch, you can do little better in Chicago than the Hard Rock Hotel. Housed in the Carbide & Carbon building — a Chicago landmark — the Hard Rock is sophisticated, stylish, and fun, with some original art deco embellishments on the floor and, of course, the rock-n-roll paraphernalia.
4. TomorrowWorld
Photo Credit: MIXTRIBE, Flickr.
An offshoot of the widely popular Belgium festival, TomorrowLand, this summer fest brings electronic beats to the American South. Festival planners specifically chose the location — in the Chattahoochee Hills, about a half hour from Atlanta — for its resemblance to the Belgium countryside. The lineup is impressive, with headliners including Avicii, Bass Nectar, Diplo, and Zedd.
Stay: Most visitors choose to camp on-site for the three day weekend, but commuting isn't impossible. The design-focused, chic W Atlanta – Buckhead offers a younger, funkier alternative to upscale hotels in Atlanta. This hotel is fun and lively — especially at the rooftop whiskey bar.
5. Essence Festival
Photo Credit: David Steinberg, The Wire.
An R&B festival in NOLA headlined by Nas over July 4th weekend? Yes, please. Around since 1995, this year's fest will also feature K. Michelle, Trey Songz, and Jazmine Sullivan on stage at the Superdome. In addition to the concert, the festival will include speakers and events celebrating African American heritage and achievements.
Stay: For a classic New Orleans hotel in the heart of the French Quarter, festival goers should consider the Dauphine Orleans Hotel. This classic boutique is a well-maintained historic property, just a block from Bourbon Street.
6. Newport Folk Festival
Photo Credit: Weekly Dig, Flickr.
Getting your folk on in a seaside New England town sounds like the perfect summer weekend to us. Taking place at Fort Adams State Park, overlooking Newport Harbor, the festival features four stages and various arts and crafts events from July 25 to 27. Headliners include Ryan Adams, Nickel Creek, Mavis Staples, Jimmy Cliff, and Deer Tick.
Stay: Staying at a historic mansion in Newport sounds like a plan to us. The Yankee Peddler Inn is much less extravagant than say, Rosecliff, but the rooms do have charming touches, the grounds are attractive (think: climbing ivy, potted plants), the roof deck is lovely, and rates are more affordable than those at other properties nearby.
7. Electric Zoo
Photo Credit: TheMusic.FM, Flickr.
For New Yorkers who missed the precursor to EDC in May, Electric Zoo is the answer to your prayers. Taking place over Labor Day Weekend 2014 on Randall's Island, Electric Zoo will host some of the world's best DJs for three days straight. Headliners include David Guetta, Nicky Romero, Armin Van Buuren, Laidback Luke, Alesso, and Dash Berlin.
Stay: Getting to Randall's Island can be a bit tricky, but one of the most popular ways to do so is via ferry. Boats pick up revelers at ports at East 35th Street and East 90th Street. The Marmara Manhattan on East 94th Street is within walking distance of the latter pick-up location. All of Marmara's 108 guest rooms are studios and one- and two-bedroom apartments with full kitchens, making it a good choice for large groups — but the location is quiet and less touristy.
8. Outside Lands
Photo Credit: Saket Vora, Flickr.
Taking place in San Francisco Aug 8-10, it should come as no surprise that Outside Lands ups the festival game a bit. Golden Gate Park is flooded not only by an impressive array of tunes, but also by culinary delights from SF's best food establishments, and wine and beer from across Northern California. As if that wasn't enough to entice you, headliners include Kanye West, Tom Petty & the Heartbreakers, and The Killers.
Stay: Spacious, apartment-like rooms, loads of free perks, and basic but stylish decor distinguish the 49-room Laurel Inn. Located in Pacific Heights amid upscale galleries and boutiques but away from the tourist frenzy, it's an ideal spot for festival goers who don't require a full array of services.
9. Telluride Bluegrass Festival
Photo Credit: Rob Lee, Flickr.
If you love bluegrass, there are few better festivals in the country than the annual celebration in Telluride. In its 41st year, Telluride Bluegrass takes place this year June 19-22, in conjunction with the Summer Solstice (the longest day of the year). The setting for the festival — tucked into the San Juan Mountains — is stunning, and many festival goers choose to camp on-site. Performers include Nickel Creek, Steve Winwood, and Andrew Bird & the Hands of Glory.
Stay: If you choose to forgo the campgrounds, Telluride has a number of excellent hotels nearby. The upscale Peaks Resort and Spa, which is one of the supporters of the festival in Mountain Village, is one of the largest and most amenity-packed properties in the area.
10. Bumbershoot
Photo Credit: Jeremy Reding, Flickr.
This eclectic Seattle fest over Labor Day Weekend will feature performances by Foster the People, J. Cole, and the Wu Tang Clan. In addition to the performances on the main stage, festival goers can participate in ever-popular comedy shows, shop arts and crafts at the Indie Market and Flatstock, and eat their way through some of Seattle's best offerings at various food booths.
Stay: A funky option in downtown Seattle for festival goers is the Hotel Five. The rooms have quirky but sleek modern decor with hardwood floors, bright red walls, and abstract art; some rooms even boast views of the Space Needle. Plus, the hotel's location makes it easy to visit shops, restaurants, and sights.
Check out Oyster's page on Google+
To learn more about Kristina Fazzalaro, visit her on Google+
RELATED LINKS:
All products are independently selected by our writers and editors. If you buy something through our links, Oyster may earn an affiliate commission.