I don't drink any more, so I find that when I'm at parties this time of year, the best way to fit in is to trade in sensationalism. Without fail, some of the things I've seen and done in hotels -- in gay hotels in particular -- do a fine job. Of course, this isn't to say it's all wild fun and regret when you bed down at an LGBT-friendly hotel. In fact, the experience is entirely what you choose to make of it. Read on to learn just a few of the things that might happen if you take my advice and try one for yourself.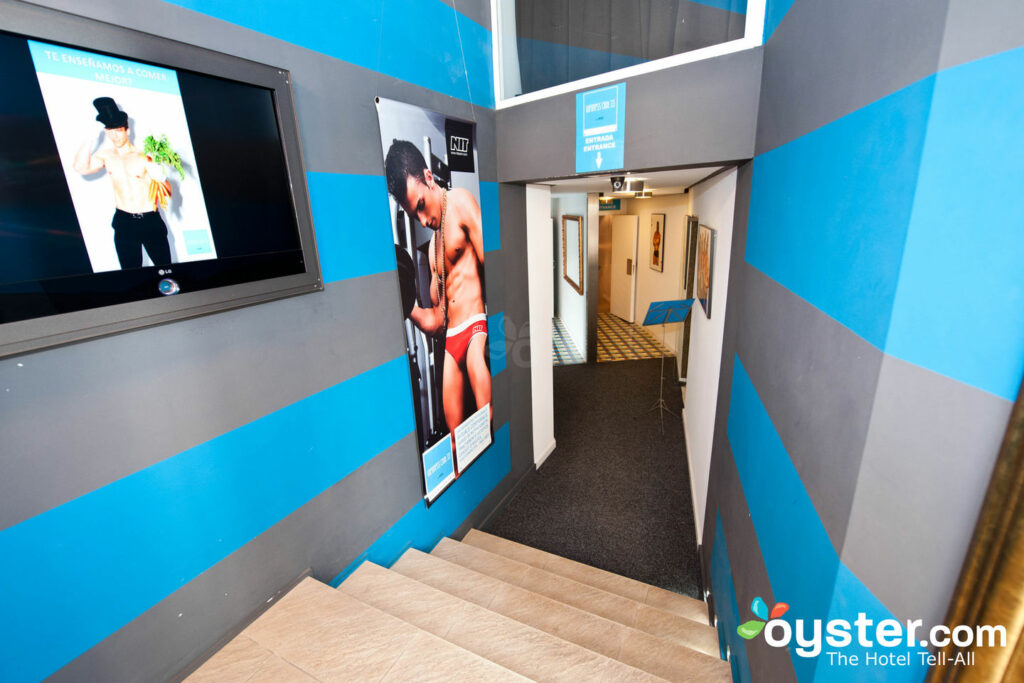 1. You Might Take in Dinner and a Show
At the now-defunct Axel Buenos Aires, I made nice with some Americans who were also enjoying mojitos in the courtyard. A few nights later, those Americans and I wound up at a restaurant that ostensibly sold traditional Argentine food. Looking back, I might have suspected something when the waiter caressed the pepper grinder in a loving manner over my plate of spaghetti. But no, I did not. As I exited the bathroom, though, there were flashing police lights and the opening strains of "Welcome to the Jungle." There was also the six-foot tall Argentine man yanking off his tear-away police uniform. Should you find yourself in this situation, do not ignore the goings-on by shoveling forkfuls of pasta Alfredo into your mouth. The dancers will make sure to grab your attention, and the sound made by certain body parts on my head is not one that I'll soon forget.
2. You Can Pretend That You're Fancier Than You Really Are
I was just 25 years old and waiting tables full time, but after two nights in a hostel on Barcelona's Las Ramblas, I'd had enough with sharing a bathroom with strangers. I found a room at the Axel in Barcelona and rolled up to the hotel with my giant backpack and baseball cap, looking nothing like the polished men I saw drinking wine in the lobby. But I had credit cards, and this place had balconies and nice-smelling soap, so I was sold. Back home, I might have sipped wine at my clapboard student desk while one roommate dosed himself with steroids, another sang tunelessly to a guitar in the living room, and the other played computer games while chain smoking. Or I might have huddled into a urine-soaked phone booth to drag on someone's one-hitter. In that room in Barcelona, though, I could do both on a balcony, watching the glittering city roar by, with a guy I'd just met, laughing like I'd just cheated the whole world.
3. You'll Think About Upgrading Your Life
When I was younger, I briefly stole this guy from his fiancee, Margot. It was a low moment, but an illustrative one as well. This quote-unquote straight, diehard Phish fan walked into my apartment for the first time and remarked that he thought someone like me would have an apartment with: "I don't know, more personality or something. Isn't that what you guys do?" I do not. But places like The Late Birds Lisbon do. The hotel looks lifted out of a design catalogue that's both forward thinking and entirely classic. As I try to get better at practicing gratitude, I'm thankful that for at least a day or two, I can see how my life might look without the crushing burden of student loan debt and the high cost of a serious travel addiction.
4. You Won't Waste Money on Bad Guidebook Advice
As the world continues its embrace of in-the-moment information, hotels are following suit. And gay hotels — it appears — are leading the charge. When I spoke with Carlos Ruivo, owner of The Late Birds Lisbon, he told me about the app that the hotel had developed for its guests. He or his associates had personally visited every restaurant, shop, gallery, museum, bar, and nightclub that was recommended — and made sure that the app worked even when a traveler was offline. The Late Birds will even hook its guests up with discounts at the city's busiest sauna.
5. You'll Likely Come Across Attractive People
https://www.instagram.com/p/BJAKh8HjAOj/
I was up on the third floor of the hotel in Buenos Aires and I might have had a little buzz going. Maybe I'd come out to retrieve a bottle of water, and when I looked across the atrium and down, I saw this handsome young thing in nothing but a pair of white briefs. I stopped, smiled, and raised my hand timidly, trying to gesture something like hello. He leaned back against the door and I'm sure his hand slipped below his waistband. I switched tactics, resorting to a nod that suggested: "Yes. You. Come up." None of this garnered his attention, so I follow his gaze. It led directly to the silver-haired daddy, the one standing on the floor directly above mine. I retreated to my room, stepped out on the balcony, and did that thing I've seen in so many movies — took deep gulps of the hot night sky.
6. And You'll Have to Stop Yourself From Staring
https://www.instagram.com/p/BEUHV7Ew0yL/
Let's just say that the top floor of that same Axel in Buenos Aires was actually the translucent glass bottom of the pool. After a few glasses of wine and a late-night swim, it's doubtful that anyone in that pool remembered that — from below — we were all pretending not to stare.
7. You Might Just Skip the Night Out
The night that I checked in to The Late Birds in Lisbon, I decided that I would go out. It didn't sink in that it was Sunday, that all of Lisbon had spent Saturday night awake until well past dawn, and that after two weeks straight of sleeping in different hotel rooms and driving the length of Portugal, I might not be in any shape to do just that. But I was determined. Sitting in the bar at The Late Birds — alongside the roaring fireplace, the still-damp streets outside, the men huddled in small groups with their cocktails — that compulsion began to fade. Instead, I felt grateful that I was in this place trading traveler stories, grumbling about the cost of New York, the seductive power of European capitals on American travelers, and what seemed back then like the promise of a female president.
8. You Might Take Home Some New Clothes
After coming back from Buenos Aires, I left the backpack propped against my kitchen table for nearly two weeks before I unpacked it. I couldn't bear that the trip was over, that I was back in New York where I'd started, or that there was someone somewhere else that I felt drawn to and couldn't be near. I finally ran out of underwear and was forced to unload the bag. My clothes still smelled like whatever goodness they were pumping through the vents at the Axel, and I probably got choked up right away. As I got to the bottom of the bag, I found this wadded up black T-shirt that I didn't recognize. I shook it out. The fabric felt thin — thinner than my own shirts. I smelled it because there's nothing better than behaving cinematically in the wake of heartache. I thought I'd give it back to him some day, but that never happened.
9. You'll Already Be Part of a City's Social Life
https://www.instagram.com/p/6P62i5mVDu/
Every gay hotel that I've visited hosts a party of some sort. That being said, even in LGBT-friendly cities like Barcelona and Lisbon, there aren't the same concentrated gay neighborhoods that exist in New York and Los Angeles. In places like Buenos Aires, especially, the nightlife is scattered across massive swaths of the city. Bedding down in a spot that's part of a city's established social fabric can be key. During my conversation with Carlos at The Late Birds, he told me about how the tiny boutique property has become something of a stop on the city's social circuit. Members of Boys Just Want to Have Fun, one of Lisbon's gay sports leagues, hold social hours at the hotel, and plenty of locals popped in for a drink during my night there.
10. You Might Make Friends With People You Already Know
The room was designed to minimize the intrusion of light from Buenos Aires' blazing January mornings, but I could still see the white outline around the sliding window screens. We woke up that morning with a sour taste in our mouths. A few days earlier, the guy next to me had revealed that he was from New York, that he'd eaten at the restaurant where I once worked, and that I'd been quite horrible to a friend of his once. In any case, we put New York aside because it seemed so far away and, here, we could be friends. Three nights later we wound up getting drunk together, cramming into a bathroom stall with a complete stranger who spoke neither English or Spanish, and now here we are this morning. Years have gone by, and we trade hugs and nice words the few times a year when we pass on the street. I think of the hotel, of course. I'm not sure if he'd say the same thing.
Related Stories:
All products are independently selected by our writers and editors. If you buy something through our links, Oyster may earn an affiliate commission.