In 1513, Juan Ponce de Leon and his crew set sail in search of the elusive Fountain of Youth. As you may have guessed, they didn't find forever young, but they did bump into the paradisiacal Florida Keys, which are located off the coast of Florida. Today, this little island chain holds the keys (see what we did there?) to some serious fun for all ages, whether you are young or young at heart. But with so much to do and see, where should you start? From dining on fresh seafood to spotting incredible wildlife on land and in the water, here is our list of things you must absolutely do when visiting the Florida Keys.
1. Snorkel in the United States' First Underwater Park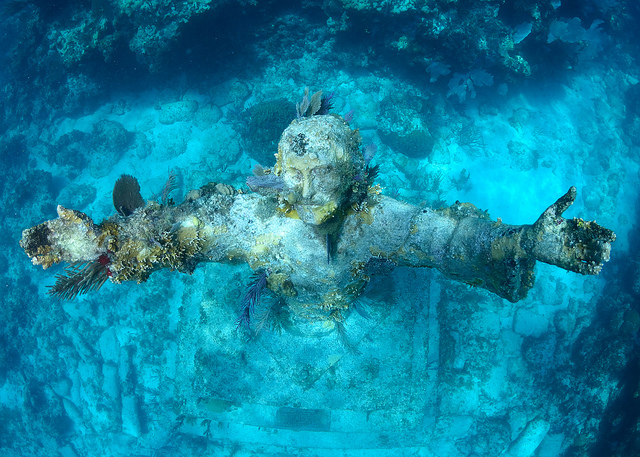 There may be many snorkeling spots in the Keys, but only one can claim the title of the first underwater park in the U.S. Established in 1963 and named after a Miami newspaper editor, John Pennekamp Coral Reef State Park on Key Largo is a gorgeous historic place to snorkel. Made up of more than 70 miles and containing parts of the only living coral reef in the continental United States, the park offers the chance to swim with tropical fish as well as spot Florida seabirds and potentially other underwater wildlife. There's even a 4,000-pound underwater statue, called Christ of the Abyss. If you are snorkeling, be sure to check the weather report — storms and currents can make for some murky water and reduced visibility. Folks can also rent kayaks and paddle boards or take glass-bottom boat tours. There's also a saltwater aquarium, gift shop, and snack bar on-site. Just be sure to arrive early — or budget about an hour to enter the park.
2. Ride the Waves on a Jet Ski or WaveRunner
https://www.instagram.com/p/BOsXq2VDGPF
Riding a jet ski or WaveRunner (a personal water craft) is a surefire way to have an exciting adventure in the Florida Keys. Companies like A1A Watersports & Boat Rentals in Islamorada offer guided tours and snorkel packages, so you can spend the day riding above the water as well as exploring below. We recommend bringing a waterproof camera and heading out for a few hours before the sun goes down. While there, keep your eyes peeled for dolphins as there's nothing quite like running into pod of these magical mammals along the way.
3. Try a Slice of Key Lime Pie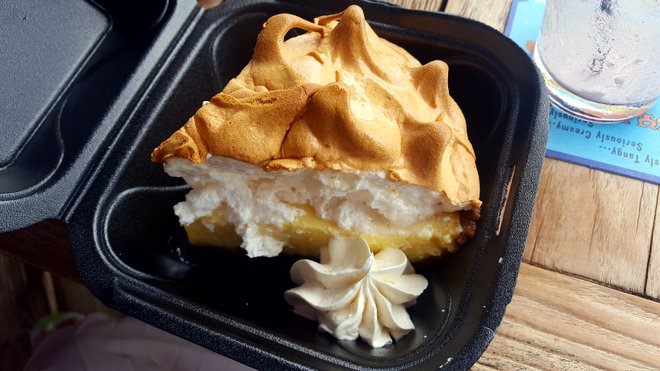 No visit to the Keys is complete without trying a slice of the destination's ubiquitous dessert, the key lime pie. Named after the tiny limes that were naturalized in the Florida Keys, this custard-type pie is the perfect blend of tangy and sweet. Depending on where you go, you'll either get a graham cracker or pastry crust and a meringue or whipped cream topping. But finding the perfect slice can be almost as difficult as finding the Fountain of Youth. We recommend the pie at Jimmy Johnson's Bill Chill at Fisherman's Cove in Key Largo. Here, you can sink your teeth into a thick, creamy slice, which features a graham cracker crust and generous meringue topping.
4. Take the Ultimate Yoga Class
https://www.instagram.com/p/BJ6jqD0DXgW
Sure, beachside yoga is great, but there's something to be said about finding your zen over water. The Keys are the perfect spot to hop on a stand-up paddle board for your first or fifteenth time. Programs like Serenity Eco Therapy have multiple locations — from the Middle Keys down to No Name Key — where you can hop on a board, gently paddle out to sea, and get in some restorative poses all while floating above the water. Be sure to check the weather, though, because balancing on a board is tough enough without the added challenge of blowing winds.
5. Look for Deer at the National Key Deer Refuge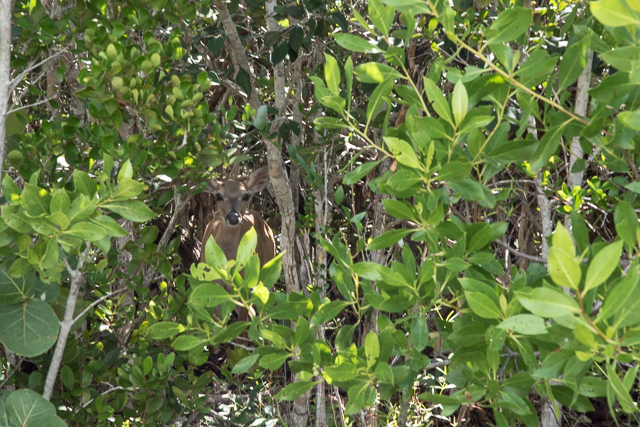 Deer? In Florida? Yes. In fact, Florida (well, the Florida Keys) is home to a special species of deer. The Key deer, as it's called, is only found in the Florida Keys and is the smallest deer species in North America. And although the endangered animal used to roam throughout all the Keys, today, you'll only find it from Sugarloaf Key to Bahia Honda State Park. While their main threat used to be native hunters, the remaining population's biggest problem are cars and trucks. Head down to the National Key Deer Refuge that spreads across 9,200 acres, including freshwater wetlands, mangrove forests, and more. Even if you aren't lucky enough to spot one of the creatures, you'll be able to sneak in a good nature hike.
6. Hand-Feed the Tarpon at Robbie's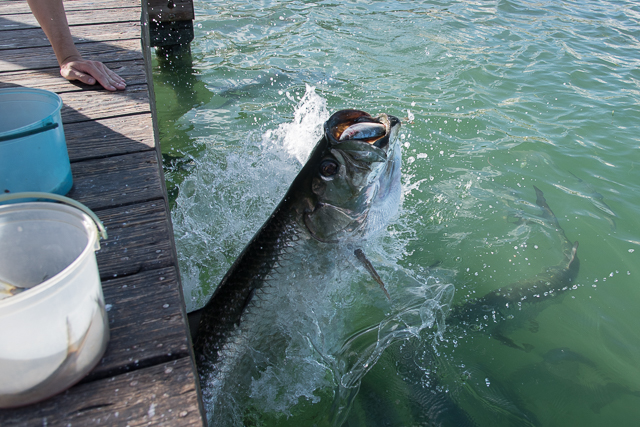 It all started in 1976 when Robbie and his wife began feeding the resident tarpon, Scarface. Now there are over 100 hungry fish thrashing below the docks, fighting for a meal. Hand-feeding a large-mouthed tarpon is both easy and exhilarating, but it's not for the faint of heart. And while there are a few spots where you can do this in the Keys, the most famous is Robbie's Marina. If you need some liquid courage, grab a frozen drink at the bar or just try to psych yourself up while perusing the local souvenir booths. Once you're ready, follow the shrieks of terror and delight out toward the docks, buy a bucket of fish from the little shop, and pick a spot to toss your catch. Keep your hands and fingers on watch as these guys do have teeth and can bite.
7. Visit the Turtle Hospital
Five of the world's seven sea turtle species are found in Florida, and while you might be lucky enough to spot one underwater in the Keys, a guaranteed sea turtle sighting can be had at the Turtle Hospital in Marathon. Billed as being the world's only state-licensed vet hospital solely dedicated to the care of turtles, the Turtle Hospital works to rehabilitate and release injured and sick turtles from boat hits, entanglement, a herpes-like virus that grows over their bodies, and more. While there can be over 20 different turtles in the ward at any given time, there are 12 permanent residents that include a Kemp's ridley, loggerhead, and several green turtles. If you time your visit during hatchling season, you might even be able to see some babies. Tours are scheduled seven days a week.
8. Ride an Airboat Though the Everglades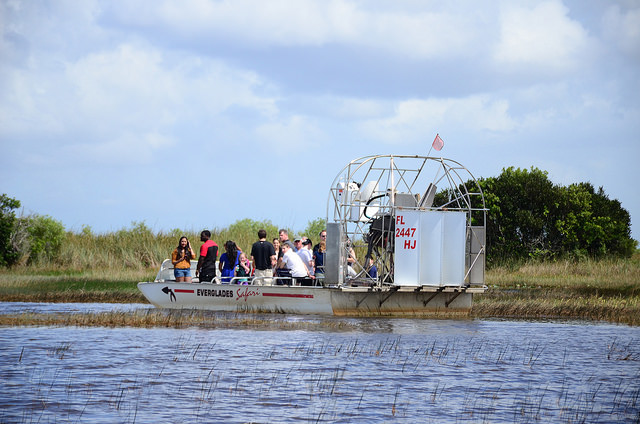 While it's technically just north of the Keys, airboat rides through the Everglades are a must for adventurers, wildlife lovers, and anyone looking for a unique experience. Folks will ride on large, fan-propelled airboats and spot alligators, manatees, eagles, crocodiles, Burmese pythons, and other exotic Floridian wildlife along the way. If you want more, find a place that also has nature walks. Tip: always be wary and do your research on companies that advertise alligator or other live animal shows, as they're not always creature-friendly operations.
9. Enjoy Happy Hour Sunsets and Live Music at Lorelei's
https://www.instagram.com/p/BJI5RxVDM7J
The Keys have no shortage of places to sip sundowners and soak in the sunset, but there's one local (and tourist) favorite you must visit at least once during your stay. Lorelei Restaurant and Cabana Bar in Islamorada has a huge outdoor deck and lively happy hour bar vibe. Enjoy buckets of ice cold beer, frozen fruity drinks (try their key lime pie special with a graham cracker rim), and a solid Floridan beach bar menu. Once the sun finishes painting the sky red, orange, and purple, the live music breaks out, covering everything from 90s alternative rock jams to generation-spanning hits from the 60s to today's Top 40.
10. And Of Course, Hit the Beach
Key West is probably the most famous of the Keys, which is why it feels a little more touristy than the rest of its island brothers and sisters. If you are looking for something that deviates from the usual shopping, bar, or restaurant crawl down Duval Street, hit the beach. It's a common mistake to think that the Keys are all surrounded by white, sandy beaches. The reality is that beaches can be slim, rocky, or full of vegetation, and with the exception of a few spots along the Middle and Lower Keys, your best beach bets are in Key West. Smathers Beach is our top pick thanks to its rare stretch of (imported) soft sand and free admission — though it can get busy for these reasons, too.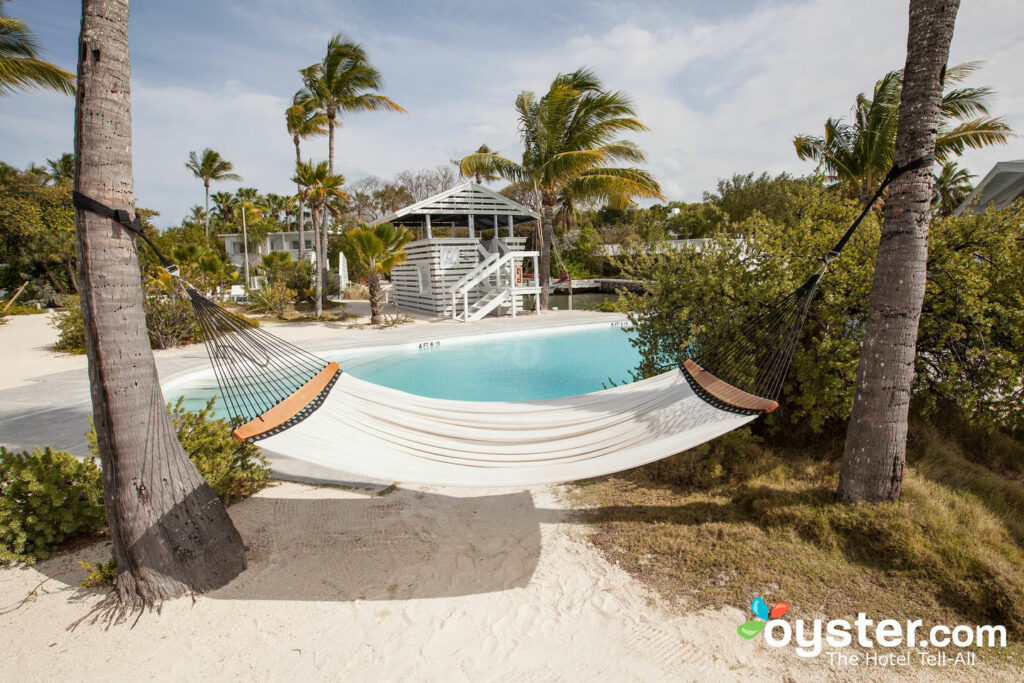 If you are planning on exploring the Keys, finding a well-located hotel is a must. Islamorada's Casa Morada is one of the best bang-for-your-buck hotels in the area. Epitomizing the Keys' laid-back vibe, this 16-room boutique hotel is ideal for groups of friends or couples looking for a romantic getaway. Guests have their pick of free activities including yoga classes, bocce, lounging by the small pool, or renting kayaks, push bikes, or snorkel gear. There are also free breakfast and small snacks and booze for purchase. Compared to nearby hotels, this property offers great value, and many of the spacious rooms (some with huge whirlpool tubs and/or private terrace) feature water views.
Now, watch our video on things you must do when visiting the Florida Keys.
https://www.youtube.com/watch?v=W6fPnMEZlpY
You'll Also Like:
All products are independently selected by our writers and editors. If you buy something through our links, Oyster may earn an affiliate commission.