Christmas and Hanukkah are less than two weeks away and you have yet to check everyone off your list. But don't panic -- we come bearing the greatest gift of all: a last-minute holiday gift guide. Whether you're scrambling to find the perfect present for the office gift exchange or your sister just announced she's bringing her new boyfriend to the family holiday party, these thoughtful travel-focused gifts are merely one click away. The best part? They're all available on Amazon, so you'll be able to receive them in just a few short days and avoid showing up empty handed. Consider this our holiday gift to you, procrastinators.
Printed on high quality silk art paper with a gloss coating, this funky scratch off map lets travelers keep track of the countries they've visited in a fun way. Simply use a coin and scrape off each destination to reveal the beautiful world map underneath. Whether it's a way to tell a unique travel story or use for future trip inspiration, this map makes a great gift for travel enthusiasts.
For loved ones who need a little travel inspiration, Lonely Planet's "Ultimate Travel" guide offers 500 can't-miss sights around the world. Folks can expect a mix of iconic attractions like the Eiffel Tower and Taj Mahal as well as hidden treasures that are a little off the beaten path. Flip through its pages to find your next adventure.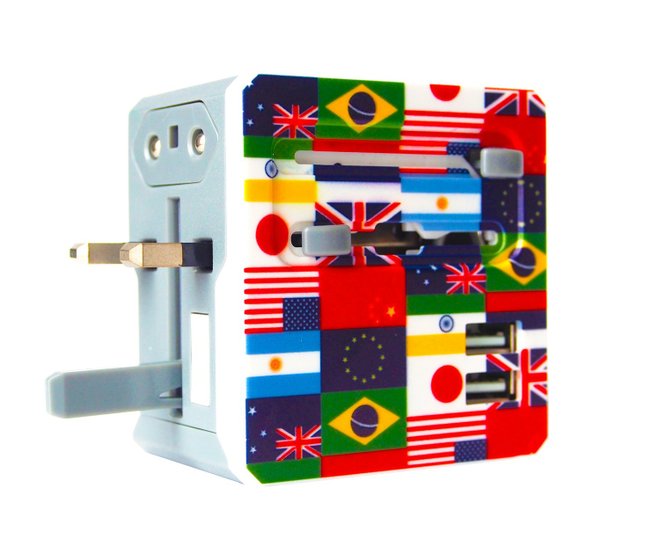 Every traveler needs a universal adapter and this one works in more than 150 countries, including the United States, Canada, France, Germany, Australia, Brazil, China, Japan, and more. Compact enough to fit in any carry-on, this international gadget will keep the traveler in your life charged and ready to go no matter where they may be on the map.
The Scrubba portable wash bag is the travel equivalent of carrying a washing machine in your suitcase. With an interior wash board, you simply fill it with clothing and detergent before scrubbing. Wring out your clothes and hang to dry. Small and lightweight, this item is perfect for vacations, backpacking and business trips, camping, and more.
Dry shampoo can be a traveler's best friend, and we especially love this one because it's filled in a squeeze bottle (not aerosol can). This makes it easier to get through security. Even better, it's made from natural ingredients from plants and essential oils.
Designed for backpackers, campers, hikers, hunters, and more, this personal water filter works like a straw and removes 99.99 percent of waterborne bacteria. In the event of an emergency, this straw could literally save a life — and it's small enough to be packed in a carry on.
Long flights are notorious for drying out skin, which is why we love these small de-puffing eye masks. They come in small, travel-size packets and are perfect for disguising fatigue after a red-eye, change in timezone, or long night out.
Long days of walking through a new city can wreak havoc on your feet, but these cool toe sleeves are great for preventing blisters. They're thicker than bandaids and they can cover better, too.
Never get stuck going through security again — these Lush bars work like shampoo, but look like soap. Made with ingredients from the sea (Irish moss seaweed, Japanese nori seaweed, sea salt), this mineral-rich product keeps locks soft and nourished. Best of all, it comes in a little tin, which makes it easy to tote around.
This two-in-one kit, which includes a 140-degree wide angle lens and 10x macro lens, is designed for snapping quality selfies, wide landscape shots, and unique close-ups. It even clips onto most smartphones and tablets, so you can return home with stunning photographic evidence of your memorable trip.
The Sholdhit infinity scarf, which can be worn as a neck or shoulder wrap, does more than just keep travelers warm. With a secret pocket, the utilitarian accessory can also keep items like passports and other valuables away from pick-pockets. It even transforms into a functional clutch when not being worn around the neck.
Related Stories:
Oyster.com is a participant in the Amazon Services LLC Associates Program, an affiliate advertising program designed to provide a means for sites to earn advertising fees by advertising and linking to Amazon.com. Full legal rules can be found here.
All products are independently selected by our writers and editors. If you buy something through our links, Oyster may earn an affiliate commission.