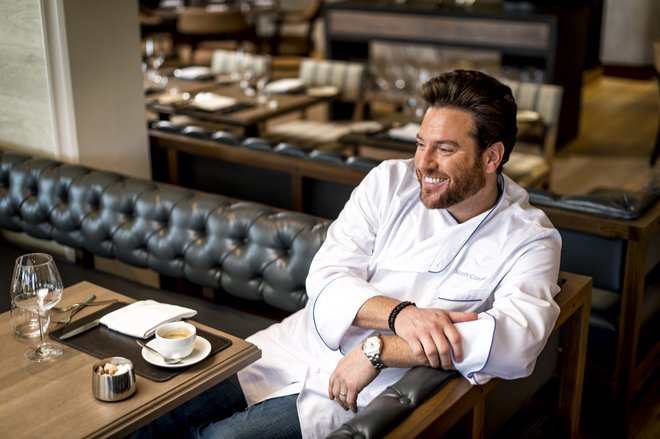 Each year, about 40 million travelers visit the desert oasis city of Las Vegas for more than just gambling. Vegas has become a must-visit dining destination, with popular restaurants all over the Strip and the city (and a handful of new ones opening monthly). So where does the backbone of the Vegas food scene like to dine? We decided to ask 11 Vegas chefs and restauranteurs to find out where their favorite spots are in Sin City.
1. Elizabeth Blau, Restauranteur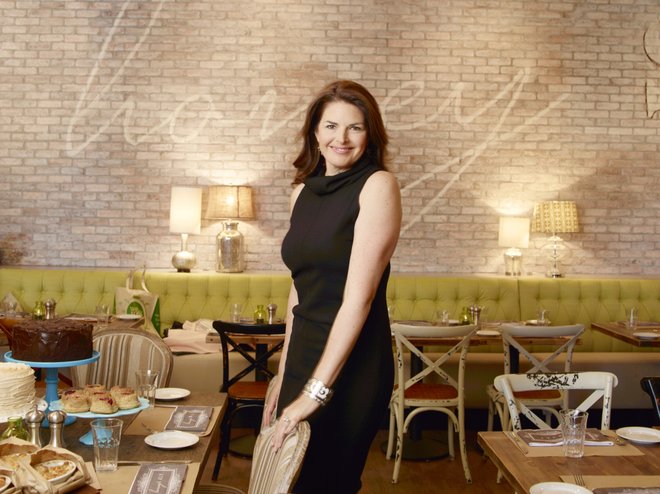 Renowned restaurateur Elizabeth Blau is widely credited with
transforming Vegas into the world-class culinary destination it is today.
With a career that spans nearly three decades, which includes operating restaurants
such as Andiron Steak & Sea (located in Summerlin) and Buddy V's Ristorante at the Venetian Resort, some of Blau's
favorite places in Vegas to dine include El Dorado Cantina, Flock and Fowl, and
Yui Edomae. "[I dine there because of] the food!" she exclaims. "It's
amazing; it's all about flavor and each restaurant brings something unique to
the table that you can't get enough of. These are all new favorites and recently
opened, but I've followed Yui's Gen Mizoguchi ever since he was at Kabuto." Sharing that she dines at them as often as possible, Blau adds "Currently Flock and Fowl is only open for lunch so I've only done take-out but I'll take it any way I can. I love to bring people to Yui's and it's my
first choice when someone is visiting Las Vegas. When craving Mexican, El Dorado
can't be beat for its authenticity and spiciness."
On her favorite dishes: "From
El Dorado I love their salsa and guac, and the Mole sample plate is phenomenal — bold flavors with the right amount of heat. You can't go wrong with the chicken
or pork. Flock and Fowl's Hainan Chix rice is addictive and the Thai Caramel
Chicken Wings is the best combination of sweet and salty. Yui's Chutoro and Uni
taste like the sea and melts in your mouth."
Find Elizabeth at Buddy V's at:
2. Scott Conant, Celebrity Chef and Restaurateur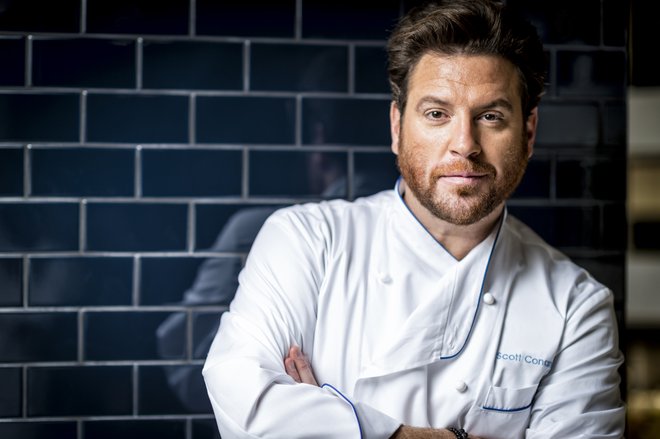 In Las Vegas, Chef Scott Conant is responsible for the upscale Italian wine
bar D.O.C.G., located in The Cosmopolitan of Las Vegas, and Scarpetta, also in the luxury resort. One
of his current favorite restaurants (that's not his own) to dine at is China Poblano, also located
in The Cosmopolitan. "It's one of my go-to restaurants every time I'm in Las
Vegas," he shares, adding that he always sits at the bar and orders a few dim
sum dishes and a taco or two. "The
duck tongue taco is a must. As is the margarita with the salt foam — best
margarita ever!" he claims. "I was
here opening week and haven't stopped going."
He is also a fan of SW Steakhouse over in the Wynn Resort. "I've been eating David
Walzog's food for years. He is so talented and creates amazing food and is just
an overall great chef. I especially love his chili-rubbed double rib-eye. SW
Steakhouse is an amazing place, and I think I have been going there for almost
10 years now."
Find Scott at Dining at China Poblano at:
3. Gina Marinelli, Executive Sous Chef at D.O.C.G.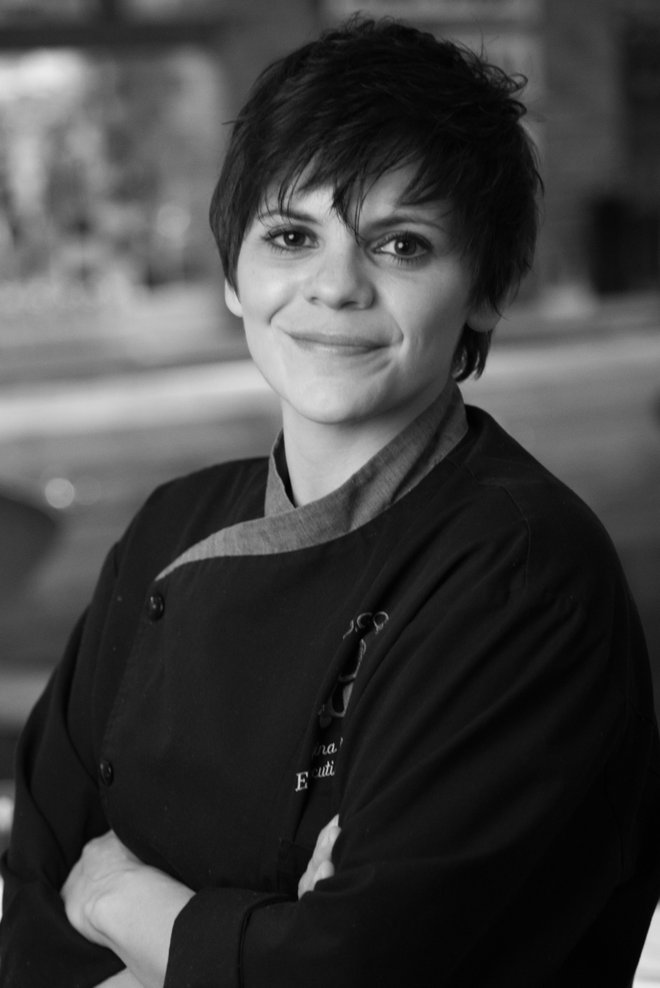 When she's not at D.O.C.G., Gina Marinelli's favorite places to
dine in Las Vegas are Pho Kim Long, Cleo, and B & B Ristorante (located in the Venetian). "I could not
count how many times I have gone to Pho Kim Long. It is my go-to after a long
night or when it's cold outside. In addition, I order the same every time: Pho
Ga with an insane amount of jalapeños and chili paste, summer rolls, and an Asahi,"
she says about the Vietnamese restaurant.
Marinelli also recently started going to Cleo, she shares. "What
I love about it the most is you cannot get food like this anywhere else on the
Strip. The ambiance is beautiful and unique and the dishes are so flavorful and
light. Everything is served in smaller portions so we always order a few new
ones but the classics are the Lamb Tagine and the Brussels Sprouts."
The one restaurant that is her go-to on the Strip — the one that
she'd take friends and family to — is Mario Batali's B & B Ristorante. "I
love this place! I feel the food is seasoned strong and is a little outside of
the box but is very addicting. The cocktails are so balanced and you really feel
the kitchen and the bar working together. The menu is constantly changing due
to seasonality but my favorites to get are the Grilled Octopus, Madagascar
Prawns, and — when the season is right — Burrata with ramp pesto."
Find Gina Dining at Cleo at:
4. Eric Suniga, Executive Chef at é by José Andrés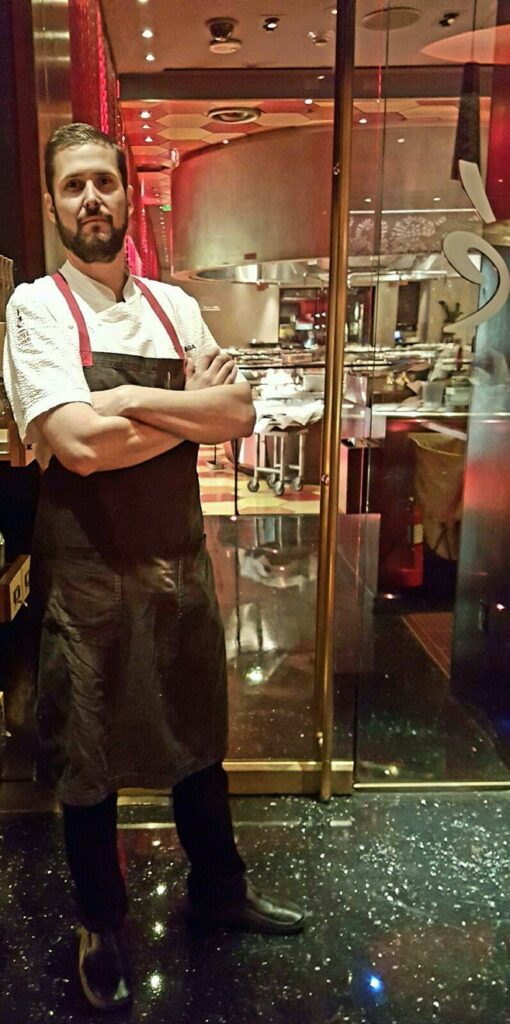 The Cosmopolitan has a super-exclusive, back-room dining experience
adjacent to Jaleo called é by José Andrés. The Executive Chef, Eric Suniga (who
previously was Head Chef at the Las Vegas restaurants China Poblano and Ku
Noodle), shares some of his own favorites when dining out…
On Taco y Taco: "Now that we have children, we really
prefer a more casual dining experience and Taco y Taco is a perfect setting for
us to take the kids and relax while we enjoy mouthwatering tacos. We stumbled
upon this restaurant about a year and half ago; I have lost count of how many
times we have dined there. The tortillas are delicious and the menu has enough
options to please our entire family. My favorite is the Tripas tacos — just the
right amount of crunch, but still very tender."
On Pho So 1: "The Special Combo Pho is the
perfect way to end a long day of work; this place is open late and always
satisfies. The tender braised brisket and beef tendon have had me return at
least four times over the past few months. It's one of the best values in Vegas and
the staff has always been very inviting, no matter how late it might be."
On Ichiza: "This has always been my go-to
restaurant when hosting friends from out of town. It has been at least eight
years since I first dined there. Our kids love it just as we do — when
available, we love to take up the large table towards the back and just request
the server to send out an array of dishes. Clams, octopus, and eel are some of
our favorites, but we never leave without ordering the infamous honey toast."
Find Eric at é by José Andrés at:
5. Susan Feniger, Co-owner and Chef at Border Grill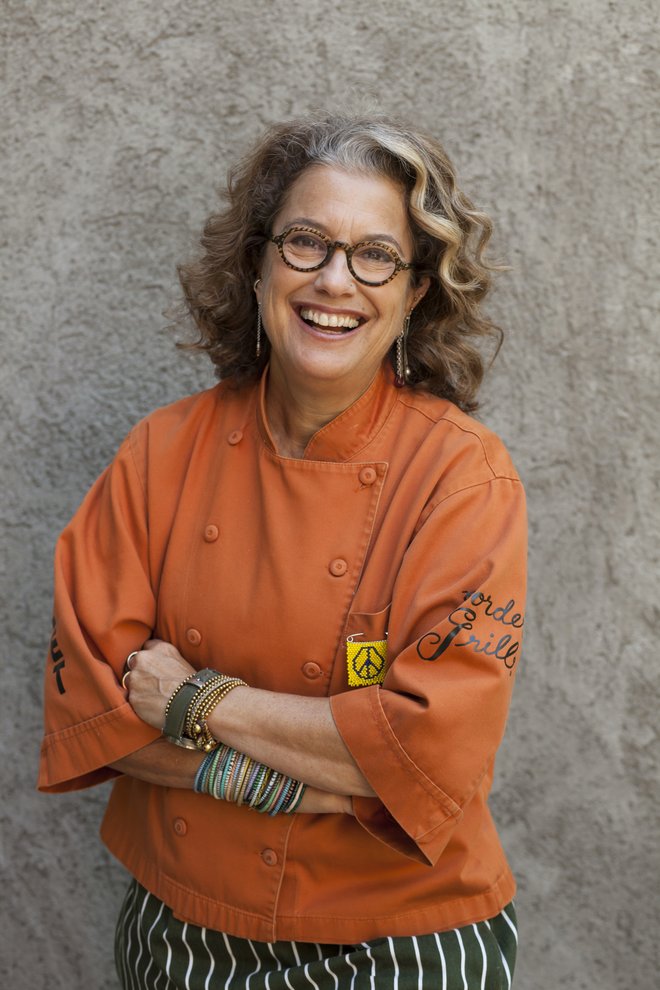 While she likes to spend most of her Vegas time at her two
Border Grill restaurant locations, one at Mandalay Bay that started 17 years
ago and a new location at The Forum Shops, Susan Feniger likes to hit up the neighborhood
places like Lotus Of Siam, Aburiya Raku, Grimaldi's Pizzeria, and Nittaya's Secret
Kitchen when she does have a chance to dine out.
"Lotus Of Siam is located off the Strip and makes some of the
best food in Vegas. It doesn't hurt that the owners, Chef Saipin and her husband
Bill, are just the sweetest," she says, adding that she's been going there for
about 16 years. "That's when Chef Saipin and her husband Bill took over Lotus
of Siam."
"You really can't go wrong with any of their Northern Thai
specialties, but they make the most amazing Koi Soi (Issan Style Steak Tartar).
It's really well-balanced, has great texture, the right amount of acid, and a
nice spiciness to it."
Find Susan at Border Grill at:
6. Roy Ellamar, Executive Chef at Harvest by Roy Ellamar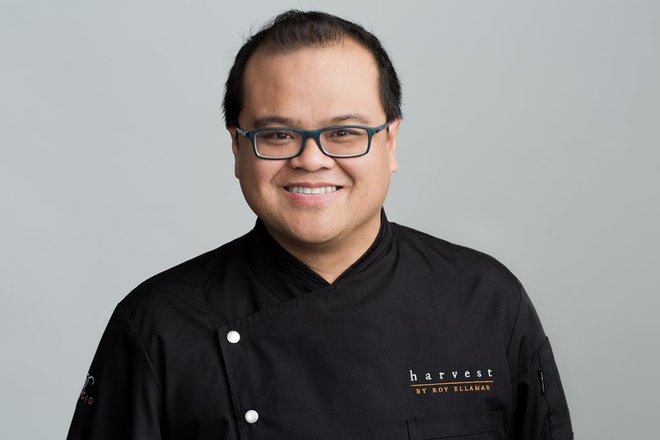 The Las Vegas chef recently debuted Harvest by Roy Ellamar, a farm-to-table restaurant that opened in the Bellagio in December. Based in Vegas
for nearly 10 years, Chef Ellamar told us about a few places he frequents when he's outside the kitchen. "There are a few awesome local spots
I go to at least once a week. One of them is Flock and Fowl by chefs Sheridan
Su and Jenny Wong. Their Hainan Chicken and Rice is amazing," he raves. "I
like it because it's just Jenny and Sheridan working the place which makes it
like a modern day mom-and-pop restaurant. For some reason, it reminds me of
home." His favorite dish to order there is the
Hainan Chicken and Rice. "It's made with Mary's organic chicken. The chef does
magical things to it and then cooks the rice in the chicken fat."
Find Roy at Harvest by Roy Ellamar at:
7. Joshua Smith, Executive Chef at Bardot Brasserie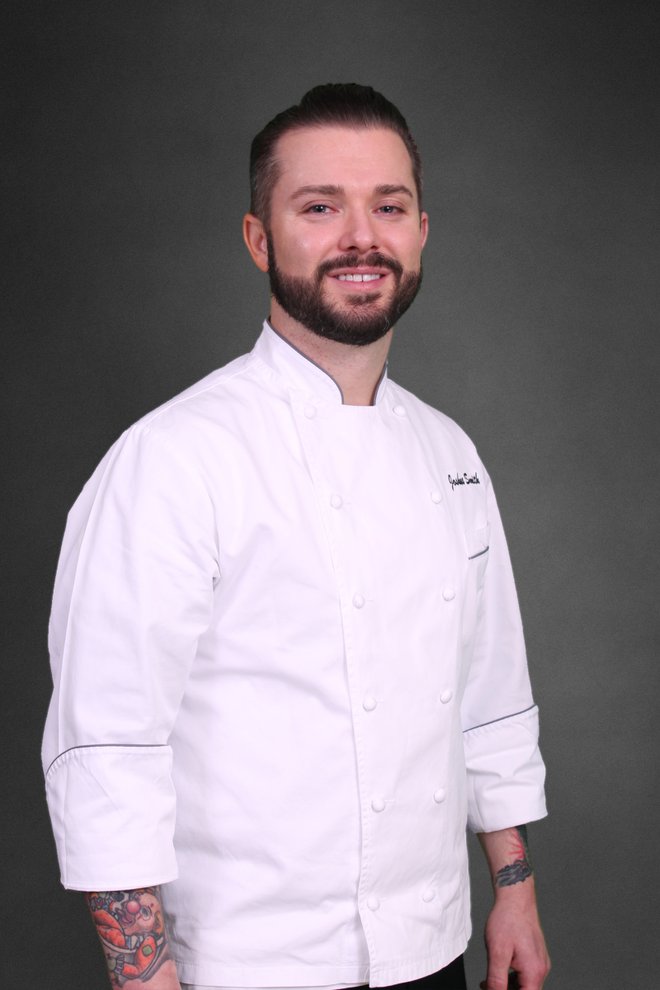 A Las Vegas native, Chef Joshua Smith helms Bardot Brasserie in the
Aria Resort & Casino. When he's not there, he likes to dine at Aburiya Raku and
Other Mama. "[I've been eating at] Raku since its 2008 opening. Its menu seldom changes so you can
count on finding the dish you've been craving," he shares, adding that his
favorite dish is the Poached Egg with Sea Urchin and Salmon Roe. "There are several dishes I love at Raku and
can't visit without ordering a little too much. I've never been
unpleasantly surprised. The poached egg dish, on the other hand, isn't just good — it's
my favorite dish in the entire city!" What stands out at Raku for Smith, though, is the
discipline and amazing product. "From
the time you step in you really feel transported and you get a feeling of trust
and comfort. It sounds very odd but take a step into the bathroom at Raku and
you'll understand their attention to detail is something completely next level!"
On Other Mama: "My mom lives on
the West side and I visit family on all of my days off. I try to visit
Other Mama as often as once per month. It's a little different vibe. The
chef there changes the menu very often and deserves your trust! Order a
tuna tartare or poke and then tell him to pick the rest for you." At Other Mama
it's a lot of the same formula as Raku, he adds. "The place is super clean, the
product is the freshest in town, the value is insane, and while you may indulge
and experience a lot of plates, you'll never leave feeling overly full. It's
such light cuisine that you always feel great afterward. They also have
creative cocktails that are just as light and refreshing as the food."
Find Joshua at Bargot Brasserie at:
8. Jonah Resnick, Exectuive Chef at Carbone
Headlining the food experience of the recently opened Carbone at
the Aria Resort, Chef Jonah Resnick (who also helped with the opening of the brand's New York
and Hong Kong locations) shares that one of his favorites as a new Vegas resident is District One Kitchen & Bar. "I love the Pho Tai Rib Eye and the
District One Rice Combo Platter with Short Ribs, fried egg, and Chinese sausage,"
he explains. "After
working a long shift I'm looking for a wholesome, hearty meal and the food at
District One always satisfies my craving. The food draws inspiration from
traditional Vietnamese, Thai, Chinese, and Japanese cuisine — with a Las Vegas
twist."
Find Jonah at Carbone at:
9. Bruno Riou, Executive Chef at Rivea Las Vegas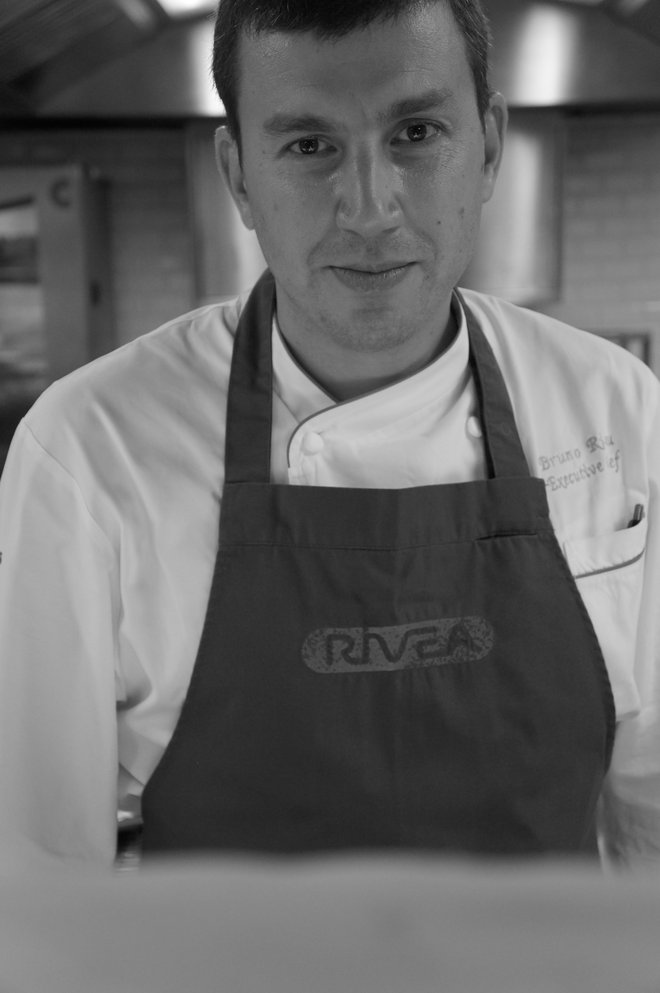 After being personally asked by Alain Ducasse to be the executive
chef at miX at THEhotel, Chef Riou has stayed onboard for the restaurant's
transformation into Rivea Las Vegas at the Delano Las Vegas.
"One of my favorite restaurants in Las Vegas is Monta Ramen," he
shares. "Pascal Sanchez (formerly the executive chef at Twist by Pierre
Gagnaire) took me there for the first time about four years ago and I have not
stopped going since then. My go-to order is usually the pork belly bowl — braised pork belly, rich and savory bouillon, spring onion, dried seaweed and
all the other basic toppings. Excellent seasoning." He also suggests ordering
the Chashu bowl (with rice, veggies, and ginger), which is another favorite of his.
"Monta Ramen is a cozy, clean ramen
spot," he shares. "When I go, I often sit at the counter; there's an art to watching the
chef prepare the ramen bowls made-to-order. The staff is friendly and prompt
and the broth is consistent. The prices are very reasonable, the kitchen very
efficient, and the food excellent. It's the perfect spot to eat after a tough Saturday night service."
Find Bruno at Rivea Las Vegas at:
10. Barry Dakake, Executive Chef at N9NE Steakhouse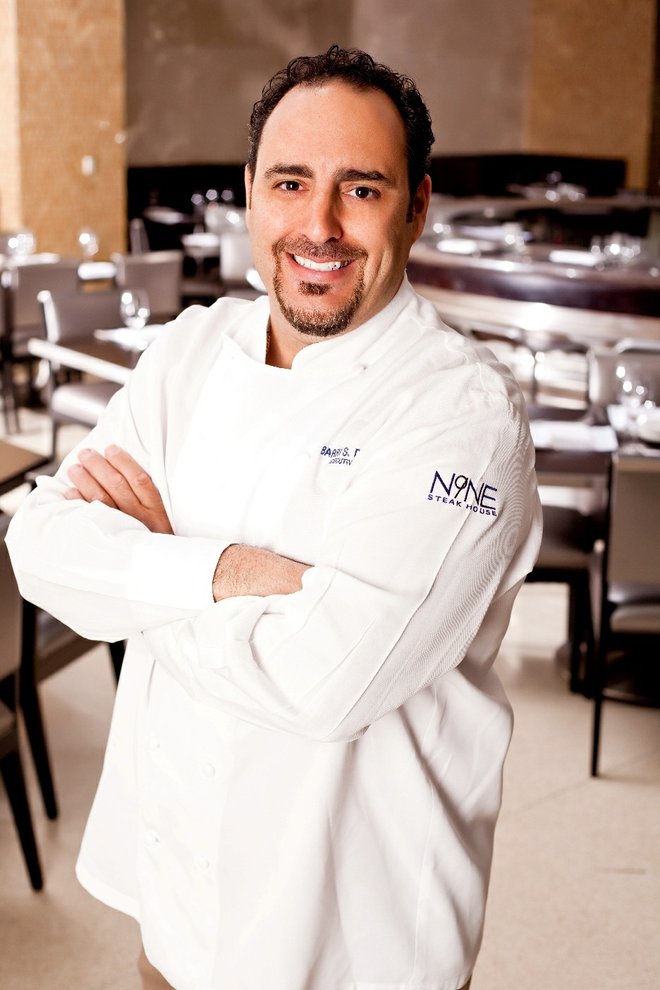 When he's not at the Palms Resort (home of N9NE Steakhouse), Chef
Barry has three favorite restaurants in Vegas to visit. They include Lotus of Siam, Musashi
Japanese Steakhouse, and The Italian American Social Club. Here's what he says about each…
On Lotus: "I go there because of the exceptional Riesling wine list
and the food is second to none — plus, Chef Saipin is a personal friend of mine.
[Order the] lobster in garlic pepper sauce. It's a Maine lobster, which is my
favorite lobster, and you get a taste of New England (Thai style) created by
James Beard-award-winning chef Saipin."
On Musashi: "At the end of the night and the smoke is cleared after
doing 500 covers at N9NE, Musashi is a late-night retreat where you can sit
back, drink some sake, and have a bite to eat while Chef Tiger puts on a show.
You have to ask for him to cook for you at the tepanyaki grill. Beef Negimaki made with green onions
wrapped in beef with teriyaki sauce [is a favorite]. The green onions and the
beef really complement each other. The special marinades that Chef Tiger uses
are simply delicious. I also really enjoy eating the steak lover's special
tepanyaki, which consists of Kobe beef, New York sirloin, and filet mignon. The
dish also includes bean sprouts and fried rice made right in front of your
eyes."
On Italian American: "This is the only restaurant in Las Vegas that
reminds me of the Italian restaurants back home in Providence on Federal Hill.
Their style of food and flavors come from the heart. [Order the] pork chop
Milanese with fresh arugula salad. It brings me back to the roots of my
grandmother's cooking from when she used to make the pork chop Milanese with my
family using dandelions instead of arugula."
Find Barry at N9NE Steakhouse at:
11. Marlon Simbulan, Chef de Cuisine at NOVE Italiano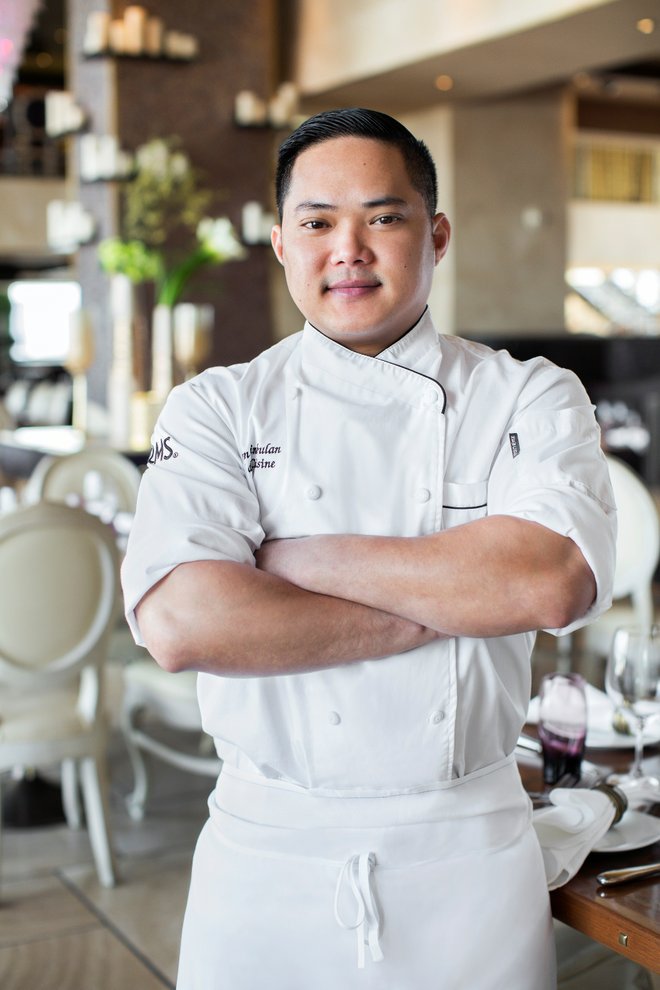 Also cooking in the Palms Resort is Chef Marlon Simbulan at NOVE Italiano. One of
his favorite places to eat when not in the kitchen is Peppermill Las Vegas. "I
really like the Peppermill, which serves great food and is known as Vegas'
go-to spot for late-night meals. Besides it being a staple in the city for over
40 years, it's located on the Las Vegas Strip and is open 24 hours, making it
my late night go-to spot when I want to grab a bite after work. It also makes
for great people watching!"
"The Peppermill serves breakfast, lunch and dinner anytime of
the day," he says, adding that it serves comfort food in big portions and the
staff is always friendly. "They also have a fireside lounge which is very
intimate. I really enjoy eating in this section as it is comfortable, with
oversized couches, and features a small pool and fire in the middle of the
lounge. I would recommend this place if your schedule is as late as mine is and
you are looking for delicious food, a relaxing atmosphere, and a friendly staff. I've
been going here frequently over the last few weeks after just recently
discovering it, and I enjoy their Focaccia Chicken Sandwich. It is herb
focaccia stacked high with marinated chicken breasts, avocado, prosciutto, and provolone cheese, and served with Balsamic vinaigrette. It hits the spot every
time."
Find Marlon at NOVE Italiano at:
Related Links:
All products are independently selected by our writers and editors. If you buy something through our links, Oyster may earn an affiliate commission.