When it comes to choosing a hotel, several key questions may cross your mind: Is this property centrally located? Does it fit my budget? How do its amenities stack up with my vacation needs (think: free Wi-Fi for business trips or a kids pool for family getaways)? While a courtyard may not be a make-or-break factor in winning over your credit card, it certainly tips the scale. After all, these private outdoor spaces provide a place to relax after a long day of sightseeing. Some even turn on the charm full force, and house refreshing pools, romantic flowers, and quaint decor. See for yourself -- here are 11 of the most charming hotel courtyards we wouldn't mind hiding out in.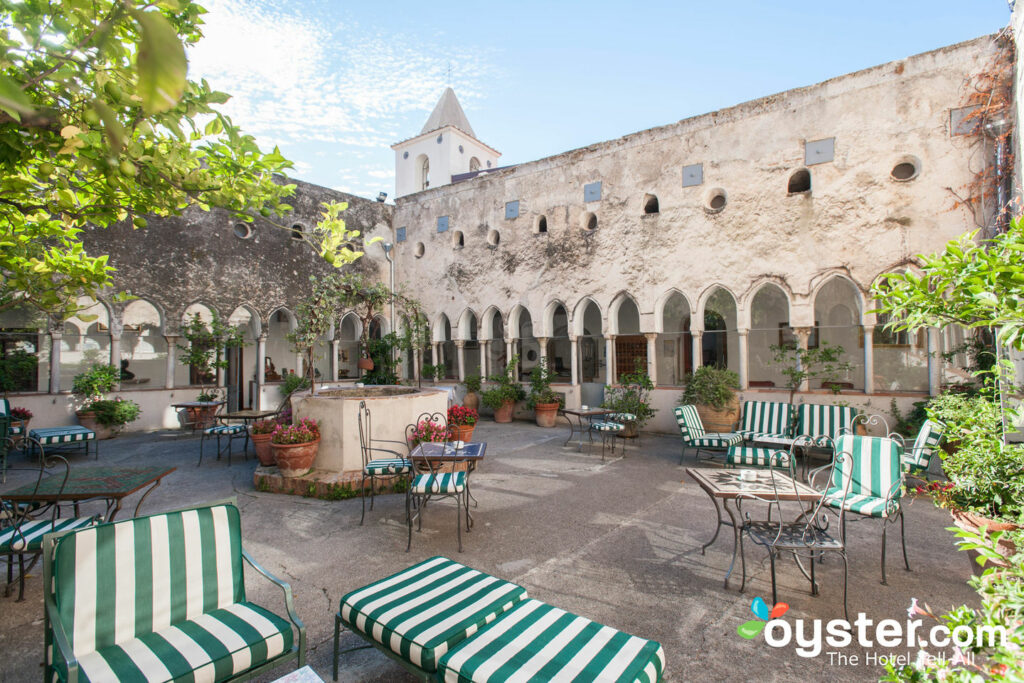 Housed in a former 13th-century convent, this 43-room hotel is dripping with historic charm from head to toe. Rooms are done up with Vietri tile floors, rich drapery, high arched ceilings, and period furniture; some also feature frescoes on the ceilings and balconies with stunning Mediterranean Sea views. Those who aren't staying in one of the water-facing rooms can still take in the view from the on-site restaurant or private cliffside pool. That's not the only place to lounge, though. The open-air courtyard, which sets the mood with lovely potted plants and flowers, cushioned chairs, and tables for drinks, makes it an even more relaxing retreat.
Make no mistake — this century-old property in Paris' 8th Arrondissement is just as impressive on the inside as it is on the outside. From the Christian Dior-appointed spa to the five restaurants overseen by Michelin-star chef Alain Ducasse to the lobby that's adorned with crystal chandeliers, red silk drapes, and marble columns, you'll be vacationing in the lap of luxury from check-in to check-out. As for the exterior, the most appealing feature might just be the romantic courtyard, which is cloaked with ivy and dotted with shrubs and red flowers.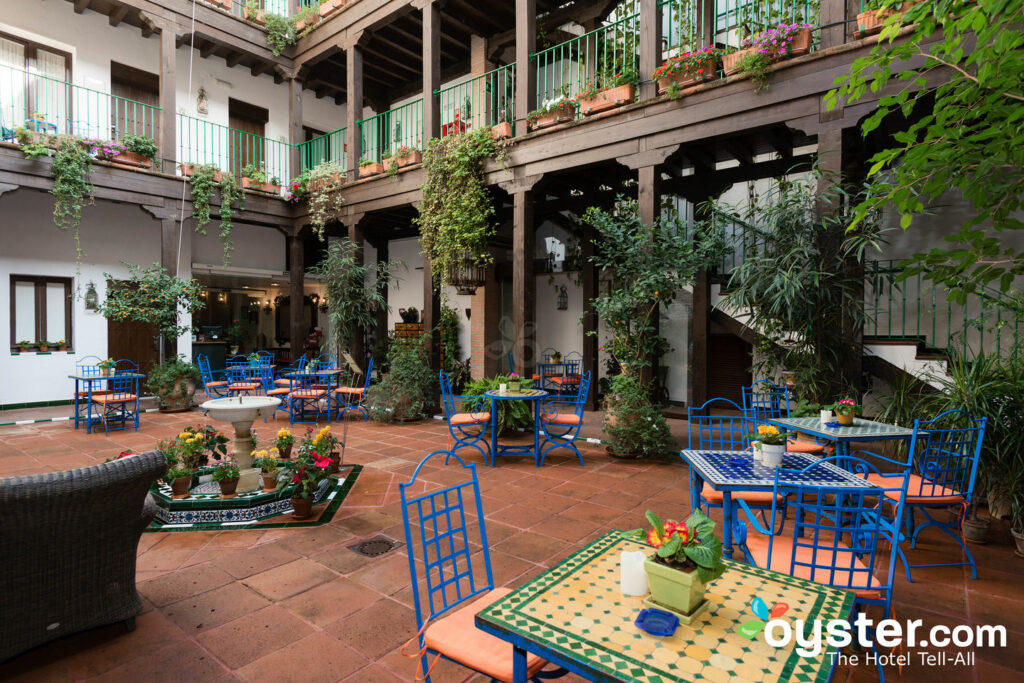 Located in the Santa Cruz neighborhood of central Sevilla, this hotel was originally built as a private home, and an intimate, homey vibe is what you can expect these days, too. Case in point: The 20 individually styled rooms are spread across three floors, around a lovely central courtyard that features a red, terra cotta tile floor, small fountain, bright blue wrought-iron tables, and arched columns covered in climbing greenery. It's the perfect spot to read, relax, or enjoy your afternoon coffee. Couples, families, friends, and solo travelers will also appreciate the roof deck overlooking the city and the main restaurant, featuring cascading plants and an atrium ceiling.
Small and intimate, this boutique hotel is more the type of place couples seek out to relax in peace and quiet and less the type of spot where partiers and families with kids run around, causing a ruckus. Situated near the Ping River, away from the chaos of the central city, the property presents guests with a spa, restaurant, and rooms with period furniture and balconies. That being said, the sunny courtyard pool, which conveniently sits adjacent to the well-stocked library of books and games, still takes the spotlight.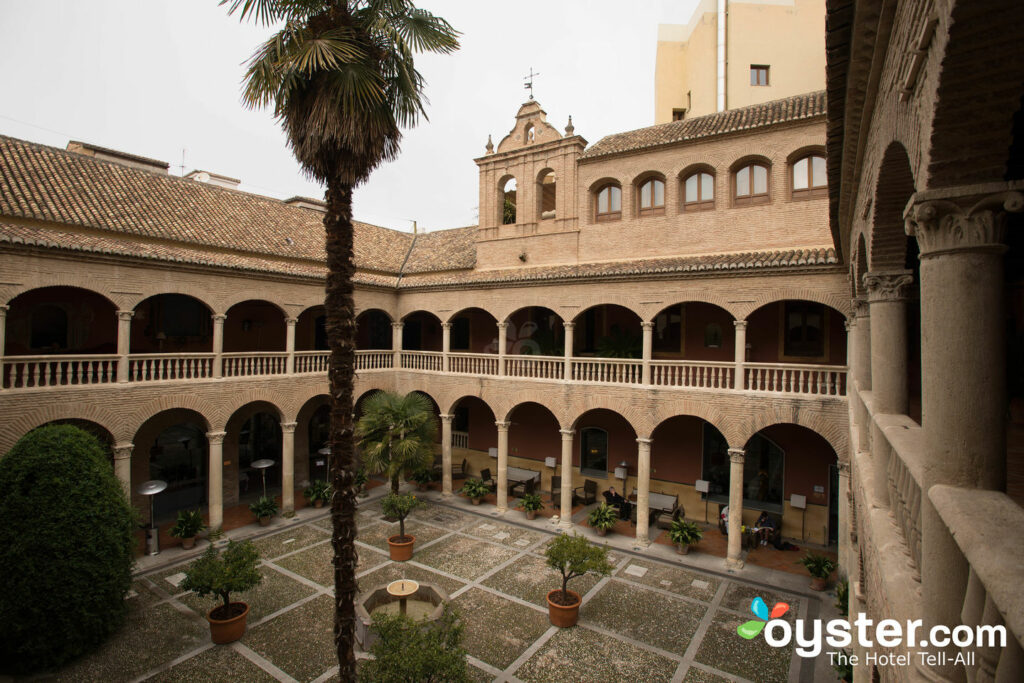 Couples will be perfectly content at this 75-room hotel, which includes a 16th-century convent and a 12th-century Moorish building. The romantic restaurant serves delicious Andalusian cuisine, the small gym comes with a Turkish bath and sauna, and rooms have dark wood and warm lighting. And the two courtyards, which are enhanced with fountains, graceful archways, and original stonework, are the cherry on top.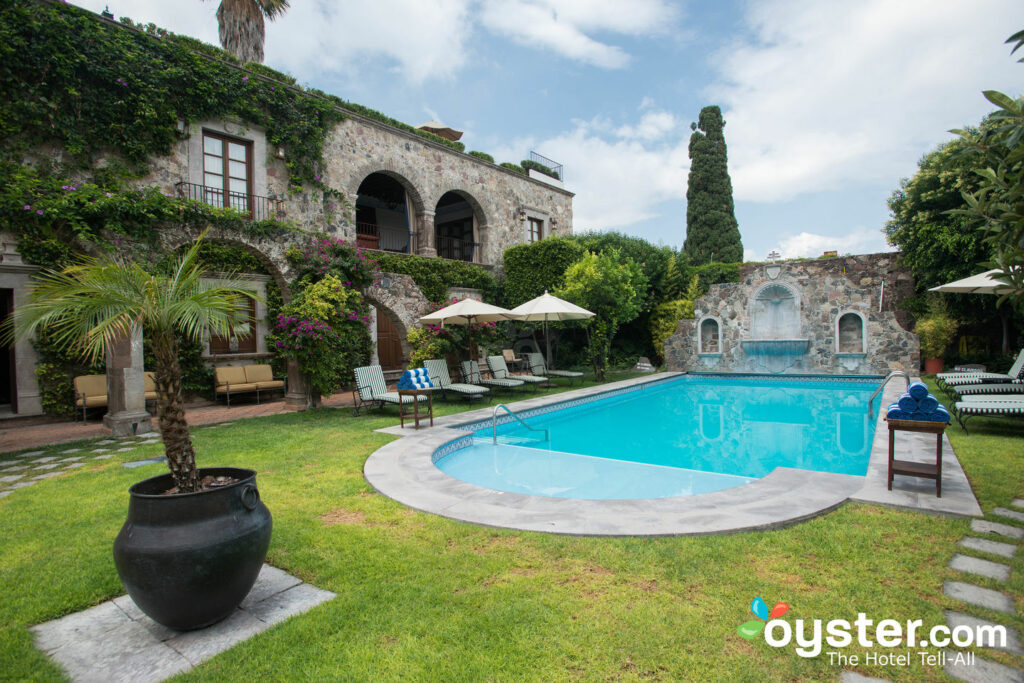 Between the property's excellent restaurant, luxurious spa treatments, prime location near main attractions, and cooking school, guests are spoiled for choice. That goes for the hotel's courtyards, too. In one, you'll find an idyllic pool, lounge chairs, stone archways, and tropical plants. Guests also have the option of dining in another beautiful ivy-clad courtyard that's lit with lanterns in the evening.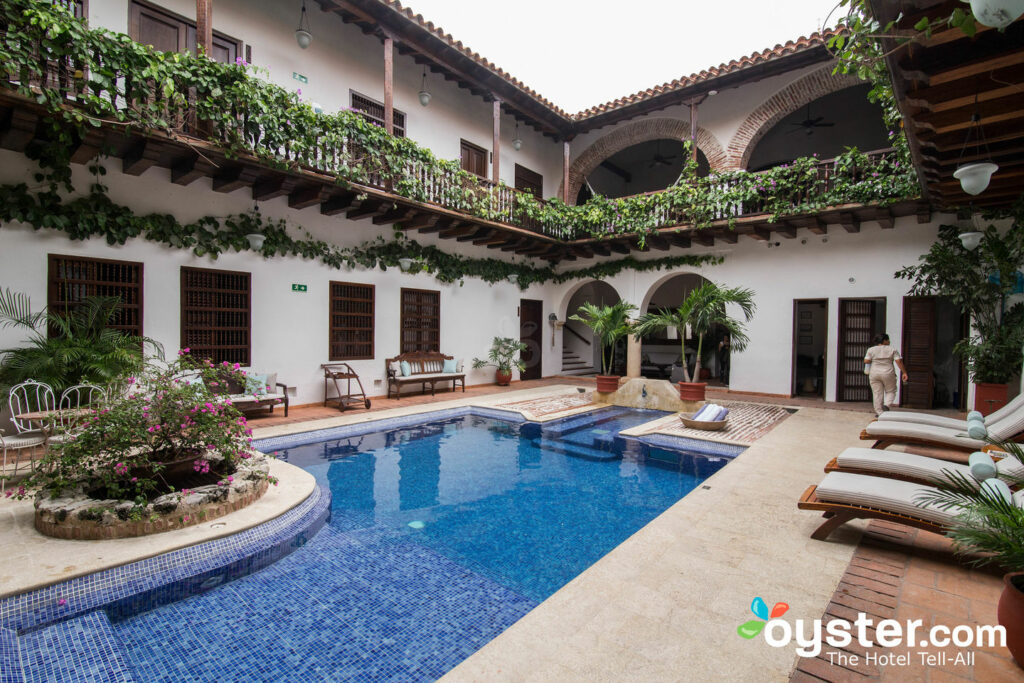 After a day of exploring the colorful, bustling city of Cartagena, the gorgeous courtyard at this historic boutique hotel provides a tranquil oasis that feels miles away from it all. Here, ivy-covered archways, potted plants, cushioned lounge chairs, and garden tables all surround a mosaic tile pool. Tip: the sun can get pretty intense in the afternoon, so stop by to unwind in the evening.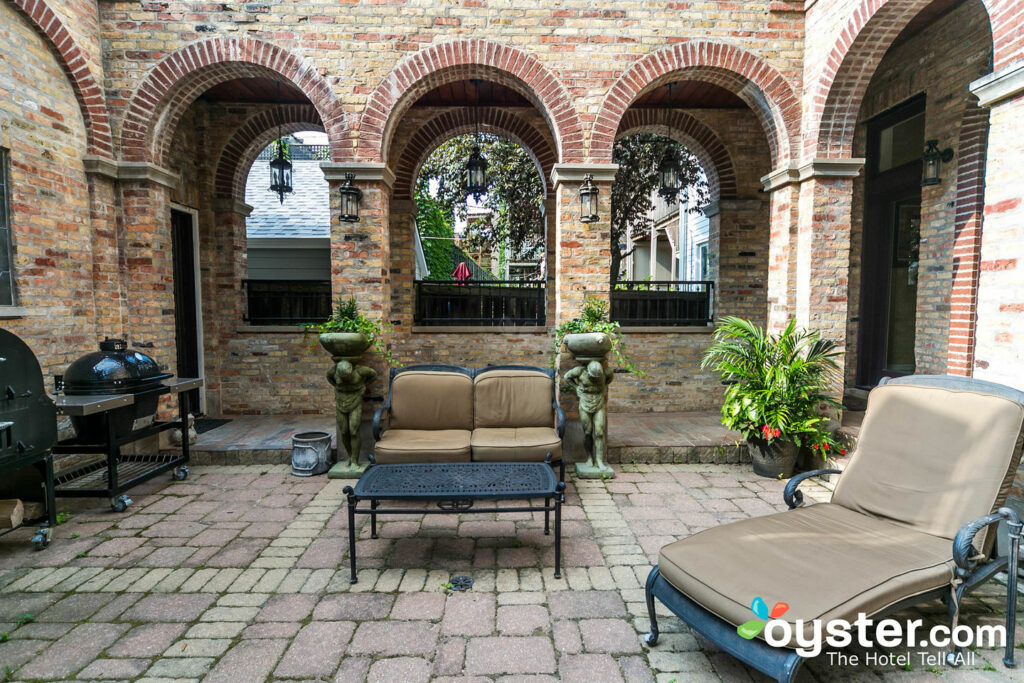 It's not easy to bring the charm of a Tuscan villa to Chicago — and architectural constraints aside, the six-room Villa D'Citta manages to convert its back patio into a quaint courtyard. Framed by a brick colonnade, the outdoor space stars Italian statues and a gas grill for guests to use on warm nights. A picturesque wrought-iron spiral staircase leads to the rooftop. That's not the only place this cozy Lincoln Park property oozes charm either: There's also a sundeck with an outdoor whirlpool and a large communal kitchen stocked with coffee, juice, and ingredients for guests to make their own waffles and other snacks.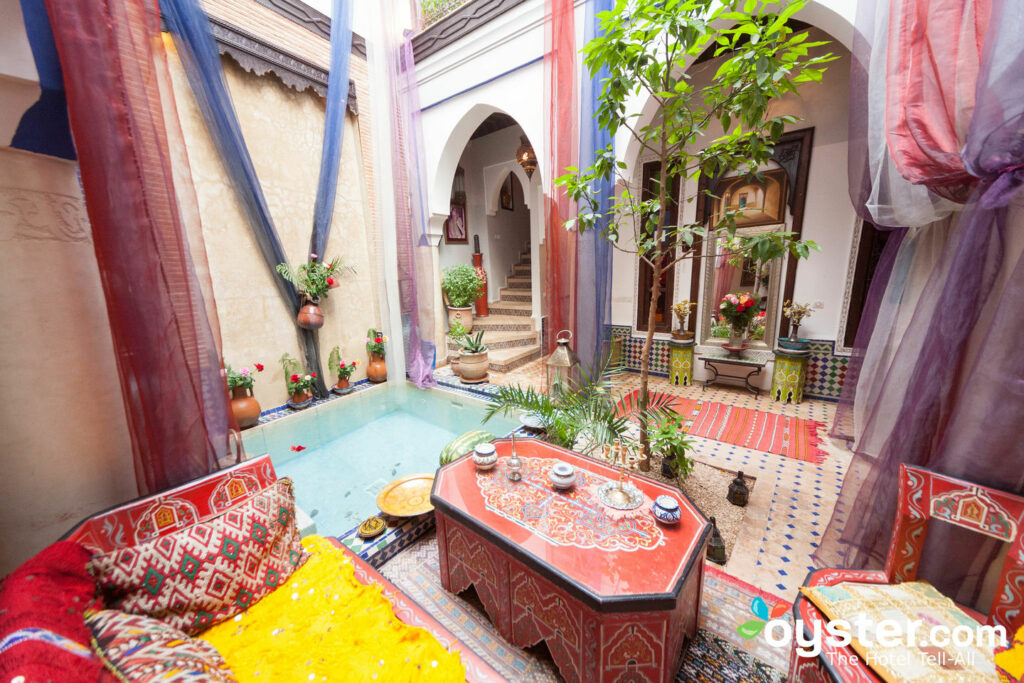 For the uninitiated, riads are traditional mansions built around a central courtyard — some of which are more attractive than others. Hidden among the Marrakech Medina's winding streets, this family-run riad is as charming as charming can get. The breezy central courtyard is hung with colorful textiles, lined with vivid tilework, filled with ornate furniture, and features a small but refreshing plunge pool. Free homemade breakfast and any other Moroccan meals — made from fresh ingredients — can also be served in the courtyard (or in guest rooms or on the rooftop terrace with its Berber tent). Plus, each of the six individually decorated rooms face the courtyard, too, so you'll always be within an eyeshot of the vibrant space.
Riads are not limited to Marrakech. Take this French-owned property, situated in the Medina of Essaouira, for example. Housed in an 18th-century riad, the hotel is a short walk from the beach, which means you can go from lying in the sand to lounging on patio furniture in five minutes flat. The courtyard also features beautiful archways and lots of potted plants, upping the overall charm factor.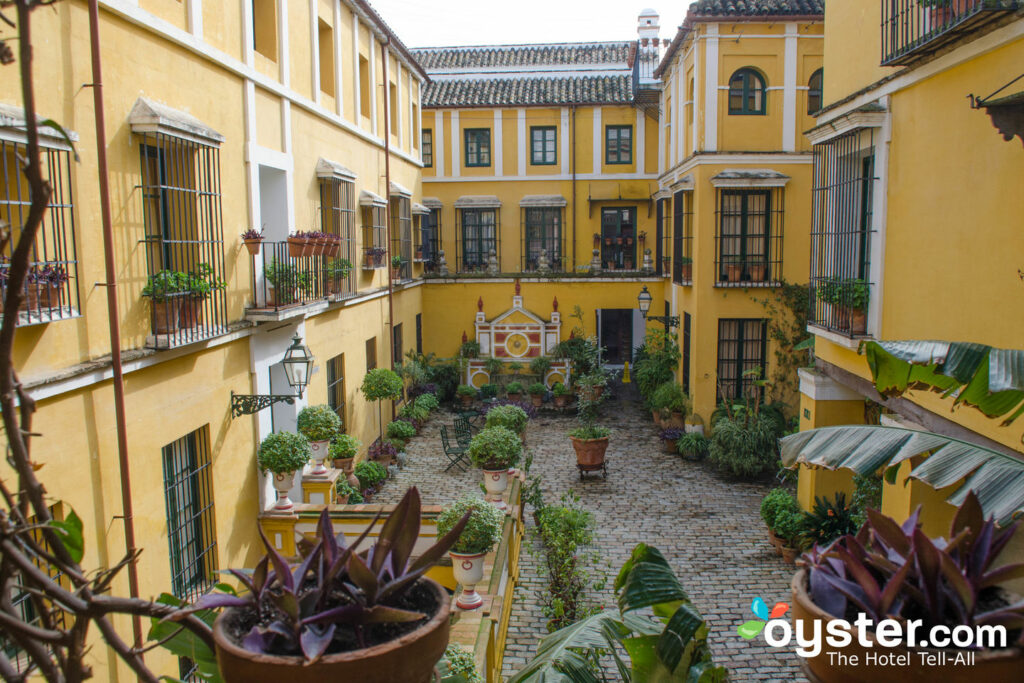 You may have not been around to experience 15th-century Sevilla, but that doesn't mean you can't discover what it was like back then today. La Casas de la Juderia is made up of a series of interconnected 15th- and 16th-century homes that were lovingly restored into guest rooms. The separate areas are linked together by narrow alleyways, courtyards, patios, and terraces that are perfect for private rendezvous. Even passing through these outdoor spaces briefly is a feast for the eyes, thanks to the abundance of greenery, ample seating, and picturesque decor.
You'll Also Like:
All products are independently selected by our writers and editors. If you buy something through our links, Oyster may earn an affiliate commission.