There are plenty of different ways to travel in Europe – from shoestring-budget trips to over-the-top getaways worthy of the British royals. Here at Oyster we've been lucky enough to be able to do both (seriously, the budget hotels in Europe are pretty nice!), but the holidays are for wishing and dreaming, so we're going to help you put together your own list of top places to get pampered in 2013. Keep reading and discover our favorite luxury hotels in Europe!
The world-renowned luxury hotel Plaza Athenee — a part of the Dorchester Collection — is synonymous with Parisian elegance and good taste. Iconic red awnings and chestnut trees welcome guests to the historic setting, on the upscale Avenue Montaigne location with direct views of the Eiffel Tower. It's all about luxury here, inside and out. The avenue is lined with high-end shops such as Christian Dior, Prada, and Chanel. And inside, the 146 rooms and 45 suites are decorated in classic Art Deco style with modern touches like flat-screen TVs and marble baths. With six distinct restaurants, a large fitness center, and a can't-miss daily breakfast in a leafy garden, the Plaza Athenee doesn't miss a beat.
Our favorite luxe amenity: Guests have access to the Dior Institute for a full range of quality beauty and spa treatments.
This 35-room combo of Edwardian townhouses is warm and intimate with a country home feel, and in a great location for exclusive West End shopping. With wonderful boutique perks such as the free English afternoon tea (guests at other hotels often have to pay at least a £15 premium to enjoy such a tradition), free pre-dinner champagne, and free hot chocolate before bed, it's hard to find much at the Draycott to complain about.
Our favorite luxe amenity: The hotel has a quiet private garden, perfect for reading during warmer weather.
Hotel Silken Puerta America is known for its over-the-top design, from the colorful facade of the hotel to the rooms. Each of the 12 floors was executed by a different designer, and range from futuristic, space-like decor to sexy style with levitating beds and bold colors. This funky hotel offers free Wi-Fi and a small indoor pool. Hotel features include a hip on-site restaurant and a top floor bar with expansive views.
Our favorite luxe amenity: The Skynight Bar, designed by Jean Nouvel, boasts great city views.
The 303-room Ritz-Carlton, located near Postdamer Platz, is one of the most luxurious hotels in Berlin. The rooms are gorgeous in a classically elegant way, featuring mahogany furniture, rich curtains, plush bedding, and massive marble bathrooms with separate soaking tubs and showers. Modern amenities include touch-screen controls and large flat-screen TVs. The hotel has plenty of amenities, including a large spa, indoor pool, sauna, and fitness center. There are also several dining and drinking options on-site, along with 24-hour room service.
Our favorite luxe amenity: The Club Level Lounge has large windows overlooking the Tiergarten.
The Merrion is Dublin's most exclusive luxury hotel, and has a convenient location across from the Government buildings in four 18th-century townhouses. It has fewer rooms than the nearby Shelbourne and feels more intimate and private, though its list of features is still extensive: The hotel has a full-service spa, lovely Roman-style indoor pool, and well-equipped fitness center. The impressive restaurant offering includes Restaurant Patrick Guilbaud, the only restaurant in Ireland to receive two Michelin stars, as well as the casual and atmospheric Cellar Bar, housed in the original 18th century wine vaults. Most will find little fault with this five-pearl gem.
Our favorite luxe amenity: The hotel has an exceptional private collection of works by famous Irish artists.
The Golden Tower Hotel is a luxury boutique renowned for its decadent touches and prime location. A blend of contemporary Italian furnishings, sumptuous fabrics, and rustic architectural details create a vibe that is opulent without being too stuffy. Swanky guest rooms offer flat-screen TVs, cozy beds, and sparkling marble bathrooms. The posh vibe extends to the Golden Spa, with its specially-lit whirlpools, and the Golden Chocolate Bar, with its selection of more than 30 types of chocolate. The hotel's location is another big draw, as it is close to everything from high-end shopping to popular tourist sights.
Our favorite luxe amenity: Carefully restored, original 16th century frescoes decorate the lobby.
The luxurious Hotel de Russie is located in a posh neighborhood near the Spanish Steps and Piazza del Popolo. This 122-room property combines style and comfort, starting in the cozy lobby with plush sofas and appealing artwork. Bright rooms feature tasteful, modern decor and marble bathrooms. Suites provide extra living space, as well as French doors leading out to small private balconies. Highlights at this upscale hotel include the on-site spa — with hammock-like loungers, massive indoor whirlpool, and Turkish steam bath — and an interior courtyard with a beautiful terrace and gardens. Le Jardin de Russie is a sophisticated place to dine, and the buffet-style Stravinskji Bar provides trendy lounge seating. Location, amenities, and the lush garden in the middle of Rome make this hotel a great high-end pick.
Our favorite luxe amenity: Rooms have upscale marble bathrooms with Ren toiletries.
The Hotel President Wilson is a beautiful luxury hotel with an even more beautiful location overlooking Lake Geneva. Its proximity to international organizations and government buildings makes it popular with business travelers, but all travelers can appreciate its many on-site amenities; there are six restaurants and bars, a luxurious spa by La Mer, a 24-hour business center, a seasonal outdoor pool, and a modern fitness center. The 228 rooms are decorated in contemporary style with a brown-and-white color scheme, and feature Bang & Olufsen flat-screen TVs and free Wi-Fi; most also have Nespresso machines and iPod hookups.
Our favorite luxe amenity: Bayview restaurant is helmed by Michelin-starred Chef Michel Roth, also winner of the Bocuse d'Or chef championship.
Canal House Hotel is a sumptuous 23-room boutique hotel towering above a canal in Amsterdam's Canal Ring district. The lovely brick front suggests something more traditional, but the interior is flashy and fashionable. Swanky rooms are arguably Amsterdam's most luxurious, and are decked out with rich purple fabrics and dark woods. More modest travelers might have an issue with the open layouts of some room types, though parts of the bathroom are enclosed. Throughout, bathrooms feature gorgeous tiling and modern basin sinks; many have soaking tubs as well as walk-in showers with rainfall showerheads. The Great Room, an upscale lounge and dining space, gives guests access to books and games, and the hotel itself is only minutes away from canal tours, shopping, and local eateries.
Our favorite luxe amenity: The Summer House is a small nook in the garden perfect for an intimate evening drink with your significant other.
The 98-room Mandarin Oriental is one of the most luxurious hotels in Barcelona, and certainly has one of the most recognizable hotel brand names in the city. It has a great location on Passeig de Gracia, and offers all the high-end amenities one would expect from the chain, including a rooftop dipping pool, a beautiful spa, and numerous restaurants. All-white rooms are sleek, and some have balconies, but layouts can be a bit awkward. Service is excellent.
Our favorite luxe amenity: Moments Restaurant, serving upscale Catalan cuisine, has two Michelin stars.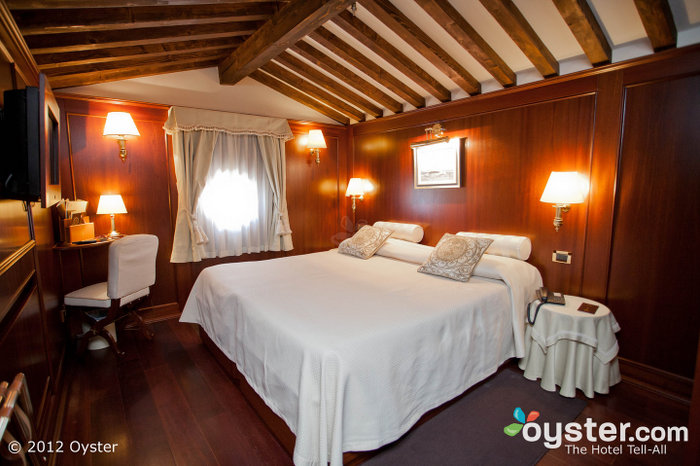 The 20-room Hotel Bucintoro is a unique property in Venice, with elegant decor inspired by ancient sailboats. It's located on the eastern side of the docks, removed from the crowds but within walking distance of major attractions such as Piazza San Marco. Most rooms are small, but all feature gorgeous views of the lagoon and city, as well as classy decor with wooden panels to compliment the subtle maritime theme, flat-screen TVs, minibars, and marble bathrooms. There's not much in the way of amenities — just a business center, a bar, and a cozy breakfast room, and rates can be steep. But the quiet locale, the beautiful rooms, and the views make it a wonderful pick.
Our favorite luxe amenity: Some rooms boast striking views of the Campanile bell tower in Piazza San Marco.
The historic Grand Hotel is one of Stockholm's grand dames, complete with gilded accents and a high-profile clientele. Built in 1874, the hotel boasts spectacular harbor views, and a great location near multiple museums and tourist attractions. Stately rooms have flat-screen TVs with premium channels, and some come with extras like separate deep soaking tubs and balconies. But be sure to upgrade to at least a Classic or Superior Room (215 or 270 square feet, respectively): Single Rooms are teensy tiny by American standards, measuring around 160 square feet.
Our favorite luxe amenity: In-room minibars include a small bottle of champagne.
The Altis Belem Hotel & Spa is a 50-room boutique in Belem, a residential neighborhood on the Tagus River. The hotel's rooms are sexy and spacious, with all-white decor accented by green rugs and unusual wall murals. Marble bathrooms are open and some have inviting soaking tubs. Some rooms also have balconies with marina views and private whirlpools. Despite its small size, this hotel has many amenities, including a spa, a big indoor pool, a fitness center, and a Michelin-rated restaurant.
Our favorite luxe amenity: The trendy Bar 38º41′ has spectacular river views and a great cocktail menu.
RELATED LINKS:
All products are independently selected by our writers and editors. If you buy something through our links, Oyster may earn an affiliate commission.