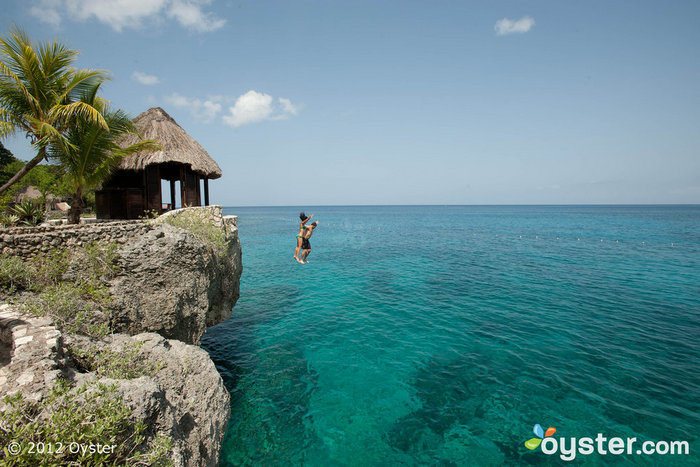 The Rockhouse is a lush, laid-back Jamaican resort offering gourmet dining, morning yoga, a premium spa, and best of all, a gorgeous cliff-side location on Negril's coast. Sure, there's no fitness center and rooms lack TVs and Wi-Fi, but its unplugged vibe is just why some guests come. Plus, with rates usually falling below $200, it's a steal compared to similar resorts — such as the slightly chicer Caves — in the area. (NB: Children under 12 are not allowed on the property.)
This Aruba resort has some great features, including rooms equipped with kitchenettes, two great pools (one with a 150-foot waterslide and the other with a waterfall), a state-of-the-art gym, and five lighted tennis courts. Room décor is outdated — picture tile floors and sad floral curtains — and the beach is a 10-minute walk away, but it's hard to complain when the price is this cheap.
Quality food, oceanfront bungalows, beachside canopy beds – heck, there are even free trapeze lessons! – all come together to make this 600-room resort in the D.R. an excellent value. And hey, the sexy, 80-percent Italian clientele doesn't hurt, either. There are some minor cleanliness issues, such as debris in the pool, but the beach has some of the softest sand and clearest water on the island.
The Negril Tree House has a prime spot on Seven Mile Beach; though it's one of Jamaica's most popular stretches of sand, the hotel's location puts it in a tranquil spot away from the crowds. Considering its ideal locale, you'll be hard-pressed to find a good hotel that's any cheaper. Rooms are bare-bones — we're talkin' tiny tube TVs and tired décor — but most guests don't seem to care once they're swinging on a porch hammock overlooking Jamaica's best beach. Plus, great bars and restaurants are right next door. And the price hovers around $150 per night.
With just 11 freestanding cottages on 130 acres, this eco-minded resort is intensely lush, filled with coconut groves, fruit-bearing trees, and a working cocoa plantation — but you get that in lieu of direct access to St. Lucia's beaches. Amenities are surprisingly plenty for a property with so few beds: On-site facilities include a small spa, a bi-level pool, two organic restaurants, and two bars. The rustic experience won't appeal to everyone, as TVs, Wi-Fi, and A/C units are absent in the rooms, but adventurous travelers on a budget will appreciate the authentic and gorgeous surroundings, and, of course, the affordable rates. Prices start at $150.
All of Divi Dutch's suites have king beds, queen sofa sleepers, and fully equipped kitchens, making them a convenient pick for families. Don't expect ocean views, as this Aruba property is located behind the Tamarijn resort, but guests are steps from a prime stretch of Druif Beach, as well as several impressive pools. Visitors can also make use of amenities at the four neighboring Divi properties, adding to the hotel's already solid value.
Located in an upscale community, the brightly colored, Creole-style villas at Hotel La Plantation are a bit dated but offer a solid value, coming in at around $200 per night — a good price for typically pricey St. Martin. There is no fitness center or spa on-site, but the hotel's lush setting and solid amenities, including an excellent French-Creole restaurant, a modern pool, and a chic lounge area, are definite perks.
Made up of just 30 hippy-chic cottages in secluded Treasure Beach, Jake's is one of Jamaica's most romantic hotels. Guests come to unplug — there's no phone or TV in the cottages — but given its gorgeous Driftwood Spa, painting and yoga classes, and excellent food, it's also a superb value. Average nightly rates start at $115.
Located on Puerto Rico's remote southwestern coast, the Copamarina is a world away from San Juan's crowded high-rise hotels. The 106 rooms (most of which ring up under $200) are dated – with tired, striped bedspreads and small, generic bathrooms – but they're clean and have been updated with large flat-screen TVs. The real draw at this resort, however, is its proximity to natural attractions including Gilligan's Island, the Guanica Dry Forest, and the Parguera bioluminescent bay. Guests can also snorkel, kayak, or dive just feet off of Copamarina's shore.
Offering just 10 eco-friendly bungalows in a lush, friendly setting, Natura Cabanas is a taste of serene, northern coast luxury for a remarkably fair price in the D.R. Guests enjoy delicious, fresh food, a clean, private beach, daily yoga and Pilates classes, and a fabulous spa. It's quiet, and a bit rustic without TVs or A/C in rooms, but after all, that's the point at this tranquil spot.
This Mediterranean-style hotel is tucked away in the hills of northern Barbados. Although it lacks an oceanfront locale, it has something other area hotels don't: Scenic wildlife such as green monkeys, warblers, and roosters roam freely on the expansive property. All-inclusive packages are available and help to save travelers some cash, as do suites equipped with kitchenettes, so guests can opt to eat in rather than dine out. A large outdoor pool, spa, fitness center, art gallery, and nature trail round out the hotel's impressive amenities, all of which comes at a fair price.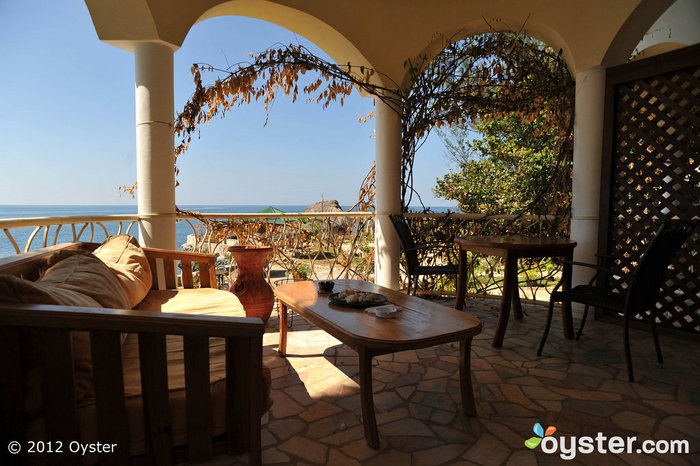 There's no pool, lobby, or dazzling features, but Catcha's private cliffside huts come with warm service, open-air showers, breathtaking sunsets, comfortable beds and scrumptious homemade cuisine (Ivan's serves one of the best breakfasts on the island – and it's free, to boot). Plus, you can cliff dive into the crystal clear water as soon as you step out your door. Rates can drop down to $135/night.
The Punta Cana Hotel's modest suites are all part of a luxurious, massive resort development in the Dominican Republic which includes the La Cana golf course, the Six Senses spa, a nature preserve, eight high-profile restaurants, horse stables, and one of the best beaches in the country. And did we mention nightly rates often fall below $100 for Deluxe Rooms?
This all-suite property offers an ideal location near shops, restaurants, and nightlife, as well as plenty of kid-friendly activities and rates that hover around $150/night for standard rooms. With three pools, tennis courts, and a mini-golf course on-site, guests will have plenty to do when they're not relaxing on the hotel's peaceful stretch of white-sand beach. The rooms are beginning to show signs of wear and tear, but if the price is right, it's definitely a solid pick.
The Alexandra might not be the best resort on Turks, but it is the best for the price. Renovated in 2010, contemporary rooms are spacious and stylish, and some come with kitchenettes and washer-dryers, especially helpful for families. Guests also have access to a large free-form pool, fitness center, tennis courts, small spa, and one of the island's most recommended restaurants, which serves up fresh seafood cooked with Caribbean spices.
RELATED LINKS: