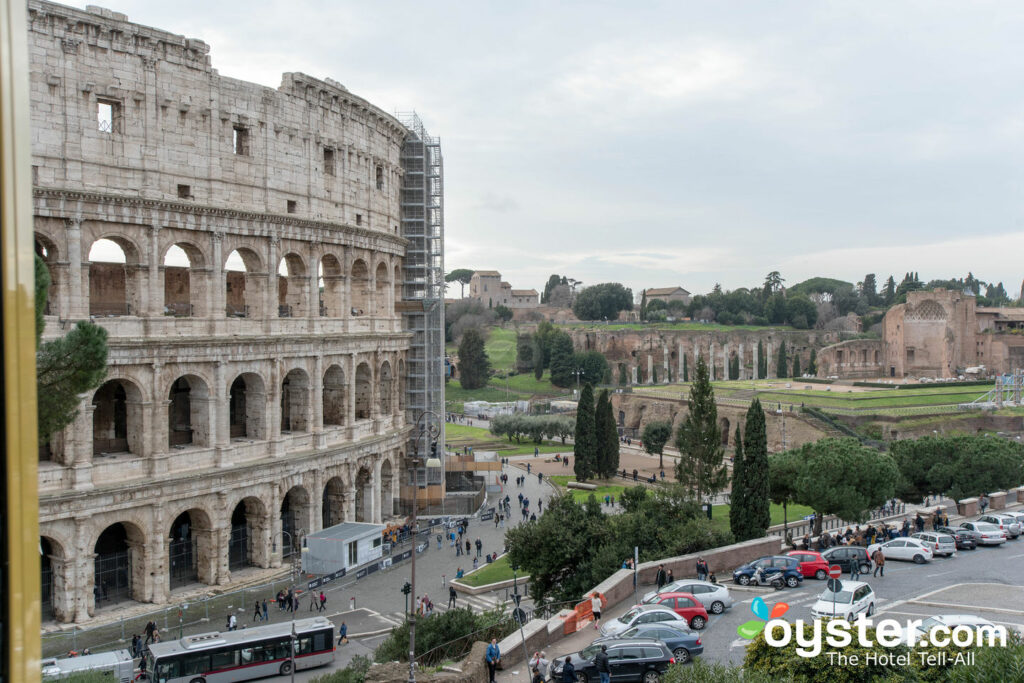 Visitors to Rome are spoiled for choice when it comes to historic sights. There's Vatican City, the Spanish Steps, the Trevi Fountain, and the list goes on and on. Most of those are so densely packed within the city, though, that it can be a challenge to snag a great view. Thankfully, the area around the Colosseum, which dates back to the first century, is a bit less packed with development. That means there are some excellent opportunities to snap a great pic. At the Colosseo Panoramic Rooms, you can do just that directly from your room at rates that won't kill your travel budget. The hotel is contemporary and a bit artsy — a welcome change of pace in a city where drab and dour describe so many of the budget properties.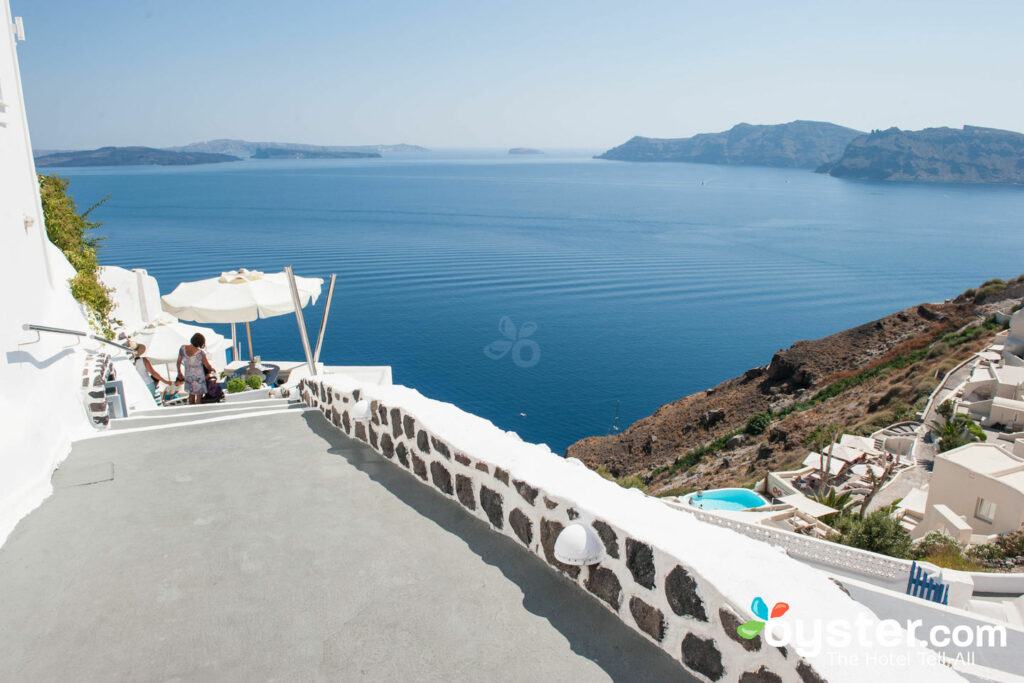 Yes, the Greek Isles are a playground for the rich and famous, but if you're willing to enjoy the slightly cooler temperatures of the shoulder season, all of the atmosphere of the Cyclades can be yours for a song. Santorini is the most famous in this island chain, in part because of its instantly recognizable caldera. The towns of Fira and Oia ring this dramatic seascape and whitewashed buildings appear to tumble down sheer cliffs all around. Alexander's Boutique Hotel of Oia is a great little find for fans of all things quaint and authentic. Most of the rooms have eye-popping caldera views (though they're also on offer from the hotel's common areas), and the family-run property is only a 10-minute walk from town.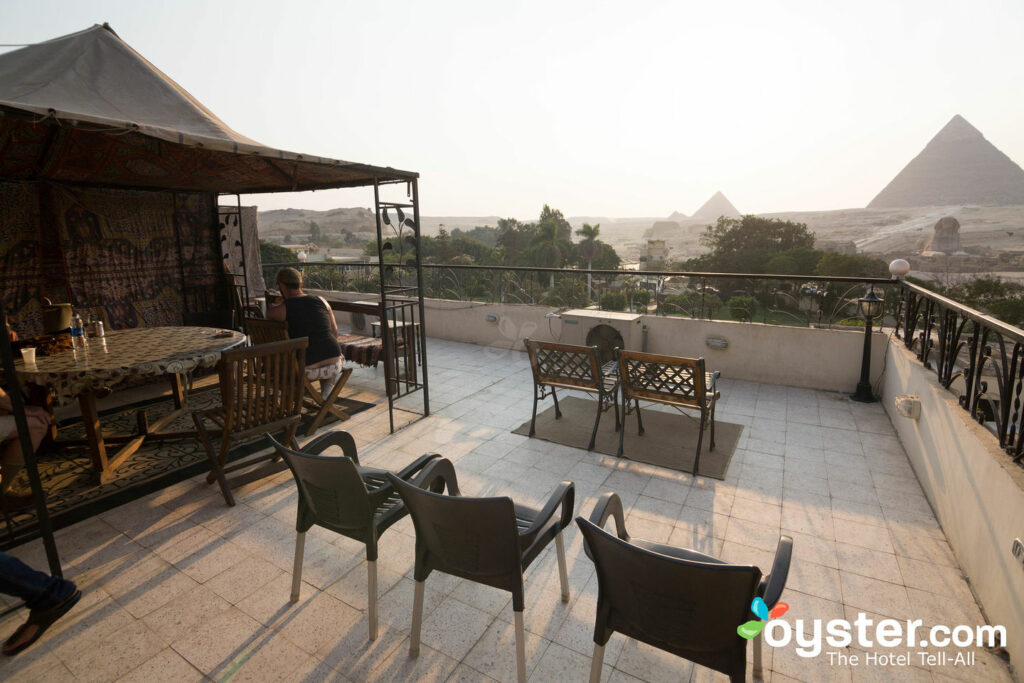 Egypt isn't high on everyone's must-see list these days due to its current political situation and ongoing terrorism concerns. However, the pyramids of Giza are magnificent enough to continue exerting plenty of pull on travelers around the world. In fact, while overall numbers are down, several hundred thousand tourists still land in Egypt every month. Hotel rates can be a bargain throughout the country, but even we were shocked when we stumbled upon the Pyramids View Inn. The name doesn't lie, and many rooms — as well as the rooftop restaurant — have verifiably stunning views of the pyramids and the Sphinx. Your envy-inducing Instagram feed can be had for rates under $50 at certain times of year.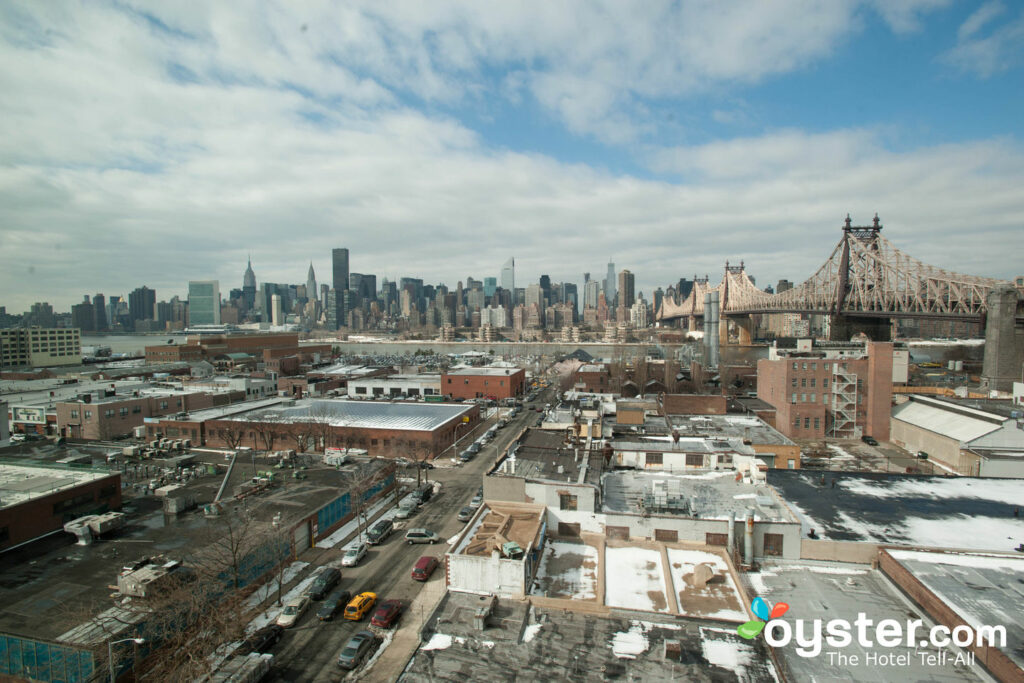 Common wisdom says hotels in New York City are prohibitively expensive — especially for ones with jaw-dropping skyline views. The Z Hotel in Queens is a sharp exception to that rule, though, with four-pearl class and stylish interiors. That's all in addition to glimpses of the Queensboro Bridge, Empire State Building, and Chrysler Building from most rooms and the stunning rooftop terrace. Its Long Island City address is within a 10-minute walk of multiple subway lines and MoMA PS1– an edgy contemporary art museum — is 15 minutes away on foot.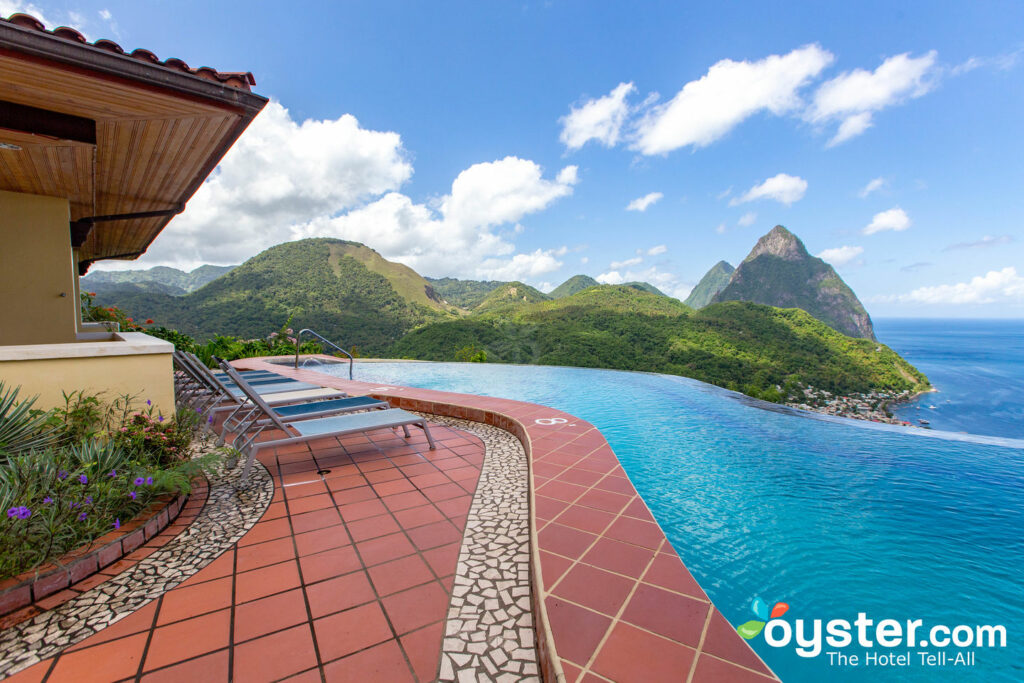 Does a view of lush rainforests, the stunning blue sea, and steep Caribbean peaks sound like a nice way to spend your vacation? We thought so. Many travelers might think that gazing upon St. Lucia's postcard-worthy Pitons are only for the rich and famous. They'd be excused, as luxe properties like Jade Mountain Resort offer almost unrivaled views of these gorgeous mountains for over $1,000 a night. That "almost" is key, though, as La Haut Resort has equally impressive vantages. With the small town of Soufriere down below, the two mountains — Gros Piton and Petit Piton — rise dramatically to cap a series of jade-green forested hills. The homey style throughout the property might feel a little old-fashioned to some, and air-conditioning and TVs are limited. However, we think those views and the sea breezes do more than enough to make up for a few inconveniences.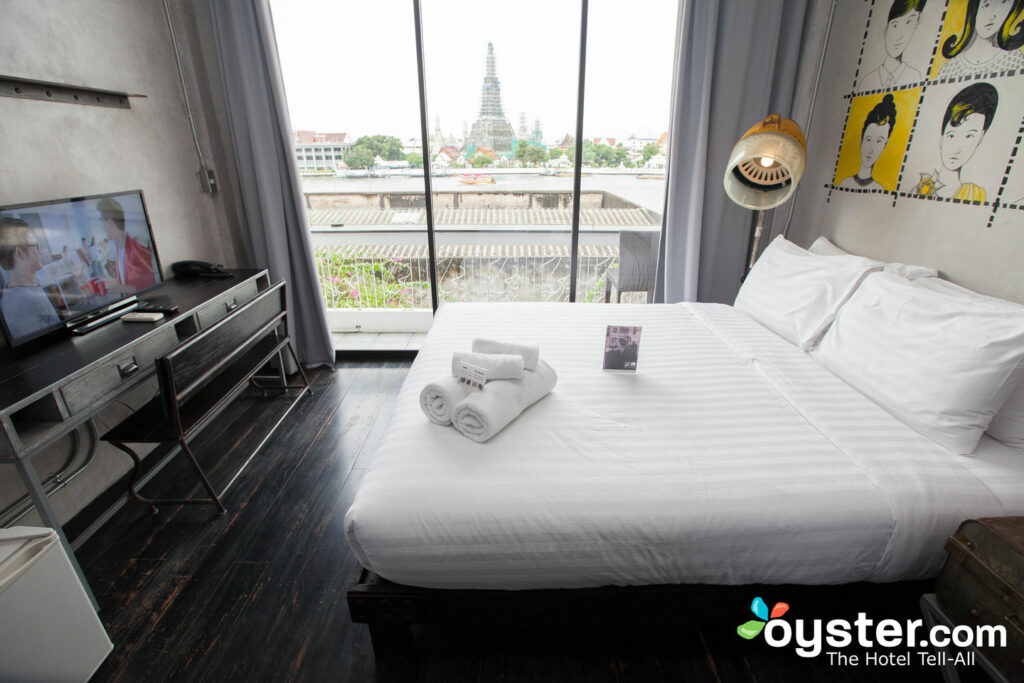 Riverfront hotels are a hot commodity in Bangkok, and while this is a notoriously budget-friendly city, the big-name hotels with views tend to cost a lot more. Inn A Day bucks that trend, as the striking Wat Arun sits just across the mighty Chao Phraya River from the hotel. Ferry boats, traditional long tail boats, and all manner of life pass up and down the river day and night, and the temple glows spectacularly after dark. The city's most famous historic sights — Wat Pho and The Grand Palace — are also a five- to 15-minute walk from the hotel. When you add the property's trendy boutique style to the mix, it becomes one of Bangkok's best values.
If you want the best views of Niagara Falls, you'll have to head to Canada, where Queen Victoria Park provides a flower-filled promenade from which both the American and Canadian Falls are visible in all of their glory. Niagara Falls, Ontario, is packed with all sorts of hotels — many of which have seen better days. We like The Tower Hotel for lots of reasons. It features pleasantly modern rooms, boutique-hotel sensibilities, and decent dining options right on-site. But the main draw is the view, which looks directly onto the falls from the hotel's 26th-floor restaurant — and many of the rooms. Rates generally hover around $100 per night (often outside of high season), which helps sweeten the deal even more.
Paris can be a wildly expensive place for everything from food to museums. Prices at most of its decent hotels are no different, and you'll be hard pressed to find views of Sacre Coeur or the Eiffel Tower for a reasonable rate. However, Hotel Esmeralda, in the city's 5th Arrondissement, is an excellent exception. The buzzy (if touristy) Latin Quarter location has all of the atmosphere most visitors to Paris are expecting, and puts the Seine steps away. That means Notre Dame is also nearby — in fact, it's just across a narrow channel in the famous river. Many of the rooms have close, full-frame views of the legendary cathedral, though the country-inn style in them is basic and amenities are entirely absent.
Tourism is surging across Portugal, from the beaches of the Algarve to Lisbon, but Porto has been captivating travelers for centuries — and with good reason. This hilly city is an artistic hotbed with a thriving foodie scene, and its native spirit — port wine — has found connoisseurs around the world. Much of its central city is a UNESCO-preserved historic site, and there's an undeniably authentic charm to its Old World ways. The Carris Porto Ribeira fits the bill when it comes to style and substance. Rooms are simple, but contemporary; its restaurants are excellent; and there's even a small fitness center for burning off all of those pastry-based calories. While you may hear a bit of noise, the views of the Douro River and Luis I Bridge are unbeatable, and the Ribeira-area location puts it smack in the middle of the action.
Despite being overrun by tourists from around the world, the possibly-endangered city of Venice can't help but enchant visitors. A stay here can feel a bit like sleeping overnight in a museum, and getting lost in its canal-hopping alleyways is a romantic dream. For the best views, you'll want to stay along the Grand Canal and the famous Venetian Lagoon. Hotel Paganelli is a bit of a feat in this city of dated properties. It's three-and-a-half-pearl rooms — which are fresh and modern, if compact — can be had for well under $100 a night during the shoulder season, and the lagoon views from some rooms are the stuff of which memories are made. Need another reason to pick Paganelli? Piazza San Marco is less than five minutes away on foot.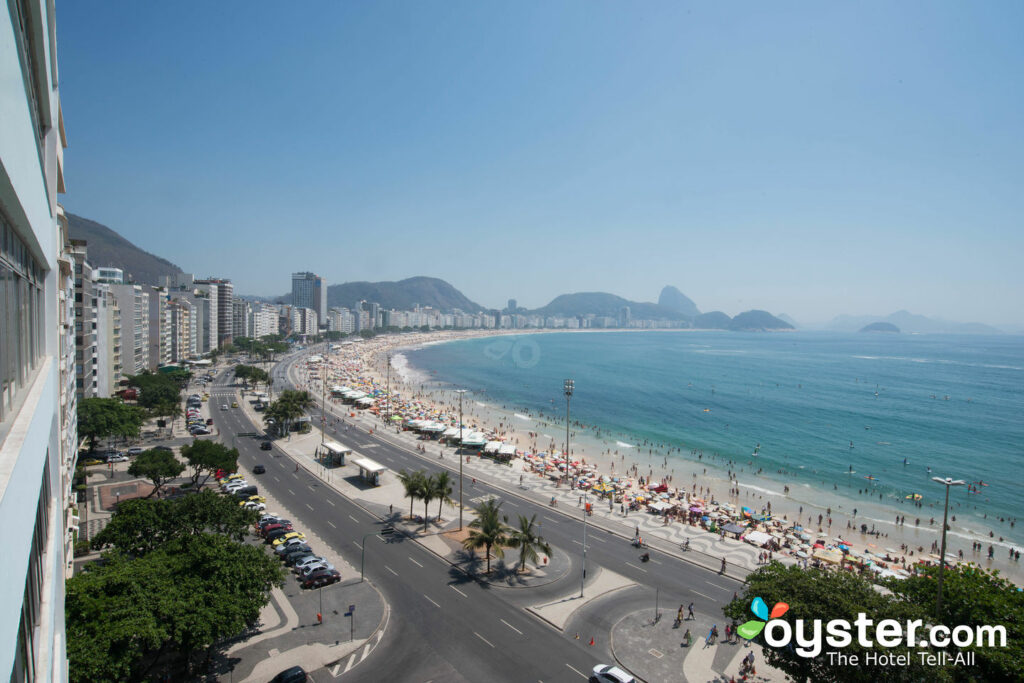 Just the name Copacabana conjures images of sun, surf, sand, and many, many caipirinhas. It's one of Rio de Janeiro's most famous beaches and bustles with bathing beauties all day long. But it's not just crashing waves that make Rio a stunner of a city — the city's mountainous harbor has fueled plenty of dreams. Most of the images you'll see of Rio include Sugarloaf Mountain, the granite monolith that guards the entrance to Guanabara Bay. Orla Copacabana Hotel has views of the stunning beach and the mountain from many spots throughout the hotel, including most rooms and its rooftop pool. Rates can be a steal for this prime location, and it's only a 15-minute walk to the nightlife of Ipanema.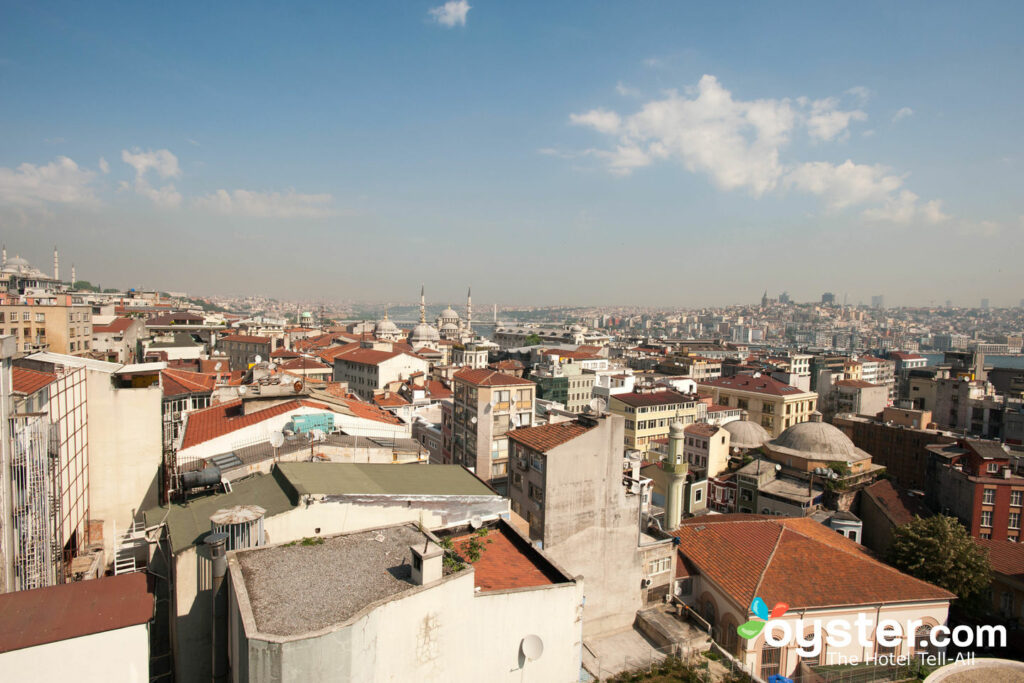 Istanbul is a massive city that straddles so much: Europe and Asia, Islam and Christianity, new and old. There are nearly countless neighborhoods for a traveler to choose from depending on whether they want to party, see-and-be-seen, or live like a local. There are safety concerns, of course, but that doesn't change its eternal beauty. The Sultanahmet neighborhood still outshines most of the city when it comes to drawing tourists. The neighborhood is home to architectural and cultural gems like the Blue Mosque, Topkapi Palace, and the Hagia Sophia. It's a densely packed warren of ancient streets in the Fatih district, which normally means sweeping views are few and far between. The Levni Hotel & Spa is all the more outstanding because some of its rooms have outstanding views of most of the neighborhood's major monuments, as well as Bosphorus and Karakoy across the water.
We didn't say you wouldn't have to rough it in order to get the best views — though roughing it at the Half Dome Village, inside of Yosemite National Park, has an undeniable charm. This development of nearly 500 cabins, tents, campsites, and motel rooms has varying levels of comfort and frills, but — as the name suggests — the reason for being here is the proximity to the mighty Half Dome. While the views aren't available from every tent or room, just take a few steps away from your front door and look up. The jaw-dropping face of the mountain is towering over the development from almost any angle.
Madrid is a charmer for almost too many reasons to list. Its compact barrios have something for everyone, the cuisine is some of the world's best, and outstanding museums are the norm. It's also a hotbed of nightlife and has an intimate vibe that's arguably unmatched anywhere in Europe. And while Madrid may lack Barcelona's iconic Gaudi creations, there's still a lot to love about the aesthetic throughout the city. The Palacio Real, which marks the west side of the Centro, is a prime example of Madrid's Baroque look, and serves as the seat of Spain's royal family. ApartoSuites Jardines de Sabatini looks right onto the palace in all its splendor, and views are particularly spectacular from its garden terrace. So grab a glass of cava or rioja (you'll have some extra cash while staying here thanks to its reasonable rates) and savor the sunsets and sprawl of Spain's capital city in all directions.
Cape Town's allure is multifaceted. It has amazing beaches, a vibrant cultural scene, intense history, diverse dining, and easy proximity to amazing wildlife adventures. The scenery is also spectacular and the town's skyline is dominated by Table Mountain. This recognizable peak, often caressed by clouds dipping over it, is the background for many travelers' pictures. An African Villa is located in the quiet, residential Tamboerskloof neighborhood and is just a 10- to 15-minute drive to the beach. The best rooms have Table Mountain views, which is almost so close you can touch it.
You'll Also Like: