While conventional wisdom might say head south of the equator and to the tropics during the winter, you'd be missing out on some great travel deals across the world's northern reaches as well. In fact, heading across the Atlantic to Europe during the year's coldest months is likely to give you an awesome opportunity to check out some of the continent's coolest spots without the crowds. And that doesn't mean that you'll be freezing everywhere you go, or feeling lonely in abandoned beach towns in the off season. Plenty of Mediterranean resort and vacation destinations are seeing year-round tourist activity, while the inland cities bustle and stay open for business. No matter where you head, you'll be within easy reach of everything from incredible museums to archaeological sites and pristine natural parks. Plus, you likely won't be elbowing fellow travelers out of the way. So whether you're looking for lower hotel rates, sunny skies, or quintessential winter scenery, you're sure to find it amidst these winter-friendly locales in Europe.
One of Europe's sunniest regions, the Algarve sprawls along Portugal's stunning southern coast, and is one of the prettiest wintertime playgrounds on the continent. Aside from the Christmas and New Year holidays, rates will be low and almost all of the towns in this region will have a more laid-back vibe. The water will be cold, but most of the region experiences temperatures that are warm enough for short sleeves all winter long. For low-key trips with a more natural bent, opt for Sagres, all the way to the region's west. For a bit more history and local charm, opt for Lagos, with its local pastry shops and gorgeous historic district. If you want to be surrounded by British pubs, Albufeira is a safe bet (though can feel a bit shuttered in the off season). No matter where you choose to recharge, you're likely to come home with a Vitamin D mood boost. After all, the Algarve gets a reported 300 days of sun per year.
Where to Stay:
For travelers who don't fear the cold, Amsterdam can be a great winter getaway. It's a good idea to start out with a brisk walk around the city center or a boat tour of the canals, where light installations and sculptures will be on display during the Amsterdam Light Festival in December and January. Ice skating is another favorite winter activity here and there are plenty of ice rinks — or in some years, frozen canals — available. Our recommendation: Ice Amsterdam, a rink on the Museumplein beside the stoic Rijksmuseum, the Dutch national museum. Afterwards, warm up inside one of the city's authentic bruin cafes (brown cafes), which are local pubs named for their wooden interiors.
Where to Stay:
While it won't be warm enough for the beach, off-season Sicily offers mild temperatures (typically in the 50s and 60s) that are ideal for touring around on foot. This is the season to try hiking from Taormina to the little town of Castelmola via the ancient Saracens path, which offers views of Mount Etna, Saracen castle, and the sea en route. Or, spend a day strolling around the narrow cobblestone streets of Syracuse's old town, which tend to be clogged with tourists during the summer, but pleasantly quiet in January and February. The Greek theater of Taormina, where winter travelers can check out the ruins without having to navigate huge crowds, is another great option. Just be aware that some restaurants may be closed and there can be chilly or rainy days — in which case, ride on the Ferrovia Circumetnea, a small (and cheap) train that circles the base of Mount Etna.
Where to Stay:
With 340 days of sun per year and comfortable winter temperatures, Cyprus is a good bet for off-season rejuvenation. The number of tourists is five to six times higher from May to September than other times of year, which means some coastal hotels close up in January and February and there are deals to be had at those that do stay open. In any case, the low-key scene makes it easier to chat with locals and explore the island's incredible archaeological sites, such as ruins of the ancient Greco-Roman city of Kourion and the entire UNESCO-protected town of Paphos. It's also a good season to hike, bike, or ski in the Troodos Mountains — the highest peak is Mount Olympus — as trails empty out.
Where to Stay:
Travelers looking for a big European city with tons of cultural activity and charm, but without the gray skies like London, should head to Barcelona. The air will be chilly, but the sky will likely be clear and blue, making it ideal for strolling the quiet or even empty streets, the tree-lined La Rambla, and La Boqueria open-air market. There's plenty of crema catalana (a creme brulee-like custard) to warm up with in between stops at Gaudi masterpieces like La Sagrada Familia and the paths of Park Guell, where you'll find amazing views of the city. Plus, Barcelona's museums and galleries often hit their stride in the wintertime, considering fewer crowds get in the way.
Where to Stay:
Given its generally mild Mediterranean climate, it's not surprising that Spain lands on this list more than once. And while most its major cities — like Barcelona (but also Madrid, Valencia, Sevilla, and Malaga) — are more than tolerable in the winter, it's also worth spending some time offshore. Majorca's beaches aren't exactly bustling in the winter — and some of its more party-oriented resort towns are likely to feel a bit desolate — but its capital, Palma, is a lovely place to explore. Even so, it's all about the great outdoors in the winter in Majorca, as February (generally) marks the destination's famous almond blossom season, when millions of white flowers burst open on the trees found across the island.
Where to Stay:
Embrace the snow and cold in Iceland, where winter brings unique experiences not available any other time of year. First of all, winter months offer the best chance of seeing the Northern Lights on clear, dark nights. Secondly, streams of water running through glacial caves freeze, resulting in so-called crystal caves. Ice cave tours are a must for winter visitors. Prices on flights (particularly from the East Coast) and hotels can drop significantly, as tourism dies down from December through February. If you happen to be there during New Year's Eve, check out the fireworks in Reykjavik, the country's capital city.
Where to Stay: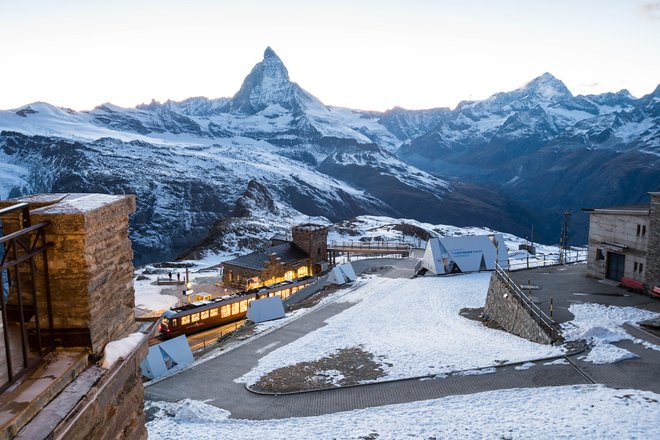 While most destinations on this list are cheaper in the wintertime, the same can't be said for Switzerland — at least for its ski towns. However, for winter sports aficionados, it's hard to compare with the snowpacks of the majestic Alps when the coldest months of the year descend on the Northern Hemisphere. The charming small mountain towns take on a romantic glow as they sit under inches — if not feet — of snow, and the big cities are home to spectacular seasonal markets. Of course, the ski resorts, including Zermatt (near Matterhorn), Verbier, St. Moritz, and Jungfrau, are the biggest draw in Switzerland during the winter.
Where to Stay:
With temperatures that rarely drop below 50 degrees during the daytime (10 degrees Celsius), Porto is one of the milder cities to visit in continental Europe during the winter months. It also happens to be one of its most scenic, with a riverside setting and UNESCO-designated historic district that's pretty enough to make any visitor blush. It's not all cobblestone alleys and historic cathedrals in Porto, though, and the city has a thriving contemporary art scene as well, including Museu Serralves, Espaco Mira, and the galleries along Rua Miguel Bombarda. There are plenty of old markets to peruse as well as an energetic local dining scene. And if a bit of winter chill blows in off of the Atlantic, simply tuck into the port wine cellars found just across the Douro River.
Where to Stay:
With a latitude that's far higher than New England's, you may think that Denmark is only frigid and dark in the wintertime. And you'd be partially correct. Daylight hours are pretty slim here — on the winter solstice, there's only seven hours of sunlight between sunrise and sunset. However, temperatures are often a bit warmer than you'll find in the northeast United States. But the real magic isn't what's happening outdoors — it's what all that cold and dark does to the traveler. You see, Copenhagen is packed with many cute, cozy, and romantic cafes and bars, all of which seem to sling locally-sourced delicacies, amazing pastries, perfectly roasted coffees, and an array of warming spirits. Christmas means lots of markets and holiday charm, but if the weather is too brutal, head into one of the city's stunning art museums, like the Kunsthal Charlottenborg, the North Atlantic House, Copenhagen Contemporary, or the National Museum of Denmark.
Where to Stay:
Additional Reporting by Kyle Valenta.
You'll Also Like:
All products are independently selected by our writers and editors. If you buy something through our links, Oyster may earn an affiliate commission.