Road warriors, rejoice: The days of relying on a (possibly shoddy) business center are over. Not that we don't love a good business center, but when it comes to those who frequent the skies (or road, or railroad track) for work, we know from experience that it's important to stay connected on your own terms. And since business travelers are dominating the hospitality landscape, hotels have heeded visitors' requests and souped up their technologies to match the fast pace of the world today. Before you grab your briefcase and hop the next flight to Atlanta/New York City/Hong Kong, make sure you're booked at one of tech-savvy retreats.
1. Innerwireless Distributed Antenna System Where: Mandarin Oriental, New York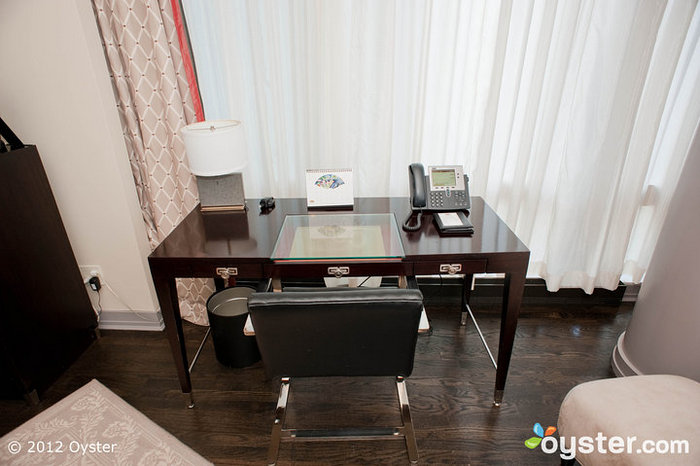 The work desk in the Mandarin Executive Suite is spacious, sleek, and handsome.
Hate when your call gets dropped? So do we — especially if we're negotiating an important deal. And obviously the Mandarin Oriental does too, which is why the ultra-luxe property in New York City set up what's dubbed an "Innerwireless Distributed Antenna System," which is a device installed in the core of the hotel that allows for uninterrupted — that's right folks — and universal cellular coverage. And if you forgot your iPad charger or extra computer battery, the hotel concierge will easily provide you with replacements.
2. Fully-Functional In-Room Workspaces (with all the bells and whistles, too)
Where: Hyatt Place Atlanta/Buckhead
Ergonomic chairs at the Hyatt Place Atlanta/Buckhead leave your back pain-free after your work's been done.
The Hyatt Place family of hotels caters to the business set: many of its outposts are located close to airports for easy fly-in, fly-out access. But we're enamored with the stylish iteration in Atlanta's chic Buckhead neighborhood, enabling road warriors to explore the sights and meet with the corporate bunch. But what we love about this Hyatt Place are the rooms — and how easy it is to get work done in them. Inside, you'll find oversized work desks with ergonomic chairs. Guests can — and should — also use the Hyatt Plug Panel, which allows guests to plug devices like a laptop or iPod directly into the rooms' flat-screen TVs. What more could you want?
3. 24/7 Butlers (available at the push of a button)
Where: The St. Regis New York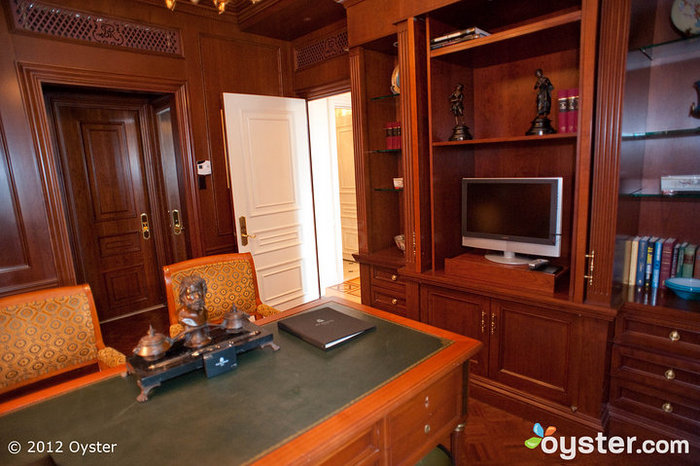 The Imperial Suite boasts many finely-appointed rooms, including this classic study.
Yes, obviously the St. Regis is really, really posh. And that's why the New York icon has butlers on-call 24/7 for its guests; catering to each and every whim. But with most of us locked into our computers all day, it's so much easier to send an email then to pick up the phone and wait for the concierge to answer — right? Luckily, the St. Regis has all of their assigned butlers available via wireless devices — so if you're stuck in a conference and need to make a dinner reservation, your butler has got you covered with the pressing of the "send" button.
4. MyMobile and MyMira
Where: The Mira Hong Kong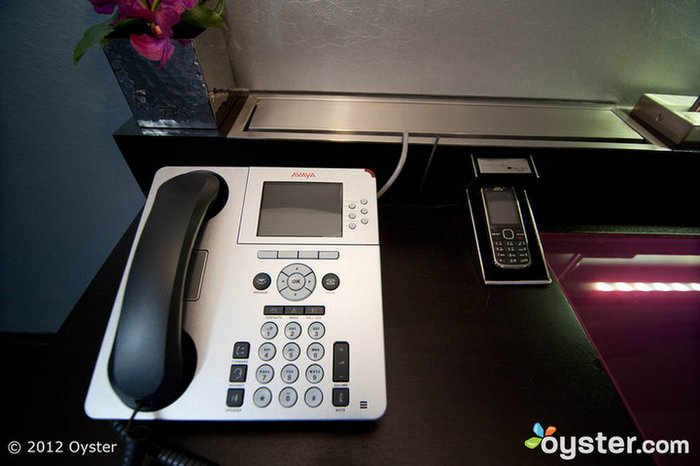 Check out the Platinum Suite's rad MyMobile set-up at the Mira Hong Kong.
We've mentioned how hardcore modern the Mira is before. And everything really is, from the design of the sleek indoor pool to the all-in-one in-room entertainment units. But business travelers will appreciate the 22nd-century thought behind the MyMobile service: Your room phone is cloned by a cell phone (stowed next to each other, natch) so that you can stay connected — inside and out of the hotel — and banish roaming charges from your life. There's also the MyMira service, the digital concierge who can take care of pretty much anything with the touch of a button — think theater tickets, laundry service, or even the weather. They call it their "way of saying thank you," we call it genius.
5. Wired2Go
Where: W New York – Union Square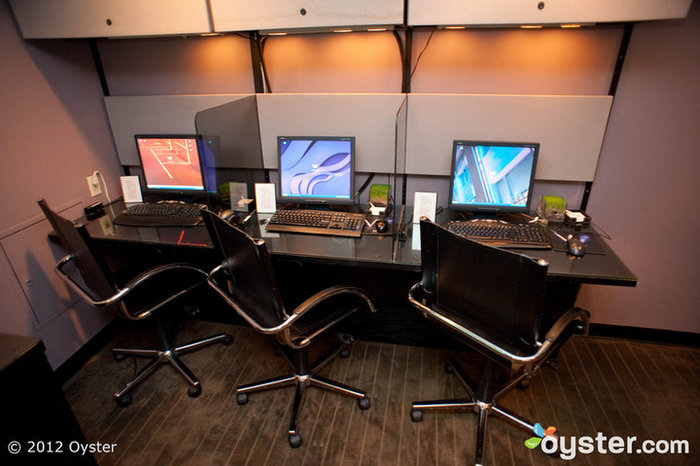 Traveling sans computer? Take care of the basics in the W's business center, then grab a laptop to go.
Offered at W hotels in New York and New Orleans, Wired2Go is ideal for those who like to travel light. Simply put, the hotels will provide each one of their guests (upon request) with a laptop and all the electronic accessories necessary to the road warrior. That's not to mention their "Whatever, Whenever" program, handled by the concierge at every W, which does exactly what it claims to do. Get documents scanned, meetings planned, and room service breakfast ordered in minutes flat.
RELATED LINKS:
All products are independently selected by our writers and editors. If you buy something through our links, Oyster may earn an affiliate commission.