National holidays can be wonderful times to visit destinations around the world: Official days off make for happy locals, and festivals, parades, and celebrations add to the upbeat vibe. But holidays often also mean crowds of people, closed restaurants and shops, higher crime rates, and uber-expensive hotel stays. Of course, many find that all of the pros a holiday brings outweigh these cons -- and as long as tourists practice caution, and book well in advance, visiting during a national holiday can make for fond, lasting memories. But we just wanted to warn you in advance: We discovered five holidays you may not even know you (probably) want to avoid in destinations around the world.
1. Palio di Siena: July and August in Siena, Italy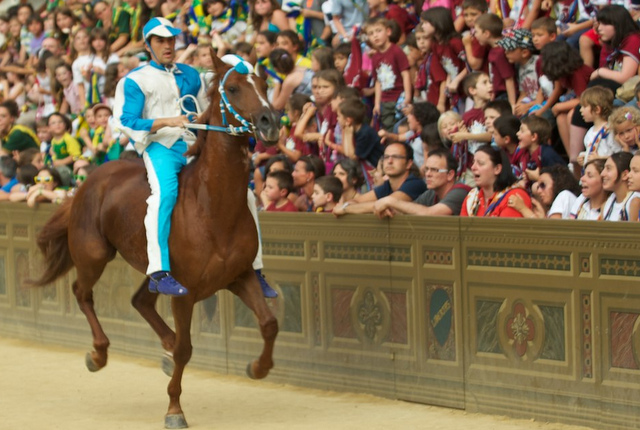 A two-part summertime event, held every July 2 and August 16, Palio di Siena dates back to the medieval times — perhaps that's why this horse race, during which each of Siena's 17 city wards has a representative race bareback to the finish line, is one of the most beloved, highly anticipated, and extremely competitive holidays in this beautiful Tuscan city. In fact, the rivalries between the contrade are so deep-seated that locals are notoriously rude during the events, and are known to look upon visitors with disdain. Add in oppressive heat, peak-season rates, and over 60,000 in attendance, and you may do better visiting Siena another time.
If You Can't Stay Away, Stay At: Hotel Santa Caterina, an 18th-century villa just outside the medieval city walls
2. Carnival: February in Venice, Italy
Maybe you can visit Venice during the summertime instead of Siena, and then make your way to Siena when Carnival is in full swing in the City of Bridges. Although various versions of Carnival is celebrated before the beginning of the somber Lenten season all around the world, few places do it as riotously and flamboyantly as Venice. Tons of tourists flock to the city to witness the spectacle — parades, masquerades, performances — and that's just why we say you may want to stay away. The city is infamous for its pickpockets (who, no doubt, love the crowded alleyways), and even if you don't get your money stolen on the street — it will certainly feel like your hotel, with sky-high rates, is robbing you blind! Plus, weather here during February is windy and cold.
If You Can't Stay Away, Stay At: Hotel Al Piave, a solid budget pick
3. Ramadan: June and July in Dubai, United Arab Emirates
Observed by Muslims all over the world, Ramadan is a 30-day religious holiday during the ninth month of the Islamic calendar — which falls during June and July this year. During this time, Muslims fast from sun up to sundown, and refrain from other behaviors that are considered sinful, such as smoking and cursing. While parts of Dubai already have strict policies on alcohol, no alcohol is sold during daylight throughout Ramadan, and many restaurants and coffeehouses close, so if you're not observing the holiday, you may want to visit another time. (N.B. Most hotel restaurants, however, remain open for normal hours.)
If You Can't Stay Away, Stay At: Dubai Marine Beach Resort and Spa, a large upscale resort with a private beach
4. Golden Week: October in Hong Kong, China
Kicked off by National Day on October 1, Golden Week is the longest holiday in China outside of the Chinese New Year. Established in 1999 largely to boost tourism and improve the national standard of living, the holiday has nearly been cancelled on several occasions (mostly recently in 2006 due to concerns that it disrupted regular economy). But it lives on, and though it is celebrated throughout the country, many congregate for the holiday in Hong Kong where festivities include parades, fireworks, and concerts. Though the celebrations are certainly spectacular, tourists may want to avoid the city during this time, as the crowds are even more massive than usual, and flight and hotel rates skyrocket. Many shops also close.
If You Can't Stay Away, Stay At: The Landmark Mandarin Oriental, one of the most intimate luxury properties in the city
5. Carnival: February in Rio de Janeiro, Brazil
Okay, so Carnival is crazily over-the-top in Venice, but its insanely over-the-top in Rio de Janeiro. Rio Carnival is the largest carnival in the world, and during the five-day event, the city's streets are filled with over two million people from morning till night. The celebration involves dancing, drinking, parades with spectacular floats, concerts, delicious food, and much, much more. Many tourists purposely come to Rio for the event and rightfully so. However, the downsides include hotel rates that are double (if not triple or quadruple) normal prices, strict (and lengthy) minimum night stay requirements, and significantly higher crime rates (with a high percentage of tourists being the victims of these crimes). Of course, most visitors attend and have a wonderful time, completely unscathed, but you may enjoy a visit to Rio more during a slightly less hectic holiday.
If You Can't Stay Away, Stay At: Porto Bay Rio Internacional Hotel, right across the street from Copacabana beach
All products are independently selected by our writers and editors. If you buy something through our links, Oyster may earn an affiliate commission.