Let's face it: Traveling can bring out the inner germaphobe in even the most adventurous of us, and for good reason. There are lots of health risks encountered in your hotel room that you won't necessarily find at home, from mold to industrial cleaning product residue. Didn't even cross your mind 'til now? Well, fear not -- more and more hotels are offering solutions, so your next hotel stay can be cleaner and safer than ever before. Read on to find out what to be wary of -- and what you can do about it.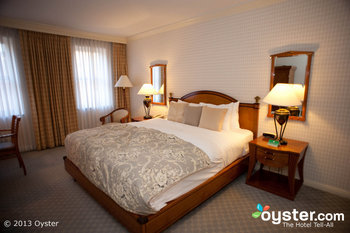 The Risk: Chemical Cleaning Products
The chemicals in cleaning products used in many hotel rooms can make you sick — and routine exposure (road warriors, take note) can be life-threatening. Exposure to the carcinogens in cleaning products can increase cancer risk, while endocrine disruptors found in many pesticides, detergents, and disinfectants can confuse body hormones and cause fertility problems or even miscarriages.
The Solution: Chemical-Free Cleaning Products
Eco-friendly hotel initiatives are growing increasingly popular, and these days many hotels are being recognized for their efforts by organizations such as LEED (Leadership in Energy and Environmental Design). So don't be afraid to ask hotel staff about the cleaning products they use, or check out our research here. One of our favorite LEED-certified hotels is The Orchard Hotel, which was at the forefront of this movement. Among the very first LEED-certified hotels in San Francisco, the Orchard uses chemical-free cleaning products — among many other impressive green practices.
The Risk: Bathroom Mold
Not only is bathroom mold gross, it can be dangerous, causing respiratory issues and other problems.
The Solution: Ventilation Fans and Frequent Cleaning
Ventilation fans in the bathroom are key to preventing the moisture issues that allow mold to flourish, as is frequent cleaning. Many hotels, such as the Koa Kea Resort Hotel at Poipu Beach, keep their bathrooms spic and span in order to avoid any "ick" factor. To be aware of any potential cleanliness problems ahead of time, make sure to look at Oyster.com's honest hotel photos — if there's mold, we'll show you.
The Risk: Air Pollutants
Air pollutants such as ozone particles (which make up smog) can cause wheezing and shortness of breath for anyone, not just allergy sufferers. And many people have had the experience of checking into a supposedly non-smoking room that smelled otherwise — a particular annoyance for those sensitive to cigarette smoke.
The Solution: Air Purifiers
Hotels such as the Grand Hyatt Seattle — and indeed all hotels in the Hyatt brand — offer special hypo-allergenic rooms that have air purifiers and go through a special cleaning process to reduce allergens on fabrics such as the carpet and upholstery. The Four Seasons Denver also has heavy-duty air ionizers that can be brought into the room upon request.
The Risk: Feather Allergies
For those with feather allergies, staying in a hotel room with down bedding and feather pillows can be downright unpleasant: itchy eyes, runny nose, and sneezing are only a few of the possible reactions. That down duvet may look plush and inviting to some, but for those with feather allergies it's a bout of hay fever waiting to happen.
The Solution: Hypo-Allergenic Pillows and Bedding
Luckily, many hotels — such as the Garden Court Hotel in Palo Alto — offer alternative hypo-allergenic pillow and bedding options for allergy sufferers.
The Risk: Dry Skin and Itchy Eyes
It's ski season, and those traveling during winter –particularly to locations with high altitudes — are likely to encounter cold, dry air. Dry skin isn't fun for anyone, and neither are itchy eyes, particularly when you're trying to get comfortable in your hotel after a day on the slopes.
The Solution: Humidifiers
If you thought humidifiers were exclusively an at-home luxury, think again. No, you don't have to lug your humidifier onto the plane — plenty of hotels, such as The Sebastian Vail, provide them upon request.
RELATED LINKS:
All products are independently selected by our writers and editors. If you buy something through our links, Oyster may earn an affiliate commission.