When it comes to vacationing in New York City, everyone wants a bite out of the Big Apple's luxury offerings. But if you don't want to blow your travel budget on the hotel, don't worry. For every desirable property with an intimidating price tag, there's a hotel that's cheaper and similar. After all, the city is all about diversity -- and that goes for its hotels, too. From stylishly historical to Brooklyn boutique to downtown cool, we've compiled a list of top five luxury hotels in and paired them with similar, yet more affordable, alternatives.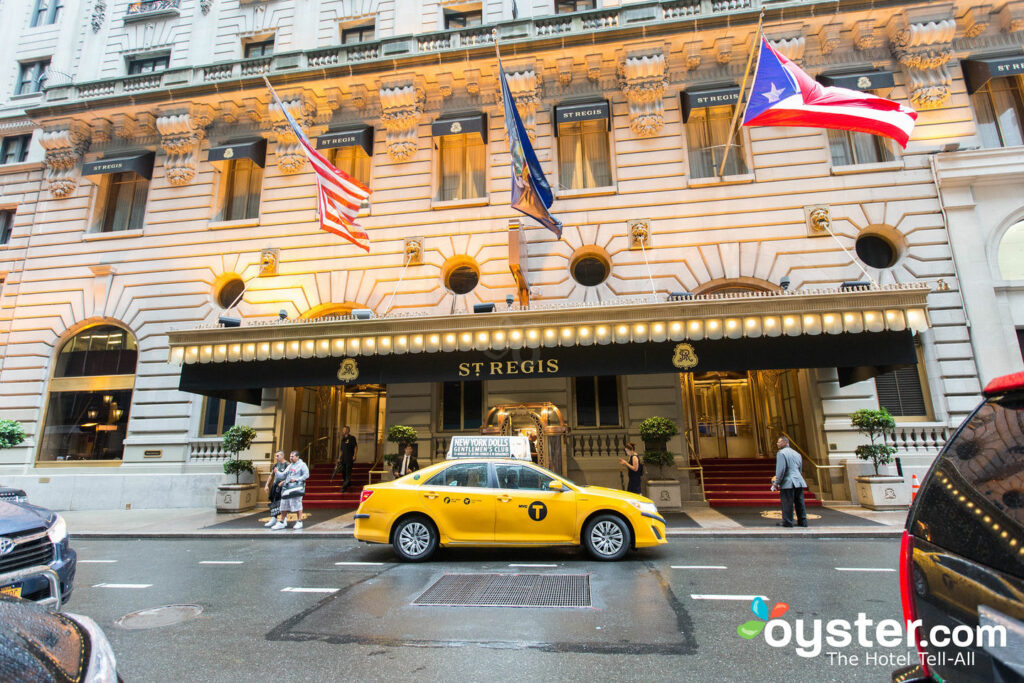 Situated on Fifth Avenue, just four blocks from Central Park, the St. Regis hotel has the location to match its elegant sophistication. Built in 1904, the New York City stalwart has had over a century to perfect its famous levels of service. Here, 24-hour butlers are on call for guests' every need, but if it's something as simple as a signature Bloody Mary in one of New York City's most historic hotel drinking spots, then that's readily available in the famous on-site King Cole Bar.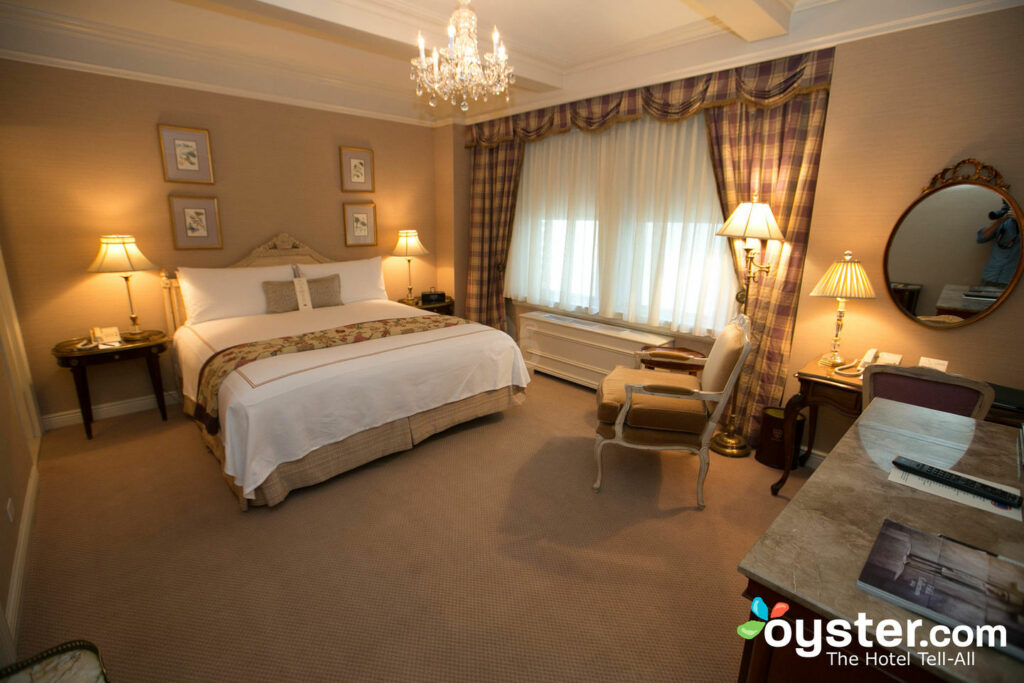 The Hotel Elysee might not be able to compete with the St. Regis in terms of level of service and legendary cocktails, but it offers up a superb location and New York history (it was founded in 1926) for a more affordable price tag. Oozing with elegance and Old World charm, the 103-room hotel keeps alive an almost-forgotten era of the city's history. Former guests include Tennessee Williams and Vladimir Horowitz. And while you might not expect to find big names gracing the register here these days, the European-style glamour will appeal to anyone who likes their hotel to tell a story.
Some things to keep in mind: All rooms have refined, traditional decor, in line with the look of the rest of the hotel. Expect details such as chandeliers, crown moldings, and French armchairs. Standard (known as Deluxe) rooms, however, may seem small to those not used to New York's economy of space. And though the hotel doesn't have its own gym, it offers New York Sports Club passes to guests that are good at any branch in the city. Plus, there's no in-house hotel kitchen, so the property relies on the adjacent Monkey Bar, which supplies room service till 10 p.m.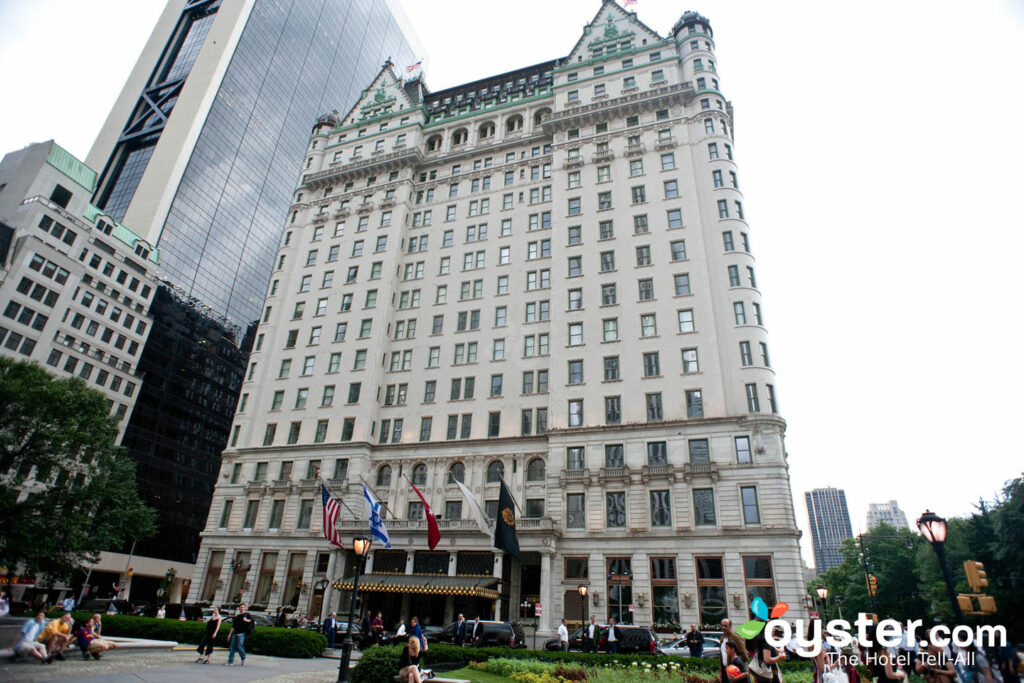 Like the Brooklyn Bridge, Flatiron Building, and the Empire State Building, The Plaza is its own landmark. Truman Capote threw his famous Black and White Ball here; in North by Northwest, Cary Grant was captured by spies in the hotel's famous Oak Bar; F. Scott Fitzgerald staged part of The Great Gatsby here; and on their first visit to the States, The Beatles took up an entire wing on the 15th floor.
Described by Donald Trump (a former owner) as not just a building, but a work of art, the 282-room property was built in 1906 and received a major $400 million overhaul in 2008. Here, 24-hour butler service supplements the huge extravagant rooms that come with gold-plated bathroom fixtures. Keep in mind, however, that since the renovation, none of the guest rooms and only some of the suites look out onto Central Park or Fifth Avenue. But the hotel more than makes up for that with a wine-themed French spa, celebrity-stylist hair salon, and top-notch fitness center.
A modern landmark, yet arguably no less famous than the historic Plaza hotel, the High Line is an instantly recognizable spot in New York. This means The High Line Hotel is undoubtedly one of the best places to stay if you want an awesome landmark right outside your window. The converted railway line, now an industrial urban park, provides a bucolic retreat close to the 60-room hotel, which resides in a section of a still-working theological seminary dating back to the 1800s.
In the warmer months, guests can enjoy Champagne and oysters on the outdoor terrace restaurant, and Intelligentsia Coffee (from Chicago) serves serious caffeine fixes and local pastries in the lobby year-round. Luxurious rooms and suites have plush king beds, pine wood floors, unique antique furnishings, bathrobes, and CO Bigelow bath products. And views range and face the interior courtyard, south on 20th Street, or west towards 10th Avenue and the High Line Park.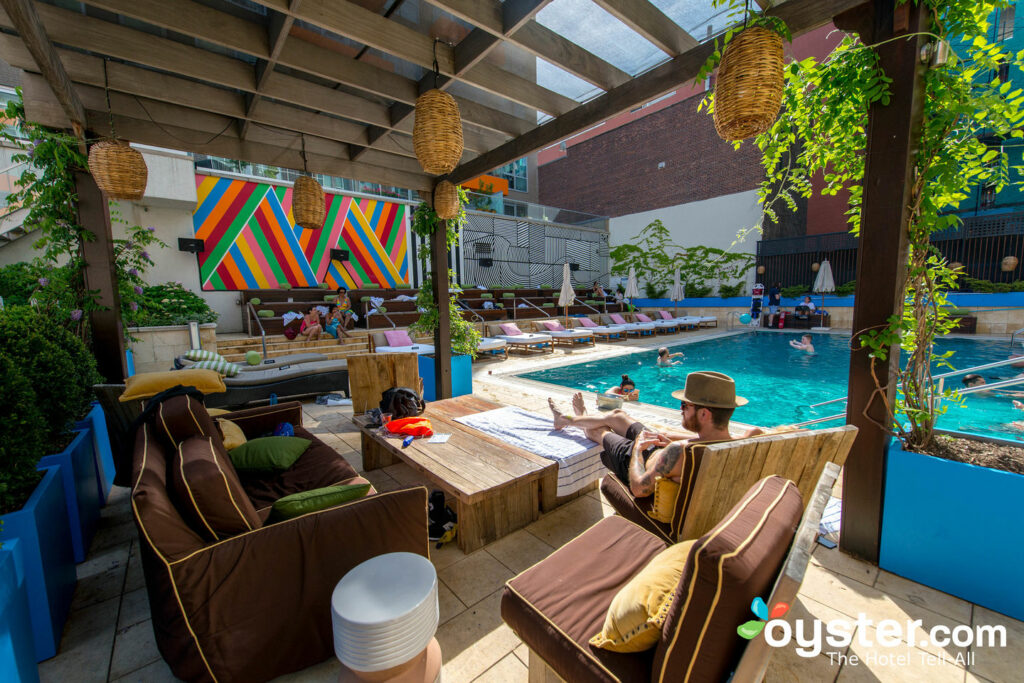 Williamsburg remains one of New York's hippest neighborhoods and the McCarren Hotel & Pool is arguably something of a headquarters for the stylish area. Attractive rooms are decorated in a cool mid-century modern style with Scandinavian touches. Even better, the rooftop bar and pool comes with its own cocktail bar that packs in partygoers. Many come for a taste of the ever-hip Brooklyn scene, and stay for the panoramic Manhattan skyline views from the public rooftop.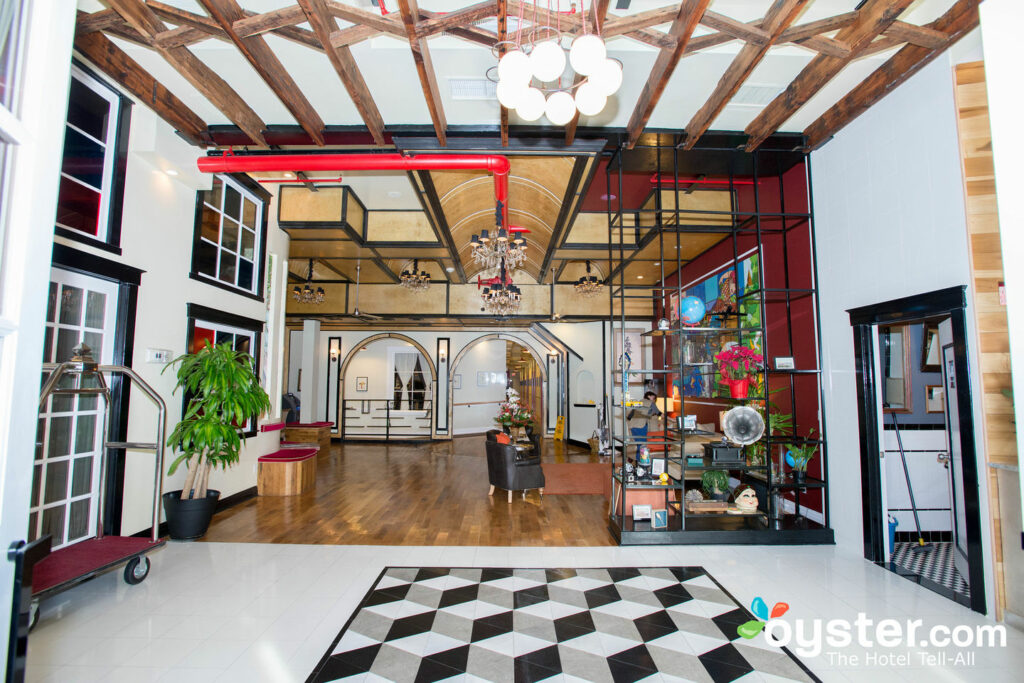 For a real dose of Brooklyn, it doesn't get more authentic than The Box House Hotel in gentrifying Greenpoint. This former door factory now houses 57 apartment-style rooms designed by local Brooklynite, Kip Jacobs, who happens to be friends with the owners. Though it's trendy, don't expect a Brooklyn hipster crowd or party scene — the spacious rooms/lofts (some sleep six) attract families, couples and those conducting business (think film crews). Modern kitchens and free extras include bottled water and coffee, rides within a mile-and-a-half radius, and use of the cool fitness center. This is a hidden gem for those seeking breathing room and easy access to Manhattan.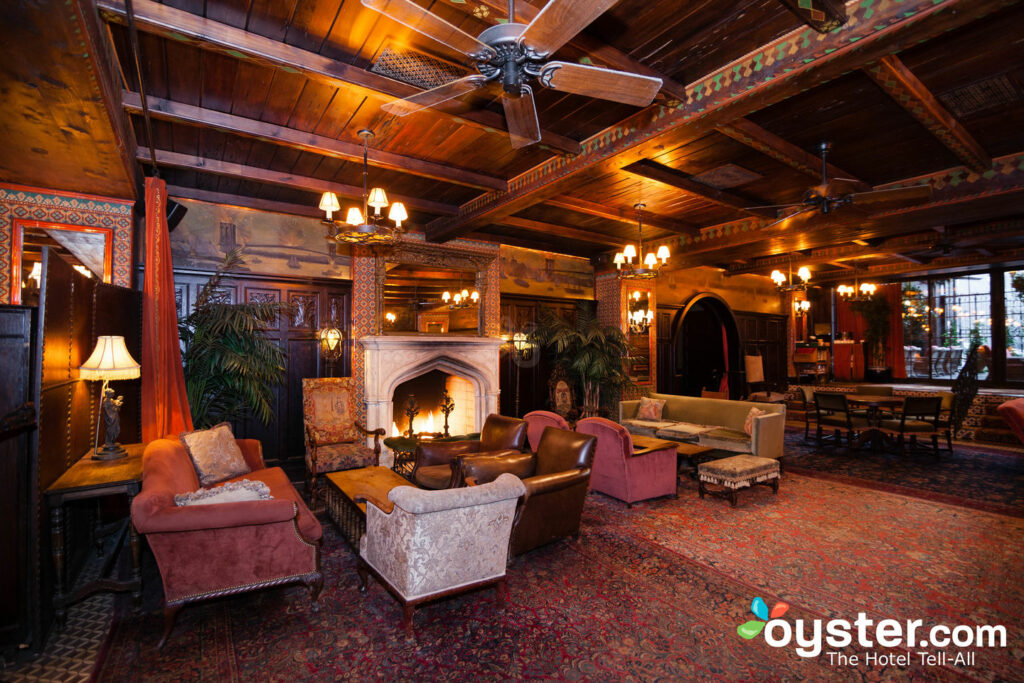 With a super-hip lobby bar, 24-hour room service, free Wi-Fi, and free bike rentals, The Bowery Hotel redefines class in a gentrified downtown neighborhood where punk rock and squalor once ruled. The 135 loft-like rooms — drenched in natural light from the large factory-style windows, which provide superb city views — are flawlessly appointed, with antique Turkish rugs, wool blankets, high-definition plasma flat-screen TVs, and marble bathrooms. The hotel tends to attract well-to-do guests in their 30s and 40s who appreciate the curated decor. However, they are no doubt attracted by its punk-rock and counterculture associations. After all, the Bowery (the neighborhood, not the hotel) was a stomping ground for Patti Smith, Joey Ramone, and William S. Burroughs. That street cred only helps with the cool factor here, and the hotel continues to draw a celebrity crowd: Shailene Woodley, former couple Joshua Jackson and Diane Kruger, Lorde, Kesha, and Kanye West have all been spotted at the hotel.
The Jane Hotel, a property that stands out for its exceptional quirkiness, undoubtedly offers a cool-kid scene for a more affordable price. A beacon for a younger, hipper crowd, the West Village hotel features vintage-style decor, a bohemian cocktail lounge — the Jane Ballroom — a rooftop terrace, and the perennially hip Cafe Gitane. Across the street from the Hudson River Park, the hotel also offers free bikes to guests. Just keep in mind that rooms are small (even for New York).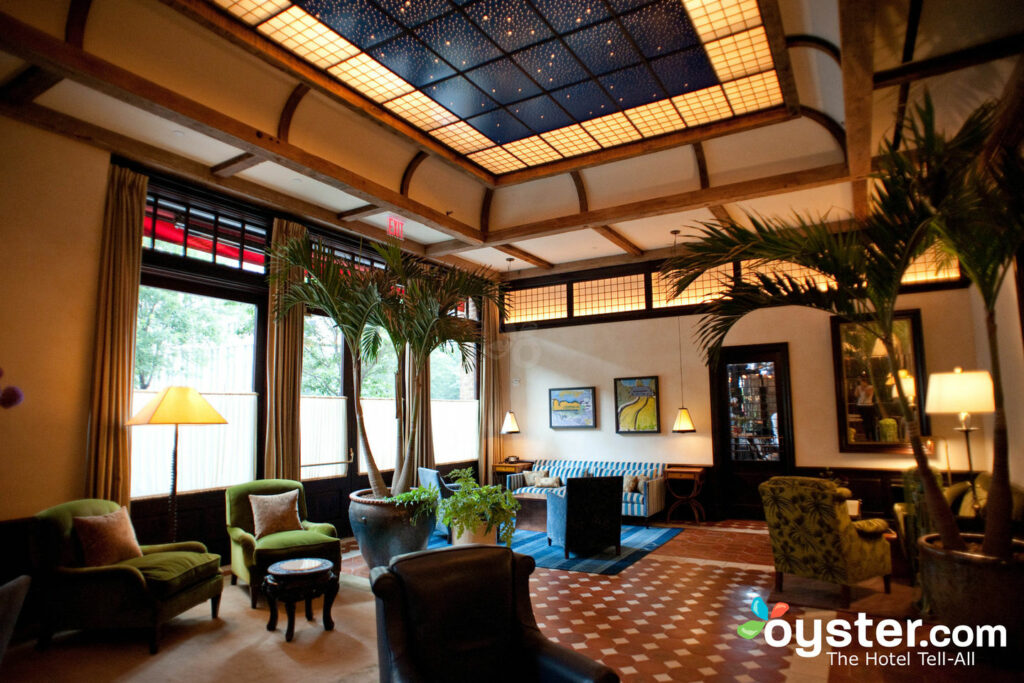 The virtually flawless charm of The Greenwich Hotel makes it one of the city's finest boutique picks. Located in TriBeca, the hotel opts for a sense of carefully-curated luxury within its homey, well-designed interiors. There's a lantern-lit underground pool that's big enough for lap swims (but not Olympic-sized) and a Shibui Spa for those in need of some R&R. Free video games and consoles are also available on request. Rooms are large and comfortable and amenities, which include free snacks from the minibar, free DVD rentals, and top-quality toiletry sets, are generous. Opened in 2008 by Robert de Niro, among others, the 88-room hotel is designed to be the exclusive home-away-from-home for guests who can afford it.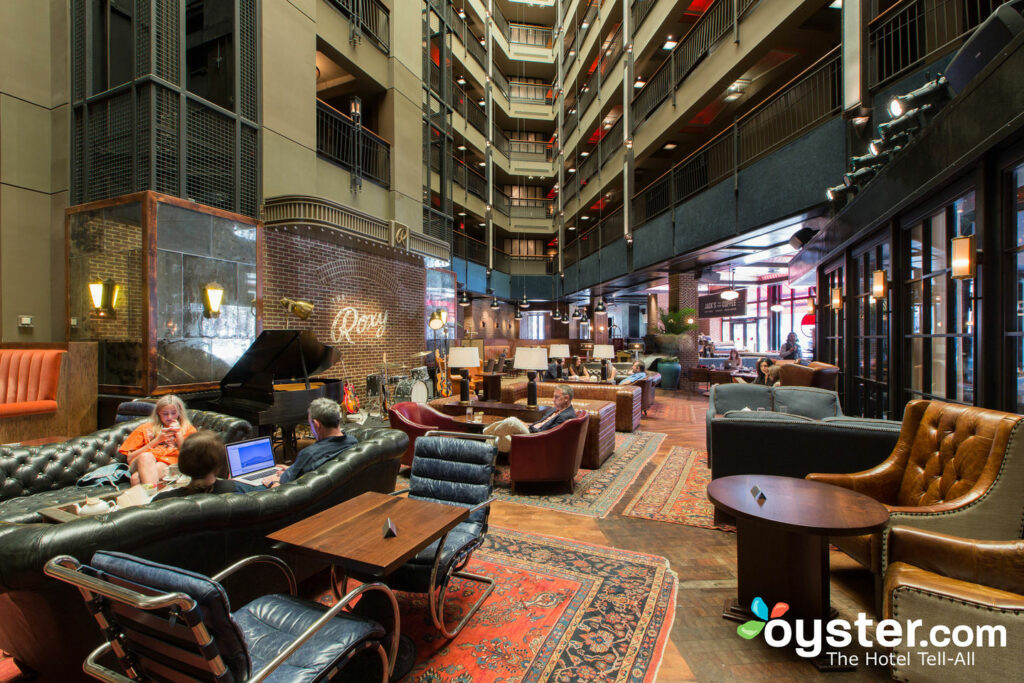 Much like The Greenwich Hotel, The Roxy Hotel has a desirable TriBeca location. Plus, like all the best boutique hotels, it has a list of modern extras that appeal to the contemporary hotel guest. On-site cinema? You got it. Free loaner bicycles? Get peddling. In-room goldfish for the duration of your stay? No problem. Aside from the goldfish, pets are also welcome free of charge. The hotel even offers special perks for dogs, including treats, beds, and water bowls. A jazz club and cocktail lounge compliment a trendy coffeeshop. Guests can also dine in at the hotel's casual, modern American restaurant. And MacBook Pro laptops are even provided in the rooms, so you can browse your favorite travel site (ahem, Oyster.com).
You'll Also Like:
All products are independently selected by our writers and editors. If you buy something through our links, Oyster may earn an affiliate commission.