Formed by two volcanoes, Maui -- the second-largest island in Hawaii -- has miles of pristine coastlines and over a dozen waterfalls, and is home to some of the world's most popular beachfront properties, such as the Westin Ka'anapali Ocean Resort Village or the Four Seasons Resort Maui. But the real star attraction of the island is the twisty, two-lane road to Hana.
Sure, it can be a relatively intimidating drive; vehicles with four-wheel drive are usually recommended to handle the hills and dangerous switchbacks, especially because most locals know this road well and aren't afraid to whiz by cautious tourists. And it's wise to start your journey on the Hana Highway early in the morning to avoid the traffic. Nighttime driving is not recommended, so make your way back before dusk or stay in Hana before dusk.
But as long as you're cautious, you should be all set -- and this scenic route gives you an authentic glimpse of Maui you won't forget. So are you ready to go? Wait. We've got a list of the five must-do things along the way.
1. A Trek to a Private Waterfall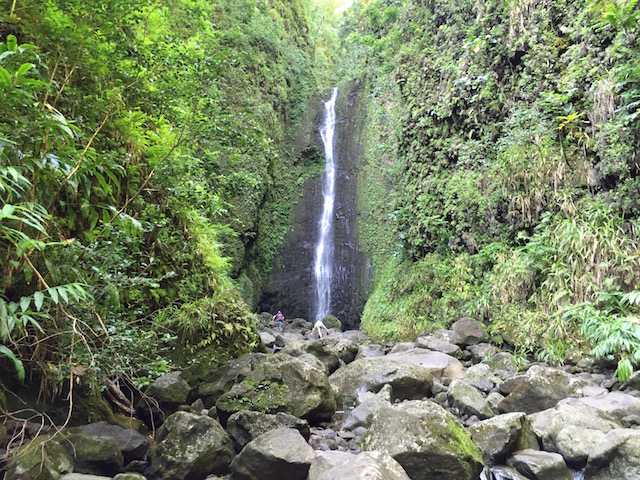 Anyone traveling to Maui can't leave the island without visiting one of its many waterfalls. And most of them aren't hard to miss — except for one waterfall that many tourists won't see from the Hana Highway. That's because the unnamed waterfall is located almost 800 feet from the road, near the 13-mile marker. To check out this hidden fall that's a fun trek up the Punalau stream, park your car on the side of the narrow road. Camouflaged with lush flora, the path can be treacherous, so pack a sturdy pair of shoes because this hike will also require you to hop from rock to rock, which may be slippery. Depending on your agility, you should plan to spend at least an hour or more visiting this natural wonder.
For the less adventurous, you can visit Three Bears Falls, Upper Waikani Falls, or Hanawi Falls. These waterfalls along the Road to Hana are easily see for drivers who simply pull off the road — no hiking necessary.
2. Cliff Diving at Ching's Pond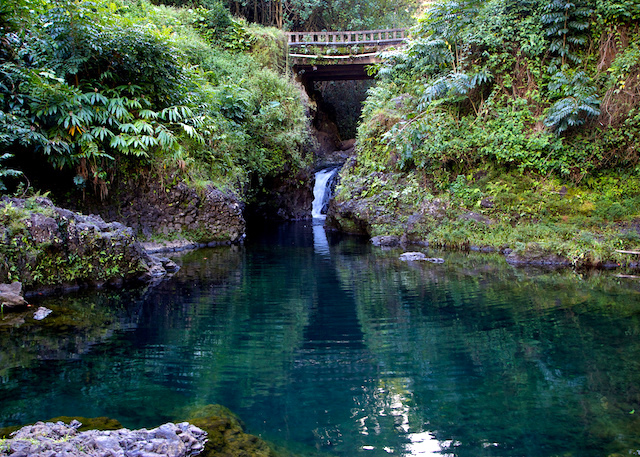 If you're looking for more of an extreme thrill, we recommend a pit stop near the 17-mile marker, where adrenaline junkies (read: experienced cliff divers) can take a 25-foot plunge into Ching's Pond. Local divers are even more daring, and dive away from the cliff from a concrete landing near the smallest part and deepest portion of the stream that flows into the pond. Although you can barely see the pond from the road, road trippers will notice a number of cars parked on the side of the road.
And if you are interested in taking a dive…don't bother lathering up with sunscreen or bug spray before you take a dive. Ching's pond and the freshwater stream are a direct source of water to homes in the area, so keep it clean.
3. Coconut Glen's Dairy-Free Ice Cream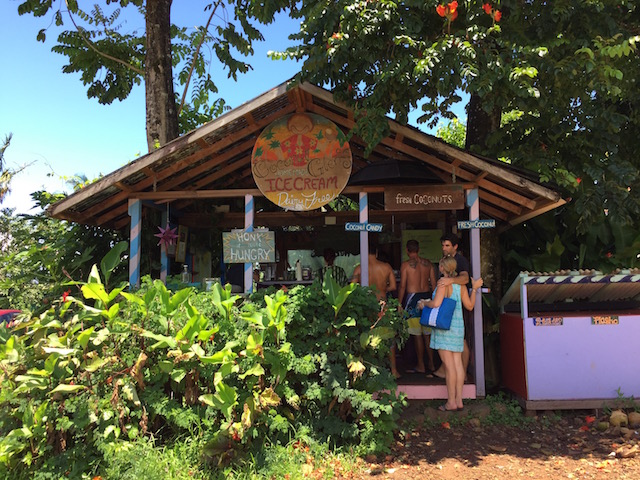 Near the 27.5-mile marker, Coconut Glen's Ice Cream is located on the right side of the road as you head toward the small Hawaiian town. Boston-native Glen Simkins sold his first scoop of ice cream from this eclectic ice cream stand in 2008, and it remains a favorite treat today. Perfect to lactose-intolerant travelers, it's both organic and vegan, made with coconut milk and other local ingredients. Another bonus? Everything costs $5 at this "environmentally sustainable" ice cream shack. Glen and his small staff serve a variety of flavors, including pineapple banana, coffee toffee, banana rum, passion fruit, salted caramel, and chili chocolate. It's definitely worth a stop if you want to try something different and mingle with the other patrons who are more than likely headed in the same direction as you are.
If ice cream isn't your thing, you can stop at the Nahiku Marketplace (at the 34-mile marker) for tasty BBQ tacos at Up In Smoke BBQ; banana bread at the Nahiku Café; or fish and chips at Island Chef.
4. Waiʻanapanapa State Park's Black Sand Beach
Traveling along this 64-mile stretch of road, you can't miss out on visiting Pa'iloa Beach at Waiʻanapanapa State Park, located past the 32-mile marker. The park's facilities include clean restrooms, showers, picnic tables, and a camping area. A popular, family-friendly attraction, the park can get crowded, but it's worth a stop to sink your toes into the volcanic black sand, take a dip in a freshwater cave, or go cliff diving from two strategic spots located to the right of the beach.
There is a series of steps that lead down to the small beach. Toting your beach chair and umbrella is probably not recommended because Pa'iloa Beach is not your average "lie out in the sun for a couple hours" kind of spot. And no matter how much you'd like find a memento for remembering this unique travel experience, it's illegal to leave the park or the island with any volcanic rock. There's also a Hawaiian myth that people who leave the island with volcanic rocks are cursed with bad luck until it's returned. We didn't test out that theory. And to be honest…neither should you.
5. Hana's Natural Beauty and Culture
After stopping at the Waiʻanapanapa State Park, you're only a few miles from your final destination…Hana. A local hotel or resort, such as the Travaasa Hana Resort and Spa or the Hotel Hana- Maui, makes a solid home base while you continue to explore the small town and its natural surroundings, including Koki Beach. The hill near the beach is said to contain the bones of volcano goddess Pele. Visitors may even spot Oprah Winfrey nearby; she apparently owns the hill and adjacent land, according to locals.
Of the three beaches located near Hana, most beachgoers head to Hamoa Beach, known as a great spot for body surfing; it is also touted as one of Maui's best beaches. Shade, showers, and clear water might have something to do with that. (Be advised that waves can be rough at these beaches and the narrow paths leading to them can be dangerous, so sturdy shoes are a must.) In addition to spending time on a beach, visitors can go kayaking, snorkeling, or exploring the Hana Cultural Center, a small museum that houses ancient Hawaiian and Polynesian artifacts. Exploring this small town is one of several fun experiences that tourists should not miss out on when road tripping along the Road to Hana.
Related Links:
All products are independently selected by our writers and editors. If you buy something through our links, Oyster may earn an affiliate commission.