Pop Quiz: Are you one of those travelers who takes a photo of every single dish you eat? And when you return home from said trip, your mailbox (or inbox) is chock-full of Food & Wine, Saveur, and Bon Appétit magazines (or e-mails)? Do you know what it means to have an item cooked sous-vide, and you're the first person your friends call for a restaurant recommendation?
If the answers are all yes, then you, my friend, are a foodie. Whether you embrace or discard this slang word, food plays a major factor of where and how you travel. Sure, there are food destinations you already know about like Barcelona, Tokyo, Singapore, and Mexico City -- and then there are ones that may surprise you. Here are our top picks for the most unexpected foodie destinations; perhaps this list will inspire your next trip!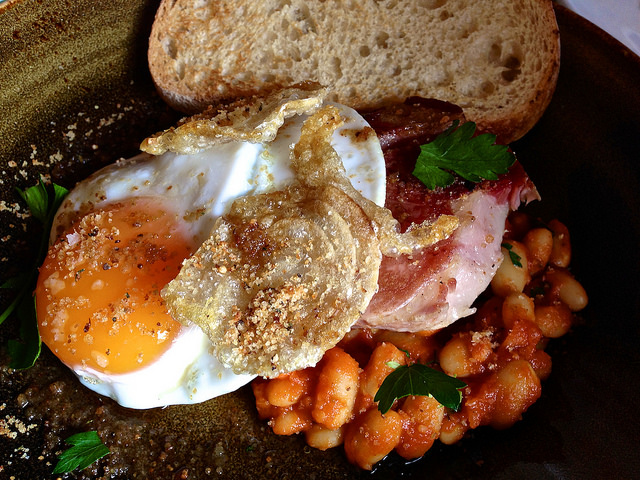 When most people fantasize about a trip to Australia they likely think of Sydney, but Down Under's second biggest city is not to be overlooked. Melbourne has a diverse and multicultural population, and this melting pot of Asian, Indian, and European ethnicities can be found in its impressive food scene featuring some of the world's best cuisines.
Start in the compact city center full of charming cafes, and then explore by tram or foot. There are cheap eats in Melbourne's authentic Chinatown, which dates back to the 1850s, as well as a bohemian scene at St. Kilda (where there's the city's highest concentration of restaurants). Lately, the hipster neighborhood of Fitzroy is garnering attention with buzzy restaurants tucked inside warehouses, while nearby, Johnston Street has a growing Spanish quarter with tapas bars and flamenco restaurants.
Foodies can also seek out specific dishes like the Wagyu beef tartare at MoVida, Korean fried wings at Kong, chili baked mussels at Cumulua, coconut yogurt at The Kettle Black, and burgers like the Stagger Lee's Fat Bacon Toasty at 8 Bit. Look for the Beat Box Kitchen food trucks from Raph Rashid, boat noodles at Jinda Thai, and jaffles (an Australian classic, basically toasted sandwiches with various fillings) at Boat Frankie. If time is a factor, head straight for the global street food stalls at Queen Victoria Market, which are open late-night in Australia's summer (so wintertime in the U.S.).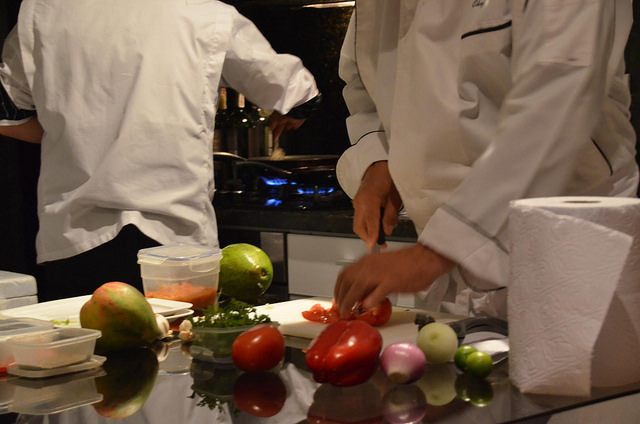 This exotic seaside town on Colombia's Caribbean coast has all the makings for foodie romance. Most people will want to base themselves in the Old Town — a colonial walled city that dates back to the 16th century, with leafy squares, cobblestone streets, and brightly-colored balconies adorned with flower boxes.
Colombia's regional cuisine takes a Caribbean flair, but perhaps the biggest surprise here is the Middle Eastern influence, thanks to the arrival of Arab immigrants during the Ottoman era. Street food carts can be found on every corner peddling tropical fresh fruits, artisanal popsicles, empanadas, and pandebono (Colombian cheese bread). Look for the breakfast specialty called arepa con huevo — an uncooked egg sealed in cornmeal dough and then fried — in casual cafes. Midday snacks offer fried fish, plantains, and coconut rice, or you can opt for Lebanese-inspired dishes like kofta (meatballs) and kibbee (bulgar balls, sometimes made with meat).
For dinner, start with a mojito at one of the many trendy restaurants tucked inside those gorgeous colonial mansions and then make a reservation at one of the top restaurants in town, like the Havana-themed La Vitrola, which might serve octopus carpaccio, baked sea bass, and the Cartagenan favorite: pargo rojo frito — a crispy-fried whole red snapper steamed in coconut milk. Fresh ceviche is a must at the addictive La Cevicheria (approved by Anthony Bourdain) — a place that will surprise those who never thought they'd dine at the same place twice while traveling. Day-trippers can boat to the docks of Isla del Rosario, where fishermen bring in (and sell) their daily catch of lobster, calamari, and shrimp.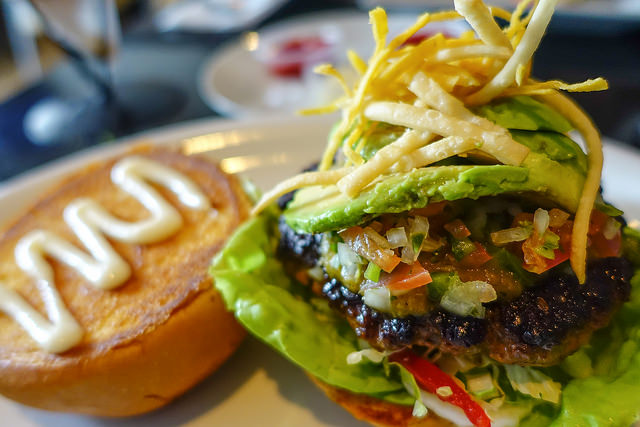 Yankees and overseas travelers may not believe it, but Houston offers a unique combination of international cultures, refined tastes, and avant-garde cooking techniques. Yes, Texas's city of over two million people is gaining recognition for its food scene, and a good place to start is downtown's Historic District, an area that boasts pretty 19th-century architecture and upscale restaurants in the Market Square, with notable dishes like Chef Robert Del Grande's cinnamon-roasted pheasant.
Houston is quite spread out though, so adventurous types should explore the neighborhoods. It doesn't take long to run into one of the city's 1,000-plus food trucks like Tacos Tierra Caliente, serving fresh tortillas topped with braised pork and pineapple chunks. Snack on burger sliders at Little Bigs in the Museum District, and shop speciality markets like Phoenicia and Revival, which both sell international goodies like European cheeses, charcuterie, and house-made pickles and jams. Urban Harvest is Houston's largest weekly farmer's market in the Upper Kirby District with live music and chef demos.
Then there are the quality Tex-Mex restaurants, spots selling handmade Polish pierogies, and Chinese goodies at the Hong Kong City Mall food court, not to mention a slew of Asian restaurants selling Vietnamese-Cajun crawfish, dim sum, Japanese street food, and Korean-style fried chicken.
4. Hangzhou, China
How many people can say they know about (or know how to pronounce) this city of two-and-a-half million people? Hangzhou is the capital of the Zhejiang Province, and not too far of a drive from Shanghai for a nice side trip. First-time visitors to Hangzhou may be amazed by the natural scenery — think traditional pagodas rising up against fields of tea leaves — and then will soon discover no shortage of restaurants and markets serving local snacks like crab steamed buns, wontons, dim sum, and moon cakes. Hangzhou's bigger dishes place emphasis on fresh seafood and produce, and tend to be lighter and more subtle in spice and seasonings than China's northern cities.
A good place to start is the city's most famous restaurant called Kui Yuan Guan Lou Wai Lou, founded in 1848 and West Lake fish in sweet sour sauce, fried shrimps with longjing tea leaves (also called dragon well), and the beggar's chicken — a whole bird cooked in a coating of clay. Other specialties to keep an eye out for include the popular fish-head platter, noodles with fried eel slices, and drunken shrimp dropped live into liquor to drink themselves to death right before human consumption. If traveling here in autumn, keep an eye out for the annual Hangzhou Food Festival in late October and early November.
5. Tbilisi, Georgia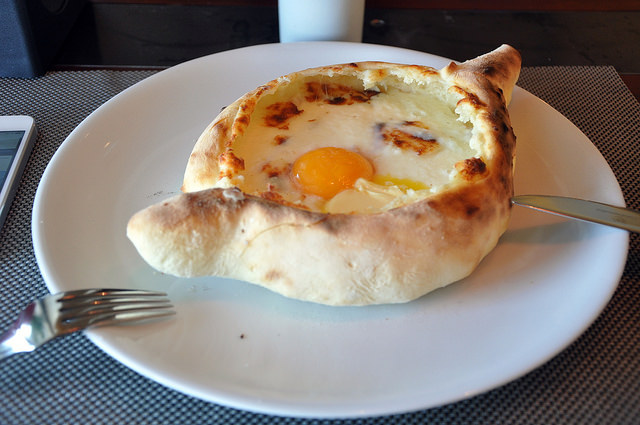 The last spot on the list goes to a destination that seems the most unexpected of all. If you're anything like this writer, you probably didn't know much about Georgian cuisine until now — but you should. Georgia is bordered by the Black Sea, Russia, Turkey, Armenia, and Azerbaijan. That means that the country's diverse cooking styles take stock from its unique positioning next to Europe, Middle East, and Asia, thereby pulling in culinary traditions from all angles. Locals are passionate about growing produce and herbs, and raising meats and poultry in their own gardens. Travelers will likely base themselves in Tbilisi, the capital, which offers a stunning cobblestoned landscape and dramatic fortress backdrop representing a long history under Persian and Russian rule.
First and foremost there are the fresh breads. Called Puri, Georgia's amazing breads are baked in traditional clay ovens, not dissimilar to India's naan bread. The khachapuri Adjaruli (pictured here) is a ridiculously decadent concoction of bread straight from the oven stuffed with bubbling sulgani cheese, butter, and finally, a cracked runny egg. Then there are Chinese soup dumplings, called khinkali, and chunks of pork roasted over slow-dying embers of fire, called shasliki. Kebabs come with sour plum sauce, jonjoli sprouts are pickled, and fresh tomato and cucumber salads are served with herbs and walnuts.
Lucky travelers will want to snag an invite from a local to join one of the lengthy and massive feasts called supra, accompanied by copious amounts of food and wine. These are special occasions where a member of the group is designated to make traditional toasts, paying homage to both God and the guests.
WATCH: How Far $25 Goes for Dinner Around the World
https://www.youtube.com/watch?v=smwaFVov-VU
Related Links:
All products are independently selected by our writers and editors. If you buy something through our links, Oyster may earn an affiliate commission.