June's LGBT Pride celebrations are long gone and beach season is coming to a rapid close. So that unfortunately means that gay-friendly destinations such as Provincetown, Fire Island, and others across the country will soon go into hibernation for the winter...but don't panic! These seven LGBT festivals can cure even the worst case of Seasonal Affective Disorder and satiate your wanderlust (and other forms of lust) at the same time.
Southern Decadence in New Orleans, LA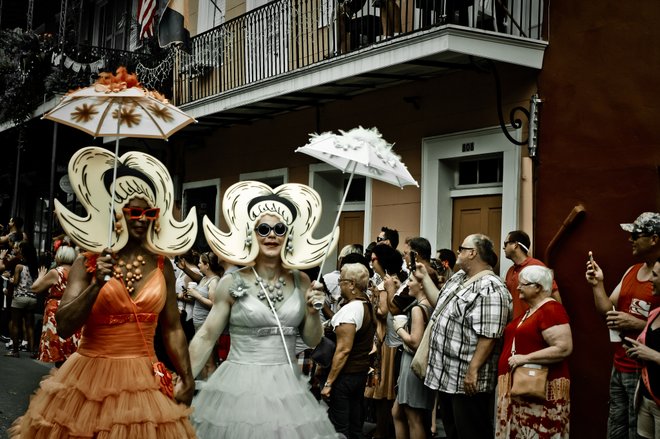 Dates: September 4-7
Party-hearty New Orleans doesn't take Labor Day weekend sitting down. Since 1972, the
city has hosted Southern Decadence, one of the country's largest gay bashes. Culminating in a massive Sunday parade, the party takes over the legendary French Quarter for the weekend, and much of the
action centers on the Bourbon Pub & Parade. If you miss this year's events,
the bar is New Orleans' only gay establishment that stays open 24/7 all year long.
Hotel Pick: The
Saint Hotel Autograph Collection has sleek, urban-chic rooms right off of
Bourbon Street, plus a rooftop bar with sweet views across New Orleans. It's
one of our top luxury picks in New Orleans.
International Bears Week in Sitges, Spain
Dates: September 4-13
Want
a dose of fuzzy Catalan flavor to kick off those longer autumn nights? Sitges — Spain's iconic, seaside gay resort town — hosts International Bears Week. "Bear
Village" overtakes the town's beachside paseo
with 5,000 visitors embracing the furry side of LGBT life. Even if bears and
leather aren't your thing, the beach and scene in Sitges are alone worth the
trip. As a bonus, Barcelona is an easy one-hour train ride away.
Hotel Picks: Since
the party can be found at the clubs, on the beach, and in the streets, a comfortable,
simple room will do. Try the Hotel Galeon, or its sister property, the Hotel
Platjador, both of which are right in the center of town and offer boutique
charms at reasonable rates.
Folsom Street Fair in San Francisco, CA
Date: September 27
Spread over 14 city
blocks, this outdoor bash isn't for the faint of heart. Nearly half a million
revelers flood Folsom Street, from Eighth to 13th Streets, every year
for this often explicit, fetish-heavy outdoor party. This is a clothing-optional event
and that allowance is whole-heartedly taken up by attendees and performers
alike. There's plenty of food and booze available, not to mention sex toys, and adult film stars are on hand to remind the world why they're famous…or, often as the case may be, infamous.
Hotel Picks: For a playful
place to rest try The Buchanan, which has quirky Japanese pop culture-inspired
rooms. The W San Francisco is also one of our top San Fran picks. It's a bit
closer to the Folsom action in the city's trendy SoMa District.
Whistler Pride and Ski Festival in British Columbia, Canada
Dates: January 23-31
One of North America's
premier ski resorts, the mountains at Whistler are thrown open for LGBT
partiers in January. The week-long party
draws over 3,000 ski and snowboard enthusiasts, and there are nightly events
for all tastes within the LGBT spectrum. The celebration also features culinary
festivities, winter sports lessons, and, of course, plenty of time on the slopes.
Hotel Pick: The Aava Whistler Hotel is the event's
official hotel and its cozy, contemporary rooms (and heated outdoor pool and hot
tub) make for perfect spots to rest pre- and post-party.
Miami Winter Party in South Beach, FL
Dates: March 2-7
10,000 barely clothed
bodies dancing on the beach? Yes, please. This event started in 1994 and is a
major fundraiser for South Floridan and national LGBT causes. With a roster of
super-famous DJs and six nights of events, the Winter Party is the perfect way
to bid adieu to the cold weather. Plus, South Beach has plenty of entertainment,
art, and sunshine for those who need a break from the party.
Hotel Pick: For a major
splurge, the Asian-inspired, minimalist elegance of The Setai Miami Beach is about as
gorgeous as it gets. It's one of TripAdvisor's top Miami hotels.
Sydney Mardi Gras in Sydney, Australia
Date: March 5
What started as a protest
in 1978 has turned into one of the most unique LGBT parades in the world. The
party starts when the sun goes down, as bright lights, cheers, and pounding from
over 10,000 marchers and floats begin to make their way up Oxford Street, through the Sydney's Darlinghurst neighborhood. The bars up and down Oxford Street spill
over all weekend, and the post-parade party — which sells out in advance — hosts
up to 20,000 revelers until the sun rises the next morning.
Hotel Pick: For a bright
boutique option right in Darlinghurst, check out the Medusa Hotel.
The White Party in Palm Springs, CA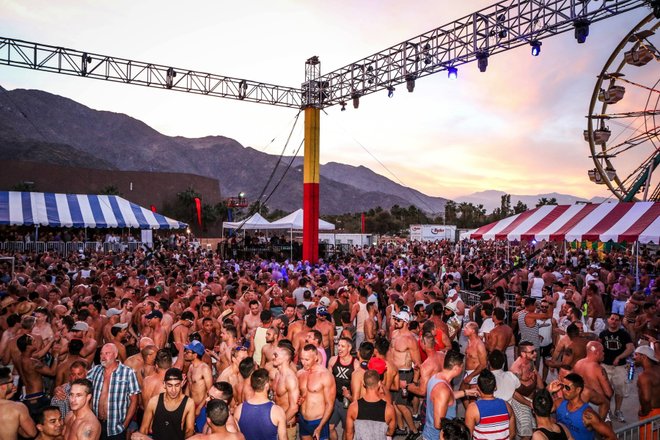 Dates: April 8-11
This iconic bash draws
nearly 30,000 partiers every year. One of the world's top circuit parties,
events run all weekend and yes, white is the preferred dress code at most of the events. Sunday's T Dance is
one of the world's largest afternoon dance parties and features a ferris wheel
and fireworks.
Hotel Picks: For a tranquil, sexy break from the fun, try the
Mediterranean villa-style rooms at the Korakia Pensione. To embrace your inner
hipster, check out the ever-trendy and party-hearty Ace Hotel and Swim Club.
All products are independently selected by our writers and editors. If you buy something through our links, Oyster may earn an affiliate commission.