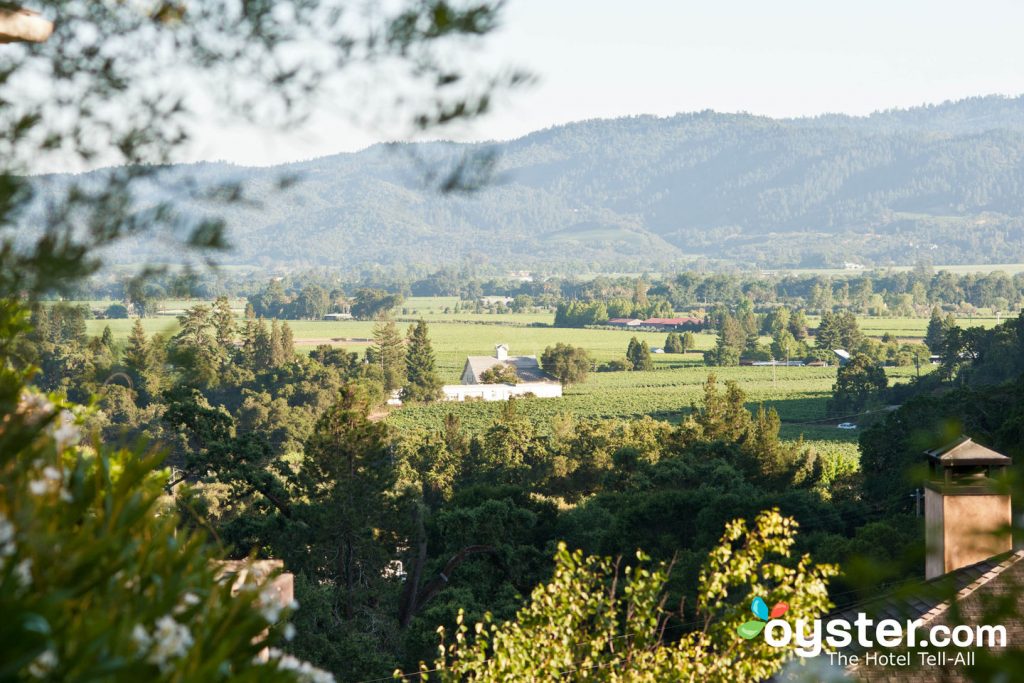 In 1881, Napa Valley was designated as California's first American Viticulture Area -- which is a fancy way of saying that the government defined boundaries and geographic features distinguishable for grape-growing and wine production. Today, Napa Valley (made up of Calistoga, Angwin, St. Helena, Rutherford, Oakville, Yountville, Napa, Lake Berryessa, and American Canyon) is one of the most prestigious wine production regions in the world with hundreds of wineries (the majority of them are family-owned) sprawling on hillsides. It's also one of the smallest wine regions, making Napa Valley an easy to explore dream for wine lovers.
We spoke with Marissa A. Ross, author of WINE. ALL. THE. TIME. and wine columnist for Bon Appétit, for her take on a Napa Valley wine trip. Ross says, "Wine is integral to travel as far as I'm concerned. Drinking wines in the regions they are grown gives you such a new appreciation and understanding of the wines. You can see -- and taste -- how they relate to the landscape, cuisine, and culture. Plus, wine is just delicious and fun. It enhances everything. Like, of course that sunset is beautiful, but how much more beautiful is it when paired with a rosé the same color coral as the sky and shared with loved ones?"
Taking her advice into consideration, here are the seven best tips for your next Napa Valley getaway.
1. Keep in mind that harvest season is in September and October.
Due to Northern California's pleasant climate, Napa Valley is a beautiful place to visit year-round, but crowds are heaviest in the summer months. Picking grapes for sparkling wines usually begins in August, and the bulk of the harvest comes in September and October. Cabernet Sauvignon is king in Napa Valley and accounts for about 40 percent of the wine grape harvest each year. Early fall is the best time to visit for harvest parties and interactive wine experiences. If you've ever dreamed of stomping grapes with your bare feet, after Labor Day is the time to do it at Grgich Hills Estate.
2. Get your bearings by train.
One of the best and most popular ways for Napa Valley visitors to take in the scenery (and drink wine) is via the Napa Valley Wine Train. Guests are gathered into Vintage-styled Pullman cars for a 36-mile round trip journey from Napa to St. Helena, and back (about three hours). As they ride through wine country and past historic wineries, passengers are served gourmet made-to-order lunch or dinner from three onboard kitchens. Naturally, the wine list includes an extensive variety of vintages by the glass and bottle. Wine flights are also available, and wine educators are on hand to answer questions about wines and Napa Valley.
3. Choose your winery carefully and make reservations.
There are hundreds of wineries in Napa Valley, and wine tastings are a must-do. Ross tells us, "As a California native, California and its wines have a very special place in my heart, but Napa is a funny place. There are tons of these big cash cow château-like properties everywhere, all making the exact same wines that taste the exact same. But there tons of hidden gems, and also some real classics. Places like Corison and Ridge are so important to California wine's heritage, and they make outstanding wines. Here's my best unsolicited advice: Always make appointments. Napa can get so bonkers busy." Reservations are especially encouraged during the summer months when coach buses packed with tourists fill winery parking lots.
4. Know your limits.
It's tempting to pack in as many wineries as possible, and it's easy to do so with a high concentration of vineyards in one small area. But Ross warns, "Never visit more than three wineries in a day. I'm pretty much a professional drinker, and even that is my max. Not only do you not want to be totally smashed, but you don't want to have to rush. You don't want to be downing tastings, you want to be able to really taste the wines and enjoy yourself. So much of our lives is spent hurrying from one thing to the next and staring at our phones. Wine gives you the opportunity to slow down, so take it."
5. The food is as good and as diverse as the wine.
Wine and food are meant to be enjoyed together, and Napa Valley's food scene doesn't disappoint. There are over 150 restaurants to choose from, ranging from family-run diners to a Michelin-starred restaurant helmed by world famous chef Thomas Keller. For something casual, La Luna Market & Taqueria is a popular Mexican grocery store, with a taqueria and outdoor seating, that's been open for 40 years. Long Meadow Ranch serves California farm-to-table cuisine, with house-made olive oil, grass-fed beef, and organic produce. Artisanal goods and wines can be purchased at their on-site general store.
6. Choose a vineyard hotel.
Hotels in Napa Valley range from simple motels to over-the-top luxury properties, so there's something for every budget. But while you're in wine country, you should really stay at a hotel with vineyard views and free wine. The Calistoga Ranch, an Auberge Resort has a gorgeous heated swimming pool that overlooks a vineyard and room minibars are stocked with free. Carneros Resort and Spa is an excellent choice for a group of friends, since it features an entire home with outdoor spaces and vineyard views.
7. Bring wine home, safely.
You're going to want to buy at least a few bottles (or a case) of your newly discovered favorite Napa Valley wine to take home. Ross advises, "I think wine is the best souvenir, although it's debatable whether or not you want to ship it. Depending on where you live, it can cost twice as much as the wine to ship it home. I'm a fan of just checking a case of wine if you're going on a plane. It's so much cheaper. Just make sure the case is packed with styrofoam, which most wineries or wine shops have. If you're driving, it depends on the time of year. You don't want to have a bunch of wine rolling around in the trunk of your car in 100-degree heat that'll destroy the wine." Another great piece of advice from Ross? "Invest in wine travel bags." These ingenious bags are super absorbent and leak proof, so if a wine bottle does break in your suitcase, it won't stain everything.

*Interview condensed and edited for clarity

You'll Also Like:

Oyster.com is a participant in the Amazon Services LLC Associates Program, an affiliate advertising program designed to provide a means for sites to earn advertising fees by advertising and linking to Amazon.com.
All products are independently selected by our writers and editors. If you buy something through our links, Oyster may earn an affiliate commission.