Whether you are heading out on a trip for two days, two weeks, or two years, there's an app for that. Actually, there are thousands of apps. With all the "50 Best Travel Apps" lists circulating the internet, it's easy to forget that -- when it comes to packing for travel -- less is usually more, and that applies to digital space, too. So, in an effort to "pack light" on our mobile devices, we've come up with an easy list of seven basic travel apps that you'll actually use on every trip...so you can save space for photos, find the info you need, and get on with your trip.
Have a great vacation and happy app-ing!
1. TripIt for Trip Planning
https://instagram.com/p/ypYhcWsx-C/
TripIt started out as (and still is) a super simple and easy-to-use trip planner website that's thankfully also available as an on-the-go app with some offline accessibility. All you have to do is forward your travel confirmations — like hotels, flights, restaurants, etc — to plans@tripit.com and it creates an easy-to-read, easy-to-share, and easy-to-edit travel itinerary for you. If you've got Yahoo!, Outlook, Google Apps, or Gmail, you don't even have to forward anything; it can organize your trip details instantly. You can then sync this itinerary with your calendar app, and use the app to get directions to places on your itinerary, access your plans offline, edit plans as you go, and even share your plans with others via email or social media. If you want to get the full bang out of this app, upgrade for less than $50 a year for flight updates (that are sometimes even quicker than airline alerts), awards and points tracking, refund notifications, and more.
Available for: iPhone, Android, BlackBerry, and Windows
2. XE Currency Exchange for Money Matters
We've all been there: traveling abroad with foreign currency, haggling or making a split-second purchase, only to get home (or back to the hotel) and realize we totally screwed ourselves because our brains malfunctioned on the correct currency conversion! Well, never again. XE Currency exchange is one of the most handy travel apps for basic needs. You simply select up to 10 currencies you want to compare and you've got an immediate, accurate exchange rate across the board. You can type in real numbers — not just the equivalent to one dollar or unit — and you can switch up currencies as you move across the globe. The best part is that the app remembers its last synced conversion rate, so unless you're dealing with an insanely volatile currency, you can access a reliable rate offline. Bonus: You'll never look at those airport exchange desks — which are highway robbery, BTW — the same way.
Available for: iPhone, iPad, Android, Windows, BlackBerry, and Firefox
3. Yahoo! Weather for Weather Forecasts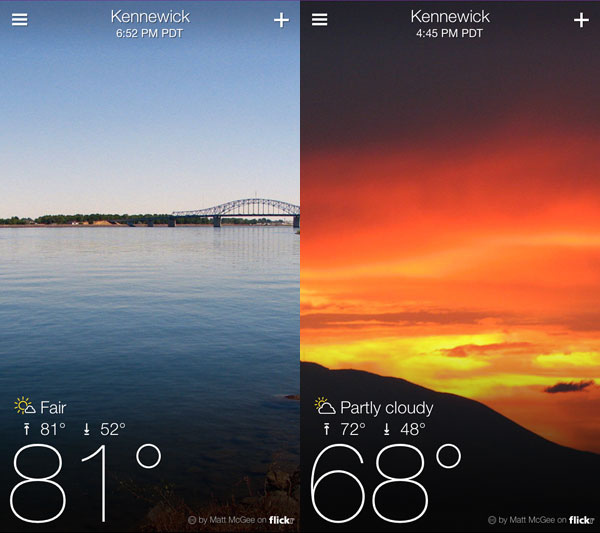 Sure, there are a ton of weather apps out there that have detailed weather, atmosphere, and pollen information just waiting to clutter our screen — but when we are out on the road, all we really need to know is some basic info about the day's weather: Rain? Sun? Snow? Wind? With the Yahoo! Weather app, we can choose to get as simple or as detailed information as we want, and it's all displayed with cute animated icons and beautiful Flickr photos that correspond with the current weather condition and time of day — all without a single ad. The app gives you hourly, five-day, and 10-day forecasts for up to 20 cities at a time, the ability to submit your own stunning photos, twice-daily (morning and evening) weather updates, and the option of interactive maps.
Available for: Android and iPhone
4. WiFi Map for Finding Free Wi-Fi Hotspots
Man, this is a gem. Don't want to incur high roaming charges just to message your friend, check for an email, or find directions to that awesome restaurant you read about? Snag the WiFiMap app and get find nearby Wi-Fi spots, including map views, directions, passwords, and user generated tips on the signal quality and location of the hotspot — is it a cool, hip coffee shop or some back alley bench? You can also join the cause and enter in passwords and comments on spots you find or use from the app. The best part is, you don't need to be online to use it since it has pre-populated info available offline. Upgrading to the Travel Pro for $4.99 gets you an offline guiding map and info on Wi-Fi spots in even the most remote of locations.
Available for: Android and iPhone
5. WhatsApp for Free Calling and Texting
There are tons of apps out there that allow for non-carrier texts and calls, but we like WhatsApp for two reasons. One, unlike most of these other apps, almost everyone we know (and most likely that you know) already has WhatsApp installed on their phone, taking out one essential step in getting these types of apps to work: they only work between people who already have the app. Two, it works over data and Wi-Fi, so you can enjoy the practically free use when you've got Wi-Fi, but also flip on your data if you're in a pinch and need to get in contact — it's still cheaper than a text or phone call. Plus, it automatically loads any phone contacts using WhatApp so you don't have to manually search or ask who wants to keep in touch while you're away. Plus, you can send voice notes, pictures, and video, and create group chats between friends. The first year is free with a possible charge of $0.99 a year after.
Available for: iPhone, Android, BlackBerry, Nokia, and Windows
6. Google Translate for Translation Services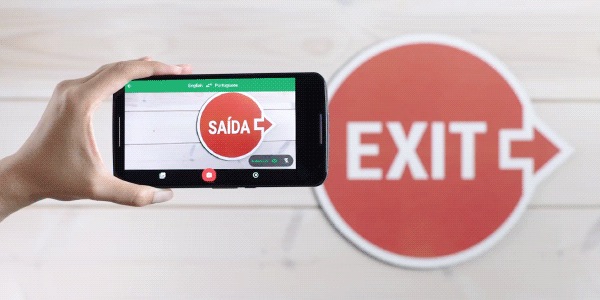 Okay, so there's no perfectly functioning translation program (yet) but if there is going to be one in the near future, we'll put our money on Google Translate — because it's pretty close right now. This app allows you to translate your way through 90 languages. And just this past summer, Google Translate expanded its camera picture-text-to-translation feature to 27 languages, meaning you can snap a photo of a sign or menu and the app will translate it for you. How cool is that?! It's also got a speech option for translations for anyone who is a little timid on their pronunciations — plus, you can draw characters instead of typing, have direct voice-to-voice translations, and download language packs for easy offline translation access.
Available for: Android and iPhone
7. TripAdvisor As a Travel Guide
It's no secret that we love TripAdvisor (we're all part of the same family!), but what you might not know is that the TripAdvisor App has some serious value in the hands of a traveler, too. Not only can you search for and read reviews on local places to sleep, eat, and be merry, but you can also draft your own reviews on-the-go, check out and book hotels and flights, save selected spots to view offline (with maps) and download city guides to view offline, as well. There's also a great "Near Me Now" option that shows you spots and reviews for nearby hotels, restaurants, and things to do if you are ever in a jam.
Available for: iPhone, iPad, Android, Android Tablet, Windows and Nokia
You Might Also Like:
All products are independently selected by our writers and editors. If you buy something through our links, Oyster may earn an affiliate commission.