Break out the cocktail shakers and Rat Pack records because we are listing out our eight favorite midcentury hotels! If you have a soft spot for sputnik light fixtures, vibrant pop art, and streamlined Eames furniture, these funky hotels across the U.S. will be your happy place. Piled high with architectural flourishes and shagadelic vibes, these spots will inspire loads of selfies -- Lo-Fi filter optional.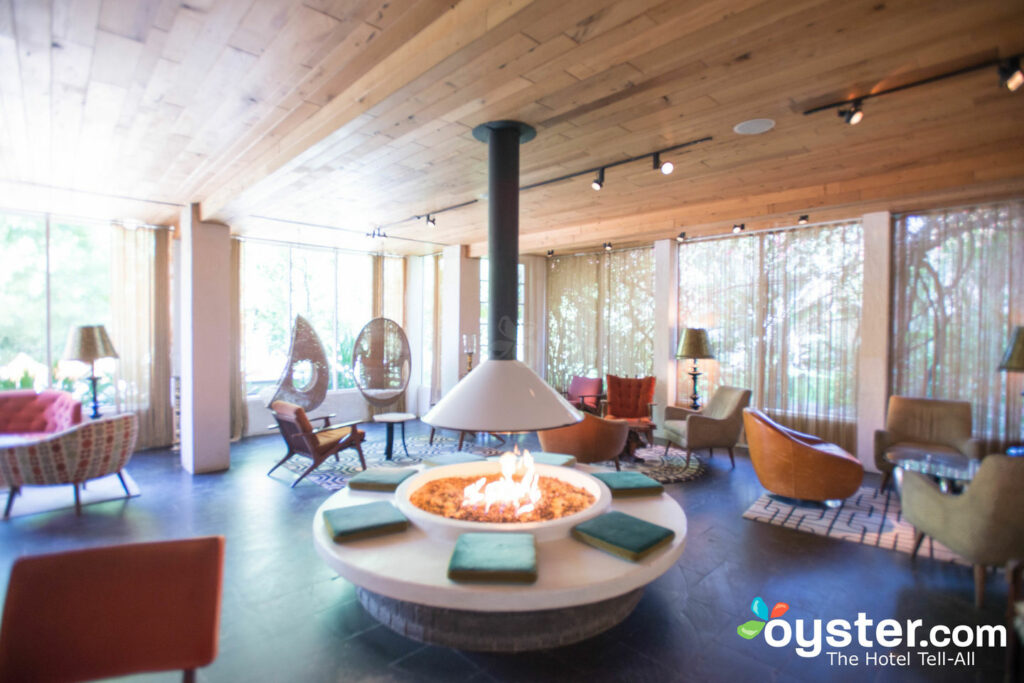 If Palm Springs is a midcentury wonderland, the Parker is its flagship ride. Public spaces are full-tilt '60s, from the psychedelic orange front door to the circular fireplace in the lounge. Geometric room dividers and egg-shaped suspended chairs add to the swinging look. Designer Jonathan Adler made these interiors, which include a cheeky "Valley of the Dolls"-style marquee sign reading "Drugs," a love letter to his favorite era.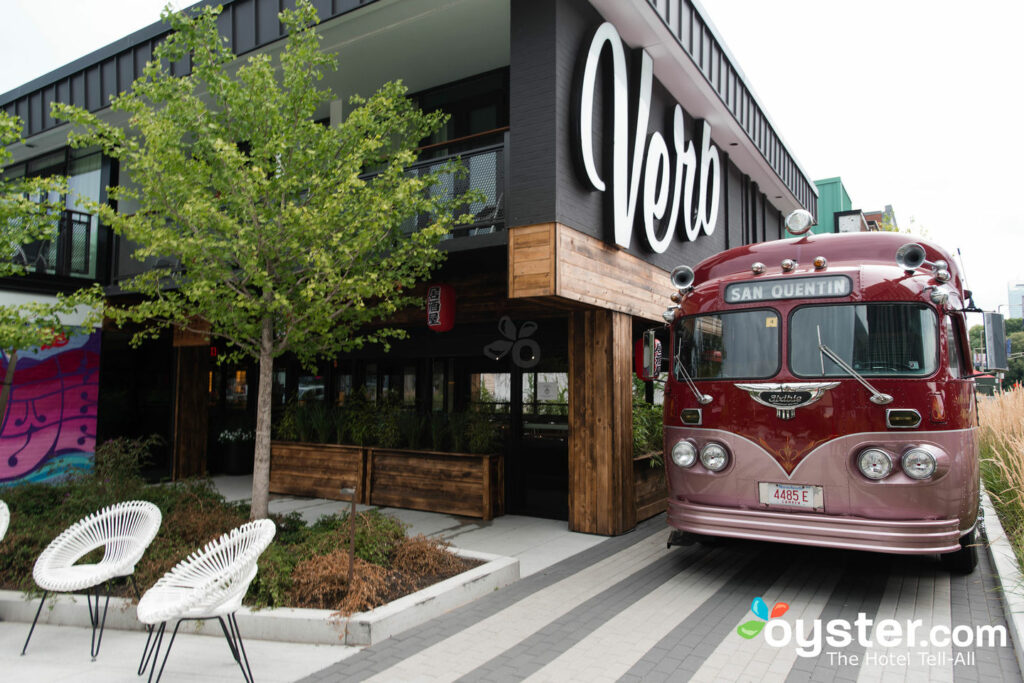 Midcentury swagger isn't seen much in New England, which is exactly what makes The Verb Hotel such a standout. Once a '50s motel, this property has embraced its roots, from the eight-track player to the rows of vintage radios on display. But it's the building's grid of windows with a few multicolor panels that really take its design to the next level, giving a nod to the era's obsession with color blocking. The bright-red retro tour bus that's permanently parked out front is the cherry on this vintage sundae.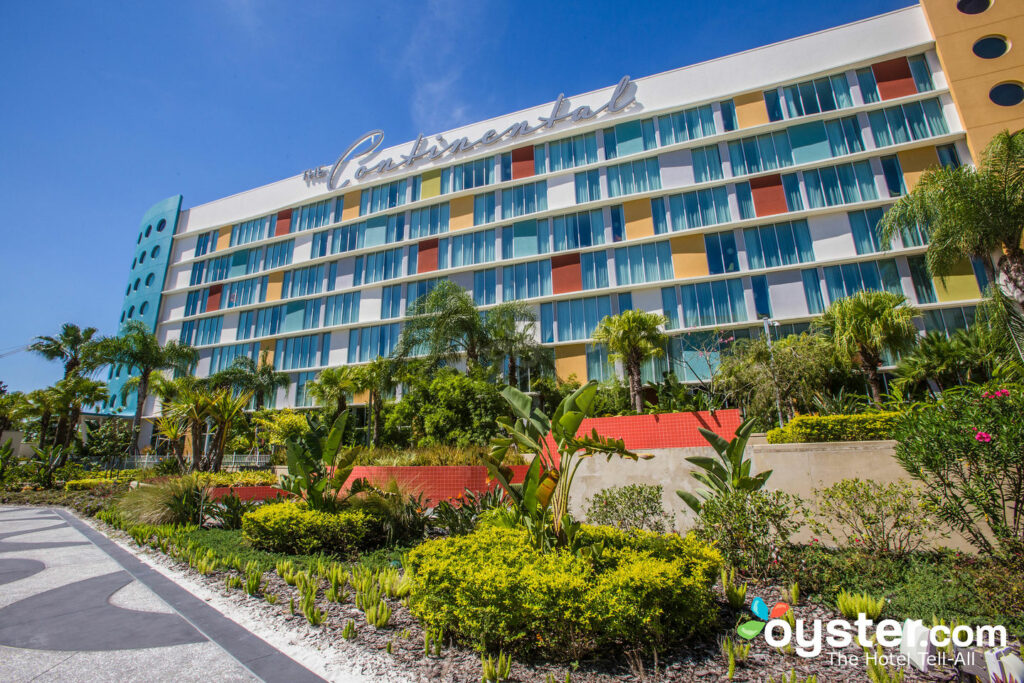 Bright Technicolor hues lifted from a "Jetsons" cartoon are at play throughout this Orlando resort, from the long sectional sofas snaking around the lobby to the carpeting with geometric rectangles to the building's facade, which is sprinkled with red, yellow, and blue panels. On-site features, such as the retro bowling alley with neon-colored balls and orange pod seating, completely embrace the theme. The restaurant, a red-and-teal tribute to the '60s with Eames chairs at every table, continues to delight. Even the on-site Starbucks gets in on the action, as it's furnished with mint-green Danish loungers.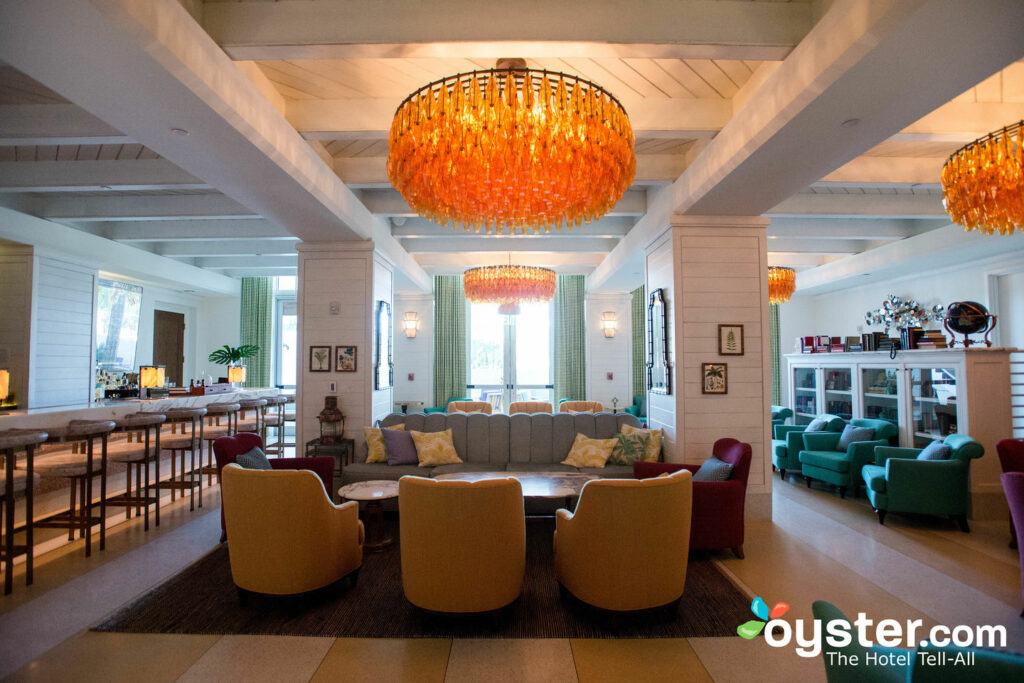 The Confidante goes time-tripping through several decades of design, from its 1940s facade to its 1960s orange chandeliers, but it all adds up to a midcentury look that's distinctly Miami. The pool, ringed with lemon-yellow loungers and palm trees, is best summed up as "the golden age of South Beach." That spirit radiates out into the restaurant with a striped patio covered in citrus-colored seating, all the way down to the beach, which is dotted in fringed umbrellas. Guest rooms offer the same mood in miniature, with teal doors, platform beds, and lamps covered in golden scales.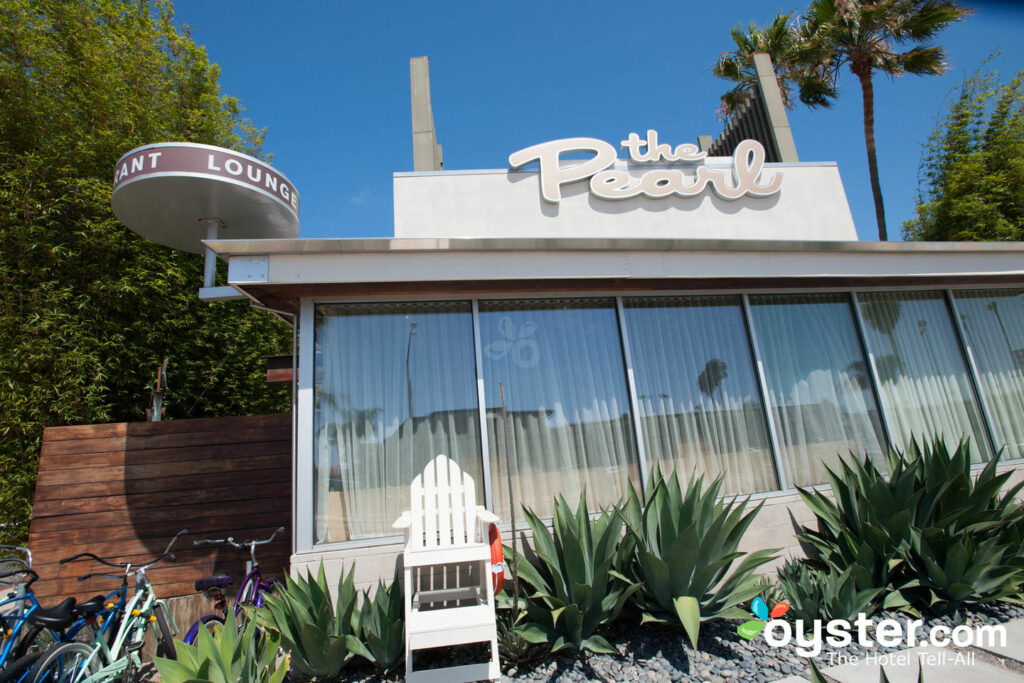 The Pearl Hotel is proof positive that you don't need a big budget for big design. Formerly a midcentury motel, the petite Pearl Hotel received a high-style hipster makeover that still gives a nod to its past. The color palette here is a bit more subtle — a soft indigo and white — but rock-wall accents and shag carpeted platforms keep the '60s spirit alive. Butterfly chairs and globe pendant lights make the pool scene mod, and the sign out front, a rotating saucer announcing the hotel's restaurant and lounge, feels like it has been spinning since its motel days.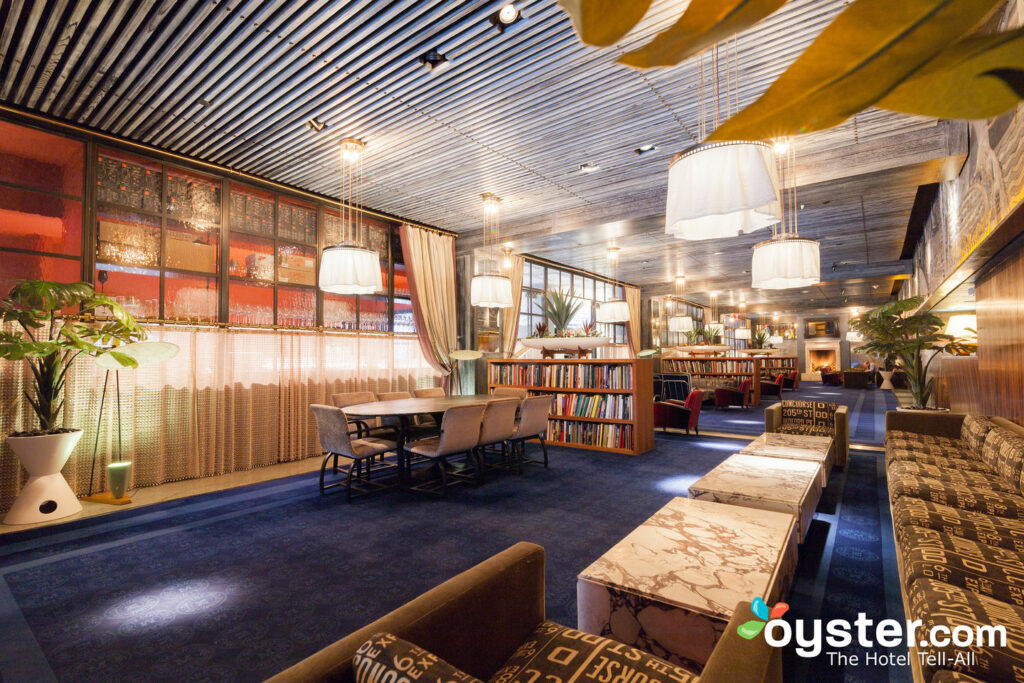 Once upon a time in the '60s, this building was the headquarters of the National Maritime Union. In 2003, it reopened as this jaunty hotel, preserving both its nautical legacy and its midcentury atmosphere. Exteriors are studded with porthole windows, and interiors have the look of a retro cruise ship. Navy blue carpeting, low sofas, and heaps of teak wood set the mood. But it's the details, from the ship models to the bookshelves stocked with copies of "National Geographic," that give it life. Don't miss the fitness center, decked out in a leafy print that screams "1960s tropical vacation."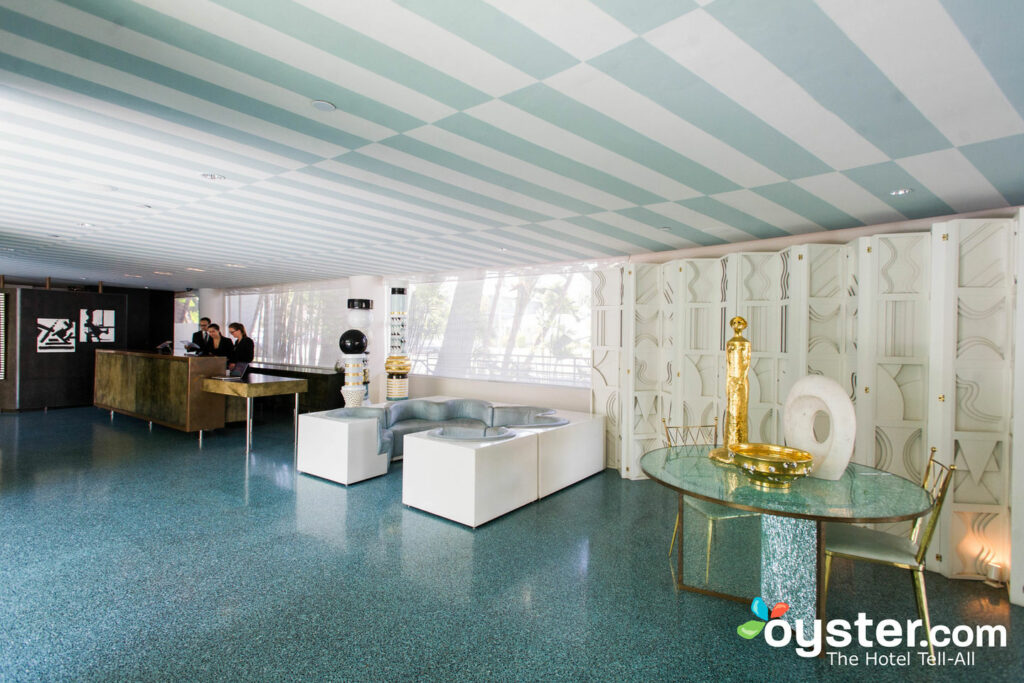 Soft, icy blue and seafoam green hues wash through the Avalon's interiors, from the striped ceilings of the lobby to the pale carpeting in the guest rooms. Born the Beverly Carlton, this property opened its doors in 1949. A 1999 revamp by designer Kelly Wearstler added retro touches representing the property's Hollywood heyday. Molded seating, arching floor lamps, and geometric patterns factor in heavily, even in the hotel's meeting rooms. Everything centers around the property's figure-eight pool, proving some things have timeless appeal.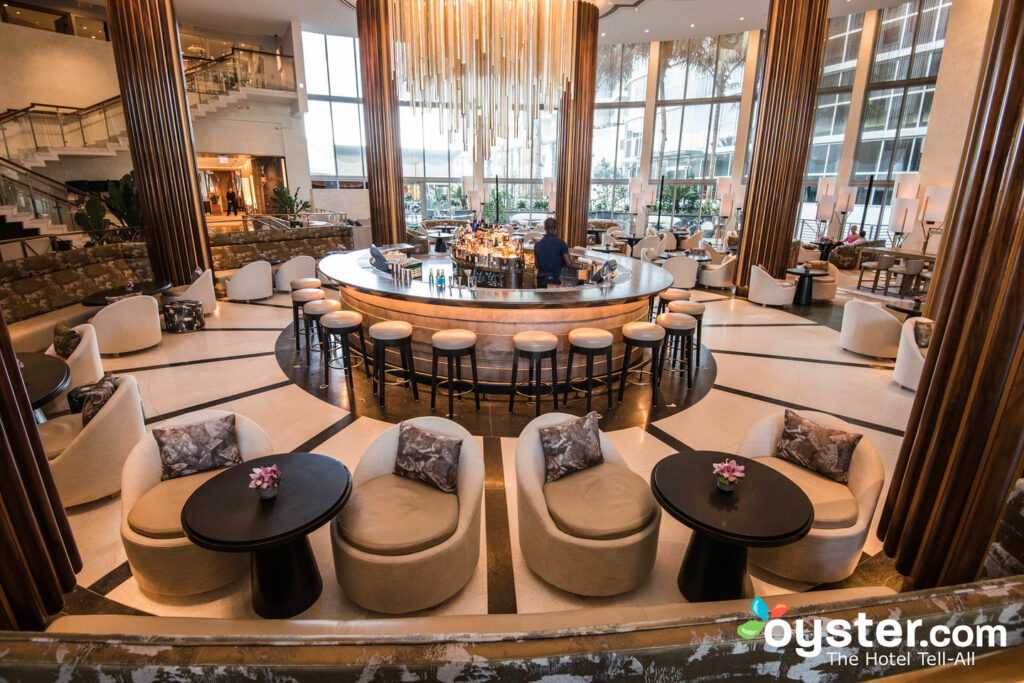 It's a mod, mod world at Eden Roc in Miami Beach. From the sign that feels inspired by "I Dream of Jeannie" to the restaurant covered in spherical pendant lights, a '60s vision reigns supreme. But this is a glitzier, adult take on midcentury, as is evident from the lobby lounge. Here, brass-colored columns encircle a chandelier made up of a cluster of tubular lights. Rooms are contemporary, but a few swinging details like geometric patterned carpets and scoop chairs keep the midcentury spirit alive.
You'll Also Like:
All products are independently selected by our writers and editors. If you buy something through our links, Oyster may earn an affiliate commission.