Vacations are all about seeing a new place, right? But what if you could also experience a new era? While we love historic hotels with old-timey charm, we're also partial to those that transport us to the future. From properties with intergalactic, pod-like bedrooms to hotels with robot helpers, these Jetsons-worthy accommodations offer a glimpse at what the future might hold.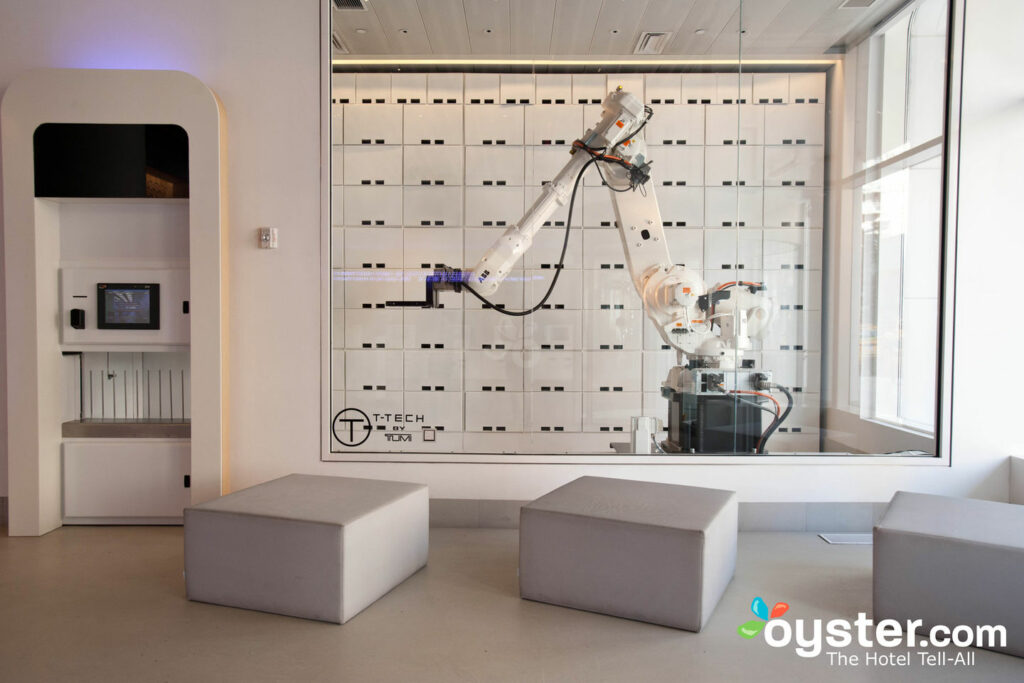 Yes, this Manhattan location of the European chain Yotel is a tad out of the way (it's tucked on quiet 10th Avenue) and yes, it does feature itty-bitty capsule-style rooms (motorized beds fold upright when not in use), but the hip amenities (not to mention, relatively affordable rates) help make up for that. Stepping through the doors here feels a lot like time traveling to the future, thanks to airport-style touch-screen check-in machines, furnishings that resemble an upper-class cabin, and Trekkie-style staff uniforms. All of that coupled with an enormous rooftop terrace and sleek restaurant and bar serve as stellar previews to the property's star attraction: Yobot, the gimmicky, yet thrilling, robot luggage handler that's stationed in the lobby.
Located less than 10 minutes from the airport in Madrid, this Spanish hotel could easily be mistaken for the set of a sci-fi film. Here, each of the 12 floors was executed by a different architect, including Zaha Hadid and Norman Foster. Inside the colorful facade lies a hip restaurant, top floor bar with sweeping views, funky, outer space-like design, and rooms with futuristic features like levitating beds. There's even a Space Club room, which is outfitted in white walls and floors, and as the name suggests, is out of this world.
Nine hours—the amount of time guests need to get ready for bed, sleep, and shower, according to this downtown Kyoto hotel. Few visitors spend more than nine hours here, and those that do stay multiple nights must check out in the morning and check in again. That being said, while the accommodations might be designed for 24-hour stopovers from business travelers and solo vacationers in transit, the hotel still offers plenty for a short stay and small budget. Typical with Japanese design, the digs are sleek, minimal, and futuristic (picture an all-white color palette, graphic signage, and clean lines). And nowhere is this space-like atmosphere more apparent than in the single-bed capsule rooms. The pods, which look like they're ready for orbit, are stacked side by side with separate floors for men and women, and also come equipped with light-sensitive alarm clocks.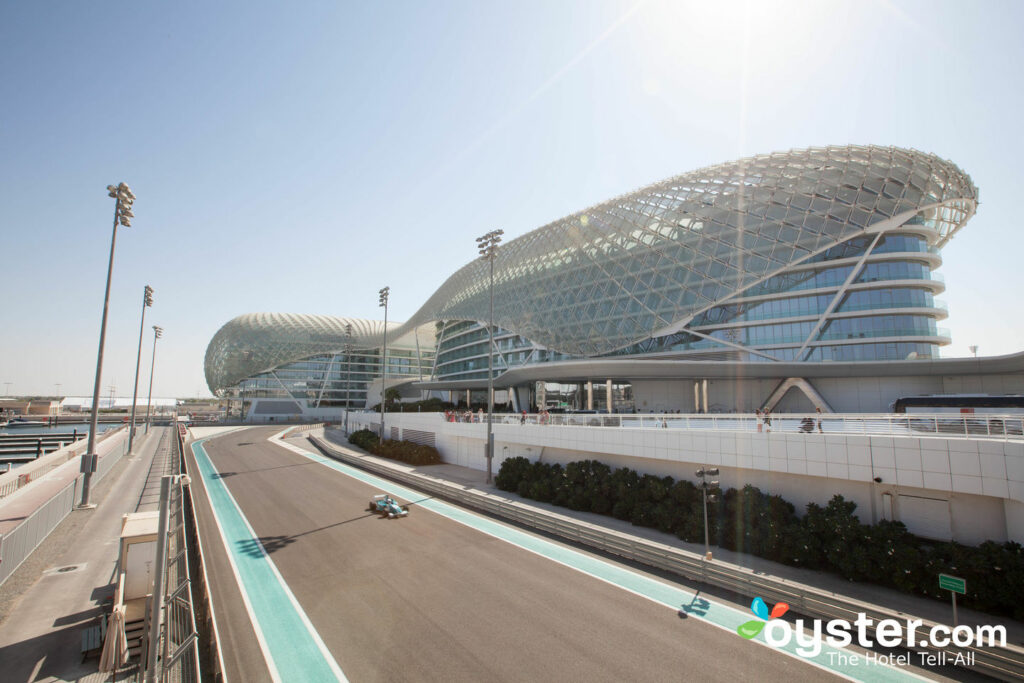 While some of the hotels on this list offer guests advanced tech amenities, others, like this hotel on Yas Island, make the cut for their visually striking architecture. Built over a Formula One racetrack, the property straddles a marina and raceway and features an enormous LED canopy that looks like it's been plucked from the future. Other finishing (line) touches include two rooftop infinity pools, a spa, and several restaurants and bars.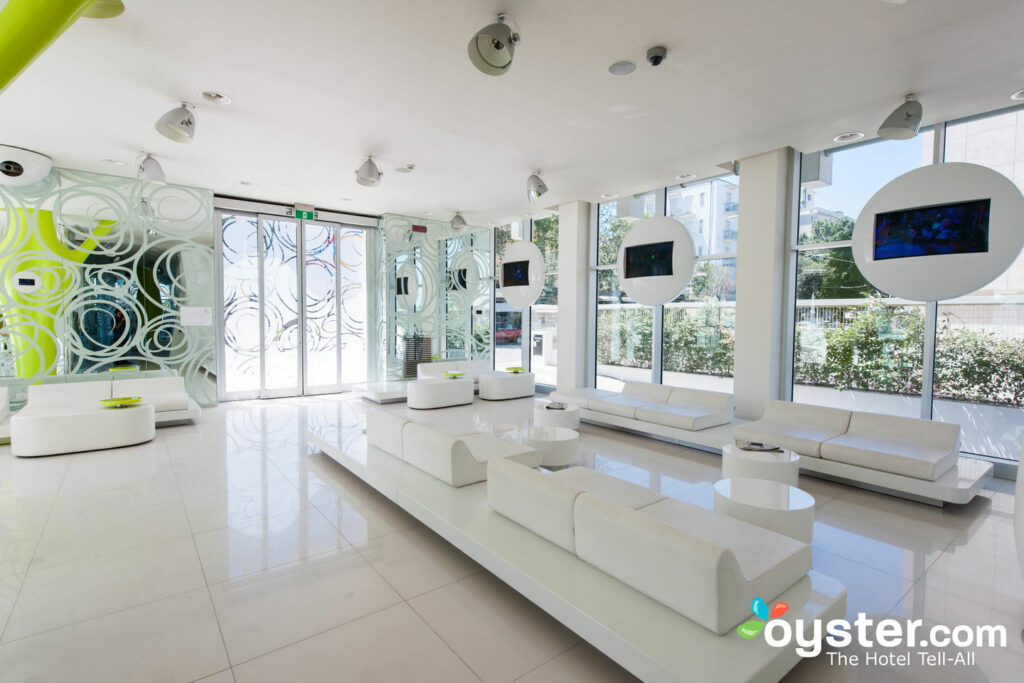 It might not look like it from the outside, but once you enter this 55-room hotel, the futuristic, experimental design shines through. The polished, all-white lobby with several TV pods gives the impression that you've fast-forwarded to the future. Bursts of bright color and reflective surfaces add to the arty aesthetic. This ultra-modern design is only made more impressive by luxe features, such as panoramic views from the top-floor spa and a gourmet seafood restaurant.
The future is present in several places at this 316-room hotel in Chelsea. The 24-hour fitness center features portholes (as does the modernist facade), the pool has peek-a-boo views looking down into the lobby, and rooms show off perforated white headboards and porthole windows—many with views of the city. When you're not breaking a sweat, taking a dip, or getting some shut-eye, relax in the rooftop lounge or basement bar and club or re-fuel at the sleek Japanese restaurant.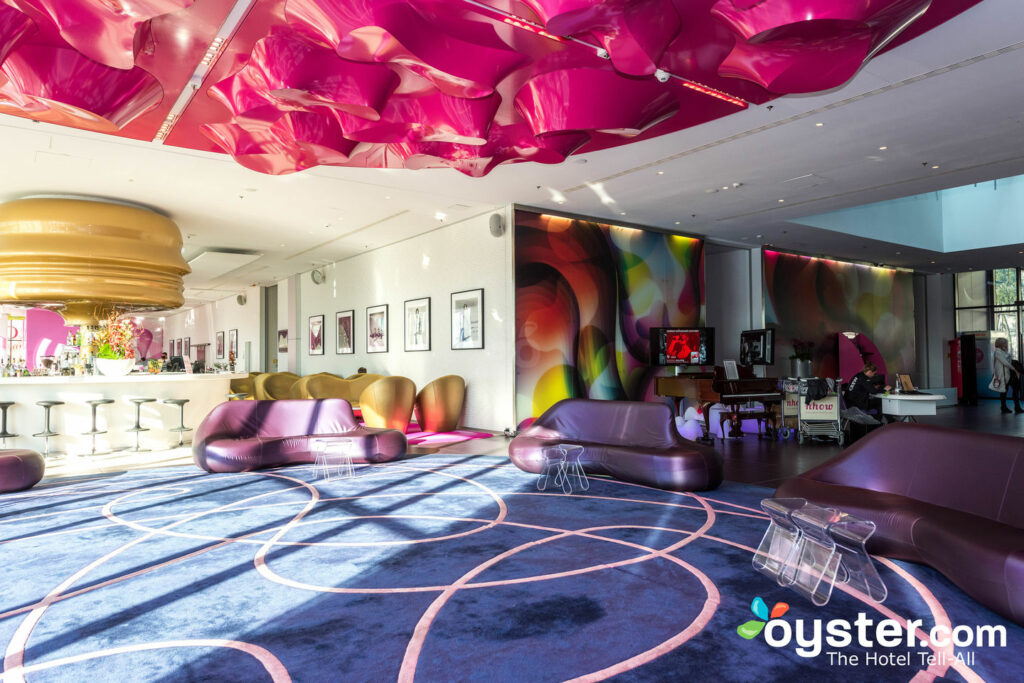 Bright colors, funky patterns, odd-shaped furniture, and a pink UFO-like sculpture in the lobby come together at this futuristic-feeling Berlin property, which overlooks the River Spree. The space-age design is not the only reason it stands out, though—the property also boasts a music theme, with on-site recording studios, plus in-house concerts and DJ sets, art exhibitions, and fashion shows.
For those who like their futuristic features with a side of retro style, this Amsterdam property might be the pick for you. Modeled after capsule hotels synonymous with Japan, citizenM offers plenty of cool factor for a relatively affordable price tag. Funky decor includes bold colors and off-beat, quirky furniture. There's a 24-hour canteen, self-service check-in kiosks, and iMac stations in the lobby. Plus, soundproofed rooms feature innovative electronic mood pads, which control everything from ambient lighting and blinds to temperature and music.
You'll Also Like:
All products are independently selected by our writers and editors. If you buy something through our links, Oyster may earn an affiliate commission.