There are a lot of fun memories to bring back from a vacation, but that one time you got scammed at the airport shouldn't be one of them. To help make sure that never happens, we've rounded up eight scams -- from the security line to your taxi -- to be on the lookout for the next time you hop on a flight.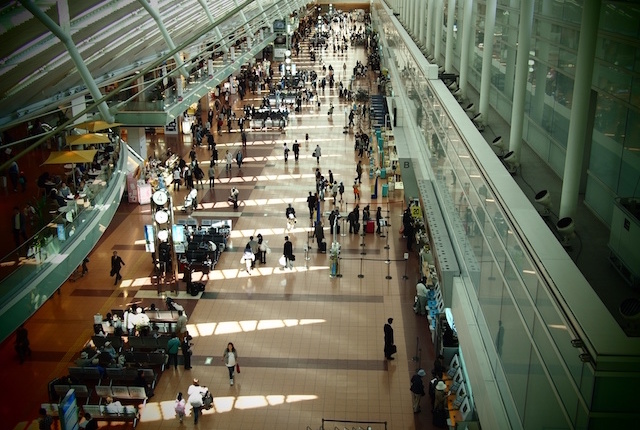 1. The Rigged Scale Scam
At more dubious airports, counter attendants won't reset the scale before they weigh your bag. This means your properly packed suitcase can suddenly turn into an overweight one, with exorbitant fees.
Tip: Always make sure the scale is set to zero before placing your bag on it.
2. The Security Screening Snatch Scam
The person in front of you setting off the metal detector might actually be doing it on purpose. While you're held up, his colleague on the other side could be plotting to grab your carry-on luggage as it rolls out from the scanner.
Tip: Your mind might be focused on the line, but keep your eyes on your bag. If you're selected for additional screening, ask the agents to hold your bag until you're through.
3. The Dodge-the-Bullet Scam
This scam popped up at the Manila airport at the end of last year — and it doesn't sound fun. According to , airport workers were dropping bullets into bags that were going through security. Carrying ammunition is obviously very illegal, so when the suitcase is seized, the unlucky passenger (you) will have to pay a steep fine to escape trouble.
Tip: Hard shell suitcases that lack outside pockets make it harder for airport employees to discretely drop in a bullet. And, although the problem seems to have died down a bit, wrapping your bag in cling wrap is always a good way to prevent people from messing with it.
4. The Sneaky Free WiFi Scam
Because everyone loves a little Internet surfing while waiting for their flight (and because airport WiFi can be seriously expensive), are setting up networks marked as "free." Once you've connected, though, they go to town on stealing your info.
Tip: Protect yourself by turning off automatic connections as well as avoiding file sharing and creating a VPN. Plus, do your due diligence and research whether the airport has free WiFi (and what it's called) ahead of time. It's always better to shell out for the connection than have your credit cards compromised.
5. The Unequal Exchange Scam
Airport generally aren't the best option for getting a great rate on your money, but things get even dicier in areas where they're not regulated at all. Some vendors may tell you that what's posted is the day rate if you're exchanging at night, while others might charge massive commissions. The rates might also just be less favorable than at a reputable exchange in town.
Tip: Get enough cash to get you into town before departing; then look for a legitimate service like Western Union.
6. The Baggage Carousel Bump 'n' Run Scam
It goes like this: You're waiting at the carousel with about 100 people all mobbing to get their luggage ASAP when someone . You head outside to catch a taxi only to realize you don't have a wallet anymore.
Tip: Enlist your travel partner to watch your back while you look for the bags.
7. The False Greeter Scam
If you ask the hotel to send a taxi to collect you at the airport, there's a good chance there might be more than one person holding a sign with your name on it. False greeters will see your name on the legit representative's sign and write it down on their own, hoping that exhausted you will likely head toward the first sign you see after stumbling off a long flight. Or, you might not have requested a taxi at all, yet there's still . How nice, you might think, but beware: once you're en route, the driver will inform you that he won't continue to your hotel unless you pay an extortionate fare. This is particularly bad at night, when the scammer knows you just want a soft pillow.
Tip: Take a taxi directly from one of the dispatch desks in the arrivals area.
8. The Wayward Taxi Scam
Speaking of airport taxis, they might not be what they seem. Some are unlicensed, some set flat-rates that are more expensive than the metered one, and some will take you the long route. Other drivers might even claim the meter is broken and overcharge you for the lift.
Tip: Taxi customs vary between destinations, so check sites like WikiTravel ahead of time to figure out what to look for. And, always make sure the meter's running.
Related Stories:
All products are independently selected by our writers and editors. If you buy something through our links, Oyster may earn an affiliate commission.