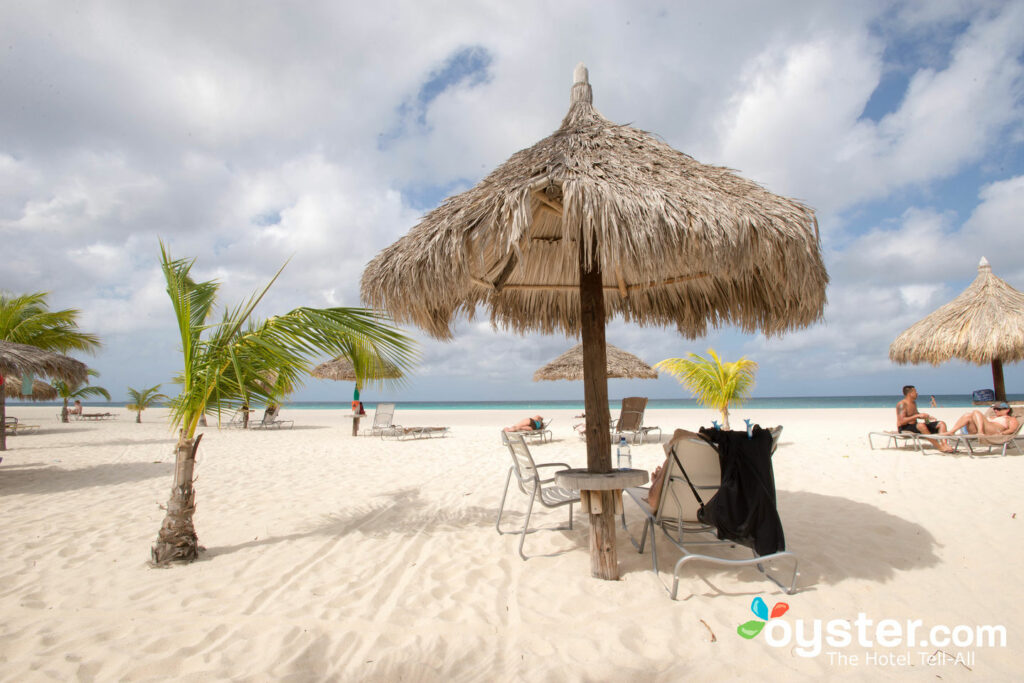 Ahhhhhh, Aruba! Roughly twice the size of Manhattan, this small Caribbean island is big on good vibes, smiles, and sun -- so much so, it's dubbed itself as "One Happy Island." And, with year-round perfect temperatures, miles of pristine beaches, great cuisine, friendly locals, and activities galore, it's easy to agree. We dare you not to smile when your toes hit the powdered sugar-soft sands of the beach or while you're soaking in the perfect sunset, frozen drink in hand. Aruba also features an atypical (and gorgeous) desert-like landscape for the Caribbean, full of succulents, colorful flowers, and those iconic divi-divi trees (our favorite!) -- and its clear turquoise waters make for fantastic snorkeling and diving that's teeming with fish, coral, and even a shipwreck. It's also a favorite spot for windsurfing and parasailing, thanks to consistently flowing warm winds.
While we're sure you'll find your happy place wherever you stay on this pint-sized paradise, here are our top picks to help guide you in the right direction. So, what you are waiting for? Be Happy!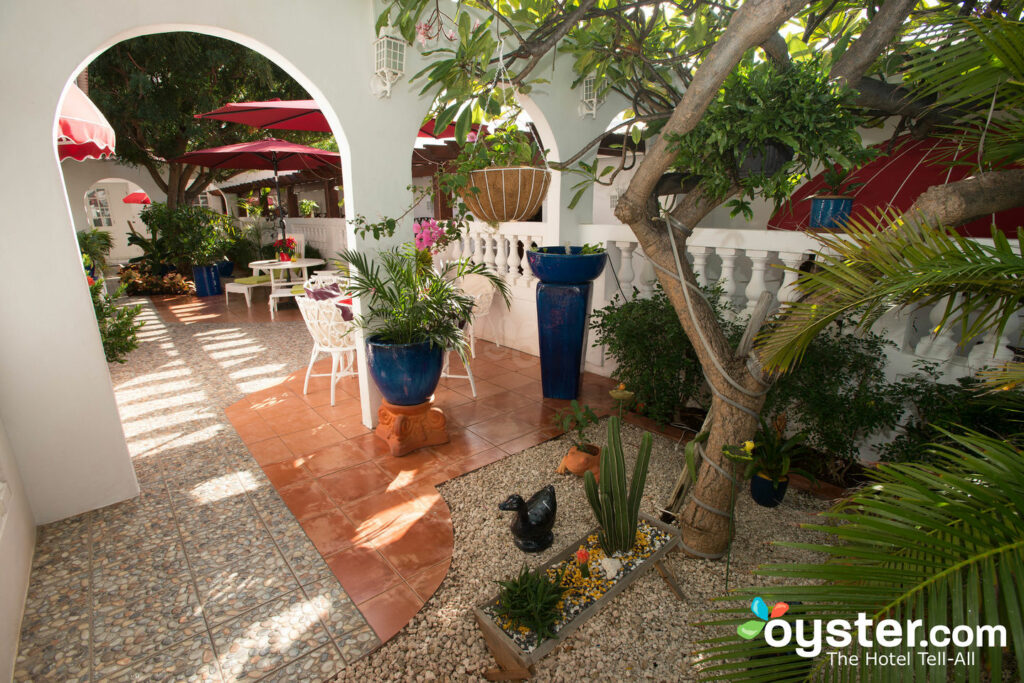 If you want to feel like you've bought a second home in Aruba, this is your happy place. Walking distance to Aruba's High Rise hotel strip, the four-room My Aruban Home is the antithesis of its nearby resort-style neighbors — and that's exactly what it's aiming for. Run by a retired husband-and-wife team, this spot is full of extremely mindful amenities like car rides to familiarize you with the island, guest-curated Aruba guides, and a barrage of in-room comforts all purposed to make you feel like a well-taken-care-of family friend. There's no pool, restaurant, or bar, but My Aruban Home is the ideal place to feel like a local without lifting a finger — or spending too much cash.
Quite possibly the most well-rounded of Aruba's resorts, La Cabana Beach Resort & Casino really does seem to have something for everyone. Located on the northern edge of the island's Low Rise hotel zone, the 449-room La Cabana Resorts sits in a prime location — right across from Eagle Beach and within walking distance of restaurants, shops, and bars. This upper-middle-range time-share resort packs in a lot of features from a casino, to a spa, to a large health club, and even a little chapel. Kids will love the kids club, larger-than-life chess games, massive pool area, and arcade room, while adults can hit the beach, whirlpool, casino, or dance floor. A very spritely and social happy hour takes place daily by the pool and usually features live music and lots of frozen drinks; it's a great place for solo travelers to mingle, as is the karaoke or card tables in the casino. Rooms are spacious with impressively equipped kitchens featuring garbage disposals and dishwashers, plus private outdoor space. But if you don't want to cook, there are also a few restaurants on-site and tons nearby.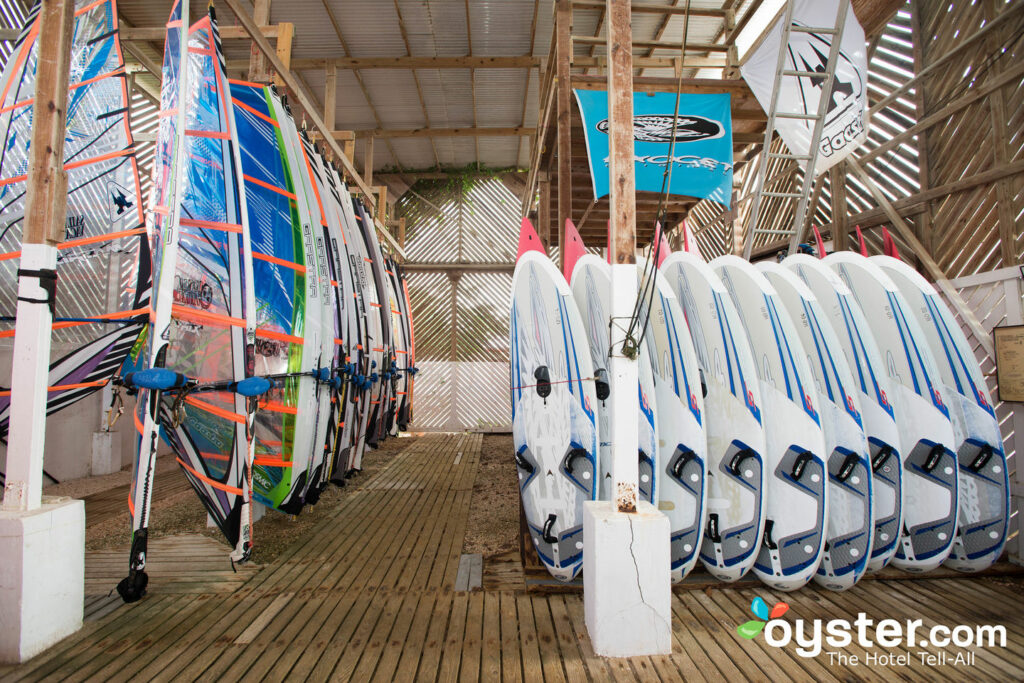 Water sports can get expensive, so if you're already a fan of — or ever wanted to try your hand at — the thrill of windsurfing, Aruba Beach Villas is where it's at for you. This 31-room budget spot is an ideal self-catering option for those who want to be on the beach, windsurf until the sun goes down, or just enjoy nightly panoramic sunsets away from the hustle and bustle of Aruba's tourist drags. Actually, it's the only option off windsurfer-friendly Malmok Beach, which makes the hotel's deal of free windsurfing from January to April (when prices are highest) even sweeter. Rooms have no-frills Caribbean decor, pesky venetian blinds, and spotless, fully equipped kitchens. Though there's no restaurant, there is a small pool with hot tub, spacious units, and a friendly vibe (along with some visible wear and aging).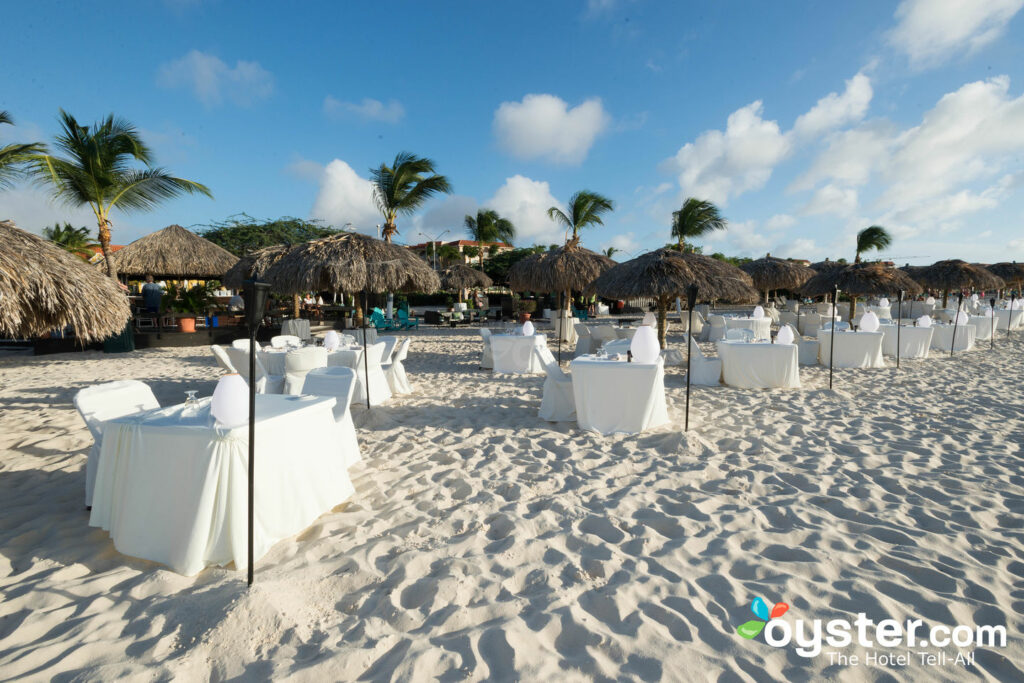 A family-run hotel opened in 1990, Amsterdam Manor is an upscale, yet casual, 72-room Eagle Beach boutique ideal for those who want the conveniences of larger resorts but fewer people. The hotel is across the road from one of Aruba's more popular beaches, and there is a waterfall pool on-site. Renovations in late 2014 brought brighter colors, cosmetic upgrades, and some expanded space. Generously sized rooms have contemporary Dutch colonial decor and come with impressively stocked kitchens (for those nights you don't want to leave the room) and outdoor space. Some bathrooms have whirlpool tubs that pair nicely with a chilled bottle of champagne and chocolate-covered strawberries. Two restaurants (one is directly on the sands of Eagle Beach — ooh la la) and two bars keep appetites satisfied and the booze flowing. Plus, you'll find free snorkel gear, bikes, and a concierge in the lobby.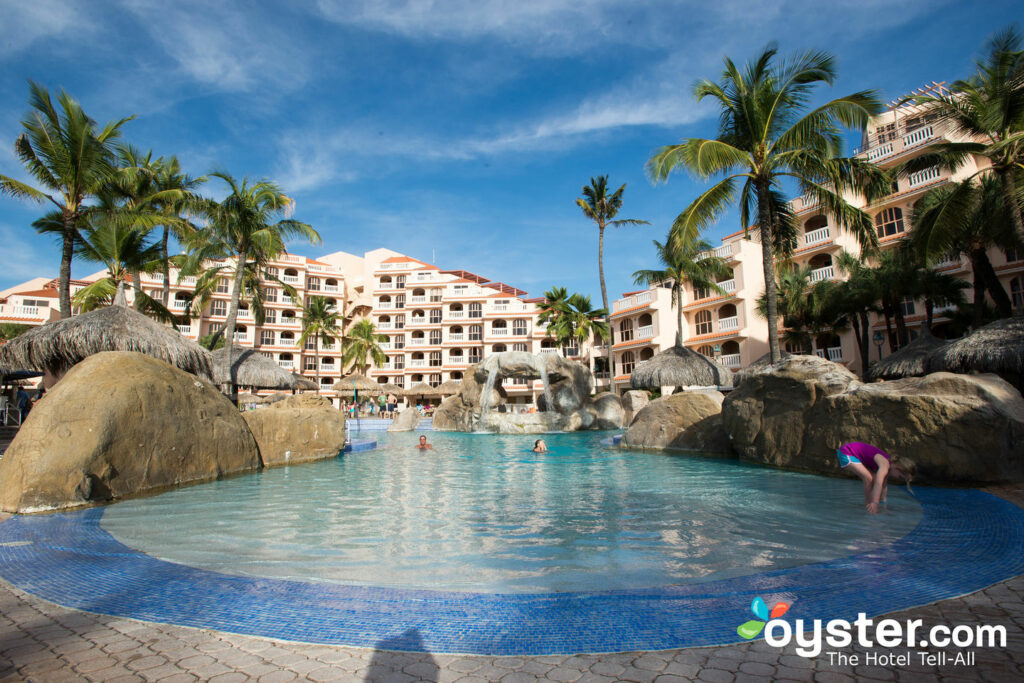 Anyone who has traveled with kids (or traveled alongside those traveling with kids) knows that it can be difficult. Wanna know a secret? Keep the kids happy and chances are you'll be happy, too — so head to Playa Linda Beach Resort, a 214-room time-share property located directly off the sands of Palm Beach. Most of the clean rooms have an apartment-style design with full kitchenettes, separate living rooms, and private outdoor spaces, making it well-suited for longer stays and families. The resort's two-bedroom units, waterfall family pool, games, and kids' club are big draws for anyone traveling with the kids in tow. Plus, the easy access to a plethora of restaurants, shops, and entertainment located in the hotel's plaza and along the buzzing main drag out front don't hurt, and the on-site supermarket for kid cravings or emergency needs comes in handy. There are also a few hot tubs, an Asian-themed spa, and plenty of places to grab a drink on-site for mom and dad.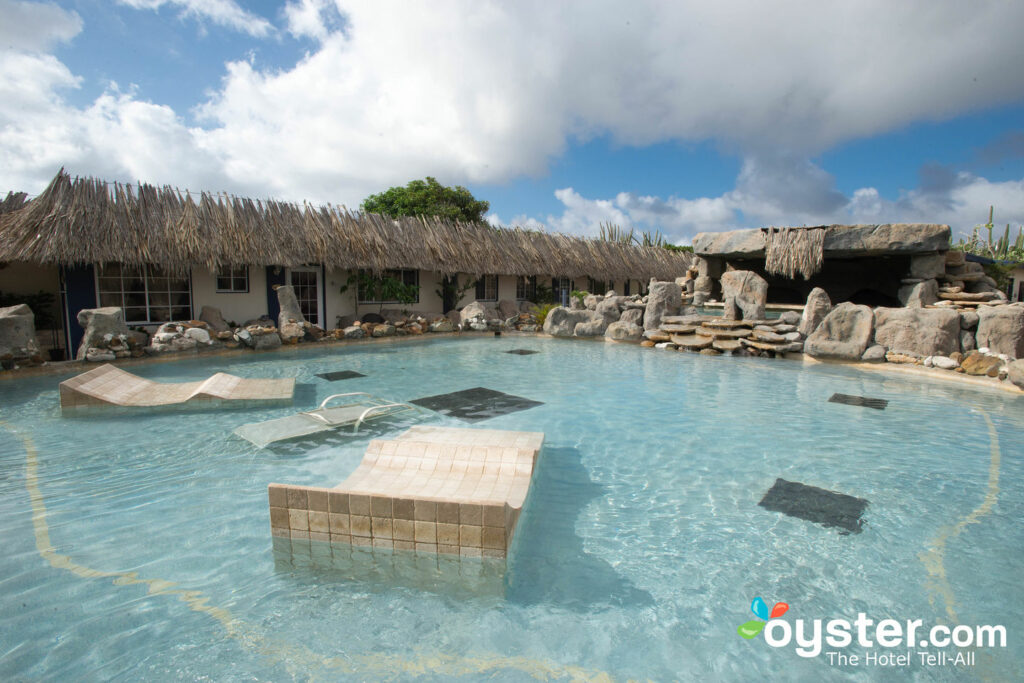 If you're looking to escape the crowds or snag a taste of the quiet, Aruban life, Club Arias Bed and Breakfast, a family-run spot in Aruba's quiet southwestern village of Savaneta, is your best bet. Ten suites (and a tiny budget option, The Nook) are set within spacious and well-landscaped garden grounds with plenty of places to lounge. The entire property has a Mediterranean style, from the clay garden accents, to the large faux boulders and grottos, and down to the impressive hand-painted details covering walls, furniture, and signage. All suites include free cooked-to-order breakfast by Chef Gabriel, who also serves up pizza, pasta, wings, and private dinners. This is an ideal place for families or couples looking for local flavor or even just an escape from heavy tourist areas, but it's not on the beach and you definitely need a car.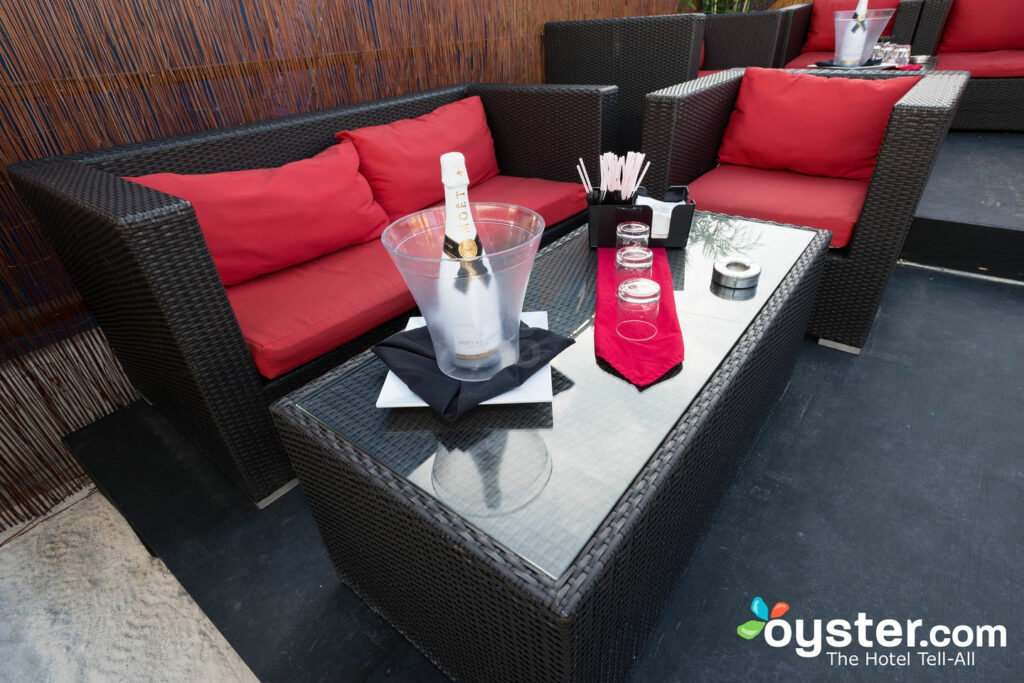 For those who are happiest with VIP tables, DJs and dance music, bottle service, colorful cocktails, and late nights, Brickell Bay Beach Club & Spa is a 97-room, adults-only spot with a popular club on the premises. Plus, it's around a five-minute walk to Aruba's Palm Beach, the hubbub of the High Rise zone, and a large concentration of restaurants and shopping. Rooms are spacious and contemporary, but the fixed windows and island condensation can breed a musty smell. All units come with mini-fridges, free bottles of water, free breakfast, luxe toiletries, and huge, fluffy towels (all of which can provide some comfort while nursing the hangovers). The boutique also packs in features such as a pool bar, restaurants, a 24-hour fitness center, and a business center. It's an ideal adult-only, lounge-all-day, party-all-night option for anyone looking to be in this bumping area without shelling out for a high-rise resort.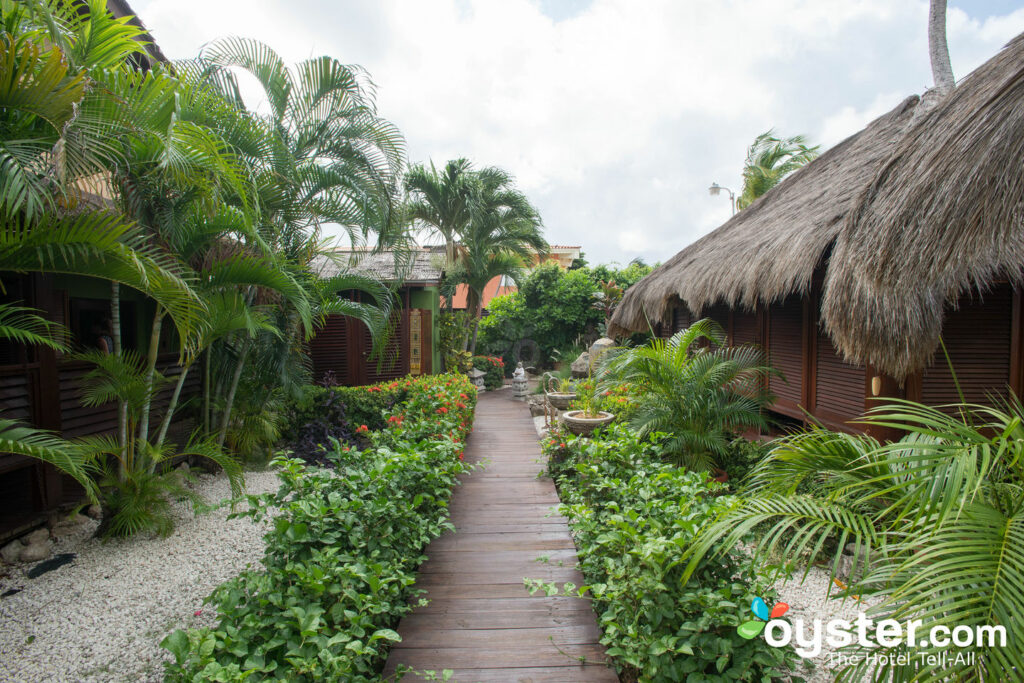 Sometimes you just want to relax, revitalize, and return from vacation feeling fresh, new, and ready to take on the world. If partying all night sounds a bit too rough around the edges for you, but waking up early for yoga, a beachside spa treatment, and fresh juice sounds just right, you've got to check out Manchebo Beach Resort & Spa. Toward the southern edge of the Low Rise hotel zone — with garden grounds and the beautiful backdrop of Eagle Beach's widest stretch of sand — Manchebo Beach Resort & Spa feels like a true getaway. It's only got 72 rooms, but this upscale boutique has the space and features of a larger resort — from a mini-market and restaurants, to an herb garden, car rental, and, of course ,yoga classes, a fitness center, and a spa. However, more features for fewer guests translates to a pretty substantial nightly price; but we'd still argue that Manchebo's uncrowded, wellness-oriented vibe is tough to top.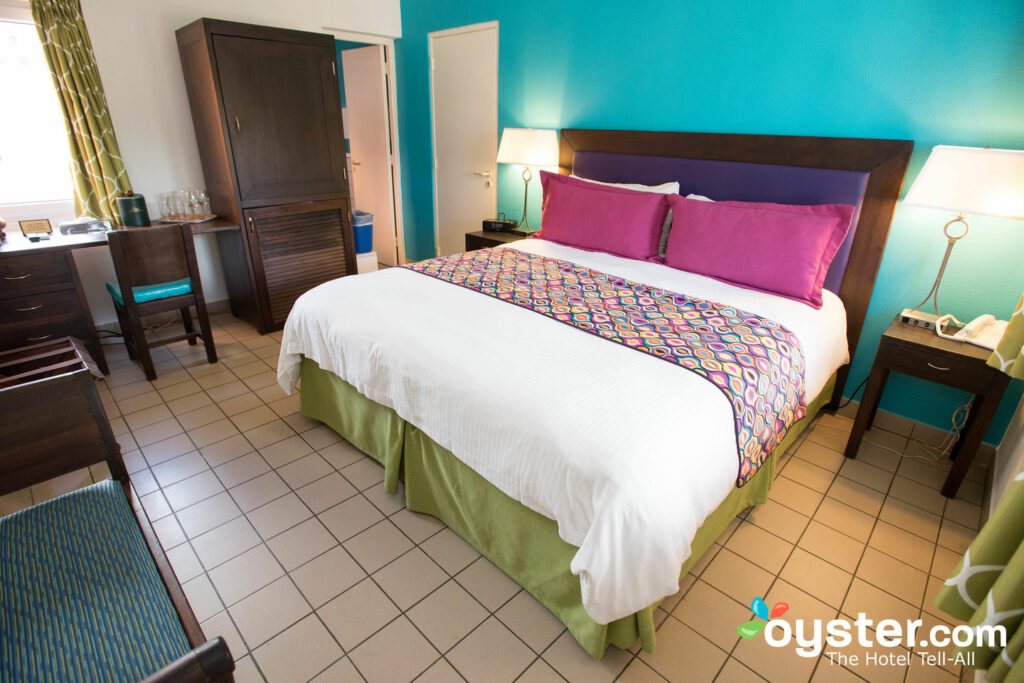 Just wanna grab some friends and skip outta town without breaking the bank? MVC Eagle Beach just might be your ticket to happiness. This mid-range boutique has 19 rooms located right across the road from Aruba's famous Eagle Beach. It is mostly made up of contemporary (if snug) Double Rooms, though there are a few larger adjoining rooms, making this a nice option for couples or friends that want to bunk up for a good beachside bargain — the free breakfast doesn't hurt either. While the small and shallow pool isn't good for much more than dipping (who cares when you've got a gorgeous beach across the road, right?), there's plenty of space to grab some sun, a bite to eat, or a drink. Some people find noise to be a problem, but if you can wear earplugs, this quaint and social beachside pick's price is right. Go on, stage a takeover!
Before catching a dip in the crystal clear waters of Aruba, lather up in some reef safe sunscreen by Mama Kuleana to swim with a good conscience.
All products are independently selected by our writers and editors. If you buy something through our links, Oyster may earn an affiliate commission.