Have you ever stared into the glassy eyes of a Savanna elephant on display in a museum and dreamt of having a "Night at the Museum" type of adventure? You're not alone. In fact, museums and zoos around the country have opened their doors to host some of the coolest (and most educational) sleepovers. From a family campout at the Smithsonian's National Zoo in to an adults-only all-nighter with champagne in New York's , we compiled nine of our favorite slumber parties. So pack your sleeping bag, flashlight, and toothpaste and let's see what comes alive at night.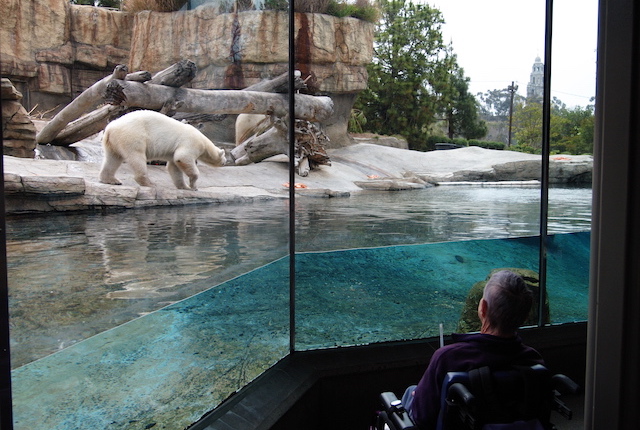 Want an African safari experience without leaving San Diego? The Roar & Snore Safari at the San Diego Zoo gives guests the chance to spend the night in a tent that overlooks the African enclosure, where giraffes, rhinos, and other animals are situated. These tents include sleeping bag pads for up to four people. For more luxurious lodgings, opt for the premium tent, which features two cots, wooden floors, and electrical outlets. Everyone gets a guided nighttime tour, dinner, and breakfast. Post-slumber party, book a Caravan Safari tour, where you'll get up close and personal with an array of creatures. Adult-only sleepovers are also available.
Welcome to the "Night at the Museum" filming location. Well, kind of. The movie's exterior shots were filmed here, but everything else was captured on set in Vancouver. Nonetheless, you're welcome to channel Ben Stiller and pretend you're being chased by a Tyrannosaurus rex while wandering the museum after hours. The American Museum of Natural History in New York's offers kid-friendly sleepovers with flashlight-led fossil missions and adult-only campouts with champagne and live music. Cots are set up under the 94-foot blue whale in the Milstein Hall of Ocean Life, in the Hall of African Mammals, and in the Hall of Planet Earth. P.S. The food court is open until 7:30 p.m. and there are also vending machines.
Science fanatics, get ready to geek out all night. Boston's Museum of Science hosts sleepovers packed with workshops, an IMAX movie, and a planetarium show. Don't miss the Lightning! presentation with the Van de Graaff generator, which was donated by the Massachusetts Institute of Technology in the 1950s. Hundreds of kids and their chaperones attend these slumber parties and some camp out under the museum's full-size T. Rex. Dinner is available for purchase in the Riverview Cafe, but guests can also bring picnics to enjoy in the dining area. Just remember — it's lights out at midnight!
Fascinated with flying reptiles? Book the Extreme Flyers option. Want to be knee-deep in facts about the La Brea Tar Pits? Choose the Ice Age Adventures. Consider yourself an amateur paleontologist? Sign up for Dino Detectives. There are many other themed sleepovers offered at Los Angeles' Natural History Museum, including an adults-only night with scavenger hunts and drinks. Overnights include an evening snack and continental breakfast, but not dinner. Oh, and BYO air mattress or sleeping bag (tents are also permitted at the La Brea Tar Pits campouts).
The Smithsonian's National Zoo in offers two Snore & Roar options: a kids (six years and older) sleepover or an adults-only stay. Either way, bring your walking shoes. This 163-acre zoo features 1,800 animals and 300 different species. Guests get a keeper-led tour of the Elephant Community Center, Reptile Discovery Center, Great Cats exhibit, and more, before camping out on Lion/Tiger Hill. Zoo restaurants close at 5 p.m., so make sure to grab dinner beforehand. Once you rise and shine, enjoy a light breakfast, which is included in the sleepover rate.
6. National Baseball Hall of Fame and Museum
Go ahead and grab your baseball logo pajamas. The National Baseball Hall of Fame and Museum in Cooperstown, New York offers grand-slam sleepovers for families with kids ages seven through 12. During these Extra Innings Overnights, guests can roam the museum after hours and check out that bat Babe Ruth used to hit his 60th home run in 1937. The night also includes a screening of "The Baseball Experience" in the Grandstand Theater as well as a snack in the Plaque Gallery. In the morning, enjoy a continental breakfast. To top it off, everyone goes home with a Hall of Fame gift bag.
There's a museum and then there's a Snoozeum. For the latter, head on over to Chicago's Museum of Science and Industry. Once the doors close, some lucky guests can crash on the premises. Sleepovers, which include activities like making science toys, a scavenger hunt, and more, are held on select Friday and Saturdays for kids ages six to 12. Attendees can set up tents by the Boeing 727 or 1903 Wright Flyer replica in the Transportation Gallery. While you're exploring the grounds, check out the U-505, a German submarine from World War II. And don't dilly-dally — the museum's overnight program runs through December 9.
Ditch your stuffed animals — now you can sleep with the manatees at the Cincinnati Zoo & Botanical Garden in . During the sleepovers, or Nocturnal Adventures as they're called, kids can catch some Zs while watching the gentle sea cows at the base of the aquarium. Campouts are also available in safari-style tents that overlook the giraffe exhibit. Other options include the African Predator Prowl, which lets guests hike through the zoo to learn about African predators. Required age ranges vary for each program. All sleepovers offer behind-the-scenes tours, but dinner isn't included, so eat before you arrive.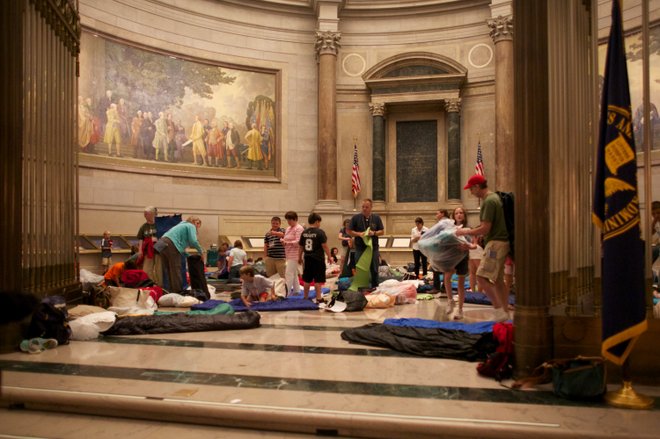 Curl up in your sleeping bag and read a good book or, if you're lucky enough to join a slumber party at The National Archives Museum in Washington, D.C., roll over and read the U.S. Constitution. Still can't sleep? Brush up on the Bill of Rights or Declaration of Independence. Close your eyes as James Madison, Benjamin Franklin, Alexander Hamilton, and other Founding Fathers depicted in the 1936 murals by Barry Faulkner watch you drift off to sleep. This historic sleepover, which includes a movie in the William G. McGowan Theater and pancakes made by archivist David S. Ferriero, is open to kids ages through eight to 12.
Related Stories:
All products are independently selected by our writers and editors. If you buy something through our links, Oyster may earn an affiliate commission.