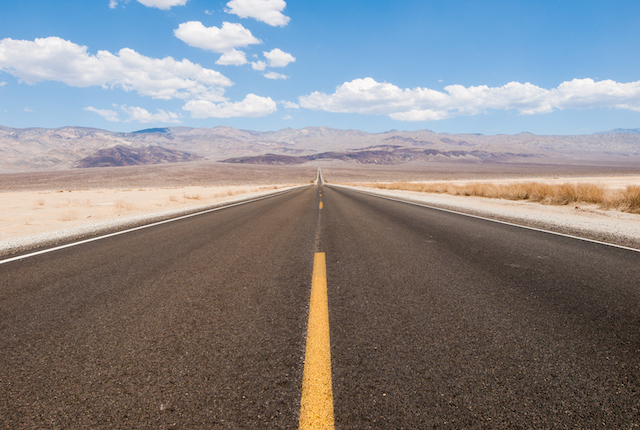 I didn't know it then, but a few summers ago, I began planning a life-changing trip with my boyfriend. Having romanticized the idea of cross-country road trips we read about in novels, watched in movies, and listened to in songs, we pulled out a map and began devising a coast-to-coast journey across the U.S. The route would take us in a circle, making stops at all the places (national parks, landmarks, and even restaurants and bars) that had long lived on our bucket list. We would kick off from our home in New York City, head down the coast to Georgia, go through the South until we reached Los Angeles, then up the California coast by way of Highway 1, and back to the Big Apple while hitting the northern states.
So we packed our bags (and a few killer soundtracks), climbed behind the wheel of our Honda Civic (on loan from his parents), rolled down the windows, and hit the open road in true Jack Kerouac style. After one month, 35 states, approximately 7,000 miles, and thousands of priceless photos later, we returned with one major takeaway: The journey is just as important as the final destination. With that in mind, here are nine reasons everyone should embark on a cross-country road trip in the U.S.
1. You'll discover things you never knew existed in your own backyard.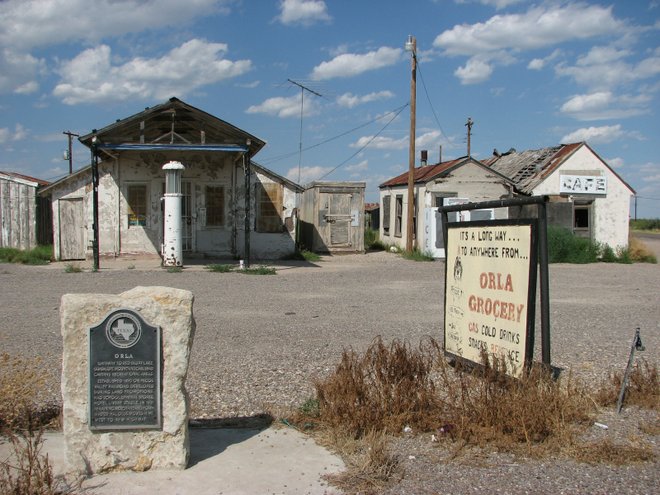 Sure, there are can't-miss attractions like Mount Rushmore, the Golden Gate Bridge, and the Hollywood sign, but did you know there's a place you can check out dinosaur tracks off-the-beaten path in Arizona? Or how about a spot where you can feed alligators behind an antique store in Louisiana? Or several eerie ghost towns (shout-out to the deserted Orla) in Texas? And the list goes on. In addition to all the staples (Statue of Liberty, White House, Space Needle), natural wonders (Grand Canyon, Yellowstone, Yosemite), and neighborhoods (French Quarter, Haight-Ashbury, Little Five Points), there are endless hidden gems scattered throughout the country. Just don't be afraid to meander away from your itinerary. Trust us, it'll be worth the detour.
2. You'll meet all kinds of unforgettable characters.
The country's diverse attractions were only enhanced by its colorful cast of characters. There was the fertilizer salesman in Idaho, who passionately talked our ear off about his trade; the group of small town Alabama locals, who went out of their way to give us detailed directions; the cop in New Mexico, who pulled us over for speeding, but instead offered a travel recommendation instead of a ticket; and the South Dakota truck driver who shared jaw-dropping tales of life on the road. Each personality we encountered was more unique than the next, but there was one common thread throughout all: they were welcoming, ready to drop knowledge, lend out a helping hand, and enlighten with eye-opening anecdotes.
3. You'll discover how beautiful the country really is.
Pictures just won't do this place justice. From the highest peaks in the Pacific Northwest and towering skyscrapers in Chicago to the lowest valleys in the Grand Canyon and flattest farmland in middle America, driving through the country is akin to traveling the world. Not only will you come face-to-face with varied landscapes such as San Diego's sun-soaked beaches and Colorado's rocky trails, you'll experience a hodgepodge of cultures like Montana's cowboy-laden rodeos and San Francisco's artsy, hipster hoods.
And aside from the major players, there are plenty of other natural beauties that will leave you wiping your jaw off the ground. Head to Utah's Monument Valley, a fiery-red desert region that's studded with sandstone buttes. Here, you'll feel like you've stepped inside an old Western film. There's also New Mexico's Shiprock, a 1,583-foot jagged peak that unexpectedly juts out in the horizon; Carlsbad Caverns, the mesmerizing stalagmite- and stalactite-packed caves; and well, pretty much anywhere in Wyoming. If you have the time, don't miss Louisiana's plantations and the scenic — albeit terrifying — drive down California's Highway 1.
4. It's a cheap way to travel — and still see a lot.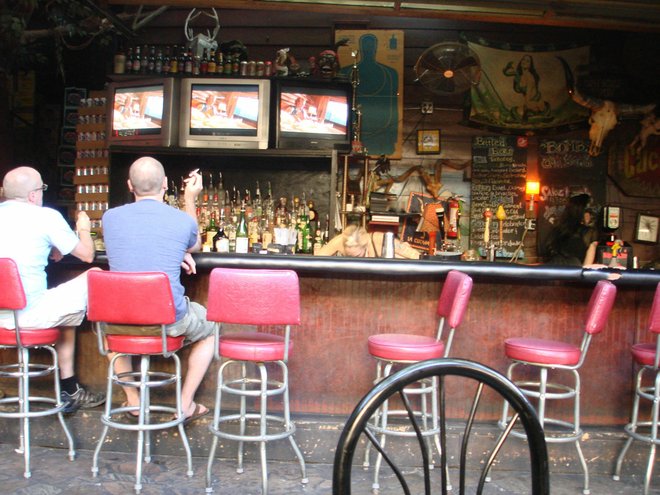 Coming from a place that serves up $15 cocktails and movie theater tickets (you make it hurt so good, New York), much of America is affordable. On average, we were able to get by with spending under $50 per day. That included food and drink, lodging (we stuck to wallet-friendly hotels, motels, and crashing on friends' couches), entertainment, and gas. Who would have thought the U.S. could be a budget-friendly travel destination?
5. You'll taste some unbelievable foods.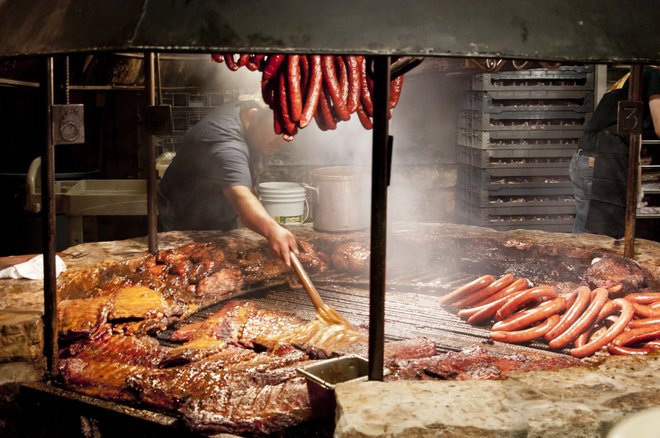 While traveling on a budget, eating at Michelin-star restaurants wasn't exactly high on our to-do list. So you can imagine our surprise when we discovered mouthwatering fare on the cheap. With an assortment of cultures came something mind-blowingly delicious at every corner. File the following under grub that's worth the trek across the nation: finger-licking good barbecue and Mexican fare in Texas; gumbo, grits, jambalaya, and Muffalettas galore in New Orleans; and the freshest sushi imaginable in San Francisco. Adventurous appetites will also enjoy out-of-the-box options like boudin noir (or blood sausage) and cracklin (fried pieces of pork fat). That's not to say there were no unpalatable meals, but on the whole, there was one major impression: If the way to your heart is through your stomach, you need not look further than the U.S.
6. You'll learn to roll with the punches.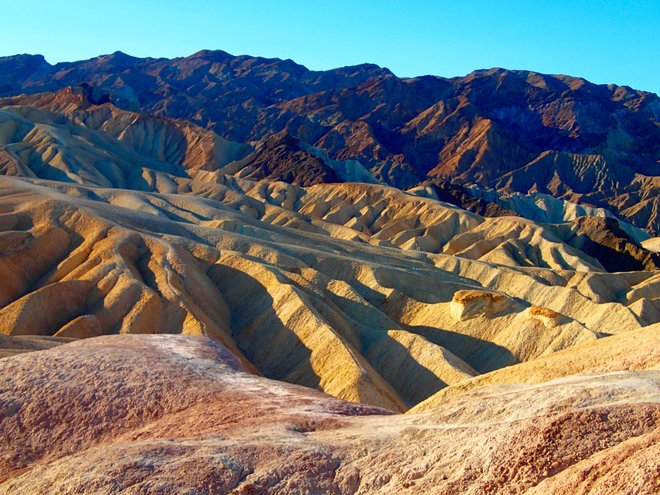 Over the course of the month, we ran into some relentless rainstorms, bumped into cockroaches at the laundromat, and even encountered elk crossing the road while leaving Yellowstone National Park, but the tale that really tested our limits has to be that time we almost got stuck in Death Valley. I should preface this by saying word on the street is Death Valley is stunning in the fall, spring, and winter.
But here's the abridged version: it was over 115 degrees when we decided to drive through the desert valley. We stopped at a gas station (the only one until you're out on the other side) for some food, water, and fuel. "You better get more than two bottles, honey," the attendant advised. I grabbed a couple more.
Upon arriving, it was so hot that we could only spend a few minutes outside — just enough time to snap a few photos standing atop the sand dunes. So sweltering, in fact, that it didn't take long before our already overworked Honda Civic — a real trooper until that point — began to overheat. The only way to fix it? Roll down the windows and turn on the heat. Then, the water, including the extras I bought, began running out. With no soul in sight (who would be crazy enough to trek through Death Valley in the middle of August, after all?), we were sure the car would break down, leaving us stranded and fighting off cougars. As the warning signs indicated, there were plenty in the area. Even worse, we ended up on an unpaved road that our GPS couldn't track. That's right — we were lost in the middle of the desert with hardly any water, little gas, and the heat blasting in already blazing weather.
Then, a glimmer of hope. We spotted a truck in the distance. Unfortunately, it was too far to flag down and we were on our own again. After a couple of hours — and an eerie encounter at a military base — our GPS miraculously picked up our location, directing us back out into familiar territory. There's a saying that goes: "travel far enough, you meet yourself." In that moment, that's exactly what happened.
7. You'll have the chance to experience small town America.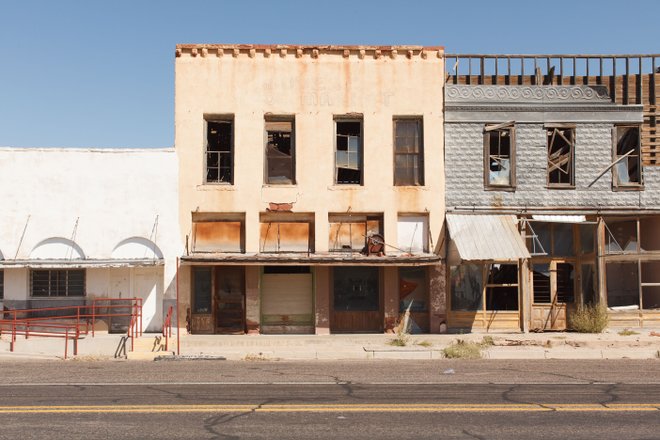 There's nothing quite as eye-opening as driving through a town with a whopping population of two dozen. What was even more jaw-dropping was the sheer quantity of these towns. More often than not, we found ourselves passing by a small, rural area. While some were charming, adorable spots, others were eerily empty with nothing but a grocery store and post office. Having grown up in New York City, this offered a glimpse into rest of the country beyond the city and its suburbs.
8. You'll cross off many national parks on your bucket list.
Why kill two birds with one stone when you can check off more than two handfuls of attractions in one trip? From the quirky Idaho Potato Museum and Houston Space Center to the Willis Tower, Alamo, and Alcatraz Island, you'll feel thoroughly accomplished. And with an exhaustive laundry list of national parks, it's wise to opt for the annual America the Beautiful pass, which grants entry into several.
9. You'll be encourged to step out of your comfort zone…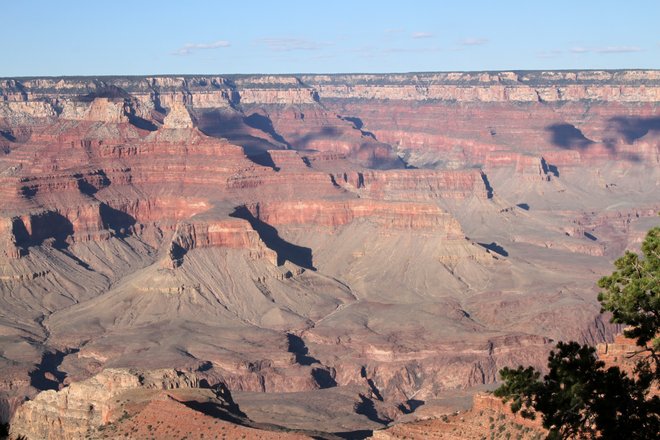 …and you'll be plenty glad that you did. Having mapped out only a stop or two in each state, we ended up winging much of the trip. Following a fairly regimented routine back home in New York City, we did this on purpose. It allowed us to be spontaneous and nimble, try new things like that helicopter ride over the Grand Canyon (a pretty stellar way to conquer my fear of heights), talk to locals, bring home loads of epic stories, and embrace the unexpected surprises along the way. Yes, even that trip to Death Valley in the dead of summer.
Related Stories:
All products are independently selected by our writers and editors. If you buy something through our links, Oyster may earn an affiliate commission.