Walt Disney World in Orlando, Florida is a top vacation destination, whether you're traveling with kids or not. For many, the question isn't if to go, but when to go. Different times of year bring varying weather, crowds, and considerations. So when should you head to The Happiest Place on Earth, and what can you expect when you arrive? A broad rule holds: the lowest airfare and hotel rates as well as the thinnest crowds can be found when kids are in school. In other words, if your only concerns are saving money and enjoying short lines, then you likely won't want to go in the summer, or during Christmas or spring breaks. But there's much to think about beyond that. Here, we sort out the perks and considerations for each season, including special attractions and where to stay, so you can make the best decision when timing your vacation.
Winter (December, January, February)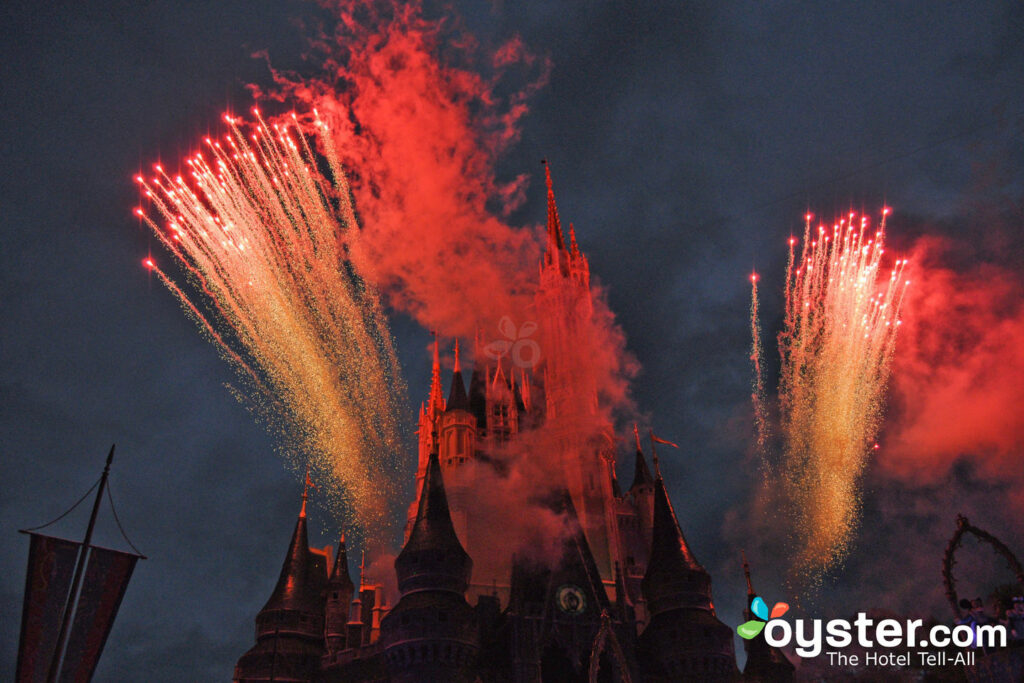 The holiday season is prime time for a winter visit to Walt Disney World. The decorations are dazzling — Cinderella's castle is lit up in such a way that it appears to be covered in a sheet of ice. To really get the inside scoop on how this place is made somehow even more magical during the holiday season, you might consider signing on for Disney's Holiday D-Lights five-hour tour, where the pros show you how it all happens. Along with the behind-the-scenes peek, you also get a ride on the Jingle Cruise (the Jungle Cruise bedecked for the season, as you may have guessed) and a barbecue dinner. Disney Springs, formerly known as Downtown Disney, has the Christmas Tree Trail, starting at the play fountain outside of Once Upon A Toy. The trees are each decorated on a different Disney theme.
You may want to get tickets to Jingle Bell, Jingle BAM! Holiday Party at Disney's Hollywood Studios, an evening of snacks, desserts, beverages (soft drinks, wine, beer, and cocktails), and a fireworks special effects show. Meanwhile, in Epcot, the American Gardens Theatre is the site of the popular candlelight procession, with a variety of celebrity narrators taking the stage, along with a 50-piece orchestra. Neil Patrick Harris kicks things off as narrator, followed by Whoopi Goldberg. Afterwards, folks often stroll around the 11 nations of the World Showcase, each of which will have performances, food, and crafts that show off the holiday customs of that country.
In February, the Disney Princess Half Marathon Weekend is an opportunity to get active and challenge yourself. The races vary in length and difficulty, allowing for kids, parents, and grandparents to join in the fun. The Cinderella Royal Family 5K program lets parents and kids race together, starting with a pasta party the night before and finishing with a congratulatory breakfast. Tutus are the preferred running attire, naturally.
With average daily temperatures during December, January, and February being in the high 50s to low 60s, it can feel like a respite from winter weather if you're coming from the northeast or midwest. It's perfect, actually, for taking part in the marathon weekend. And if your schedule allows for a winter visit, you may find that the thinner crowds and windbreaker weather make for a terrific trip.
Where to Stay: If you're running a marathon, you deserve to kick back in serious style at the Waldorf Astoria Orlando.
Spring (March, April, May)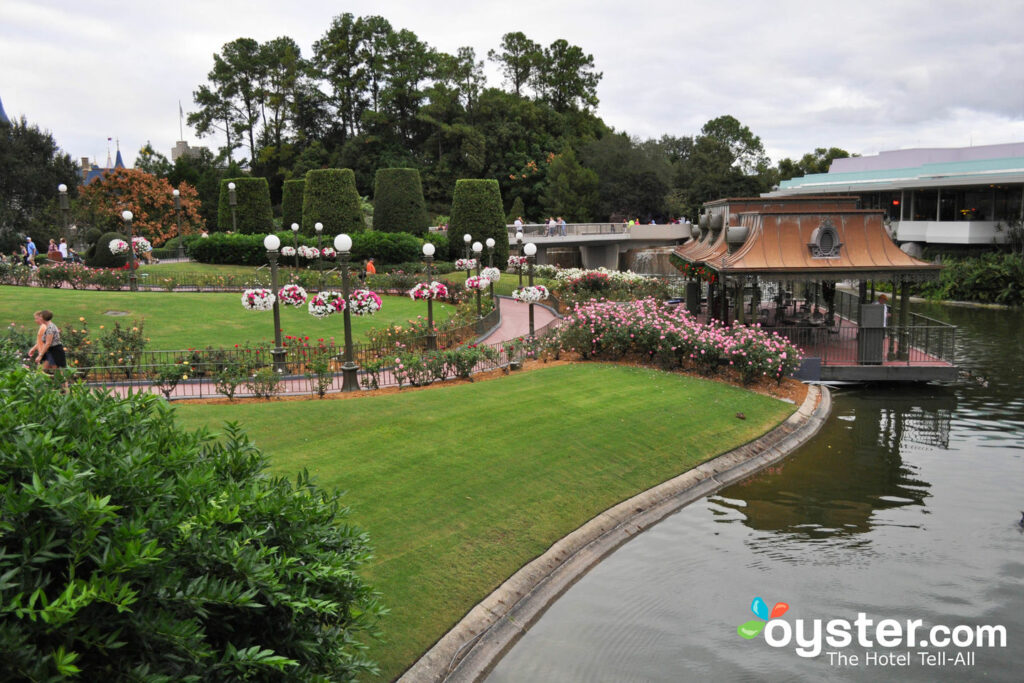 The Epcot International Flower & Garden Festival, held from March through May, has plenty of fans who attend year after year. Topiary displays, sculptures of Disney characters carved out of vegetation, and enough flowers to rival any botanical garden transform Epcot into Eden. Gardening gurus are on hand to share tips and conduct demonstrations, while kids can romp in the play gardens, gawking at butterflies and a menagerie of birds. For a deeper dive into learning, you may want to take one of the tours: Gardens of the World, English Tea Garden, or Behind the Seeds.
Visitors in April (who know what a Sith Lord is, anyway) might consider planning their trip around the Star Wars Half Marathon. The Dark Side Challenge starts at 5 a.m. (this is the dark side, after all), and has participants cover 19.3 miles over two days. Another possibility is the 10K, which takes runners from Floridian Way through Disney's Hollywood Studios, past Disney's Yacht and Beach Club Resorts, and finishes in Epcot. Even baby Jedi can get in on the action: Diaper Dash is for crawlers under 12 months.
During the spring months, average daily temperatures fall in at around 72 degrees, with March in the high 60s and May pushing towards 80. As long as you avoid the super-busy (and pricey) school break weeks and holiday weekends, a vacation during the spring can be a win-win.
Where to Stay: Disney's Old Key West Resort is near Epcot and has a relaxed vibe.
Summer (June, July, August)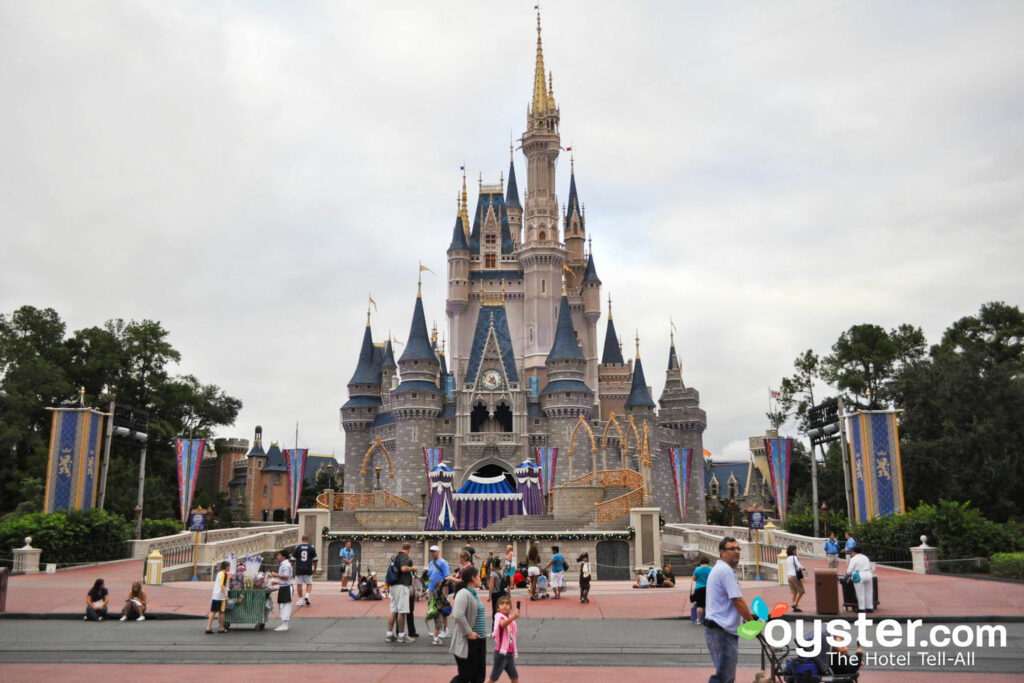 Now is when parents with school-age kids head to Disney World. It is, after all, the quintessential family summer vacation. So summer is the most crowded season, the time when you really need a solid touring plan, and willingness to rally the troops early in the morning. And, yes, it is hot. If your party is made up of adults only, all of whom hate the heat, it is probably for the best to forgo the middle of the calendar year. But if your children's schedules dictate a summer trip — or the hotter, the better, as far as you're concerned — there are a few upsides to a summer getaway. The big ones are Typhoon Lagoon and Blizzard Beach, the mothers of all water parks. For an extra twist of fantasy — this is Disney, after all — they have backstories. Typhoon Lagoon was created when a storm whipped through an island causing ships and surfboards to wind up in crazy places; Blizzard Beach is a former ski resort that, well, thawed. But they both have rapids, lazy rivers, tall and fast waterslides, sandy beaches, and kiddie splash zones in common. At Typhoon Lagoon, you can also try surfing lessons. Similarly, you will really enjoy the hotel pool. Few guests leave a Disney hotel in August with the lament, "Oh, what a shame that we never did get in that beautiful pool."
The other plus to a trip this time of year is that park hours are longer. The different parks have different hours, but they all either open earlier, stay open later, or both during the high season. This can allow you to see and do more in less time, which can make a difference to those who have a budget or vacation days for a limited number of nights. Likewise, the night parade at the Magic Kingdom happens twice an evening during the height of the summer season; same goes for Fantasmic! at Disney's Hollywood Studios. Again, that's an extra opportunity to fit everything you want to do into your trip. Tip: the second parade or performance is almost always much less crowded than the first.
The average daily temperature in June, July, and August is 82 degrees, but it can be much warmer than that mid-afternoon. And the humidity can be oppressive. But for parents who don't want their kids to miss school, while still having a choice of vacation weeks themselves, summer is the time to go. June typically has the most sunshine, while July is the rainiest month. So if you live in a region where schools ends in late May, then you may want to hightail it right down there.
Where to Stay: The best pool at a Disney resort can be found at the Disney Port Orleans Resort-Riverside. Plus, there's plenty of shade to be found around the property.
Fall (September, October, November)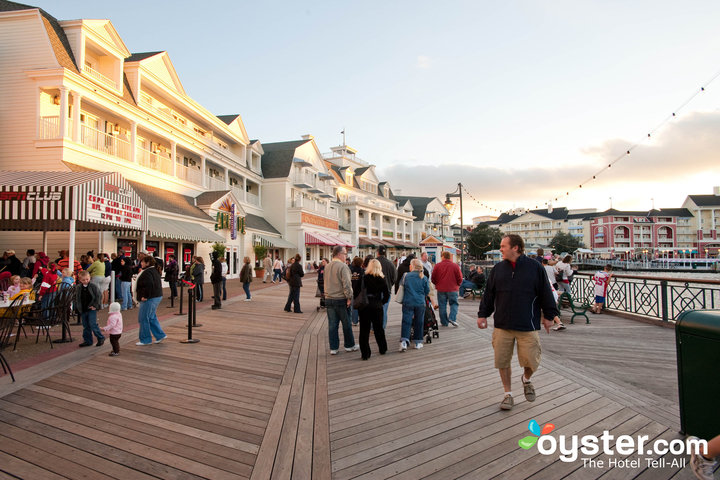 Autumn starts out with the Epcot International Food & Wine Festival at World Showcase. Tucked all the way around the lagoon are approximately 30 kiosks serving food and drink of every type (think Irish meade honey wine and grilled Australian lamb chops with mint pesto and a side of potato crunchies). What else besides noshing and imbibing to your belly's content makes this festival worth going to? Concerts with well-known bands and book and wine bottle signings by celebrity chefs have been part of the event in the past.
Halloween is nearly as big a deal as the holiday season at Walt Disney World, as demonstrated by Mickey's Not-So-Scary Halloween Party. Kids (and grown-ups) are encouraged to come in costume and can trick or treat, and pick up goodies, all around the park. As the sun sets, ghouls from the Haunted Mansion come out to play in a parade at the Magic Kingdom, followed by the Hocus Pocus Villain Spelltacular in front of the Cinderella Castle. Maleficent, Ursula, Cruella de Vil, Jafar, and other bad guys and gals show up to the tune of creepy-cool songs from Disney movies and attractions (you'll be surprised how many there are), all underneath orangey-purple fireworks.
Average daily temperatures over these three months come in at around 75 degrees. It hardly gets more delightful than that. And with school, office, and social routines ramping up after the summer, the lines — pre-Thanksgiving week — can be as refreshing as the weather. While each season at Disney World has its own flavor, fall just may be the best of the rest from weather, crowds, and pricing perspectives.
Where to Stay: After indulging at the International Food & Wine Festival, you can step right onto a relaxing boat ride from Epcot to the Disney Boardwalk Villas.
Related Stories:
All products are independently selected by our writers and editors. If you buy something through our links, Oyster may earn an affiliate commission.