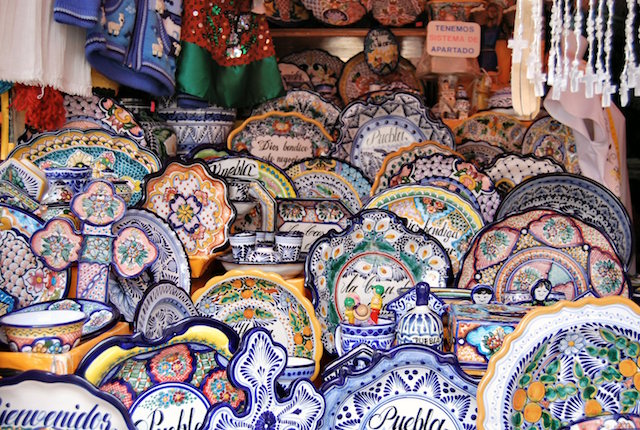 It's okay to say it: snapping up souvenirs is a fun part of the travel experience, especially when those souvenirs aren't of the kitschy shot-glass variety and the travel experience is to Mexico. In Mexico's artisan pueblos, from a colonial silver mining town to a remote paper-making village deep in the mountains, the making of everyday commodities is an art form. Go on a tour with us of some of the most fascinating craft communities in Mexico, each one dedicated to a particular handmade pursuit.
Silver from Taxco
https://www.instagram.com/p/4DkQ6dGGf6/
Taxco silver can be found in shops all over Mexico, but it's worth taking a trip to the town itself, one of the oldest mining sites in the New World. Even before Spanish miners arrived in the area in the early 1530s, Taxco was already legendary for its silver mines. Soldiers of Hernan Cortes built a mining facility called Hacienda del Chorrillo in order to more effectively process the vast amount of silver-laden metal ore, and Taxco's star power (and profitability) soared. Today, the silver lodes are largely depleted, but the remains of a vine-covered stone aqueduct—a relic from Hacienda del Chorrillo and the town's silver-mining heyday—and hundreds of silversmithing workshops and studios are reminders of the town's long history with silver. Nuestro Mexico Artesanias, Mercado de Artesanias Plata, and Patio de las Artesanias are all can't-miss souvenir-shopping spots.
Copper from Santa Clara del Cobre
Santa Clara del Cobre's coppersmithing heritage goes back to the pre-Columbian era, and to this day, the town's economy is almost entirely driven by the manufacturing of copper. In fact, four in five Santa Clara del Cobre residents work in the production of copper. The nearly 500 tons of copper that is processed annually is put toward household items, including cookware, furniture, candlesticks, mirrors, and kitchen and bathroom fixtures, as well as jewelry and art objects. Even if you're not in the market for a farmhouse kitchen sink, a freestanding bathtub, or an urn the height of a pro basketball player, the town's countless copper shops and workrooms are a delight to explore. Nearly every storefront surrounding the main plaza offers the craft in every imaginable form—most items made with nothing more than heat from the furnace, a hammer, and techniques passed down from generations.
Christmas Ornaments from Tlalpujahua
https://www.instagram.com/p/BQbaj45FMFp/
Tlalpujahua, a mountain village in Mexico's Michoacan state, looks every bit like a classic tiny colonial town. There are steep and narrow streets, parish churches with pink facades, and adobe houses with red-tile roofs and wood balconies. But the town's charming appearance belies an immense industry: a staggering 100 million Christmas ornaments are made here every year, a fact that grants Tlalpujahua the moniker "the world capital of Christmas" (or, more romantically, "the town of eternal Christmas"). Once a major mining center, Tlalpujahua was famous for its gold production in the early 1900s (Dos Estrellas Mine, the town's foremost gold mine from the turn of the last century, is now a mine museum). However, in the 1960s, its output shifted to the creation of Christmas ornaments and decorations. Around 200 workshops are devoted to Christmas objects, primarily glass baubles that are blown into the shapes of spheres, snowmen, flowers, hearts, and animals, then painted by hand. If Christmas fatigue sets in, travelers can browse the other traditional crafts made here, including feather work, ceramics, and metal and woodwork.
Amuzgo Textiles from Xochistlahuaca
https://www.instagram.com/p/BAxCd1YyZ0_/
Mexican craft communities filled with hilly cobblestoned streets, colonial architecture, and shops and sidewalks with vendors peddling the town's signature artisanal wares are a theme here. Not so in Xochistlahuaca, an isolated mountainous village (whose name translates to "people of the loom") in the coastal state of Guerrero. Visitors searching for the town's famous backstrap-loomed brocade fabric won't find dozens of tourist-ready boutiques and markets. Here, exposure is generally limited to La Casa de Las Artesania, the front-of-the-house gift shop at the La Flor weaving cooperative, and the Xochistlahuaca Community Museum, which has a hall showcasing the town's fiber-arts ancestry.
Onyx and Marble from Tecali de Herrera
https://www.instagram.com/p/8sCB6wrvM6/
The Tecali de Herrera community has been quarrying and carving stone—specifically marble and oynx—since precontact times. (The town's name means "stone house," derived from "where the houses of stone are" in Nahuatl, Mexico's indigenous language.) Marble and onyx work remain Tecali's main economic activity in the modern age. Tecali retailers sell gorgeous household pieces carved from marble, oynx, and travertine, such as fireplaces, kitchen countertops, fountains, and large, lit-from-within floor lamps. The stone skeleton of Convent of Tecali de Herrera, a 16th-century convent in the colonial Spanish Renaissance style, is a must-see.
Pottery from Tlaquepaque and Tonala
https://www.instagram.com/p/BQvfOg_jUpY/
Tlaquepaque and nearby Tonala—both in Guadalajara's metro area—are two of Mexico's many pottery hubs. (Like Tecali de Herrera, Tlaquepaque's ancient association with its trade can be found right in its name, which means "place above clay land" in Nahuatl.) Between the two towns, there are several museums highlighting the area's deep history of ceramics (the Museo Regional de la Ceramica and Museo Pantaleon Panduro in Tlaquepaque and Museo Nacional de la Ceramica in Tonala are the major ones), and treasure-hunters looking to take pieces home can peruse the towns' countless galleries, pottery storehouses, and street stands. Tonala is especially known for its stoneware and high-fire ceramics with super-smooth surfaces, which can be picked up at its bi-weekly market. Many nearby villages are known for their clay specialties, including Salatitlan (animal-shaped whistles), El Rosario (carafes and miniature cookware), and Santa Cruz de las Huerta (drainpipes).
Basketry
https://www.instagram.com/p/BMY8dG9Ap4a/
It's impossible to pinpoint Mexico's basket-weaving tradition to one particular place. Nearly every Mexican region has its own indigenous basketry style, from the miniature basketry of Irapuato and Silao in Mexico's Guanajuato state to the petates(large sleeping mats) of Santa Cruz and San Luis Amatlan in the south-central part of the country. The indigenous people living in Jiquipilco, Toluca, Tenancingo, and Temascalcingo, located in the south-central state of Mexico, specialize in utilitarian items like place mats, carryalls, and tortilla servers/warmers. Halacho, in the Yucatan, is famous for its multicolored coil baskets. Mexico City's La Merced Market offers as centralized a basket repository as one could hope to find: there are around 30 stalls selling basketry goods, primarily to fellow vendors to use for their food products, but also to locals and keepsake-seekers.
Amate Paper from San Pablito
https://www.instagram.com/p/BPf6yjzgq_2/
A remote village in the mountains of Sierra Norte, San Pablito is known for its tradition of making paper from the fibrous bark of native woody trees, which is leveled into sheets, often with volcanic stone, and laid out in the sun to dry. Prior to the Spanish conquest, amate paper was made for ritualistic purposes throughout Mexico (the paper was originally only made by shamans). However, San Pablito is one of the few places where the practice survived Spanish colonization, which largely prohibited amate production in favor of European paper. San Pablito's paper-making custom shifted from ceremonial to commercial in the middle of the 20th century. Today, San Pablito is the only place in the country that mass-produces amate paper, with a workforce of around 6,000.
Talavera Pottery from Puebla
Knockoff Mexican Talavera pottery can be bought all over Mexico (and all over the internet), but genuine Talavera can only come from the city of Puebla and three of its surrounding villages, Atlixco, Cholula, and Tecali de Herrera (of marble and oynx fame), where artisans in certified workshops use 16th-century methods taught by the Spanish. (Talavera pottery is one of the few Mexican handicrafts on this list that doesn't pre-date the arrival of Spanish settlers; Mexican Talavera pottery is officially known as Talavera Poblana to distinguish it from the European tradition.) The hand-thrown earthenware is characterized by its creamy-white and slightly porous base glaze, which is then painted by hand. Custom demands that only a handful of mineral pigments be used for Talavera's decorative designs: blue is most famously used, and purple, yellow, black, green, and orange are also allowed.
You'll Also Like:
All products are independently selected by our writers and editors. If you buy something through our links, Oyster may earn an affiliate commission.