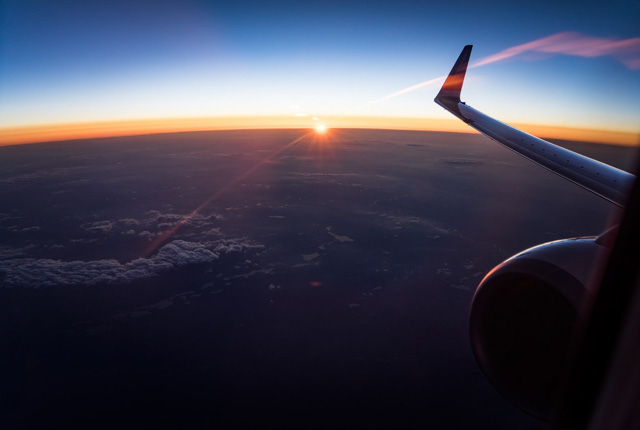 Budget airlines used to be a reliable way to know that you're getting a great price for a flight. However, ticket prices started getting extremely competitive and complicated, baggage stipulations got tighter, last-minute fares became much pricier, and new fees began popping up all over the checkout page.
Knowing for certain that you're buying the lowest-priced ticket will take some comparison shopping and understanding what kind of traveler you are. You can certainly save money on budget airlines, but must also be willing to pack light and put up with fewer amenities than what you might be used to from a major carrier.
While any ad copy should be read carefully, budget airlines in particular like to make click-friendly claims. For example, Primera Air promises $99 flights from New York to London coming soon, but a quick search yields airfares from Newark, New Jersey, to London that are actually closer to $129. (Primera doesn't fly from New York yet.) Although $129 is still considerably cheap, once you notice that return flights are close to $300, the flight price quoted in the ad copy no longer seems as enticing. Below, we analyze a few other factors that are worth considering before booking that flight on a budget airline.
Timing
Most customers know that budget airline prices increase as the departure date gets closer. The optimal price is usually offered about three months before the departure. It can be helpful to set an alert on a site such as Airfarewatchdog or Google Flights, in case of specials. When you get within 21 days of a flight, the price will likely rise. If you're booking within that three-week window, it's possible the budget airline won't be notably cheaper than the economy fare of a major carrier. Passengers booking with miles have to deal with a bit more uncertainty. Some awards open up 11 months in advance, while others may not become available until a couple of weeks before the departure. Tuesdays and Wednesdays are typically the days with the lowest prices. Thursdays can also be low-cost for international flights.
Baggage
You may think you can put off decisions about baggage, but your bag can actually be the difference between saving money on a budget airline and spending even more than you would on a major carrier. You may get charged for checking a bag, as well as for taking a carry-on and a personal item, depending on the airline. With some carriers, if you don't pay for the baggage in advance, you may pay a penalty when you check your suitcase at the airport.
If you've ever wondered how budget carriers stay afloat with rapidly dropping prices, extra fees help a lot. Seth Kaplan, managing partner of Airline Weekly, noted that in 2016, while the average one-way fare on the budget carrier Spirit was $55.54, people paid, on average, another $51.87 in fees (a total of $107.41). Kaplan adds that someone who packs very light and doesn't pay for a seat assignment will pay much closer to the base price than someone who has luggage and wants to know their seat assignment in advance. Depending on the weight of your bag, you may pay up to $100 to check it. Plus, several airlines won't accept a bag over 40 or 50 pounds. On top of that, some carriers also charge more with every extra bag.
Spirit isn't the only carrier making money on baggage. Stephanie Craig of the blog History Fangirl had to do some luggage research before her Wizz Air flight from Milan to Sofia. "I only found one backpack that is small enough to meet their limit," says Craig of the airline's 16.5 by 12.5 by 9.8 inch carry-on requirement. She also needed to carry a personal item, but didn't see a way to pay for one in advance on the company website. However, she has a pro tip. "Instead, I'll grab a shopping bag from one of the airport shops. I've never had trouble getting one extra item on a budget plane, if it looks like it's from airport shopping."
You might think that airlines would wind up facing backlash for last-minute fees. Vassilis Dalakas, a marketing professor at California State University San Marcos, says consumers are more willing to pay the extra fees when the initial ticket is a bargain. "Many consumers are more likely to pay the extra $25 dollars here and the extra $40 dollars there, and before you know it, what started as a $200 fare ends up being $350," says Dalakas. "But it is much easier psychologically to spend the $350 gradually in small increments rather than as a starting price." Some carriers also charge more for amenities like extra legroom and in-flight meals, as part of an enhanced in-flight experience.
Airlines see the fees as a major revenue stream. In late 2016, when United changed their rules to limit each flyer to a carry-on bag that can fit under a seat, the company also estimated they would add $4.8 billion to their annual operating income by 2020.
So, what can you do as a traveler? Research carefully beforehand. TripAdvisor has a list of baggage fees from many of the major and budget airlines. It probably also makes sense to check with the airline since baggage rules seem to be changing a lot these days. For many budget airlines, the allowable carry-on baggage limit is decreasing to ensure you pay a little more than your basic fare.
Basic Economy Versus Budget
The introduction of the Basic Economy fare in the U.S. is the latest wrinkle to the airfare price wars. In early 2017, American, Delta, and United started offering a lower fare level that competes with the budget airline price. What's the catch? With Basic Economy, like many budget airlines, the passenger can't choose a seat assignment beforehand, passengers traveling together (including families) may not be seated together, and your baggage options are limited. That said, many fliers opt for a major carrier experience.
"Budget airlines have definitely been impacted by the Basic Economy pricing," says George Hobica, co-founder of Airfarewatchdog. He points out a recent example in which the budget airline Norwegian charged $461 for a round-trip flight from Denver to London; British Airways charged $562 for the same trip. Norwegian's lowest fares don't include a checked bag, food, or in-flight movies. However, many of those things are standard on a carrier like British Airways.
Of course, some fliers can happily jet off to Europe with a carry-on and not be bothered by limited amenities and a middle seat in the back of the plane. You just need to be honest about your expectations.
Flight Quality
Customers who fly on low-cost carriers must temper their expectations, particularly if they're used to flying with a major airline and are testing a budget option. On the bright side, many low-cost carriers use new, fuel-efficient planes as a way to keep costs down, explains Phil Sylvester of World Nomads. Sylvester balances this positive by noting that Airline Quality Rating, which tracks consumer complaints and on-time performance, put ExpressJet, Spirit and Frontier — all budget carriers — at the bottom of their list of 2017 airline rankings.
It's also worth noting that some aspects that you may take for granted on a major airline carrier, like a competent ground crew, might not be up to standard. Hobica said when he recently flew Air Berlin, a German economy flyer, boarding was chaotic. "There was a three-hour delay and they never said there was a delay. They never acknowledged it," he said.
Unexpected Costs
Some costs that you encounter when using a budget airline have nothing to do with the airline itself. Many low-cost carriers fly into smaller, less popular airports, which means mass transit isn't available and you'll need to take a taxi or an expensive train to reach your final destination. For example, Norwegian, as Hobica explains, flies into London's Gatwick Airport, and the best way to get to town is a train that costs $46 round-trip. Wizz lands at Milan's Bergamo Airport, almost an hour outside of the city. A bus into town is only five euro, but a taxi can easily be 80 euro, explains Craig.
If you're worried you may have to change the time or day of a flight, steering clear of budget airlines might be the wisest choice. Change fees can be as much or more than buying a new ticket. Plus, many budget airlines have limited flights, so if you need to move your flight time, it might not even be possible. Hobica also warns that there are so many discount airlines in Europe that some may go out of business soon, and it's tough to know what would happen to a booked ticket if that does occur. (Air Berlin just filed for bankruptcy protection.)
Surprise Savings
Seasoned travelers may be able to find bargains by paying for tickets on the local website of a carrier. You may have to pay in the local currency, so it's best to double check the exchange rate before paying for a ticket.
Almost half of all flights in the United States and Western Europe are now on budget carriers, reports CNN. That doesn't mean they're great for everyone. If you can travel light and don't mind sitting anywhere on a plane, they're a great way to save money. If you need to sit on an aisle or window seat, pack heavy, and want things done just right, you may want to stick with a major carrier or try Basic Economy.
You'll Also Like:
All products are independently selected by our writers and editors. If you buy something through our links, Oyster may earn an affiliate commission.