When it comes to exotic tropical islands that one should visit in their lifetime, Bali ranks high. It has towering volcanoes, untouched forests, remote beaches, and an ancient local Hindu culture that's resisted the onslaught of time. The island's famously liberal attitudes have also made it something of a go-to destination in Indonesia, a nation that's veering further right as the years pass. And while Bali is one of the most tourist-friendly places on the planet, there are a few things that you'll want to keep in mind before you land. Luckily, we rounded up a list of things you need to know to make sure your trip goes as smoothly as possible and lives up to your expectations.
1. Bali's ancient Hindu culture is alive and thriving.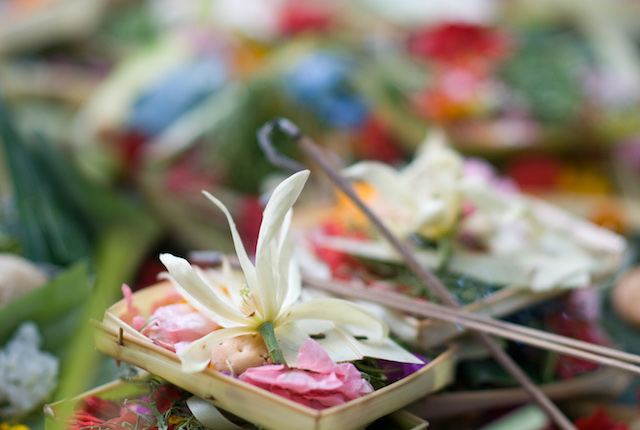 On paper, Indonesia is a secular nation with an incredibly diverse populace — Christians, Hindus, Muslims, and Buddhists all call the over 17,000 islands home, as do countless local religious communities that eschew any of these major faiths. Bali has maintained its Hindu traditions for centuries, and those daily customs are part of what makes a visit here so special. It seems like there's a small temple every few blocks, and everyone from shopkeepers to restaurant workers and hotel employees can be spotted lighting incense, making traditional offerings, and visiting small shrines each morning. It's this fascinating blend of the modern world and ancient legacies that make Bali an incredibly fascinating corner of a wildly varied nation.
2. The temples are some of the world's most beautiful.
You won't be lacking photo opportunities in Bali. In line with its thriving Hindu traditions, the island's temples are some of the world's most awe-inspiring and picturesque. One of the most famous is Pura Tirta Empul, a 30- to 45-minute drive north of Ubud. Here, sacred fountains spill into pools where devout Balinese locals and curious tourists bathe in holy spring water. There are also the famous seaside temples — Tanah Lot and Uluwatu — which draw hordes of tourists for spectacular sunsets. The most sacred temple is Pura Besakih, which is the island's mother temple, and the largest of them all. This stunning complex sits on the slopes of Gunung Agung, an active volcano in east Bali. Many of the temples in northeast Bali — like Tirta Empul and Besakih — can be visited on day trips or overnight trips from Ubud. Unlike some temples in India and elsewhere, all are welcome to enter Bali's major temples and even partake in the rituals. Just remember to dress and act respectfully — no exposed legs or shoulders (sarongs are available at most for cover).
3. Bali's most famous towns are extremely touristy.
Most travelers touching down in Bali stay in the extreme south, venturing maybe as far north as Ubud and southeast to Nusa Dua. These days, there's little traditional village charm to be found anywhere on this part of the island. Even Ubud — famous for its relaxed pace and yoga studios — essentially becomes a parking lot during the day, as traffic backs up along the main road through town. Expect row after row of shops selling identical carvings, sarongs, and postcards in nearly every tourist town (Kuta, Seminyak, Sanur, and Ubud). Touts, ticket vendors, and aggressive taxi drivers are also par for the course. Of course, the party-hard reputation that Bali has among some tourists causes some problematic tension as well. Case-in-point: While you might be on vacation, bringing a cheap Bintang beer and cigarettes to a kecak performance in a temple is never the way to go.
4. Traffic in southern Bali is a nightmare.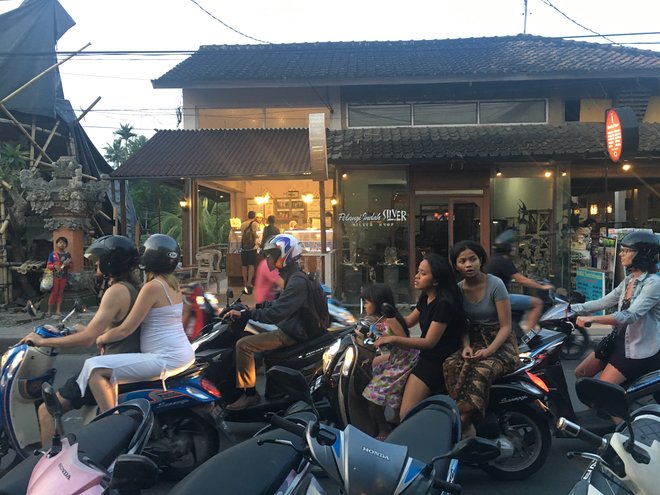 From Kuta to Seminyak, and Denpasar to Sanur, traffic is no joke in Bali. There are many reasons for this, but the lack of appropriate infrastructure is the main culprit. Many of the roads in Bali are barely more than single-lane strips of pavement, and they often don't connect to one another in efficient ways. When you factor in massive tour vans and buses, the situation only gets worse. On a recent trip, it took nearly two hours to reach Sanur from Tanah Lot, where the sunset view is one of Bali's must-see events. (Without traffic, the drive should take about an hour.) Additionally, as the island's economy continues to rely more and more on tourism, locals flock to these already congested regions, adding more mopeds, motorcycles, cars, buses, and trucks to the mix.
5. You won't need a visa.
Because Bali is almost entirely dependent on tourism to bolster a large portion of its economy — and since Bali is a critical component of Indonesia's tourism sector on the whole — rules regarding who gets to enter are fairly lax for most travelers. Tourists from Europe, North America, Australia, and most of Asia are allowed to stay without paying any fees or needing advanced visa arrangements. Travelers from those nations can stay for up to 30 days without any penalties.
6. You'll have to do some work to find truly beautiful beaches.
Simply put, beaches in southern Bali aren't great. This is particularly true around Kuta and Seminyak, on the island's southwest side, where overdevelopment and pollution have caused problems like constant crowding and sewage runoff. On the southeastern side, Sanur deals with tidal fluctuations that expose massive sandy flats and make swimming nearly impossible. This is to say nothing of the fishing boats and tourist-ferrying vessels that anchor off the shore in many spots on both sides of the island. For prettier options, try checking out the beaches around Uluwatu, like Nyang Nyang Beach, or Bias Tugel Beach, on the island's east coast near Padang Bai. Keep in mind that you may have to do a little hiking to reach either, but that's just part of the fun.
7. Spa days are incredibly cheap.
Balinese spas are the stuff of legend, and the island's style of treatments and massages have been exported around the world. While you'll pay a premium for these services at most high-end hotels and independent spas across the globe, they can be had for incredibly reasonable prices in Bali. In fact, whether you're just looking for a foot massage or want to block off an entire spa day for yourself, you're in luck. The former are ubiquitous in towns like Sanur and Kuta, and the latter can be had for well under $100 depending on where you are. Of course, keep in mind that luxury hotel spas will be far more expensive than the stand-alone spas you'll find in town.
8. There's food for everyone, from vegans to adventurous eaters.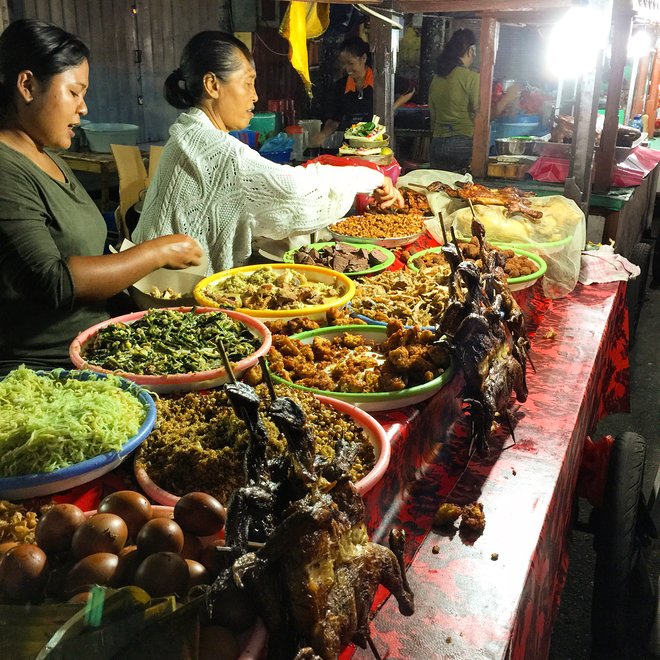 While Thai food gets most of the attention when it comes to Southeast Asian cuisine, we have to say that Indonesia — and Bali in particular — is worth a shout-out on the culinary front, too. Sate, suckling pig (babi guling), duck (bebek), and lots of rice-based dishes are staples on any warung menu. If that's not enough, there are night markets in many of the towns, where vendors sell fare from across Indonesia, including Sumatra and Java. Vegetarians are also in luck as tempeh — a fermented soy protein — originated in Indonesia and is widely available. Otherwise, the major tourist towns have restaurants serving high-brow fare and fast food. Take your pick, from trendy raw food to Italian, burgers, and gourmet international cuisine.
9. The entire island is closed for business on Nyepi.
Depending on your travel style, you should take note of a holiday called Nyepi. This is the holiest day of the year in Bali, and it marks the beginning of a series of important holidays across the island. For the entire day, the whole island is closed. That means that no one can be out in the streets, no shops can be open, and even the airport is closed. It's a day for introspection for the Balinese, and in strictly adherent households, that means no talking, using electricity, or entertainment. Travelers will likely be confined to their hotel for a 24-hour period, though properties do offer food and beverage services on this day. It's a fascinating time of year to visit Bali, as the holiday is preceded by vibrant beach processions and followed by Galungan and Kuningan, two other holy days with their own associated rituals. Keep in mind that on the latter two holidays, opening hours for most establishments are limited.
10. Climate change is impacting the timing of rainy and dry seasons.
Like many other popular travel destinations, climate change is wreaking havoc in Bali. The rainy season no longer reliably ends in March. These days, it extends into April and sometimes May. You can also expect rain events to be more prolonged. Instead of typical tropical cloudbursts, you might find yourself contending with days of rain that can put a damper on all but the most intrepid tourists (or those who only want to spend their time inside hotel bars and spas). Dry season now means soaring temperatures and potential issues related to haze and smoke from forest fires elsewhere in Indonesia.
11. It might feel like you're living like a king or queen.
Like many of its neighbors in Southeast Asia, Bali can be a budget traveler's dream. Food is incredibly cheap, with night market meals costing no more than a couple of dollars. Taxis, excursions, and event tickets also come with relatively low price tags. Plus, the ubiquitous fresh juice stands serve up extracted deliciousness for little more than a dollar or two. Really looking to feel spoiled? A six-course dinner for two at a Michelin-starred restaurant like Mozaic, in Ubud, will cost around $100. That same logic holds for many hotels, where you can score an upscale room for under $100 a night. Of course, brand-name luxury properties like Fairmont and the W will come with a higher price tag, though these will be lower than what you'd pay for comparable properties in major cities in North America and Western Europe.
12. Hotel rates will be highest in July and August.
Contrary to what those of us in the Northern Hemisphere might think, high season in Bali is not during our winter, but during Australia's winter. And since Aussies make up the majority of visitors to Bali, that means July and August are prime time on the island. Expect hotel rates to soar during these two months, and even mid-range properties in central Kuta and Seminyak may cost well over $100 a night. You'll also have to contend with summertime airfares if you're flying from the United States or Europe, making this a less-than-ideal time of year for travelers looking for a wallet-friendly escape.
13. You should see a kecak dance and a gamelan performance in Ubud.
We here at Oyster have seen more than our fair share of bogus cultural performances, where foreign tourists gather for allegedly authentic glimpses into "local culture." To be fair, there is plenty of that in Bali — many hotels and restaurants in the tourist towns have themed nights where dancers strut and musicians perform their craft as diners shovel food into their mouths. Ubud is the island's de facto cultural capital, and is home to the best performers of traditional dance and music. Of course, every tourist has an opinion on which temple or venue is the best, but we found the kecak ceremony at Pura Dalem Taman Kaja to be particularly enthralling. The chorus of human voices create a simultaneously discordant and beautiful soundtrack to illustrate battles from sacred Hindu texts. It culminates in a jaw-dropping fire dance. For a gamelan performance that steps a bit outside of patriarchal bounds, opt for the performances at Bale Banjar Ubud Kelod, where the all-women gamelan orchestra scores the dance performances. The sounds and sights are something you won't soon forget.
14. Hipsters have a home here, too.
While beachside warungs, family-friendly resorts, exclusive villas, boozy nightclubs, surf camps, and backpacker dives might seem to be the name of the game in Bali, the hipster-led gentrification wave has made its way to this corner of the world as well. Canggu, at the northern end of the Kuta-Seminyak sprawl, is ground zero for all things artisanal and urban in Bali. These days, it has something of a reputation for being the Brooklyn of Bali, with plenty of cold-pressed juice joints, pour-over coffee spots, and street art-inspired clothing shops and galleries. There are also great surf breaks at Batu Bolong and Echo Beach. Outside of Canggu, you'll find organic, locally sourced fare in plenty of spots in Seminyak and Sanur as well.
15. For actual solitude, head north.
If you're looking to escape, hire a cheap car service and head north. Once you escape the traffic-bound southern part of the island, there are numerous small villages to explore, as well as some great beaches without crowds. Great away-from-it-all options include Padang Bai for a seaside village vibe, Jatiluwih for great trekking and less-touristy rice-terrace viewing, Lovina Beach for stellar stretches of sand and dolphin watching, and the area around West Bali National Park. The north-central part of the island is also home to the major volcanoes — Mount Batur, Mount Agung, and Mount Bratan. Sunrise treks on Batur are the most famous, though you certainly won't be alone and the weather makes this a tricky bet (cloud cover and fog can occlude the sunrise). Guided excursions on the others are also available, but they are far more challenging.
16. There are amazing things to explore offshore, both above and below the water.
As southern Bali's towns become more and more crowded, it's perhaps no surprise that travelers are looking for the next best thing. If you're staying in Sanur, you're in luck, as fast boats to Nusa Lembongan, Nusa Ceningan, and Nusa Penida depart from this part of Bali. The latter is perhaps the most secluded and lacks any real tourism infrastructure. The island only has a few homestays and bungalows, mostly in the north, but camping is also an option. Aside from its gorgeous beaches, Nusa Penida is best known for what's underwater. Here, travelers can snorkel with manta rays and other incredible sea life. Those who'd like a little more pampering might want check out Nusa Lembongan, where resorts and hotels are cropping up with greater frequency. That said, it still has a quiet vibe. Both have acres of untouched jungle worth exploring.
17. It's one of the most LGBTQ-friendly destinations in Southeast Asia.
Does Bali have the same hedonistic LGBTQ scene found in Bangkok and Phuket? No. But in a corner of the world where attitudes toward LGBTQ citizens aren't always positive — and within a country where crackdowns on LGBTQ relations are sadly becoming more common — Bali remains something of a refuge. Most of the LGBTQ action is centered in Seminyak, where a cluster of rowdy bars are packed with a mix of Balinese locals and foreign travelers alongside drag shows and well-muscled go-go boys. Jalan Camplung Tanduk — effectively Bali's gay strip — lacks the over-the-top seediness of the gay sex clubs found in Bangkok's Patpong Night Market. In fact, there are a lot of ways that the strip can feel like any little gayborhood in the world, which can be a comforting thing when you're far from home.
18. Use Uber with extreme caution.
Drivers are extremely reluctant to sign on to the ride-hailing app. Even if you do successfully land a driver — whose rates will be pretty low — you may be asked to keep a low profile or meet them at another point. That's because taxi mafias control the transport racket in many of the towns in Bali. In Ubud, in particular, it's unlikely that you'll regularly find a driver on Uber. Instead, get ready to negotiate a fare, or if you're in certain towns, like Sanur, insist on using the meter. Keep in mind that minimum fares may be in effect in some towns.
Hotel Picks
Bali is a big island and it has hotels and guesthouses for every type of budget. If you want a laid-back vibe, try Sanur and Lovina Beach. In Sanur, we love the chic Maya Sanur Resort & Spa and the more humble — but no less attractive — Klumpu Bali Resort. In upmarket Seminyak, The Kayana Bali is a sharp all-villa option that is primed for romance and only a short walk from the beach. For travelers looking to splash out in the Ubud area, the Hanging Gardens of Bali is undeniably stunning, with its cliffside setting. Ananda Cottages is a tranquil escape, with tons of traditional charm and lovely grounds with jungle and rice fields. For something right in town, opt for the contemporary Anumana Ubud Hotel, which is right near the Sacred Monkey Forest.
You'll Also Like:
You'll Also Like:
All products are independently selected by our writers and editors. If you buy something through our links, Oyster may earn an affiliate commission.