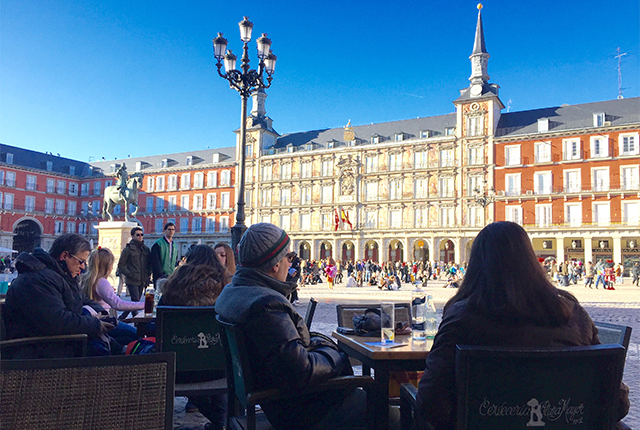 Urban rivalries are no new thing -- just ask residents of New York City and Los Angeles in case you're curious. Throughout our travels, we've learned that the desire to prove your city's superiority isn't strictly an American thing, either. While we at Oyster.com love both of Spain's two largest cities -- Madrid and Barcelona -- that doesn't mean that everyone agrees on which city is better. In fact, just mentioning one city to residents of the other is enough to provoke an argument -- and plenty of visitors are equally as passionate.
To help travelers who are more on the fence decide which may be best suited for them, we're pegging the cities against each other in nine categories -- from museums to food, from nightlife to hotels -- to help you make your pick between Barcelona and Madrid for your next Spanish getaway. (Although, let's be real -- considering they're just a two-and-a-half-hour train ride apart, why should you have to choose?)
Nearly every traveler's itinerary is peppered with at least one or two museums when traveling Western Europe's major cities. Thankfully, Barcelona and Madrid are both packed with venerable galleries and world-class art. Barcelona's offerings are excellent, highlighting works from Catalan abstract artist Joan Miro to a massive collection of Picasso's work at Museu Picasso. There's also cutting-edge contemporary art on display at MACBA and CaixaForum, the latter of which is housed in a repurposed factory and is a striking exercise in modern design itself.
However, Madrid is queen when it comes to big-ticket art. Its trio of stunning museums — the Prado, the Reina-Sofia, and the Thyssen-Bornemisza — each draw from different epochs in art history as it has played out in Spain and around the world. Highlights include Goya's "Black Paintings" and important works by 18th-century master Diego Velazquez at the Prado, and Picasso's "Guernica" at the Reina-Sofia. For daring contemporary installations, head to Matadero — a former slaughterhouse turned cultural center, or the indie galleries of Lavapies.
Hotel Pick: This NH Collection Hotel is a five-minute walk from Madrid's famous Prado museum.
Almost anywhere you look in Madrid, there are striking 18th- and 19th-century buildings lining the tightly-packed streets. The city's classical architecture is distinctive and elegant, which makes sense as it's been the seat of the Spanish royal family since the 16th century. Opulent gems like the Royal Palace tower over manicured gardens with imposing cornices and columns, while the whimsically gorgeous Palacio de Cibeles now serves as Madrid's city hall.
In the end, though, it's hard to compare to Barcelona's wildly diverse style. The city's laid-back beachside bohemianism is the logical complement to its world-renowned architecture. From the still lived-in Gothic Quarter's Medieval apartment blocks to contemporary additions like Santiago Calatrava's Torre Agbar, contrasts abound. Of course, as one hotel proprietor told us during a recent visit, Barcelona is Gaudilandia, and home to Catalan modernist master, Antoni Gaudi. The city, therefore, is also home to some of his most iconic creations, including Parc Guell, La Pedrera, and the jaw-dropping Sagrada Familia, his final masterpiece that's slated for completion in 2026, 100 years after his death.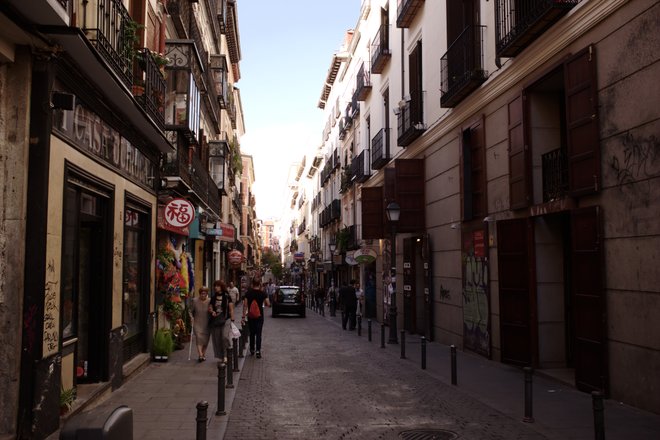 Most visitors to Barcelona will spend the majority of their time getting lost in the alleyways of its Old City. Neighborhoods like high-end El Born, photogenic Barri Gotic, and scruffy El Raval are all clustered in the narrow warrens lining both sides of Las Ramblas. Those willing to stroll a little farther can check out the upmarket boutiques and swish cafes of the Eixample, or up-and-coming areas like Poble Sec and Poblenou. Still, outside of the atmospheric Old City, Barcelona is ordered on a grid, and feels far more urban and less walkable than Madrid.
Plus, Madrid wins because we can't help loving the diversity of its neighborhoods, and each barrio has its own definitive character. There's Salamanca and its posh design houses, the graffiti-tagged cobblestone streets of Malasana, the trendy boutiques of Chueca, the quaint alleys and traditional tapas joints of Huertas, the antique shops of La Latina, and the bohemian charm of slightly gritty Lavapies. The best part? All of these neighborhoods are packed within a 20-minute walk of one another, making it easy to find a spot that matches your mood — even if it's constantly in flux.
The Wildest Nightlife: A Toss-Up
https://www.instagram.com/p/8ie5YAyQ4w/
There's no real competition here because you will stay up late — very, very late — in either city. Expect to see plenty of partiers young and old clutching cans of Mahou in the streets of Madrid, while plates of tapas and glasses of wine are enjoyed by streetside revelers in Barcelona — and that's just the pre-game portion of the evening. A word to the wise, though? Don't make eye contact with anyone standing alone between cars late at night. They are usually relieving themselves and won't take kindly to accidentally prying eyes.
Hotel Pick: Hotel Pulitzer Barcelona is home to one of the city's hippest rooftop bars.
There's no shame in being a tourist — it happens to the best of us. But one of the joys of traveling is getting lost in a destination and — at least for a moment — feeling like a local.
Barcelona can be a little mad with tourists depending on the part of town. Hot spots like Park Guell, Sagrada Familia, Las Ramblas, Barri Gotic, La Boqueria, and the Palau de la Musica Catalana are packed year-round. In fact, advanced tickets are a necessity at any of the city's major sites, especially those linked to Gaudi. For something more authentic, head to neighborhoods like Gracia and the Eixample, though you won't be within an easy walk of many of the city's cultural landmarks.
Madrid makes it a bit easier to blend in with the locals. Sure, the show-stopping museums are crowded on almost any given day, and areas like Puerta del Sol and Plaza Mayor are touristy in the extreme. However, nearly every neighborhood in the city's center has its own authentic charm, helped by hundreds of small cafes, bars, and restaurants where locals and tourists blend into a scene of happy eaters. The proximity of major tourist sites to locals-only haunts — plus the way streets jag and weave unexpectedly — make it easy to get lost in the best way. If you're lucky, you might catch an impromptu concert at DIY venues like Camp de Cebada in La Latina.
As one of the first countries to legalize gay marriage, attitudes toward LGBTQ people are fairly liberal in Madrid and Barcelona, though the country's deeply Catholic and conservative streak won't go unnoticed. Barcelona and Madrid are both vibrant centers of LGBTQ life, but Madrid comes out on top again. Unabashedly gay Chueca and hipster-heavy Malasana are prime destinations for LGBTQ residents and tourists alike. Gay establishments range from classy cocktail lounges to brash S&M bars, saunas, and mega-clubs, to say nothing of the LGBTQ-friendly eateries and cafes around the city.
Hotel Pick: This Petit Palace offers a solid value in Chueca, meaning it's within walking distance of great bars and restaurants.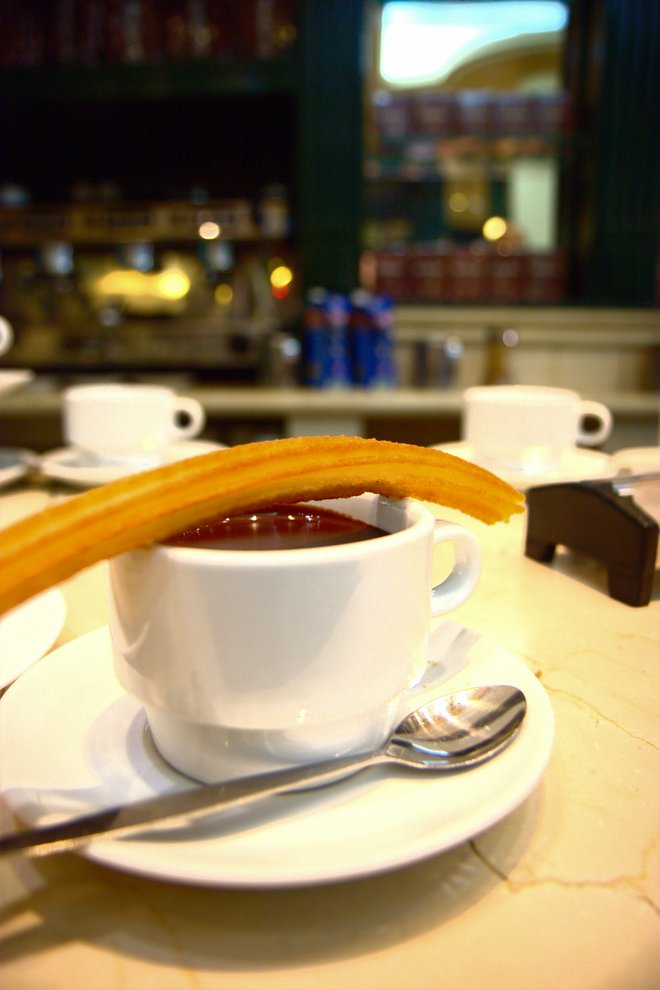 One thing unites the diverse regions and cultures across Spain — food. And when vacationing, most travelers generally feel more free to indulge themselves. If you're anything like us, sweets are an excellent way to eat like a local. You won't be without a baffling number of choices when it comes to pastelerias and sweet shops in either city. However, while Barcelona's crema catalana is a fine thing, it's hard to top a trip to Madrid's Chocolateria San Gines. This 24-hour spot has been cranking out thick hot chocolate and crispy churros since 1894. It's almost always crowded, and draws a steady stream of tourists and locals. In fact, it's the go-to spot for Madrilenos after a night of dancing and drinking.
Madrid's Parque del Buen Retiro — once the playground of the monarchy — and recent additions like Madrid Rio put gorgeous green spaces within easy reach of visitors and citizens alike. Still, it's almost impossible to top Barcelona's crown jewel: it's long, golden-sand shores that are packed with bathing beauties from May to September. All of that sun and sea — and the mild Mediterranean climate — help make this one of the most laid-back major cities in Europe.
Hotel Pick: The sexy W Barcelona sits right on the beach, with an outdoor pool overlooking the sand.
The hotel game is at the top of its form in both Madrid and Barcelona, though travelers tend to get a bit more for their money in Madrid (this goes for dining out and drinking as well). For a sharp luxury option, The Principal Madrid combines stately style with funky vintage accents within walking distance of Plaza de Cibeles, the Prado, and Puerta del Sol. Those searching for a more wallet-friendly option near trendy Lavapies and the Reina Sofia should check out Artrip Hotel, a three-pearl boutique option with boho style.
In Barcelona, those looking to be within walking distance of Placa Catalunya should splash out at the sleek and sexy Mandarin Oriental Barcelona — it's right on stylish Passeig de Gracia, amid lots of Gaudi and high-end shopping. To be closer to the city's nightlife in hip El Born, check out Chic & Basic Born Hotel, which embraces its name with gusto.
Related Links:
All products are independently selected by our writers and editors. If you buy something through our links, Oyster may earn an affiliate commission.