In Italy, beaches come with historic towns, tasty seafood, and fascinating backstories. While many locals flock to the sea in July and August, the preceding months of spring and early summer can still allow for some quiet exploring, swimming, and sunbathing. There are stunning beaches up and down both the Mediterranean and Adriatic coasts, in addition to scenic summer havens on the islands of Sardinia and Sicily. You could head to a romantic fishing village for a beach fix, hop on a boat to reach an island's rocky shore, or hike through Mediterranean scrub to arrive at the water. Start your Italian beach adventure by considering our picks below.
Baia del Silenzio, or Bay of Silence, is one of two peaceful bays in Sestri Levante, a fishing village about halfway between La Spezia and Genoa in the coastal northwestern region of Liguria. The other bay, Baia delle Favole, or Bay of Fables, is named for a former resident of the village: Danish writer Hans Christian Andersen. Despite its being part of the Italian Riviera, the Bay of Silence maintains a local atmosphere. After a dip in the bay, make your way around the small fishing boats (called "gozzo") sitting on the sand and stroll the village's narrow streets, or take in the scene on the small boardwalk.
Sestri Levante Hotel Pick:
2. Cala degli Infreschi, Marina di Camerota, Campania
https://www.instagram.com/p/BYqL-55gJZz/
This natural inlet lies in the Cilento region of Campania, a place dotted with ancient monasteries, Greek archeological sites, and quaint coastal villages. The beaches are just as intriguing. In particular, Cala degli Infreschi, named the most beautiful beach in Italy in 2014 by the Italian environmental organization Legambiente, stands out for its arched shape and clear turquoise waters. To get here, visitors must arrive by boat or trek through the surrounding Mediterranean forest trails, which only makes the excursion more atmospheric.
Marina di Camerota Hotel Pick:
Favignana is the largest of the three so-called Aegadian Islands on Sicily's western coast. Arrive by hydrofoil boat from Trapani, and then follow the road signs to the beach. This place has a wild feel, with only patches of scrub and rock on which to sit and take in the coastal beauty. The contrast between the near-neon turquoise sea and limestone stacks is striking, especially at Cala Rossa, which translates to Red Cove, a reference to the numerous wounded Phoenicians who washed into the water here during a battle in 210 B.C.
Favignana Hotel Pick:
4. Spiaggia di Is Arutas, Sardinia
https://www.instagram.com/p/BW66okFAd89/
Surfers and snorkelers flock to this beach on the island of Sardinia. It combines crystalline water, which can shift between vivid shades of blue and green, with remarkable quartz sand. Scoop up a handful for a closer look at the pink, white, and green grains — the remnants of a mountain that gradually eroded into the small island of Mal di Ventre. Tempting as it may be to leave with a bottle of the sand, there are penalties for doing so — this area of Sardinia is also part of the Marine Protected Area of the Sinis Peninsula.
Sardinia Hotel Pick:
Head to this protected nature preserve in Puglia for beaches that feel more wild and natural and less like organized holiday spots. There are three zones, one of which is solely for scientific research, and two of which allow swimming. All can be found on a geographically variable stretch of coastline that features caves, sandy shores, and rocky cliffs. Dunes and wetlands extend behind the sandy beaches, which are great spots for summer snorkeling and trekking amid the Mediterranean landscape.
Puglia Hotel Pick: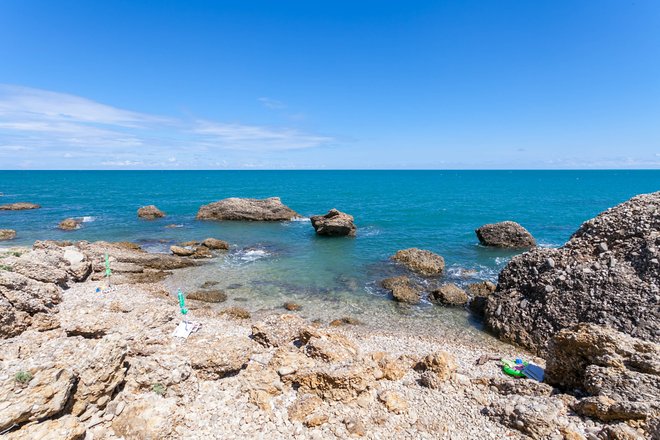 Vasto, a hilltop town on the southern coast of Abruzzo, overlooks the Adriatic Sea and a long sandy beach. It's just a quick stroll downhill from the medieval town center to the sand, where you'll find a row of restaurants and hotels — but still some peace and quiet before the crowds arrive in July and August. Another low-key beach, on the Punta Aderci Nature Reserve, can be found about a 25-minute drive north along a stunning coastal road. The town of Vasto itself is also well worth exploring. The Palazzo d'Avalos, with Neapolitan-style gardens, and four museums, including one devoted to archaeological finds, are among the highlights.
Vasto Hotel Pick:
NOW WATCH: 8 Best Beaches in Greece
https://www.youtube.com/watch?v=iprugKFaSjw
You'll Also Like:
All products are independently selected by our writers and editors. If you buy something through our links, Oyster may earn an affiliate commission.