Osaka is Japan's second-largest city behind Tokyo. It's a sparkling, modern metropolis with an excellent street-food scene, loads of culture, stellar shopping, and small pockets that you could explore for days. The city's overall central location also makes it a great home base for exploring the region. Several of Japan's must-see destinations are easily connected to Osaka via the Japan Railway (JR) and Shinkansen bullet train. We've calculated the distance and weighed the options to come up with eight of the best day trips from Osaka. Whether it's feeding sacred deer, soaking in ancient hot springs, or going back in time, none of these trips will take you longer than two-and-a-half hours each way.
Japan's sixth-largest city offers much more than just its famous marbled beef. For starters, Kobe is beautiful from nearly every angle. It's also home to Japan's oldest hot spring town and has an excellent food and drink scene. The Arima Onsen hot spring resort boasts a unique mountainside location within Kobe's city limits. The mineral-rich waters — an iron-rich "gold" water that's good for skin and a radium and carbonate-heavy "silver" water that helps with muscle and joint pain — draw both locals and tourists looking for an easily accessible respite from congested city life. If you prefer to unwind in other ways, the Nada district has several sake breweries and museums worth visiting. Stop by Sakuramasamune, Shushinkan Brewery, and the Hakutsuru Sake Brewery Museum for a taste of the brewed rice drink and its history. And while you're in town, you might as well treat yourself to some Kobe beef, too.
Kobe Hotel Pick:
2. Cupnoodles Museum Osaka Ikeda
While most of the other day trips on this list are cities and towns, we can't help but urge you to visit the Cupnoodles Museum. Yes, just 45 minutes outside of Osaka by train, there is an entire museum dedicated to instant ramen. Obviously, this museum is best suited for Cup Noodles-lovers, but it's fun, interactive, and Instagram-worthy exhibits create a memorable day out for anyone. Here, you'll learn about the history of instant ramen, walk through a tunnel decked out with every single flavor of Cup Noodles ever made, taste rare flavors in the test kitchen, and even make your own custom cup of instant ramen to take home. Mix and match from four soup bases and 12 different toppings to create a one-of-a-kind cup that can double as a tasty souvenir or wonderfully weird gift.
While Nara has historical significance as the former eighth-century capital of Japan, it owes its modern-day fame to a herd of adorable residents. A stop at the Nara deer park has become somewhat of a traveler's rite of passage when visiting Japan, especially for families. In the Shinto religion, deer are considered to be messengers of the gods, and in Japan, these deer are considered a national treasure. For the most part, the thousands of free-roaming animals are friendly, though be careful when offering up any of the crackers for sale around the park (turns out, deer can get hangry, too). If you can peel yourself away from the deer, peek inside the massive Todai-ji Temple, where you'll find the world's biggest bronze Buddha statue. Other spots worth a visit include the mysterious Kofun tombs, tranquil Isui-en Garden, and the Nara National Museum. You can reach Nara via the JR Yamatoji Line in around 50 minutes.
Nara Hotel Pick:
Kyoto is one of Japan's most highly-regarded cities, and is worth at least two days on its own. However, if you're short on time, we've got some good news: the Shinkansen from Osaka can get you there in a 15-minute flash. Plus, since the JR Kyoto Line takes less than 30 minutes, there's really no excuse for not crossing Kyoto off your day trip list. Kyoto is known for giving visitors a taste of Old Japan. You can catch glimpses of geishas in alleyways, take part in traditional tea ceremonies and kaiseki dining, snap endless pictures of shrines, wooden homes, and gardens, and visit over 1,600 temples. Popular places to visit include Arashiyama's monkey-filled bamboo forest, the tunneled red gates at the Fushimi Inari Taisha shrine, the golden Kinkaku-ji Temple, and the famous entertainment district of Gion.
Kyoto Hotel Pick: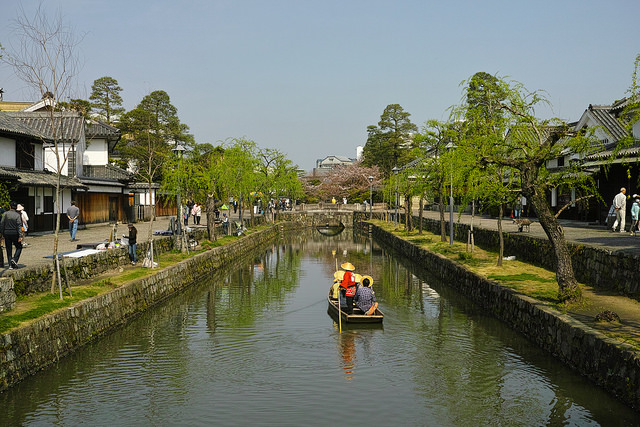 If you'd rather skip Kyoto in favor of a less touristy (but equally good) glimpse into traditional Japan, head to Kurashiki. This picturesque town is only about an hour from Osaka by train, but its historic Bikan district will take you back hundreds of years to Japan's Edo period. The preserved canal area — just a 10-minute walk from Kurashiki Station — is a particularly beautiful sight, thanks to its wooden row boats, wispy willow trees, and converted old storehouses. Although the old storehouses are now repurposed as storefronts and museums, much of the historic district looks the same as it has for hundreds of years. Another point of interest here is the Ohara Museum of Art, Japan's first Western art museum, featuring works from many famous Impressionist and post-Impressionist artists, among others.
Kurashiki Hotel Pick: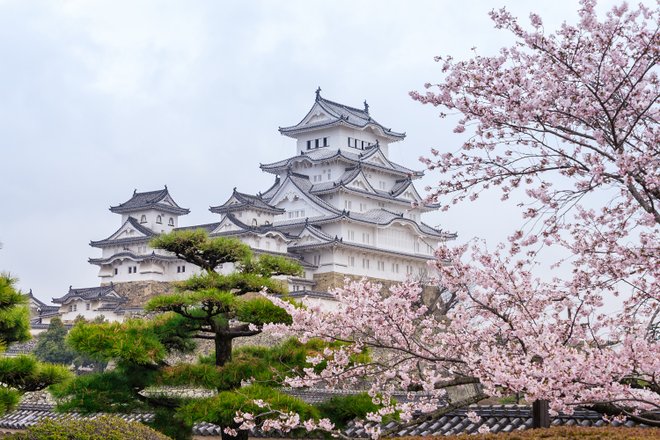 A registered UNESCO World Heritage site, the Himeji Castle is Japan's best-surviving example of early 17th-century castle architecture. A delicate all-white exterior and highly advanced defense systems for its time make this stunning wooden masterpiece a standout. The castle, which covers over 17 acres and boasts a whopping 83 buildings, was in continuous use for over 300 years, up until the fall of the Shogun in 1868. Today, it's the largest and most-visited castle in the country, making it a must-do day trip from Osaka. The lightning-fast Shinkansen can get you from Osaka to the castle in around 30 minutes. While you're there, be sure to visit the nine different gardens next door at Kokoen Garden.
Himeji Hotel Pick:
7. Miyajima Island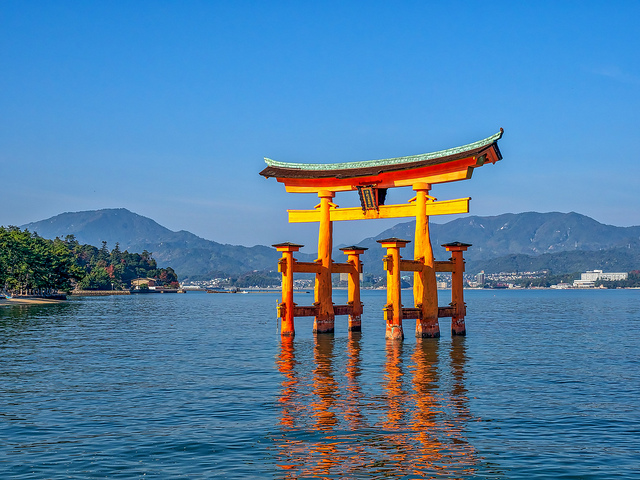 Yes, you can take a day trip to an island from Osaka — and not just any island, Japan's Island of the Gods. The small island is most famous for its Itsukushima Shrine complex, a designated UNESCO World Heritage site. Miyajima island is beautiful and quaint, but not without a touristy vibe. The floating Shinto torii gate and free-roaming deer make for excellent photo ops, while numerous food stalls can easily turn your day trip into a food bonanza. Getting here is not as straightforward as some of the other spots on this list. You'll have to combine the Shinkansen, local train, and ferry, plus budget just over two hours each way. For the best views of Seto Inland Sea and the island's forests, take a ride on the aerial ropeway along Mount Misen.
We would be remiss not to mention Hiroshima — not only because it sits as a haunting reminder of the devastation from the war, but also because it also stands as a symbol of Japan's resilience. Though Hiroshima was forever put on the map after the United States dropped an atomic bomb here on August 6, 1945, today the city is as a lively place that grows as an extension of its sixth and seventh century past, memorializes its loss from World War II, and moves forward as a modern city. The A-Bomb Dome, the only structure to survive the 1945 bombing, is a popular site, as is the Peace Memorial Park, but Hiroshima also calls on visitors to explore the city's hot springs, museums, shrines and temples, and food and drink scene. Getting here from Osaka takes about two-and-a-half hours by train and the Shinkansen.
Hiroshima Hotel Pick:
You'll Also Like:
All products are independently selected by our writers and editors. If you buy something through our links, Oyster may earn an affiliate commission.