As the most popular family vacation spot on the planet, Disney World is packed year-round with mouse-ears-sporting parents and children. The fun and fantasy isn't just for families, though. Honeymooners (or, rather Disneymooners), convention-goers, and nostalgic friends living out childhood dreams all descend upon Disney in droves, too.
While it depends on the level of immersion they're looking for, kids-free adults traveling to Disney often have different lodging needs than families. They may want a more sophisticated vibe and easy access to Epcot. Or, perhaps they want a place where they can take evening strolls along the lake or croon at a piano bar until the wee hours of the morning. We asked four Disney travel experts for their recommendations on the best hotels for a grown-up getaway.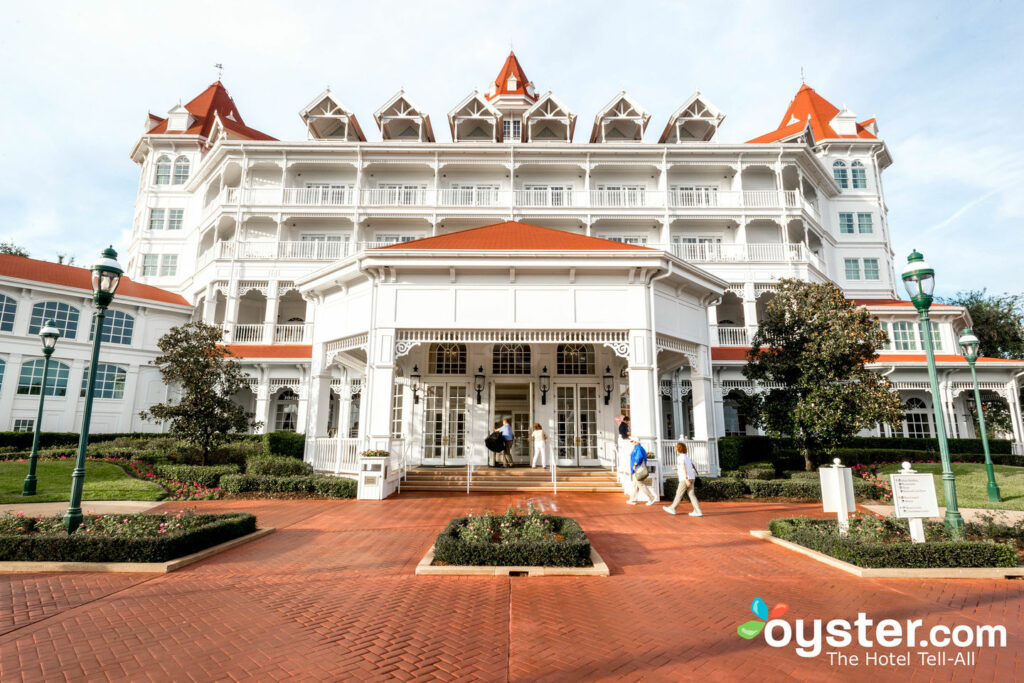 For an elegant jaunt to Old Florida, Disney's Grand Floridian Resort & Spa is the classic pick. This is Disney's flagship Deluxe Resort Hotel, where stunning Victorian-era architecture and a grand multi-story lobby make the hotel a destination in its own right. Add in early-20th-century details, like bellmen in derby caps and ragtime music piped in through secret speakers, and it's clear why this is the "Grande Dame of Disney." Adults will find some of Disney's best dining here, including the splurge-worthy Victoria & Albert's — Disney's only AAA Fine Dining restaurant — where seven-course chef's tasting menus are served and reservations (and dinner jackets for men) are required.
Rooms are among the largest of any Disney resort, but for an extra measure of luxury, "stay in the hotel's impressive main building," advises Staci Kimball at Glass Slipper Concierge. "Here, all rooms are Club Level with access to the Royal Palm Club concierge lounge." She adds that the resort has the most coveted location in Disney World, with "spectacular views of the nightly Electrical Water Pageant and the Magic Kingdom fireworks."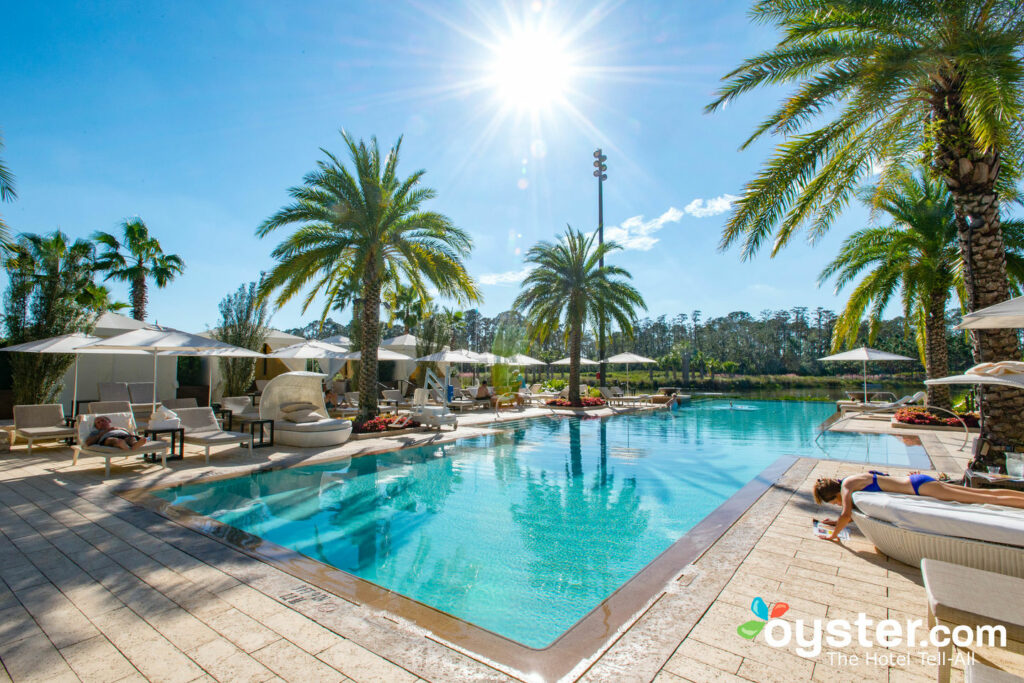 When it comes extraordinary luxury and service in Orlando, Four Seasons Resort Orlando at Walt Disney World Resort can't be beat, even by the Grand Floridian. A sense of Disney enchantment and full-grown sophistication coexist beautifully here, as seen by the shimmering chandeliers and crown display in the gorgeous lobby. Even though the resort isn't owned by Disney, Kimball assures that it still offers many of same perks as Disney hotels, such as "free transportation to and from the parks, Extra Magic Hours, on-site Disney character dining, and a Disney Planning Center in the lobby." Plus, it has a 13,000-square-foot luxury spa (rare for the area) and the most luxurious rooms around — all have free Wi-Fi, Nespresso machines, Bose sound systems, and outdoor furnished balconies (some with nightly views of the Disney fireworks). As Kimball puts it, this is a "luxury vacation experience in the middle of the magic."
Disney's BoardWalk Inn
Many of the Disney travel pros we spoke to nominated Disney's BoardWalk Inn, modeled after turn-of-the-last-century Atlantic City, as one of their favorite resorts for grown-ups. "For anyone looking for an adults-only trip, this is my top recommendation," says Lauren Fitch of MickeyTravels. "It has a lovely upscale elegance and whimsical charm along with the best Club Level option at Disney World. The restaurants are fantastic, plus it has the Atlantic Dance Hall, AbracadaBar, and a piano bar called Jellyrolls. The location is terrific in that you can walk to Epcot and take a boat to Hollywood Studios. It is by far my favorite Disney resort." Sue Pisaturo with Small World Vacations also steers adults toward BoardWalk Inn, specifically its "row of adorable two-level garden cottages with hot tubs and private, ivy-covered entrances."
Disney's Yacht Club Resort and Disney's Beach Club Resort
Like BoardWalk Inn, the next-door sister resorts Disney's Yacht Club Resort and Disney's Beach Club Resort are set right on Crescent Lake in Disney's Epcot area. These properties are an easy walk or a brisk boat ride from Disney's Boardwalk (a lakeside area of restaurants, bars, and boutiques), Epcot, and Hollywood Studios. "This is a great location for adults who'd like to spend some of their vacation nights in Epcot for festivals, shows, and dinners and drinks from around the world," says Stephanie Matt from MickeyTravels.
Besides the excellent position within the park, Kimball loves Yacht Club's refined atmosphere — something not often found at Disney resorts. While the Grand Floridian is always crowded, Kimball points out that Yacht Club's "lack of on-site character dining means that it doesn't get as hectic at breakfast and dinner times." (Indeed, Yacht Club's fine-dining Yachtsman Steakhouse, with its vaulted ship-like ceiling and oak-fire grill, feels like it's on the coast of New England rather than the heart of Disney World.) The Yacht Club and Beach Club share a fantastic pool complex, Stormalong Bay, which Kimball says is "so expansive, it never feels crowded."
From the sultry saxophone background music to the magnolia trees that bloom pink in the springtime, this New Orleans-themed property keeps its Southern charm dialed up to 10. Matt mentions that both the mid-range Port Orleans – French Quarter and Coronado Springs have "little to no animated theming that most families with children are looking for in a resort," so, like Yacht Club, their atmospheres are more relaxed. In addition to having fewer children in general, both resorts have "beautiful architecture and lighting, plus a body of water (the Sassagoula River for Port Orleans, Lago Dorado for Coronado Springs) that just make them so picturesque for an evening stroll."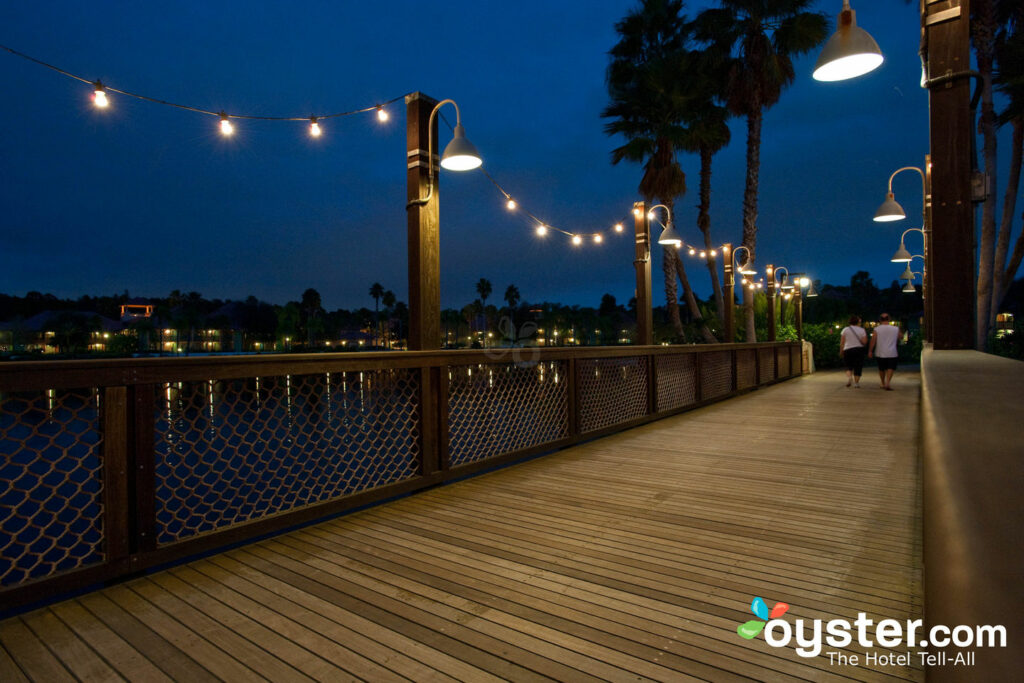 "For adults on a budget, I love Coronado Springs," says Fitch. "It has a more adult feel than other resorts and extra amenities such as a health spa and an adult nightclub called Rix Lounge." Centered around the giant Lago Durado, Disney's Coronado Springs Resort features meticulously kept grounds with adobe-style buildings and plenty of cacti and palm trees. In addition to having less animation than other Disney resorts, the hotel's massive convention center means there are more adults here than at other Disney hotels. Note that Coronado Springs is undergoing extensive renovations until the summer of 2019.
Dressing for the place is a spot on move when it comes to Disney, so snag this cute tee from Urban before you head out to the Magic Kingdom.
You'll Also Like:
All products are independently selected by our writers and editors. If you buy something through our links, Oyster may earn an affiliate commission.