The Hollywood sign, surfers on Venice Beach, and celebrity hands pressed into the sidewalk are about as American as apple pie, and they all come from the same place. Los Angeles is the second-largest city in the United States, but thanks to Hollywood's film industry, it's arguably the most famous. One week isn't nearly enough time to see and do everything the sprawling and sunny metropolis has to offer, but it's a good start for testing out the theme parks, art galleries, beaches, parks, and restaurants. We can't promise you a celebrity sighting, but we can suggest a few tips for running into someone famous. Read on for the best six-day Los Angeles itinerary. Tip: You're going to need a rental car (surfboards are optional).
Day One: Bikes on the Beach
Most Los Angeles visitors fly into Los Angeles International Airport (LAX), which is a pretty ideal location for hitting the beach. Venice Beach is just six miles north of the airport. But before you hit the sand, make a pit stop at the In-N-Out Burger on Sepulveda Boulevard for an iconic double double burger and fries. Sure, the Hollywood outpost has more celebrity visits, but lines here are shorter. Locals know to order their burgers animal-style for extra Thousand Ssland spread, mustard-grilled patties, and extra pickles. After fueling up (and snapping a selfie with the iconic palm tree soda cup), head to the beach. Muscle Beach makes a good entry point, but don't expect to see much more than some rusted equipment and a few preeners. The real show is five minutes down the beach at the skate park where serious skateboarders (and their dogs) show off their skills in deep pools. Venice is an eclectic mix of street performers, homeless people, shredded surfers, and families. The area is becoming more gentrified and there's a boom of wellness offerings like yoga studios and juice stands. Lifeguard stations make it safe for swimming, though the water is chilly and not the cleanest.
Once you've had your fill of novelty T-shirt and bikini shops, rent a bike and pedal down the coast to Santa Monica. You'll see a pier with a Ferris wheel in the distance. Simply head in that direction for about 20 minutes down the beach boardwalk's bike trail. Santa Monica is adjacent to Venice, but the vibe here is much more family-friendly and clean-cut. The pier is loaded with arcade games and small carnival rides. Groups of friends play volleyball on the beach and there are a few beach-facing restaurants that serve drinks. Nearby Santa Monica Promenade (off the beach) has over 200 shopping, dining, and entertainment outlets, as well as twice-weekly farmers' markets. After the beach sunset, you have two excellent dinner options. The first option is to bike back down to Venice and peruse the hip offerings on acclaimed Abbot Kinney Boulevard (creative vegetarian entrees at The Butcher's Daughter, small-batch ice cream at Salt & Straw, or sushi rolls at Wabi-Sabi). Or, stay put in Santa Monica and have dinner overlooking the ocean. 1 Pico serves American- and Italian-inspired dishes facing the beach, Water Grill is known for oysters and panoramic beach views, and Blue Plate Taco serves incredible fish tacos on an ocean patio — save room for churros.
Nightlife in both Santa Monica and Venice Beach is hopping. Venice definitely has an artier edge, while Santa Monica feels a bit safer and more packaged. Hotel Erwin has a rooftop bar and The Brig offers a fun and non-intimidating dive bar scene. For lodging, if you can afford it, Shutters on the Beach won our 2018 Editor's Choice Award for best California hotel on the ocean. It looks like a billionaire's beach house. Venice Beach offers several budget-friendly hotels with few features that are right on the beach. We like Venice Breeze Suites for its rooftop deck with barbecue grills.
Day Two: Malibu and The Getty Villa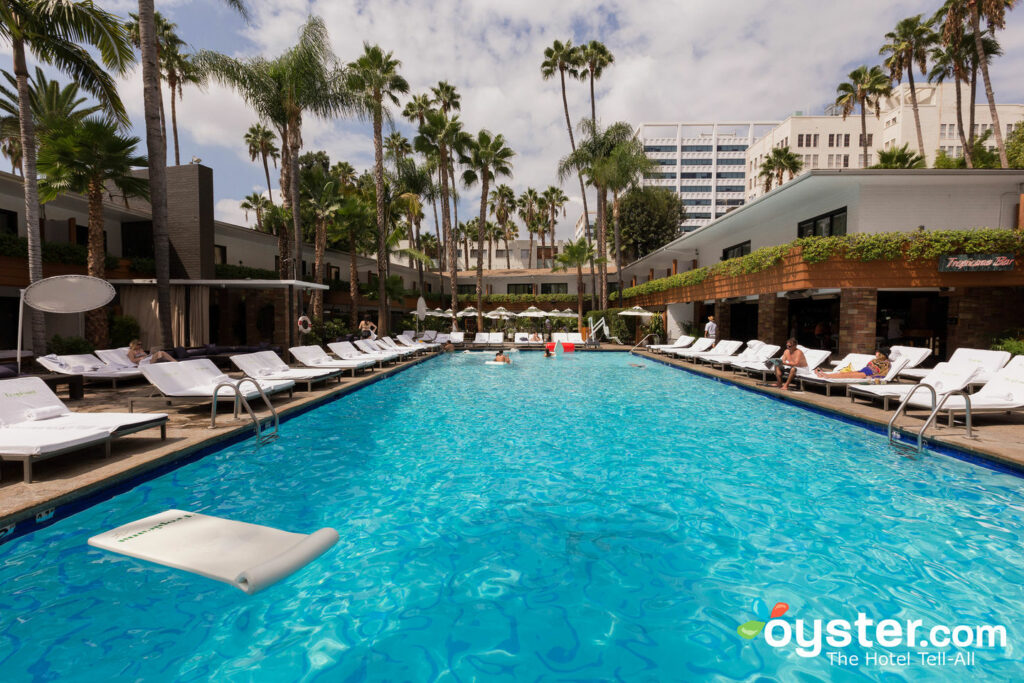 It might be hard if you were out late at The Brig the night before, but get up early to beat the traffic and drive north to Malibu. Grab a green juice to-go, for that healthy Californian start to your day. It's about an 11-mile drive down scenic Highway 1, with gorgeous ocean views the entire way. Once at Malibu Farm, a charming eatery with unbeatable Pacific Ocean views on the end of Malibu Pier, choose something tasty like coconut blackberry baked French toast or a tofu scramble. After breakfast, you can immediately rent a stand-up paddleboard or surfboard and hit the water (which is much calmer and cleaner in Malibu than it is in Venice). There are shower and restroom facilities dotted along the beach. When you're tired of the waves, it's time to get inspired. The Getty Villa is an iconic, Roman-style villa overflowing with classic Greek and Roman art. Admission is free, but like almost everywhere in Los Angeles, you'll have to pay to park.
Malibu is where big-name celebrities (Cindy Crawford, Lady Gaga, Barbra Streisand) have multimillion-dollar beach compounds, so it's no surprise that there are very few hotel options. Instead of hunkering down for the night, get back in the car (we know, we know) and drive to Hollywood. The Hollywood Roosevelt is an L.A. landmark, known for it's party pool and alleged visits from the ghost of Marilyn Monroe. It'll also put you within easy walking and driving distance of activities for the next few days. For something cheaper, the Motel 6 Los Angeles is in the same neighborhood and has and clean, safe rooms. Drinking and dining options in this area are limitless. Pink's Hot Dogs on Melrose is still going strong for late-night dogs, and the ArcLight Hollywood on Sunset Boulevard is one of the best places to see a movie (or a celebrity watching a movie — we saw Ricky Martin there) in Los Angeles.
Book Your Hotel Stay:
Day Three: Hollywood and Celebrity Tours
Today is the day to totally lean into being a tourist. Yes, most of this is terribly cheesy and slightly embarrassing, but you came all the way to Los Angeles, so why not just go for it? Start the morning at Roscoe's House of Chicken and Waffles, a local favorite for "cheat day." From there, you can walk up to Hollywood Boulevard. Walk east and look down, and you'll see pink stars and the names of Hollywood greats for 15 blocks. Once you make your way to TCL Chinese Theatre (also known as Grauman's Chinese Theatre and Mann's Chinese Theatre), you'll find 200 Hollywood celebrity handprints, footprints, and autographs in the courtyard — everyone from Marilyn Monroe to Ryan Gosling.
Now that you have a taste of stardom in concrete, it's time to hop on a bus. The TMZ Hollywood Celebrity Hot Spot Tour picks up passengers at The Hard Rock Cafe in Hollywood and takes them on a two-hour gossip-fueled ride through Hollywood, West Hollywood, Beverly Hills, and on the Sunset Strip. There are several competing lines, but TMZ all but promises a celebrity sighting (and they're the industry experts on where celebrities are and when). After the tour, it's worth hiking up to Runyon Canyon in the Hollywood Hills. This urban hike is moderately intense, and you can choose from canyon stairs or a winding paved path. Expect crowds and dogs, but the view at the top stretches all the way to the ocean.
An evening in Hollywood wouldn't be complete without a stroll down Sunset Strip. The Saddle Ranch still has its famous mechanical bull (which you've seen on almost every reality TV show). Or, you can class it up with cocktails at Chateau Marmont's restaurant.
Day Four: Universal Studios
For Universal Studios, you're going to want to get to the park early and stay until it closes — and you still won't have time to see and do everything on offer. The must-dos include the Studio Tour (an interactive tour on how movies are made), rollercoasters and wand selection at the Wizarding World of Harry Potter, and King Kong in 3-D. There's tons to eat (including a replica of Krusty Burger from "The Simpsons") and mini-shows pop up all over the place. Entertainment hits all ages, from little ones to grandparents, though there's lots of walking involved and the heat can be a lot to contend with in the summer months.
Day Five: Pasadena Shopping and Gardens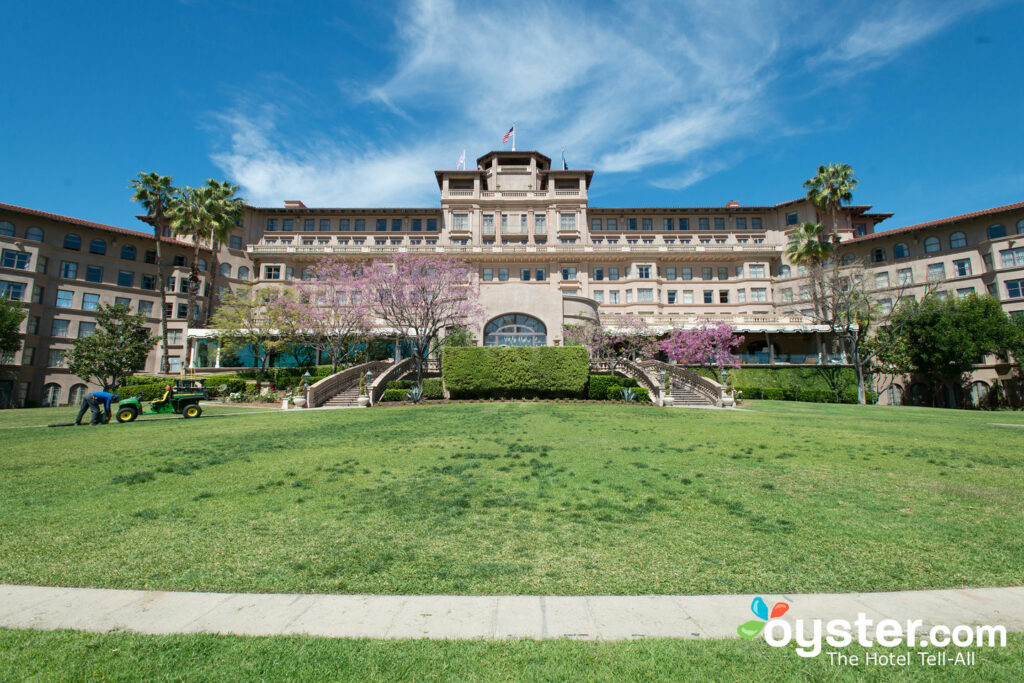 Beverly Hills has the reputation for being the wealthiest section of Los Angeles, but that honor actually goes to the beautiful enclave of Pasadena. This is the place where locals go to shop and get their fill of architecture and gardens. Old Pasadena is known for its Victorian and Art Deco buildings, and there's a high-end shopping area around Colorado Boulevard, with retailers like Apple, Free People, and Nike. For more authentic finds, the enormous Rose Bowl Flea Market (set up around the Rose Bowl stadium) sells everything from vintage T-shirts to vinyl to furniture and jewelry at various price points. There is an entrance fee.
The Huntington Library, Art Collections, and Botanical Gardens is an ideal place to spend a sunny morning or afternoon, strolling through the 120-acre grounds that include painstaking recreations of Japanese and Chinese gardens, along with a native desert. For dinner, stay retro with a visit to Lucky Boy, a vintage drive-in. Or, go fancy at Alexander's Steakhouse, which offers a creative take on the classic steakhouse.
The Westin Pasadena has a lovely pool and wellness center, and is within walking distance of Old Town. However, it doesn't get much more luxurious than The Langham Huntington, which features an Olympic-size pool and British-style service.
Book Your Stay at The Westin Pasadena:
Book Your Stay at The Langham Huntington:
Day Six: Downtown and Disney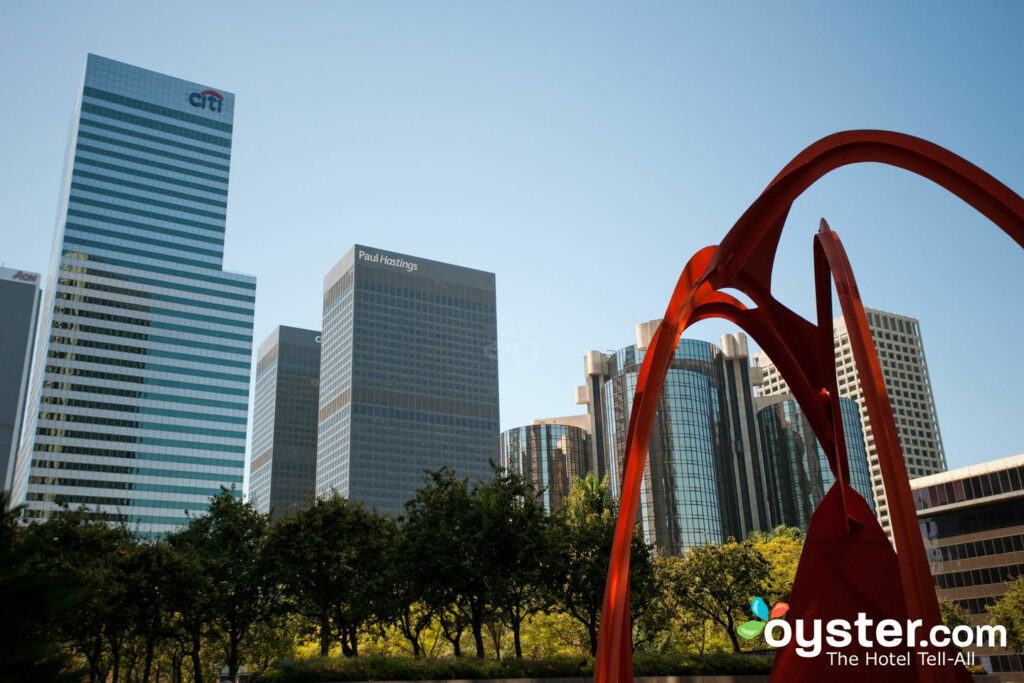 For day six, we're leading you back east to downtown Los Angeles. You may want to eat all of your meals at Grand Central Market, a semi-open-air European-style food hall that houses both trendy and classic food vendors, from Eggslut (for breakfast sandwiches with lines around the block) to Olio GCM (for wood-fired pizzas).After breakfast, spend the day museum hopping. L.A.'s newest contemporary museum, The Broad, boasts 2,000 post-war works in a dazzling display of modern architecture. Admission is free, but order tickets ahead of time to avoid lines. The main branch of the Museum of Contemporary Art is just around the corner, and includes works by Mark Rothko and Jackson Pollock. At night, check out what concerts are playing at the Walt Disney Concert Hall or see a Lakers game at the Staples Center.
Much like the neighborhood itself, hotels range from ultra-hip to budget. We love Ace Hotel Downtown Los Angeles for its rooftop pool, free bikes, and Moon Juice juice bar. Even if you don't stay here, consider checking out the DJ at The Upstairs rooftop bar. For lower rates, Stay on Main Hotel is just a 10-minute walk from the Ace and offers a free area shuttle.
Note that this area has recently undergone a major overhaul and is now considered widely safe and entertaining for tourists and families — though Los Angeles has a homeless population and the area around Skid Row should be avoided at night.
Book Your Hotel Stay:
You'll Also Like:
All products are independently selected by our writers and editors. If you buy something through our links, Oyster may earn an affiliate commission.