With any trip, there's always the dreaded aspect of packing. How do you fit all your items in one suitcase or carry-on and keep them organized? Enter the amazing invention of packing cubes. Packing cubes were created with the organized traveler in mind, making it easy to pack before a trip and repack all of your items for that last leg home. Check out our list of favorite packing cubes and what makes them top-notch so that you can you find the right one for you.
As the name implies, the Eagle Creek Pack-It Specter Starter Set is a great option for those starting out in the travel cubes packing game. The cubes are made from the same lightweight fabric used for tents and backpacks, which means they're also stain-proof and water-repellent. There are three items in the starter set, including a packing folder to keep your finer clothes wrinkle free. The cubes come in two sizes and keep rolled shirts and bottoms organized. Eagle Creek adds an extra perk with a lifetime warranty for the product.
While most packing cubes advertise water-resistant materials, the TRANVERS Clear PVC Packing Organizers go above and beyond by making their packing tubes with thick, waterproof PVC film material. Aside from their truly waterproof nature, we especially love that these packing cubes are clear. Not only are travelers able to see what's inside each cube, but it's easy for airport agents to see inside the cubes, too, possibly preventing the need for a messy open-bag search.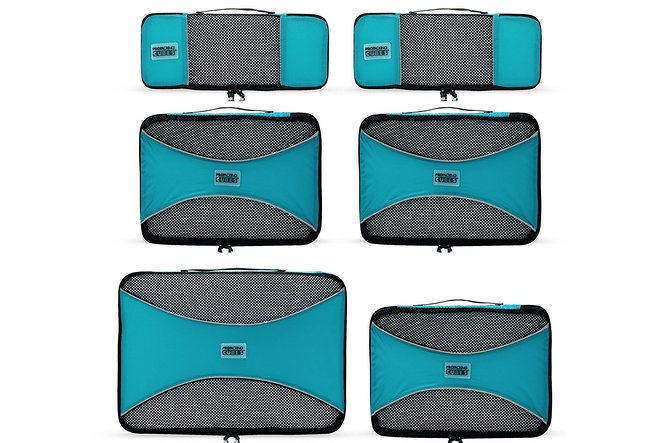 The PRO Packing Cubes Lightweight Travel Cube Set offers six cubes in a variety of sizes. What separates these packing cubes from others is that the cubes were designed to fit in most airline carry-on suitcases, backpacks, and duffel bags, so travelers can maximize their space in an organized way. They're made with reinforced seams, which makes them durable and long lasting, though if you're unsatisfied with them in any way, there's a money-back guarantee. They come in a variety of color combinations, but the black and gray design is sleek, professional, and timeless.
Packing folders are all the rage for travelers who want wrinkle-free clothes upon arriving at their destination, making them perfect for business travelers. Dot&Dot Packing Folders can store five to 10 items in a compressed envelope with mesh screens to make it easy to identify your belongings. Velcro straps keep the clothes in place. Each packing folder includes a shirt folding board with tips and instructions on how to fold collared shirts, sweaters, and other business attire in the best way to minimize wrinkles.
Tired of randomly tucking your toiletries into the different zippered compartments of your suitcase? Then you need the Pro Packing Cubes Travel Toiletry Bag. This waterproof packing cube is outfitted with plenty of storage sections for full-size and travel-size toiletries that packs flat to only 3.5 inches thick. It claims that it can fit not just one, but two people's toiletries. There's also a handy hook for hanging the bag once you arrive at your destination. While it's generally meant for toiletries, there's plenty of space in the side sections for rolled shirts or socks, too.
Electronics lovers will delight in the BUBM Gadget Organizer Case. At just 9.3 x 6.5 x 3.5 inches in size, this compact packing cube is double layered with four sections filled with elastic loops, mesh pouches, and padded dividers to organize all your devices and their chargers. There's even a Neoprene soft sleeve that fits small tablets the size of an iPad Mini.
While most packing cubes are thick and rectangular in shape, the Lewis N Clark Electrolight Expandable Packing Tube differs in that it's long and thin, with dimensions that are 13 in x 4 in x 3 in. The size allows for travelers to pop this tube into small leftover spaces in suitcases or bags. Though rolled clothes can fit in this sill nylon packing tube, the shape makes it better suited to shoes, toiletries, small accessories, or undergarments. There's also an expandable zipper that increases the thickness from three to five inches.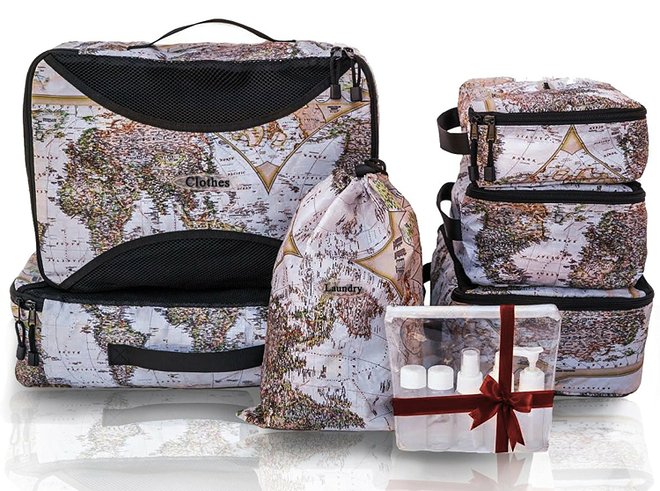 The I&P Packing Cube Set is similar to most packing cubes in that it's made of nylon and is waterresistant. It offers six pieces that range from medium to XL in size, and it includes a toiletry bag with empty toiletry bottles, a laundry bag, and a shoe bag. A 100% lifetime satisfaction warranty is lovely, but that's not why these cubes made our list. While plain-colored packing cubes are fine, we love the I&P Packing Cube Set for its stylish world map design! It's a perfect gift for a traveler in your life.
You'll Also Like:
Oyster.com is a participant in the Amazon Services LLC Associates Program, an affiliate advertising program designed to provide a means for sites to earn advertising fees by advertising and linking to
All products are independently selected by our writers and editors. If you buy something through our links, Oyster may earn an affiliate commission.