Fitness centers, outdoor pools and spas are common amenities at hotels these days, but want to know one of our favorite features offered? Live music! We've visited quite a few hotels that are a fun place to catch a show, whether you're a guest or live in the surrounding area. From poolside DJ sets to soulful jazz in a cozy lounge, hotels give their guests a unique way to enjoy the city without leaving the grounds. If you're someone who loves to kick back and enjoy live music, you'll definitely want to bookmark these 10 hotels!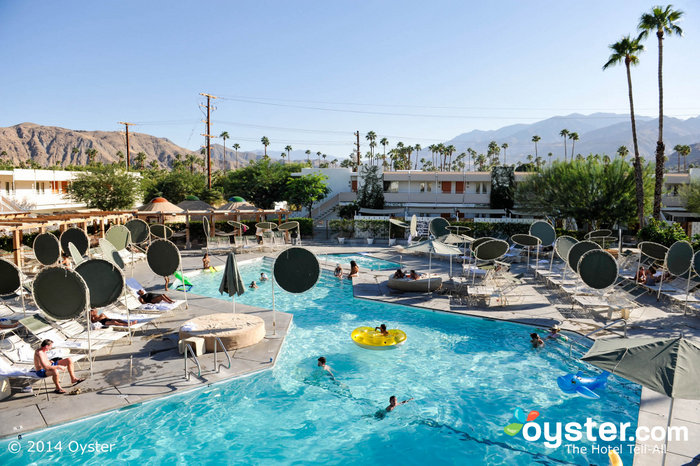 This upper-middle-range, 180-room hipster haven has a palpable party vibe and frequent music nights with a live DJ. The style is retro, with 70s details such as record players and vinyl in the rooms. The property draws a young crowd and can get quite loud with its purposeful off-the-beaten-path vibe. Their Swim Club members get year-round access to the outdoor swimming hole, gym, spa and poolside happenings like their DJ events and the Reggae Sol party on the last Saturday of each month. Although it gets crowded, lounging by the pool while a DJ spins sounds like a fun way to spend the day to us!
Since 1966, the 2,419-room Caesars Palace has defined excess on the Strip — a massive spa with Roman baths; elaborate mosaics and classical architecture around the pools; one of the biggest casinos in Vegas. One of its main features is The Colosseum at Caesars Palace, which cost a whopping $95 million to build. With seating for up to 4,300, The Colosseum hosts a range of shows inside the gold-painted arena with red chair seating that is truly stunning. Celine Dion will be headlining in August and in September you can catch Diana Ross and Rod Stewart, followed by Shania Twain in October. Basically, you can always expect to have a killer headliner.
The upper-middle-range Hotel Indigo features an eclectic mix of historical influences and contemporary style. Conveniently located off the historic Printer's Alley, the hotel is in the heart of downtown Nashville, convenient to sights, shops, and nightlife. With a number of meeting rooms, this hotel is often frequented by business travelers, but sees more tourists on the weekends. Rooms are quirky and stylish, with plenty of space. Although live music can be heard throughout the city, the hotel has nightly entertainers in the lobby/bar, as well as jazz at weekend brunch.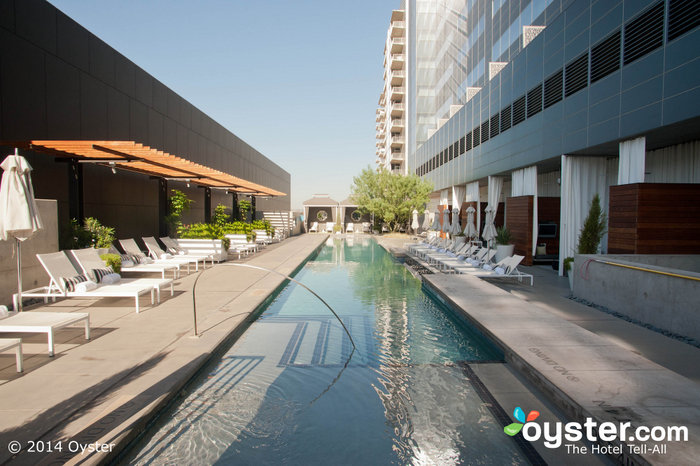 The W Austin is located in the heart of Austin's newly emerged 2nd Street District close to sights, shopping, and entertainment. In a city known as "The Live Music Capital of the World," the W helps it hold that title. The Living Room bar is a popular gathering spot for Austinites, and the young and hip congregate there for the DJs performing every Thursday through Saturday night; they also have intimate concerts on the last Sunday of the month. DJs perform poolside at the trendy and hip WET. Right next door is The Moody Theater, home of Austin City Limits, the longest running music series in American television history. Various up-and-coming bands and big-name artists frequent the intimate stage.
The Palace offers a high-end, all-inclusive experience on a gorgeous stretch of white-sand beach 15 minutes south of Playa del Carmen. It's the smallest, newest and most upscale of the three properties in the Barcelo complex, with 756 beautiful rooms surrounded by gorgeous pools and manicured grounds. All rooms are Junior Suites or Suites with pretty bathrooms featuring separate showers and tubs. When you've had enough relaxing at the pool and beach, head to the Monte Albán Theatre and Jaguar's nightclub for live music.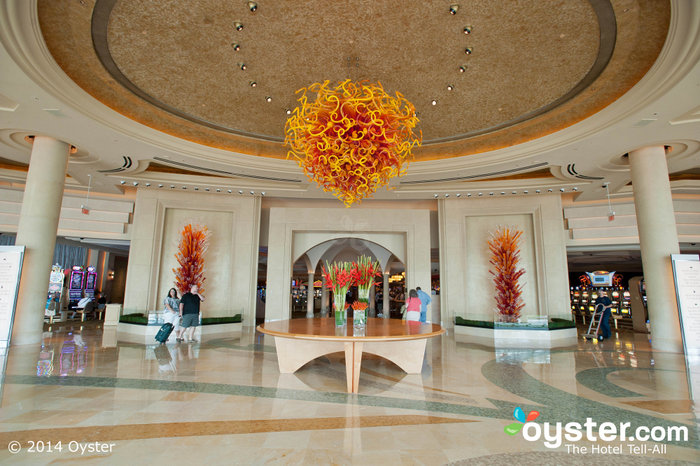 This behemoth hotel and casino on the outskirts of Atlantic City is a hub of entertainment, and arguably the city's premier destination. The 2000-room property overlooks a marina at Renaissance Pointe. Entertainment is outstanding, from celebrity chef restaurants — including Bobby Flay Steak and Wolfgang Puck American Grille — to poker tables, an Italian-inspired indoor pool, and spa treatments. A large event space features some of the biggest acts in music, while a smaller stage offers comedy and other entertainment. The Event Center and The Music Box will have upcoming performers like Lionel Richie, Diplo and Chicago & REO Speedwagon.
This 285-room Back Bay hotel offers spacious standard rooms with floor-to-ceiling windows, a fitness center with South End views, and an affordable French brasserie. Although it isn't open year-round, the rooftop pool (the only one in Boston) is its crowning feature and a perfect way to spend the summer nights. Guests and locals alike flock to the hotel for their rooftop concerts, which have included Ed Sheeran and Robin Thicke in the past.
The Loews Ventana Canyon Resort is located right at the foot of the Santa Catalina Mountains, and the views are terrific. Wildlife sightings are common, and there's even a waterfall at the end of a nature trail. Additional highlights include two Tom Fazio-designed golf courses, outdoor tennis courts with nighttime lighting, and a large, free-form pool — all offering spectacular vistas of the surrounding landscape. After exploring the scenic qualities of the property, make your way to either the Flying V Bar & Grill, Canyon Café or Cascade Tucson Lounge –they all offer live music performances on select nights.
The Gramercy Park Hotel currently sets the bar for New York cool — hence the celebrities in the lounge and the paparazzi on the sidewalk. It offers ultra-luxe but small rooms done up in high Boho-chic style, a gorgeous gym, an acclaimed Italian trattoria, and a great rooftop bar. True, even guests sometimes feel excluded from the glamour-fest in the bar. But the place is utterly unique. The hotel's Rose Bar is quite exclusive, having hosted big names like Axl Rose, Liza Minnelli and Rufus Wainwright. But if you can't snag an invite inside the bar, there's a lounge area with seating and a nearby pool table that often has performers, like 1920s-style bands setting the ambience to enjoy with your high-priced cocktail.
The 112-room Welcome Piram Hotel is a centrally located pick with a drab exterior — but a gorgeously recreated world of 18th-century extravagance within. From gilded rococo-style furnishings to a sea of fine marble, the lobby and common spaces are grand and palatial. A rooftop garden has views over Rome and loungers for sunbathing. The Apotheke Cocktail Bar, which is outfitted with red velvet-topped seating and gold-framed mirrors, serves evening drinks and has live music played at the piano.
Check out Oyster's page on Google+
To learn more about Lara Grant, visit her on Google+
RELATED LINKS:
All products are independently selected by our writers and editors. If you buy something through our links, Oyster may earn an affiliate commission.