Some trips are all about hitting museums, joining guided tours, and scrambling to see as many local sights and landmarks as possible. Beach vacations are emphatically not those trips -- especially those at all-inclusive resorts in the Caribbean, where the itinerary revolves around lounging on the beach, strolling in the surf, and simply gliding across the pool for a tropical drink. If the latter sounds like the kind of travel agenda you're after right now, take a look at our list of the best swim-up bars in the Caribbean.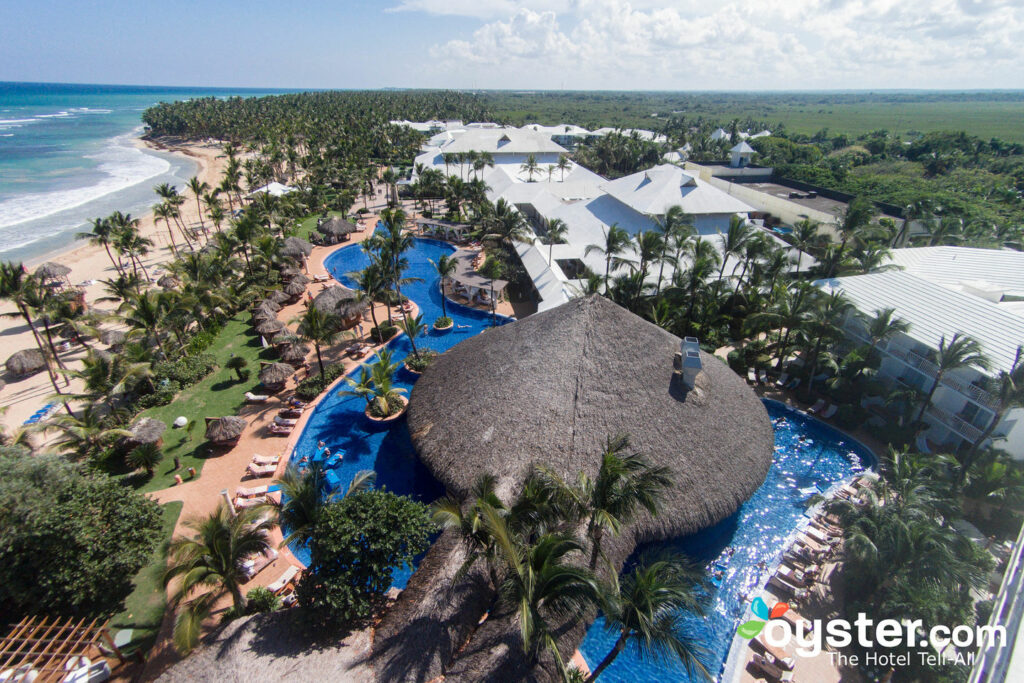 The waves can be too rough for swimming in Punta Cana, but guests at Excellence Punta Cana, an upscale adults-only resort that underwent a $45 million renovation in 2017, can cast the big and strong waves aside for one of the eight total on-site pools and whirlpools. The main beachfront pool meanders through entire length of the resort, so there's no need to reserve seats — there's plenty of room for everyone. Groups tend to prefer the second pool area, which has its own pool bar, but either way, drinks are always flowing and the service is prompt.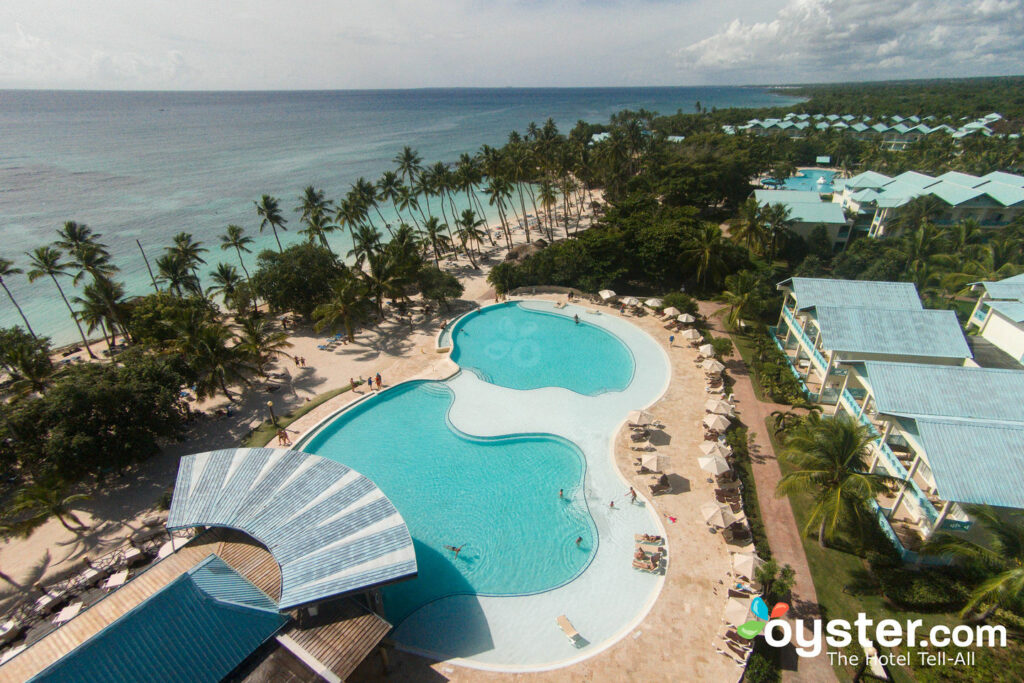 The 756-room Dreams La Romana is an upscale all-inclusive in Bayahibe, a small town on the Dominican Republic's south coast. Dreams oozes laid-back Caribbean goodness, thanks in large part to the fact that it lacks that overcrowded, chaotic feel that plagues so many all-inclusives in Punta Cana. Instead, the entire resort feels quiet and chill, even at full capacity. This is especially true at the beach-facing infinity pool, which has a swim-up bar and large shallow ledges where guests can pull lounge chairs into the water. The infinity pool isn't restricted to adults, but you'll hardly ever find kids here — they'll undoubtedly be far away by the massive main pool, which has a volleyball net, a hot tub, and an inflatable iceberg to climb on.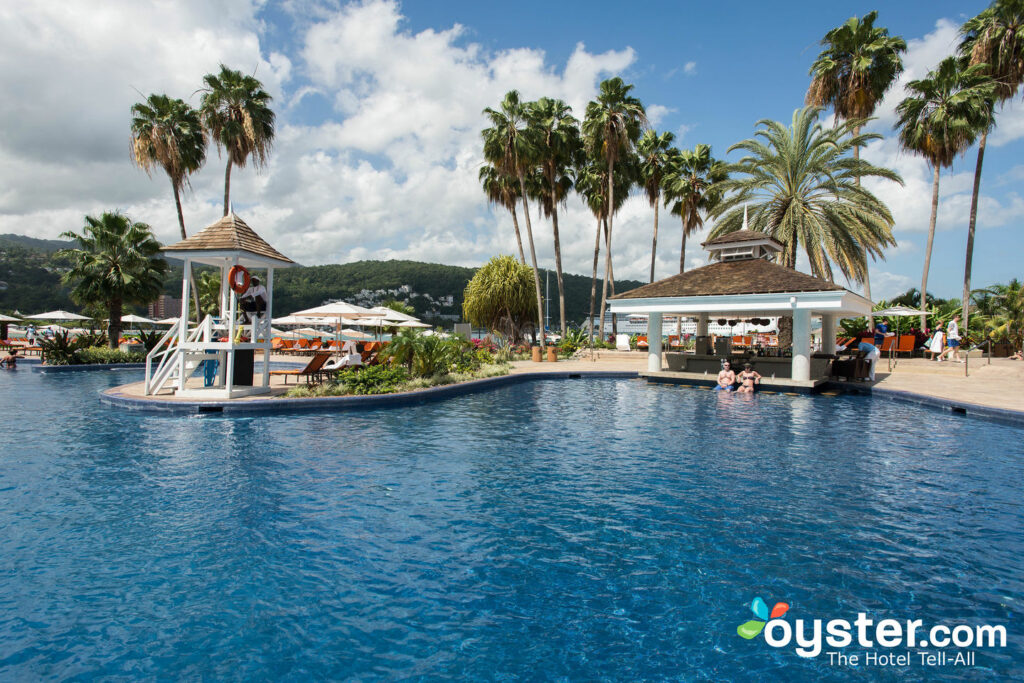 Though it's just a short walk from downtown Ochos Rios, Moon Palace Jamaica Grande is really an entire universe unto itself. The sprawling, 705-room all-inclusive's features are extensive and reflect its top-tier status. The hotel is set on a sandy beachfront decked out with sunbeds and umbrellas, with a second small beach reserved exclusively for water sports. Four pools stretch along the water, with swim-up bars, snack areas, hot tubs, sunbeds, and lush gardens scattered about them.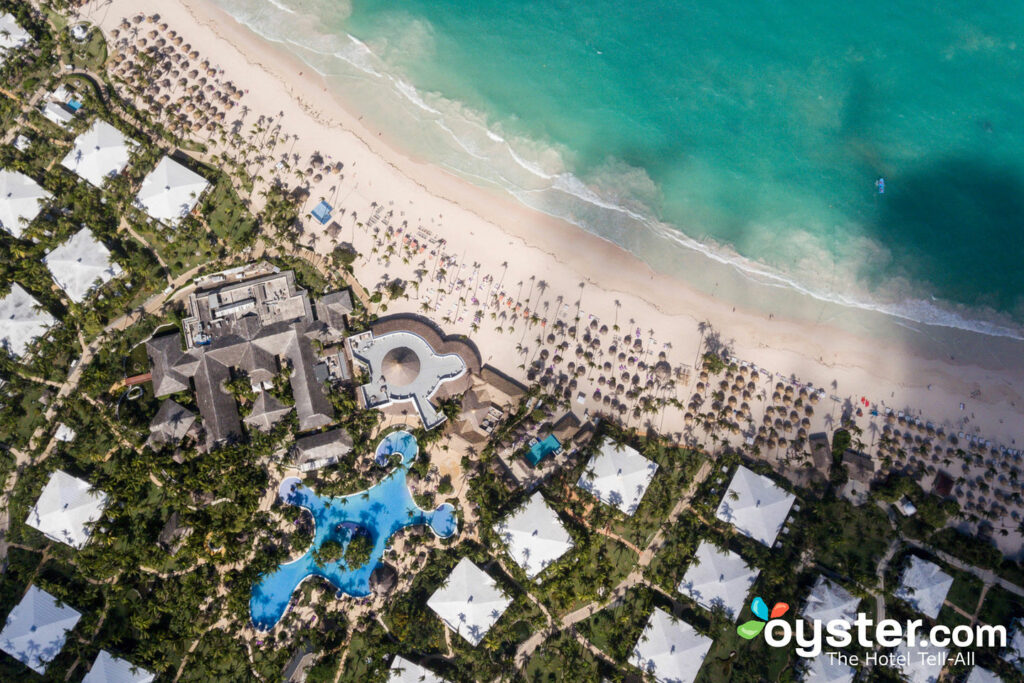 The largest of Punta Cana's four Paradisus resorts, Paradisus Punta Cana Resort never feels crowded — it's simply too big for that. The expansive property is spread over peaceful gardens sprinkled with orchids and palms. While the space and manicured grounds are impressive, it's the beach (make sure to catch the sunrise) and pools (the main one features islands, fountains, and a palapa-roofed swim-up bar) that truly make this a place for relaxation. Activities like wine tastings and yoga certainly don't hurt.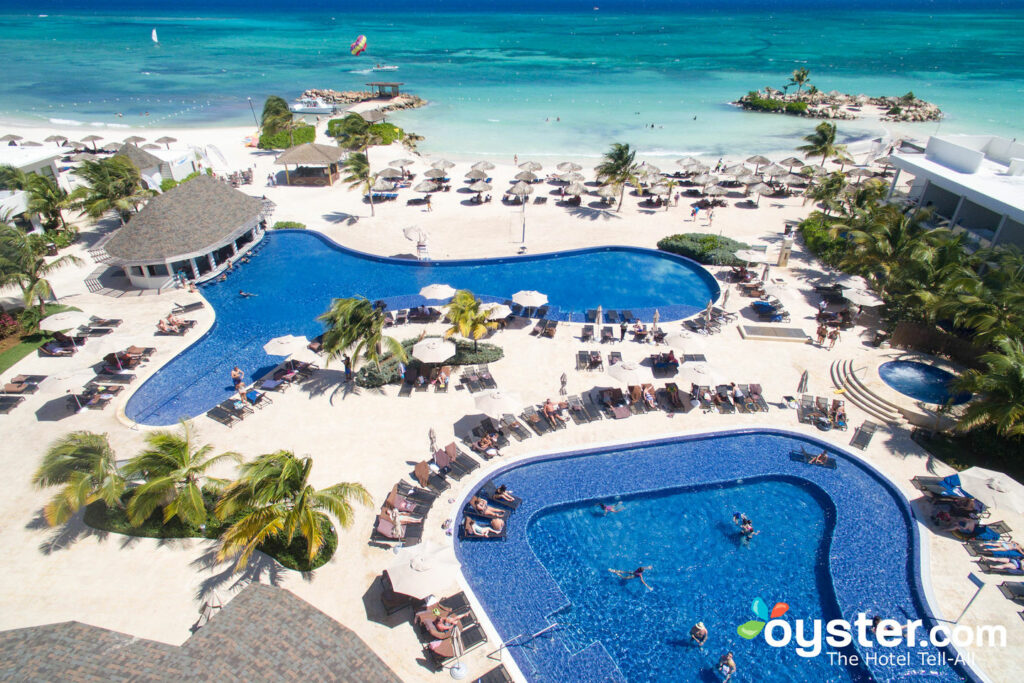 The 352-room Royalton White Sands Resort is set in a secluded spot about 30 minutes up the coast from Montego Bay. Its beachfront is disappointingly small, but the upscale resort offsets that shortcoming with two pools (one for families, one for adults only), a large hydrotherapy spa, and a water park. The adults-only lagoon pool is right on the beach (the family one is set back a bit) and features submerged loungers, an adjacent whirlpool, and a large swim-up bar with plenty of "seating."
Hotel Riu Palace Aruba checks all the boxes you would expect from an all-inclusive resort: elaborate pools, a wide selection of dining venues (though food quality is average), and a high-energy atmosphere. The massive main pool area features an elevated whirlpool, submerged seating areas, and a domed bar with a breezy seating area facing the beach on one side, and three swim-up edges on the other.
The peaceful, pristine Zoetry Agua Punta Cana occupies the opposite end of the resort spectrum from Riu Palace Aruba, and most picks on this list. Located in a remote spot on the northern edge of Punta Cana, the wellness-oriented property offers activities and features geared mostly toward couples. The pool scene is decidedly calm — guests are content to lounge along its periphery and take in the views of the ocean or float over to its bar for a fruity cocktail. When not by the pool, guests can relax on the gorgeous private beach, where white sands meet turquoise waters.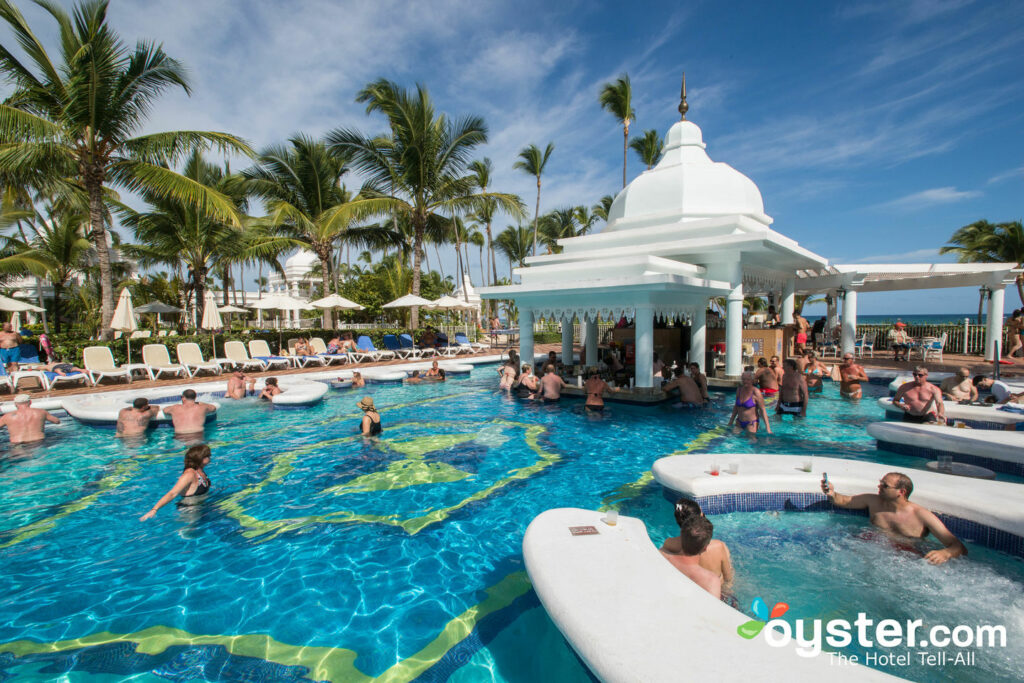 Part of a sprawling five-hotel complex, the 612-room Riu Palace Punta Cana has a beautiful beach (one of the nicest in Punta Cana), six on-site restaurants, and lively entertainment for all ages. The gorgeous pool complex, however, is the highlight. The massive aquatic playground has built-in sunbeds, several swim-in hot tubs, and a swim-up bar, plus there's still space for activities like water aerobics and Zumba in the center of the pool. The pool is surrounded by a large patio with tons of lounge chairs and white umbrellas.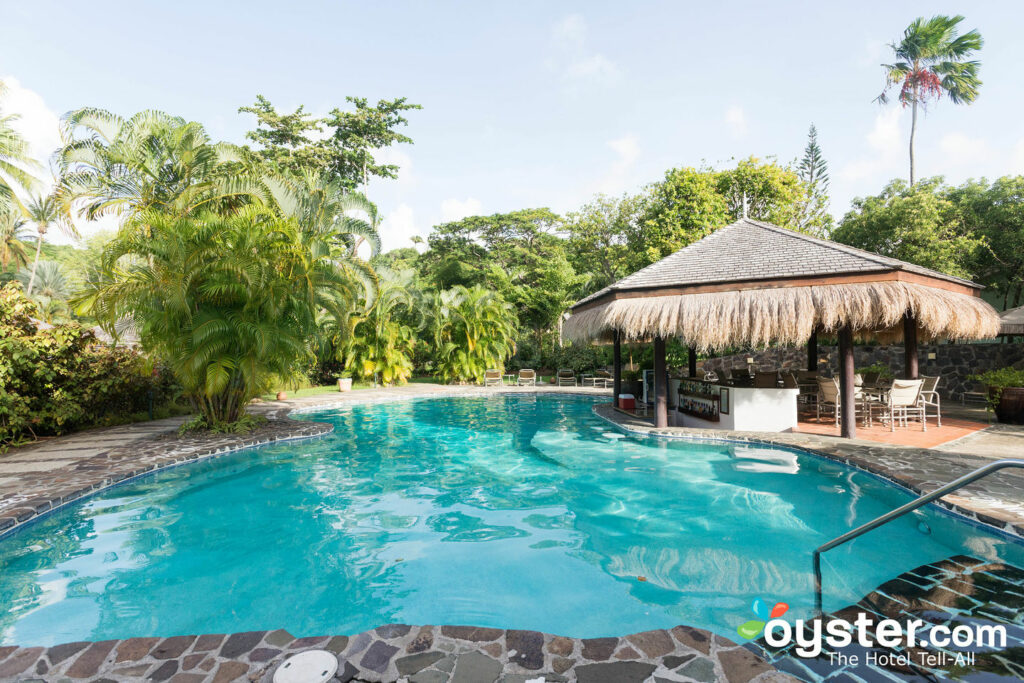 This laid-back boutique resort in St. Lucia can't compete with the all-inclusive mega-resorts found on the island (and — with the exception of Zoetry Agua — on this list), and it doesn't try. East Winds doesn't have a fancy spa, modern gym, or epic pool. Instead, organic dining, wandering through the botanical gardens, and chilling in the garden pool with a drink from the self-serve swim-up bar are popular pursuits. This intimate all-inclusive is a place where couples and honeymooners come to relax and keep to themselves.
Like many other beaches in the D.R., Catalonia Bavaro Beach, Casino & Golf Resort's beach is plagued by smelly gulfweed, an unfortunate result of climate change. The hotel staff is diligent about cleaning it daily, though, and the water is otherwise crystal-clear, shallow, and calm. The large pool proves an excellent alternative; unlike East Winds, Catalonia's pool has a major party vibe throughout the day. Its swim-up pool bar stays busy with daytime drinkers and the hotel's animation team bounces between the pool and the beach, hosting fun games and merengue lessons.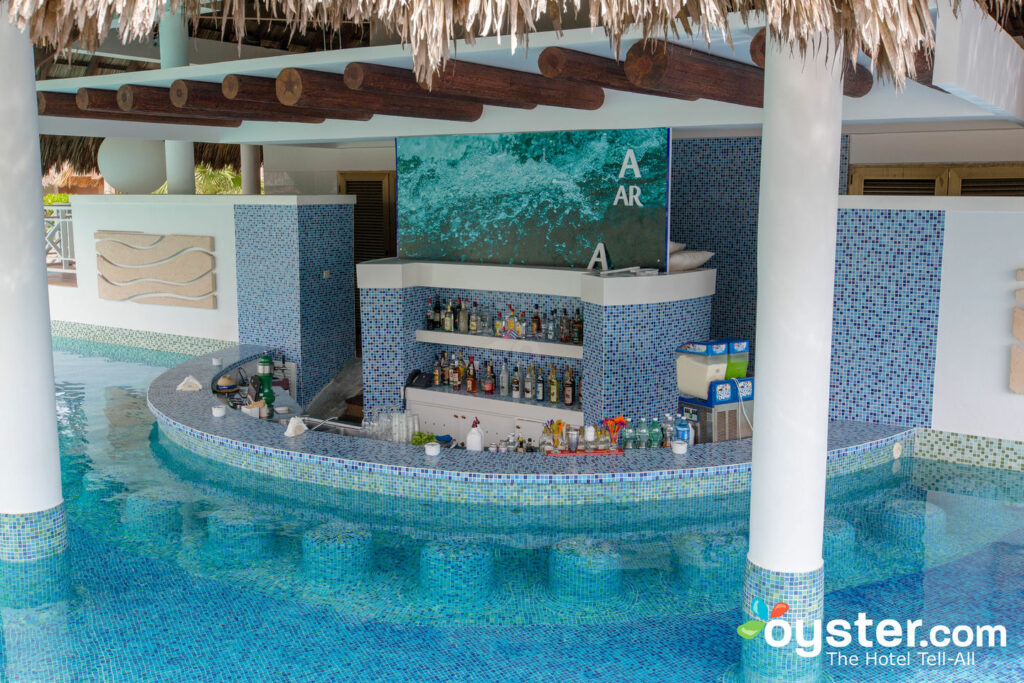 Royalton Hicacos Varadero Resort & Spa is a luxury adults-only resort in the Cuban resort town of Varadero with lots of all-inclusive perks. The resort's main pool hosts a slew of activities, from water aerobics to the rowdy weekly foam party, where a machine blasts foam near the swim-up bar while the animation team encourages singing, dancing, and splashing. Those who don't want to participate can easily find quiet; a big waterfall feature in one area of the pool drowns out the music.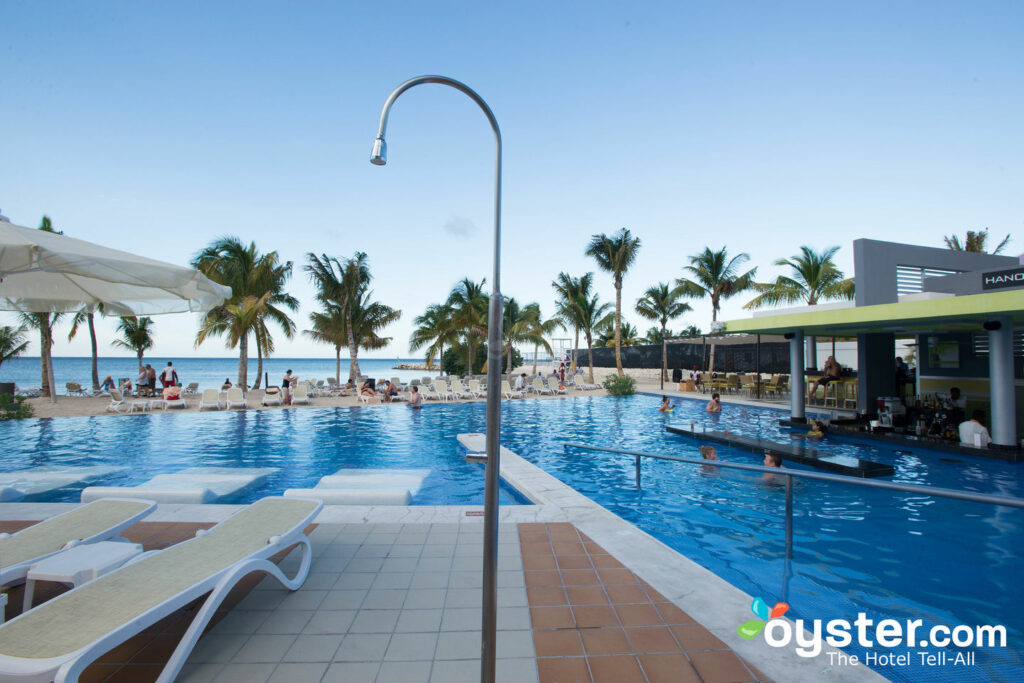 Hotel Riu Palace Jamaica's adults-only clientele doesn't have to look far for alcohol or a good-time vibe. The beachfront main pool has a fun atmosphere, with Bali beds, sunken loungers, and a modern swim-up bar. Drink service is available at both pools (there is a quiet infinity pool in addition to the lively main one) or on the beach, plus DIYers can walk into the beachside, 24-hour Aqua bar and order a drink to enjoy while they shoot some pool, watch a game, or grab a snack.
TRS Turquesa Hotel is the pricey adults-only section of the massive all-inclusive Palladium complex in Punta Cana, and has a more peaceful setting than its three neighbors. The main pool is smack in the center of the resort and has built-in lounge chairs and a swim-up bar, though there is also drink service at the pool and on the beach. (Bonus: TRS's private area of beach is free of kids and vendors.) Guests also have access to TRS' sister resorts, including their four large pools, all with swim-up bars.
Swim up in style with a swimsuit from Summersalt. Ranging in sizes from 2-24, the brand truly offers something for everyone.
You'll Also Like:
All products are independently selected by our writers and editors. If you buy something through our links, Oyster may earn an affiliate commission.