A bustling city that combines its traditional culture with all the trappings of a contemporary metropolis, Bangkok is unlike any other place in the world. The capital of Thailand is an established spot on the travel map, sucking in backpackers and leisure tourists with its frenetic energy that pulses around tight alleys, skyscrapers, street markets, and magnificent temples. From temple hopping to canal tours, shopping to street food, the city never gets old. Here's our breakdown of the 10 best things to do in Bangkok.
1. See the temples in Bangkok.
Bangkok might not be as pretty as some of the more picturesque cities in Thailand, but it makes up for that with an array of beautiful temples. The first place to visit is Wat Pho, home to an impressive 46-meter long, 15-meter high reclining golden Buddha statue. Next, head to Wat Ratchanatdaram and enjoy the stunning bronze roof that gleams atop the temple's stone structure. Built in 1846, this relatively modern structure is enhanced by the beautifully landscaped grounds surrounding it. Finally, make sure to visit the stunning Wat Arun, an ornate stone temple that wows with its seven prongs that tower above the city. There are many more temples to visit in Bangkok, most of which are free or cost less than a few dollars to enter.
2. Take a canal boat ride in Bangkok.
Much of Bangkok is dominated by skyscrapers and contemporary buildings, but large swathes of it are still home to traditional Thai architecture. These areas best explored via the canal system, which is still a big part of the city. Take a long-tail boat tour of the klongs (canals) to capture a different side of the city. You'll see waterside stilt houses as well as grand mansions on the edges of the banks. Many of the canals were filled in and turned into roads, but on the western side of the Chao Phraya River, the last bit of the network remains, offering tourists a serene, picturesque view of the former "Venice of the East."
3. Take a tuk-tuk ride.
If you'd rather stay on terra firma, a tuk-tuk ride makes for an iconic — not to mention fun — way to see the city from its streets. Numerous tours are available — varying between official companies and man-on-the-street operations — and take in different aspects of Bangkok. We recommend taking a tuk-tuk tour of the city at night, when the lights are on, the roads smell of street food, and the evening markets are buzzing. Most tours will stop at the flower markets, bars, street food stands, and temples, giving tourists a neatly packaged slice of Bangkok after dark.
4. Shop till you drop in the malls of Siam.
Due to its high year-round temperatures, Bangkok is known as the hottest city in the world, so aside from the amazing, eclectic shopping experience on offer in its countless mega malls, there's also the chance to cool off in what you'll quickly regard as air-conditioned heaven. The Siam district home to the best shopping in Bangkok, and where better to start than the legendary MBK mall, where eight floors of fashion, electronics, furniture, stationery, craft, and food combine to bombard the senses. Unlike U.S. malls, MBK (and other Bangkok malls) are filled with independent traders, so expect low prices, plenty of fakes (watches, handbags, and more), and a haggling culture. Alternatively, try Central World to experience the biggest mall in Bangkok. Here, 500 stores house everything from high-end international brands to wares from local fashion designers. Other notable malls that blend upmarket brands with boutique Thai labels include Siam Discovery and Siam Paragon. When the temperature dips at night, leave the malls behind and head to Talad Rot Fai Srinakarin night market for vintage shopping galore.
5. Explore the Grand Palace in Bangkok.
Bangkok can feel relentlessly busy at times, and unfortunately, visitors to the Grand Palace won't find any respite as hordes of tourists swarm the magnificent landmark daily. However, what that should reveal is that this place is unmissable — even if you're forced to endure a long queue. The Grand Palace showcases a mixture of religion, royalty, and bureaucratic life. To avoid the crowds, arrive early, tour the Grand Palace, and then explore the stunning grounds that hold Wat Phra Kaew (or the Temple of the Emerald Buddha).
6. Get fitted for a bespoke suit or dress.
Bangkok is renowned for its cheap tailoring, making it an excellent place to get a bespoke suit or evening dress. While at home, a bespoke suit may cost thousands, but in Bangkok, you could find a tailor to make one for around $300 (though we'd recommend doing a little research to source a reputable tailor). Still, arrive at one of the many tailoring businesses in the city with some idea of what you want and you can leave with a personal piece within two or three days. A word of warning: Never go for the tailor who says they can knock out a suit or dress in 24 hours.
7. Check out the street markets in Bangkok.
For fragrant offerings, you can't beat Pak Khlong Talat flower market, which dates back to the 18th century. Today, the vegetables, fruits, and flowers on offer here make for an excellent Instagram backdrop. If you want to dive right in and get your thrift on, there's nowhere better than Chatuchak Market. With over 800 stalls covering more than 25 acres, the market is a vibrant place with lots going on. Chatuchak is open Saturdays and Sundays, and it wouldn't be too much to set aside a whole day to eat, drink, and shop your way through it. The stalls sell everything from vintage clothes and antiques to artisanal souvenirs and Thai homeware, so leave space in your suitcase. Other markets worth exploring — for their tackiness and eclectic crafts, respectively — include Thanon Sukhumvit Market and Amulet Market.
8. Eat some of Southeast Asia's best street food.
Sour papaya salad, laab moo (pork salad), pad Thai, chicken noodle soup, fish mousse, and duck with rice are some of the most beloved Bangkok street food classics, but you'll find plenty more at the specialty stalls found in certain areas of the city. The best place to find a strong lineup of stalls on any given night is Chinatown's Yaowarat Road. If you can't get your fill in Chinatown, explore Silom Road and the Sukhumvit Soi 38 night food market.
9. Retreat from the heat in Lumpini Park.
Air-conditioned malls are one way to escape the heat, but if you want an alfresco oasis, look no further than the picturesque Lumpini Park, Bangkok's green lung. Lumpini Park is one of the biggest green spaces in the city and its landscaped gardens, mature trees, and water features make it one of the most appealing, too. Here, do as the local do and picnic, sunbathe, or practice tai chi.
10. Explore the city's history at the Bangkok National Museum.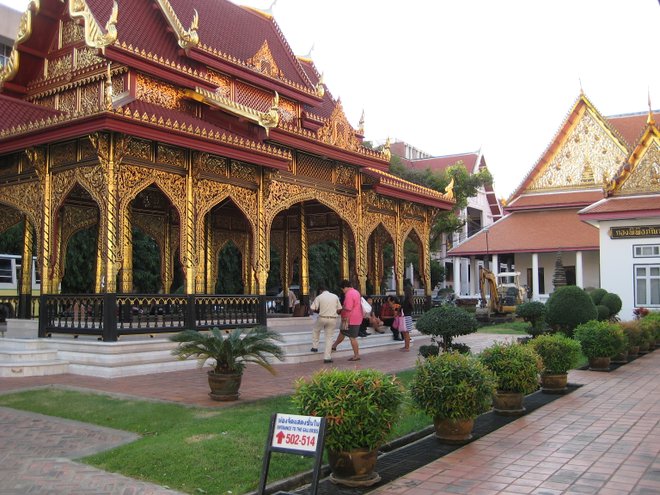 Bangkok has a fascinating history, which is ready and waiting to reveal itself at the Bangkok National Museum. The museum contains the largest collection of artifacts in Thailand, from golden sculptures and jewels to antique weapons and Thai artwork. The large complex and its individual halls and galleries explore Thailand over the centuries. The museum is located in the center of the city and we'd recommend three hours to experience everything the complex has to offer.
You'll Also Like:
All products are independently selected by our writers and editors. If you buy something through our links, Oyster may earn an affiliate commission.