National parks in the United States largely see the most amount of travelers during the summer months -- when temperatures are warm enough for camping, kids are on vacation, and roads are free of snow. But, when the air is cooler, leaves are changing, and school is back in session, several parks are arguably at their most attractive. The following national parks make our list of the best ones to visit in autumn due to their stunning fall foliage, fewer crowds, or weather that doesn't pose a huge risk of heatstroke. Check out our picks and start planning your scenic fall getaway.
Editor's Note: Due to the pandemic, some parks may have reduced services or closed facilities. Before visiting, check to see what is open and plan accordingly. Always follow all state and local COVID-19 laws.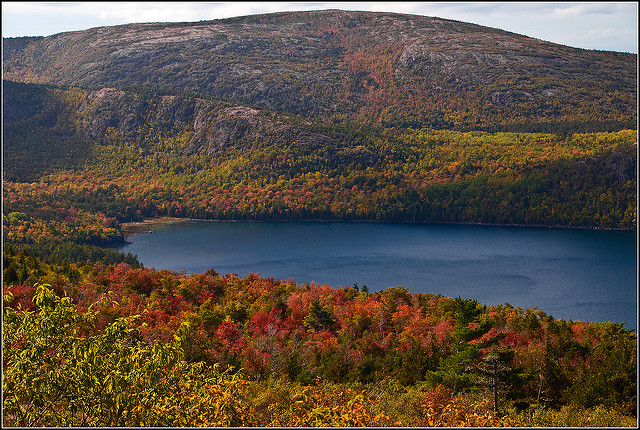 Attracting over three million people each year, Acadia National Park spans 49,000 acres and is located about three hours north of Portland. Its diverse landscape includes forested areas, rocky coastlines, sandy beaches, mountains, and wetlands. In fact, over 20 percent of the park is classified as a wetland. Although autumn brings cooler temps (the average high is 58 degrees Fahrenheit in October), it lures fewer visitors, making for less-crowded hikes and bird-watching. Additionally, Maine is well-known for stunning fall foliage, and the park is no exception; beautiful yellow, orange, red, and green trees pop against the blue of various water features. Ranger-led programs and open businesses in Bar Harbor will be reduced, but the added tranquility makes the fall trip worth it.
Hotel Pick: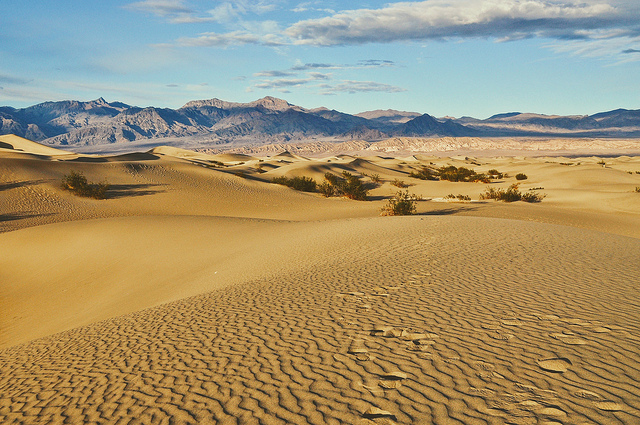 Advertising itself as the hottest, driest, and lowest national park in the United States, Death Valley lives up to its name in the summer months when temperatures can reach over 120 degrees Fahrenheit. The park occupies the California and Nevada border, and spans a whopping 3.4 million acres of sand dunes, mountains, salt flats, and multi-hued sedimentary hills. Given that the park advises people to avoid hiking after 10 a.m. in the summer, visiting in the cooler fall months is a better option. Visitors can take in the surreal setting during the day and make use of its designation as an International Dark Sky Park to stargaze at night.
Hotel Pick: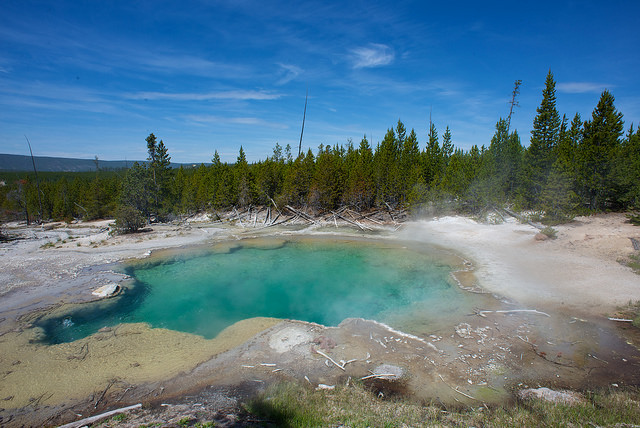 The oldest national park in the U.S., Yellowstone is probably best known for Old Faithful, a geyser that erupts on schedule. The large park mainly sits within Wyoming but stretches up to Montana and west to Idaho. There are a ton of geologic wonders and mesmerizing wildlife to see at Yellowstone, from gushing waterfalls and hot springs to herds of bison and grizzly bears. However, going in the summer can feel a bit like a day at Disney World. During this time, hordes of tourists make their way between sites and fill up parking lots. Stick to fall, when cooler temps make hiking easier and crowds are far fewer. Other perks include getting to observe fall foliage, the rut season for elk, and bears preparing for hibernation.
Hotel Pick:
Summers at Arches National Park in Utah see high temps (average high is around 100 degrees in July and August), making hiking around those beautiful rock formations a strenuous and complicated endeavor. Instead, fall temps are more comfortable (high is around 88 degrees in September, 74 degrees in October, and 56 degrees in November, though visitors have to be cautious of storms that often cause flash floods). Add Delicate Arch — the most famous of the park's arches — to your must-see list, as well as stargazing and horseback riding.
Hotel Pick:
The biggest national park in Texas, Big Bend sits along the border of Mexico, about a six-hour drive west from San Antonio. Summers here are hot, spring is the busiest season, and winter can see freezing temps. Fall, however, is pleasantly cool and sunny. Hiking the Chisos Mountains (trails range from easy to strenuous), fishing (free permits are available at visitor centers), kayaking along the Rio Grande River, and bird-watching are all popular activities. On the clearest of nights, around 2,000 stars are visible to the naked eye, and campsites cost roughly $15/night.
There's a reason the Great Smoky Mountains National Park in Tennessee is the most visited park in the U.S., with approximately nine million visitors each year. The two peak seasons are summer and the month of October, due to the spectacular fall foliage on display. Since weekends are particularly busy in October, visiting during the week, or in the months of September or November will provide some relief from the crowds. Weather in autumn is lovely, typically with warm days and cool nights, making for an array of suitable activities — hiking to waterfalls, fishing, and wildlife viewing, to name a few. Wildfires in 2016 caused extensive damage, so check the National Park Service website for updates on trails and lodging.
Hotel Pick:
For those that don't mind chilly weather, Mount Rainier National Park is an excellent autumn pick thanks to fewer crowds and fall foliage. Located under a two-hour drive southeast from Seattle, day trips are doable, though we'd recommend staying within the park for several days to really enjoy the immense natural beauty. Although summer sees the most impressive wildflowers, some linger into fall, plus various plants and trees are bursting with color. Hikes such as Bench and Snow Lake Trail, Tolmie Peak Trail, and Naches Peak Loop Trail are recommended for fall, though all 260 miles of maintained trails offer a chance to take in mountain, lake, glacier, and forest views. Also, be on the lookout for black bears, elk, mountain goats, and owls.
Hotel Pick:
Less than a two-hour drive from both Washington, D.C. and Richmond, Virginia, Shenandoah National Park is extremely popular between September and November for its breathtaking fall foliage. For those that don't mind sharing the scenic views with strangers, the Blue Ridge Mountains, cascading waterfalls, and a plethora of animals — bobcats, white-tailed deer, and hawks, for instance — are stunningly enhanced amid colorful plant life. Visit during the week if possible, and hike or drive the famous 105-mile Skyline Drive (which runs the length of the park and takes at least three hours) early to avoid the crowds.
Hotel Pick:
You'll Also Like:
All products are independently selected by our writers and editors. If you buy something through our links, Oyster may earn an affiliate commission.