Sure, Disney is a rite of passage when it comes to family vacations, but there are plenty of other places worth exploring together. Even better, you don't have to scrap all of your own see-before-you-die destinations just because you've got kids in tow. Some of the world's best bucket-list destinations are also family-friendly. So, whether you've got babies, teens, or grandparents coming along for the ride, here are seven of the best bucket-list getaways for families.
The Canadian Rockies remain a major bucket-list destination for travelers around the world, but we want to give the province of Alberta a special shout-out for its family-friendly attributes, especially during the winter. Starting in Calgary, take your family to the Canada Olympic Park, a competition site for the 1988 Winter Olympics (and home to the bobsled track made famous in the movie "Cool Runnings"). Here, you can ski, snowboard, snow tube, or bobsled down the same slopes as Olympic athletes.
A few hours north in Edmonton, visit the stunning, handmade Ice Castles, where your kids will think Elsa is hiding around every corner. This life-sized castle is full of corridors, slides, fountains, and of course, excellent Instagram opportunities. Down the hill, you can ice skate on a real frozen lake and check out snow sculptures. For a true back-to-nature experience, strap on your snowshoes and head to Elk Island National Park, where you can try to spot wild elk as you hike around the park.
Heading farther north to Jasper National Park, Lake Louise, and Banff, you and your family can connect with nature with scores of outdoor winter activities that are great for beginners and beyond. Check out the ice sculptures at Fairmont Chateau Lake Louise, snowshoe or fat-tire bike through miles of backcountry trails, hit the slopes, go ice skating, cozy up to cabin fires, or go for an ice walk across the frozen floor of Maligne Canyon. If you're driving, be sure to take the legendary Icefields Parkway from Jasper to Banff for the best views. Also, don't miss the Yamnuska Wolfdog Sanctuary in Cochrane as well as the Royal Tyrrell Museum's massive dinosaur collection.
Our Alberta Hotel Pick:
Orlando might be an obvious choice for this list — after all, it's home to Walt Disney World, a classic bucket-list getaway for families. However, there are several other theme parks in the area that warrant a spot on your itinerary. Universal Orlando, for example, is a large dual-park complex that's perfect for families who love films. Simulation rides give park visitors the chance to mingle with Minions, fight aliens as part of Men in Black, feel the magic of Harry Potter, and more. The Islands of Adventure section of the park is particularly great for older, thrill-seeking kids who are down to scream their way through the many roller-coasters. It's easy to spend two or three days exploring everything in this park, but if you find yourself in town for a few extra days, we suggest tacking on visits to nearby Legoland (great for young children) or one of the SeaWorld-operated spots, like Aquatica, Discovery Cove, or the main marine-focused theme park.
Our Orlando Hotel Pick:
If you've got a family with more than one child, especially at different ages, you know it can be difficult to please everyone. It's no wonder, then, that cruises are a top family vacation option. Several cruise lines have ships decked out with family-friendly activities, kids' clubs, and child-approved amenities, like escape rooms and waterslides. Once onboard, food, entertainment, lodging, activities, and relaxing are all taken care of, and a variety of options make it perfect for families of all configurations, ages, and interests. As for which ship you should choose, take a look at our list of the best cruises for families.
The Grand Canyon in Arizona is one of the Seven Natural Wonders of the World, making it a prime candidate for a bucket-list getaway. Its South Rim has better accessibility, friendlier weather, and more tourist amenities than the North Rim, so it's no surprise that over 90 percent of visitors choose to explore the park from here. We suggest driving here and staying in the area, so you can experience the park more thoroughly than day tours tend to allow. Some of our favorite family-friendly activities get you inside the canyon and along the trails.
Late spring, early summer, and early fall temperatures are great hiking around the many trails winding through the area. If you're looking for more action, ride down whitewater rapids, and if you're looking for less, jump in a helicopter and catch a bird's-eye view of the beauty below. When planning your vacation and any activities within the canyon, keep in mind that the temperature on the rim and on the canyon floor are quite different. In the summer, the rim is around 60 to 80 degrees, while the floor temperatures bake at around 100 degrees. In the winter, floor temperatures drop below freezing at night. It's also worth noting that many of the activities book up one to two years in advance.
Our Grand Canyon Hotel Pick: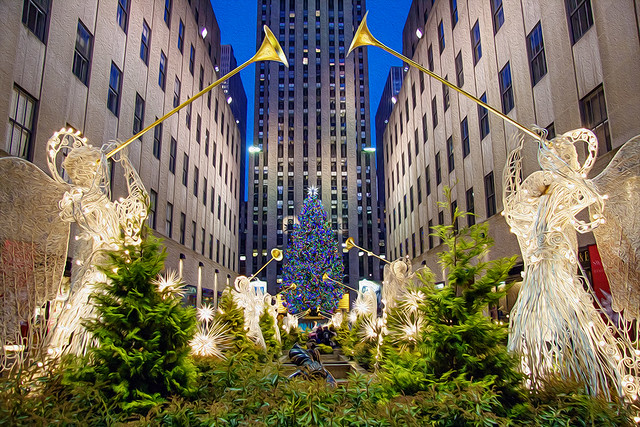 New York City lands on many travelers' bucket lists — and with good reason. Home to world-class museums, top-notch restaurants, and iconic attractions, it offers plenty to do and see for every age. Although the Big Apple is a year-round destination, arguably the best time to visit is during the winter holidays. The weather may be chilly, but the vibe is warm, as you check out the artsy window displays along Fifth Avenue and the beautiful Christmas tree at Rockefeller Center. Even if you don't celebrate Christmas, New York during winter is magical, plus there's lot to do outside of the holiday festivities. Some of our favorite family-friendly winter activities include ice-skating in Bryant Park, sledding down shallow slopes in Prospect Park, visiting exhibitions at the American Museum of Natural History, scoping out the views from One World Observatory, and catching a Broadway show. Check out our full list of quintessential New York City winter experiences.
Our New York City Hotel Pick:
6. Europe (by Train)
If you're hopping across the pond to Europe, why limit yourself to one or two cities? Buy a family rail pass and hit up several spots, including the Scottish Highlands, the London Bridge, the cobblestone streets of Paris, the pizza shops in Italy, the ancient ruins in Greece, and more. Traveling by train is a convenient, relaxing, and scenic way to travel through the continent without all the mess of airport security. In addition to the thrill of border-hopping, you'll likely be able to taste different foods, check out a variety of museums, and be immersed in multiple cultures (a great learning experience for the kids). Plus, the change of scenery will keep things fresh. Train stations are also much easier to access than airports, so you'll save time traveling by train. You can also save money since kids ages 0 to 11 travel free on Eurail. You can get up to two child Eurail passes per adult traveling on a Eurail pass. Eurail connects 31 countries — from Sweden and Belgium to Bulgaria and Greece — and options include travel within one country (cheaper) or a global pass with unlimited travel throughout the network during a specified time frame. An added bonus: Many trains have sleeper cars for an extra fee, meaning you can travel through the night, saving time and money on a hotel.
Made famous by Charles Darwin back in the mid-1800s, the Galapagos Islands are synonymous with nature. Roughly 850 miles off the western coast of Ecuador, this archipelago offers a mix of breathtaking landscapes, beautiful beaches, otherworldly land formations, and stunning wildlife. Trips here make for great learning experiences, and the entire family will appreciate and see the natural world a bit differently. The main island of Santa Cruz has the most amenities for tourists and is also home to the Charles Darwin Research Station, where you'll have the opportunity to spot, photograph, and learn about the islands' famed giant tortoises. More to do: Watch as blue-footed boobies dance in hopes of attracting a mate, trace the lava flow as you walk on top of the basalt lava ground in Santiago Island, and send yourself a postcard from the 200-year-old "post office" on Floreana Island. We particularly recommend snorkeling or diving with the island penguins, sharing the shore with sunbathing sea lions on San Cristobal, and seeking out a flamingo colony on one of the islands. This is truly a bucket-list trip for the ages that will resonate with your family for years to come.
Our Galapagos Islands Hotel Pick:
You'll Also Like:
All products are independently selected by our writers and editors. If you buy something through our links, Oyster may earn an affiliate commission.