California, America's most populous state (nearly 40 million residents), is a destination that's favored by foodies, fashionistas, pop culture buffs, history and art lovers, and outdoor enthusiasts seeking various channels for their energy. Speaking of the latter, California's unique topography and geographical positioning -- not to mention sheer size (it's 163,000 square miles) -- gives way to plenty of adrenaline-pumping activities. It also doesn't hurt that the diverse landscape includes a spectacular mix of desert, farmland, forest, rugged mountains, and cliff-lined beaches. So while there's certainly no shortage of exciting activities to partake in here, we've named a few of our favorite ballsy adventures in various California locales.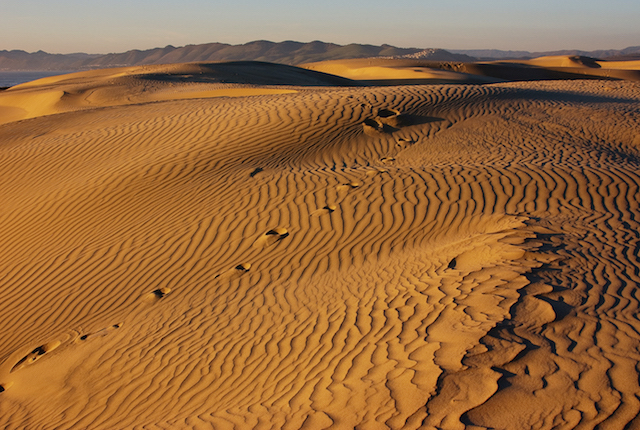 Many view driving in California as a necessity associated with painfully slow traffic jams, but there's an asphalt-free alternative that allows you to cruise the open "road" on sand, gravel, rocks, mud, and other natural terrains. Oceano Dunes, the last remaining coastal sand dunes open to four-wheel and all-wheel drive vehicles, lies along the central coast, about 12 miles south of San Luis Obispo. It's also the only state park where cars may be driven on the beach. A small fee gains visitors entry into the recreation area. Many opt for the Sand Highway route, which begins at the shoreline and branches slightly inland towards the sand dunes that are constantly changing with the weather patterns. This route, which features orange marker posts, also offers scenic views of the Pacific Ocean.
Another option, which is best for groups, is the 18.7-mile Rubicon 4×4 trail in Pollock Pines, California. This trail, which is situated east of Sacramento, can be driven in both directions and includes a mix of rocks, boulders, and granite. It's ideal during the summer months — the trail can be covered in snow come late fall. Some say this is the best known 4×4 trail in the world, offering challenging terrain and stunning views. Those looking to rough it even more can pitch a tent next to one of the crystal-clear lakes.
California boasts a large variety of rock climbing and bouldering spots, particularly in two of its national parks, Yosemite and Joshua Tree. Here, visitors can test their strength, agility, and balance. Yosemite Valley, a three-hour drive east of San Francisco in the Sierra Nevada mountains, is the most well-known rock climbing area in the country. It features granite surfaces, including the Half Dome, Sentinel, and El Capitan and its 3,000-foot vertical pitch called the Dawn Wall. Yosemite Mountaineering School & Guide Service offers daily classes — about seven hours each — for beginners and intermediates. Advanced climbers can challenge themselves to several routes that last three days or more.
Located in the Mojave Desert, Joshua Tree is easily accessible from Los Angeles (about three hours by car). It also happens to be the largest climbing area in North America, with more than 8,000 climbing routes for all skill levels. Like Yosemite, the granite surfaces are popular, and this high desert offers monzogranite slabs for great traction and interesting angles. If you're new to the sport, make sure you're trained and equipped before heading out without a guide.
3. Snowbiking and Snowkiting in the Sierras
California has its fair share of desert, but it also offers plenty of opportunities to partake in snow sports, especially in the High Sierra. Skiing and snowboarding conditions are solid at resorts like Squaw Valley, Mammoth Mountain, and Lake Tahoe. A popular new snow sport, called snowbiking (also known as fat biking), has also surfaced. It includes a thick two-wheel bike with four-inch-wide tires that can tread through hard-packed snow as well as mud and sand. Hard-packed groomed trails have been created at places like Donner Summit. Folks can also share the backcountry space with cross-country skiers, snowshoers, and snowmobilers. The general rule is if you're going out alone, stick to trails with two inches or less of new snow.
Meanwhile, those who want to experience snowkiting can head for the Sierras and learn to glide over snow with skis or a snowboard while their arms are hitched to a kite (think kitesurfing). The sport was developed by a Lake Tahoe man who was inspired after taking trip to Fiji. He thought the water sport would translate well to snow — and he was right. Like kiteboarding, skiers and snowboarders attach their bodies to a harness to secure the kite and use the wind as their guide. Check out this list for some of Lake Tahoe's top snowkiting locations.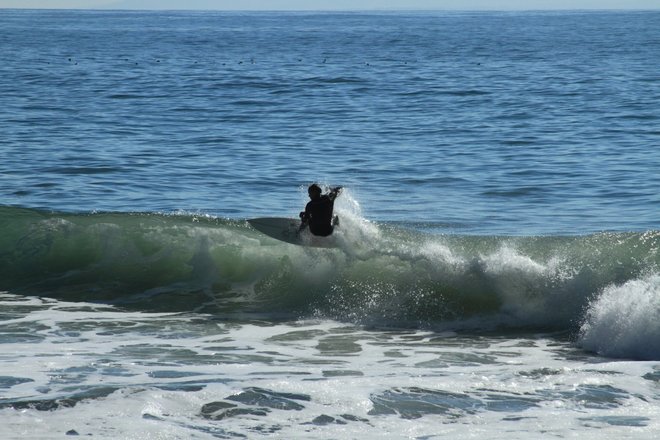 Once upon a time, the sport of surfing traveled from Hawaii to California. Today, there are plenty of spots to hang ten in California, but the first waves were ridden in Santa Cruz in 1885 by brothers Jonah, David, and Edward Kawananakoa. Located approximately 90 minutes south of San Francisco, Santa Cruz has had a thriving surf scene ever since. Cold-water surfing draws advanced surfers to places like Steamer Lane and Pleasure Point. Meanwhile, newbies can get a lesson from the Surf School Santa Cruz (a board and wetsuit are provided).
Advanced surfers will also want to consider Cortes Bank, an island 100 miles off the shore of San Diego. Here, folks can surf in the middle of the ocean (much like in places like Fiji and the Maldives). Waves at Cortes Bank can run nearly a half-mile due to its further distance from the shore. However, because of this, it can be difficult to get good conditions. That being said, when it happens, it really happens. In 2001, Cortes Bank received a 66-foot wave, said to be the biggest wave surfed there on record to that date.
5. Cliff Diving in Malibu Creek
https://www.instagram.com/p/BByVuviPtcn
Jumping or diving off a cliff is gaining recognition as a professional sport with Red Bull-sponsored contests around the world, especially in Europe. California has several amateur spots that usually start with a trail and end with a scenic waterfall and wading pool for jumping — a nice reward after the hard work of finishing a steep hike. Malibu Creek, located an hour outside of Los Angeles, is a swimming hole that has appeared in multiple shows and films, including "MASH" and "Planet of the Apes." It features jumps that vary from 20 feet to 70 feet, and water depth safely in the teens. There's a map in the parking lot that shows the route to the Rock Pools. The best time to go is late spring, and always check if the water is deep enough before you jump.
NOW WATCH: Top Destinations for a Hot-Air Balloon Ride
https://www.youtube.com/watch?v=DvVMp7uV1Ug
You'll Also Like:
All products are independently selected by our writers and editors. If you buy something through our links, Oyster may earn an affiliate commission.