Berlin is the European capital of underground culture, hipster style, and well… currywurst. [Ed. note: It's the best, we promise.] But the city is also home to top-notch museums, world-class operas, cutting-edge architecture, and first-rate shopping. All of this would come at a high price in any other city, but Berlin is one of the most affordable destinations in Europe (although the city still has plenty of pricey luxurious spots). Still, it's not always easy to tell if the budget-friendly spot you've found delivers on value as well. So to help you out, we've picked out our favorite wallet-friendly hotels in Berlin that are places you'd actually want to spend a night in. Check them out and enjoy your stay!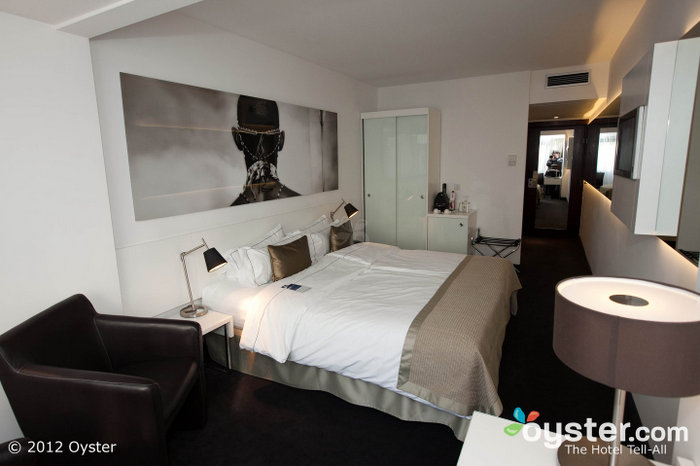 The Excelsior Hotel Berlin is a 316-room contemporary property near Ku'Damm. The modern rooms feature crisp white bedding, plush accents, and striking sepia photographs. Room perks include free Wi-Fi (for the first 30 minutes each day), a big flat-screen TV, a minibar, and a coffeemaker. Renovated bathrooms are large, and some upgraded rooms come with spacious balconies. This stylish property has an appealing lobby with flickering candles and the Franke Brasserie has a nice gas fireplace. And with a cozy on-site bar, fitness room, sauna, and steam room, this hotel is packed with amenities and value.
The Michelberger Hotel is a trendy, budget-friendly option set in a former warehouse in the Friedrichshain neighborhood. Most of the 119 rooms have spare, modern decor; the exception is the Gold Room, which is decked out in an opulent, romantic style. Some of the rooms have exposed cement, big windows, and open showers, while others have bunk beds and can accommodate larger groups. Higher-end rooms such as the Chalet and Gold Rooms come with better amenities and decor with a more artistic flair. A big breakfast buffet (for a fee) is served daily, and food and drinks can be ordered from the outdoor terrace. Highlights at this quirky hotel include a stylish lobby full of books and magazines and a bar with live DJs. Plus, the neighborhood is packed with restaurants, bars, and nightlife.
The Grand City Hotel Berlin Ku'Damm is a mid-range option with few amenities, but reasonable rates make it a solid value. There are some signs of age in the building, but for the most part everything looks fresh and clean. Quiet rooms are considerably more modern than at sister properties within this small chain — rooms here have flat-screen TVs, a playful, modern design, and updated bathrooms. The sleek, jazz-themed breakfast area is appealing, as is the patio dining area and the small lobby fireplace, but the biggest perk here is the location. The hotel is close to Berlin's best shopping along the Kurfurstendamm and is surrounded by cafes and quaint restaurants.
The Best Western Grand City Hotel Berlin Mitte is a 166-room urban chain hotel. Rooms are comfortable and clean with flat-screen TVs, minibars, and work desks. Decor varies in different room categories, but some rooms have soaking tubs and fun design features such as sheer curtains separating the bedroom from the living space, and bright carpets that add a pop of color. With floor-to-ceiling windows, rooms are filled with sunlight. Beyond the modern rooms, the lobby looks like it could belong in any Best Western in the world, but the restaurant, cozy terrace bar, and small fitness room nicely round out the hotel features. Though the breakfast is pricey, this hotel offers a central location at a decent value.
The nhow Berlin is an offbeat, creative hotel with an affordable pricetag overlooking the River Spree. This futuristic property has a music theme and offers rare amenities like Gibson guitar room service and two recording studios on-site. Bright colors, psychedelic patterns, and funky-shaped furniture have high visual impact in the lobby, bar, and restaurant. The wild decor is somewhat muted in the rooms, though there's still plenty of pink, and quirky furniture. Rooms are equipped with iPod docks, TVs embedded in mirrors, and electric kettles. A modern fitness center has Precor equipment and a sauna. While there is a pesky fee for Wi-Fi, this innovative hotel offers 24-hour room service and a hip bar and restaurant.
This NH Hotel should be named after the Volkspark (across the street) rather than the public square Alexanderplatz (a tram ride away). Despite this minor confusion for first-time arrivals, the 225-room NH Alexanderplatz offers good value within easy reach of public transportation. Simple rooms are decorated in warm tones and have flat-screen TVs, coffeemakers, minibars, and spacious bathrooms. International cuisine and German specialties are served in the restaurant and the bar has great natural light and an extensive cocktail menu. During the summer, there is a lovely outdoor terrace. Hotel bikes are available for rent, and a wellness area offers a sauna and steam room. However, there is a fee for breakfast and Wi-Fi is only free in the lobby.
Ku' Damm 101 is a modern, minimalist hotel on central Kurfurstendamm Avenue, a hub of high-end shopping and dining in West Berlin. All 170 rooms feature understated colors and furniture by young German designers. Stark-white bathrooms have heated floors but are missing basic essentials like conditioner. The breakfast — not included in nightly rate — offers a healthy menu in a bright top-floor space with panoramic views of Berlin's rooftops. Additional perks include a wellness center with spa treatments, a pretty outdoor garden, and a lobby lounge with unusual contemporary art. However, there is a fee for Wi-Fi and not all rooms have air conditioning.
The Berlin Mark Hotel is a 239-room business-oriented property near Ku'Damm. Rooms are comfortable and modern, with flat-screen TVs, minibars, work desks, and in some, Juliette balconies (French doors open to a railing, but there's no room to stand or sit). The stylish shared spaces include a breakfast room, lounge, and large lobby. Just note that not all room categories are treated equally at this hotel: Access to the business lounge (and its free coffee), along with free Wi-Fi, is restricted to certain room types.
Hotel Berliner Hof is a basic, no-frills hotel near Kaiser Wilhelm Memorial Church. The 76-room property occupies part of a larger commercial building, and its simple, big rooms are clean and offer great light. Some rooms also have balconies with nice city views. One unique feature here is the availability of family rooms that can sleep up to five people (kids under 16 stay for free). Though there are pesky fees for Internet (after the first hour) and the decor is utilitarian at best, the common spaces are nice and the hotel is near a major subway stop.
RELATED LINKS:
All products are independently selected by our writers and editors. If you buy something through our links, Oyster may earn an affiliate commission.