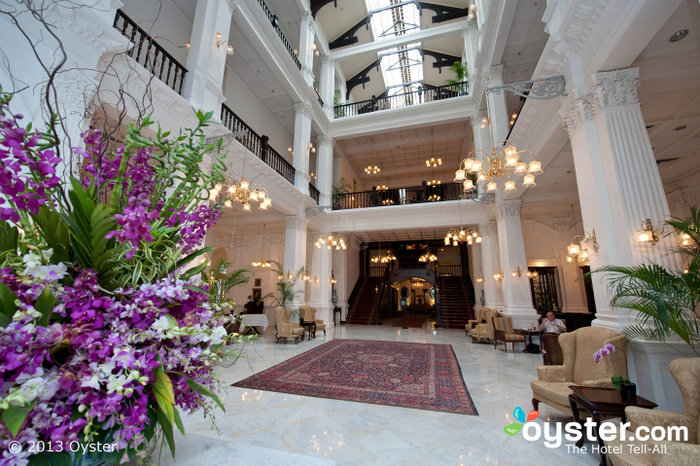 Lobby at the Raffles Hotel Singapore, Singapore
1. FACT OR FAKEOUT? Back in 1942, soldiers who took part in the Japanese occupation of Singapore found guests at the Raffles Hotel Singapore dancing one final waltz before the property was seized.
2. FACT OR FAKEOUT? Venetian Resort Hotel Casino and Palazzo Resort Hotel Casino in Las Vegas both feature a technology that allows guests to order drinks from the slot machines
3. FACT OR FAKEOUT? A hotel in Finland is seeking professional sleepers to test the sleep quality of their newly renovated rooms.
4. FACT OR FAKEOUT? New York's Yotel just launched a zip line that takes guests straight to Times Square from the hotel's rooftop. The service is included in the nightly rate.
5. FACT OR FAKEOUT? Upscale organic supermarket Whole Foods just announced the purchase of Canyon Ranch in Tucson. The hotel will be the first Whole Foods Hotel, and will have a focus on health, weight loss and cholesterol reduction.
Check out the answers after the jump!
1. FACT! The hotel was later used as a temporary transit camp for war prisoners. It is now on the list of National Monuments of Singapore.
2. FACT! Venetian and Palazzo are the two sole hotels on the Strip that offer Drinks2U. This service is only available for the hotels' loyalty program members.
3. FACT! Sounds like a great gig to us! The professional sleeper will "test" the rooms for 35 days during which they will blog about the experience; testers must be fluent in Finnish and English (Russian a plus). We thought The Benjamin in New York went above and beyond with their Sleep Concierge services, but this Finnish hotel really nailed it!
4. FAKEOUT! The hotel did announce the construction of the zip line to Times Square, but it was simply an April Fool's Day. They fooled us (briefly)!
5. FAKEOUT! Whole Foods does have plans to open a hotel, but is still looking for the right location and hotel chain to operate it. Stay tuned…
All products are independently selected by our writers and editors. If you buy something through our links, Oyster may earn an affiliate commission.