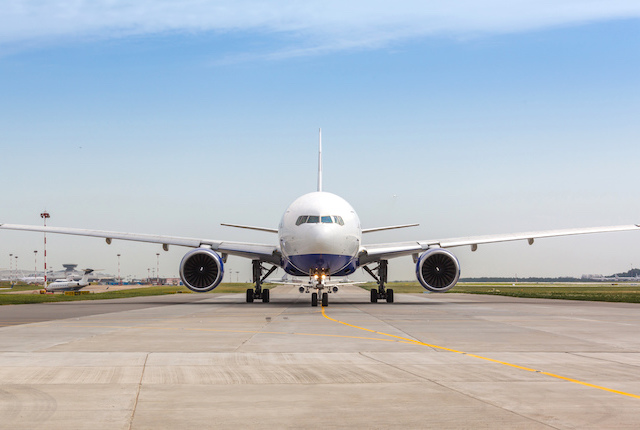 Everybody deserves to travel the world, but some bodies have a harder time than others. Travelers of size often struggle far more when flying, facing discomfort, embarrassment, and even harassment from fellow passengers, along with the typical flight woes of turbulence, screaming babies, and zero leg room. The truth is, airlines keep shrinking our seats -- The New York Times reported their standard width of 18 inches has been shaved down to 16 -- all while the average body size has been increasing. Yet, bigger travelers are forced to make due, and they suffer other passengers' scorn when they can't contain their bodies in a sardine-like state for hours at a time. (Watch this video by Stacy Bias if you're feeling alone in that struggle.) If you're stressing about your next flight for these reasons, let us ease the burden. Take a look at our seven tips to help you deal, so you can get back out there exploring.
1. Check on the "passenger of size policy."
Several major airlines have an official "passenger of size policy." Usually, this involves booking the seat next to you for extra room. At times, the price of that seat will be reimbursed or at least offered at a discount, if the plane isn't fully booked. Other times, larger passengers have to shoulder the cost of that second ticket at full price. It pays to get clarification on this policy before booking, since you might want to pick your airline accordingly. Here's SmarterTravel's rundown of the various airlines and their passenger of size policies. Unsure if you'll need extra space? Take a household chair and measure out 16 inches to test out how comfortable that feels.
2. Go for small upgrades, or bigger ones.
Obviously, seats in higher categories will give you more space to stretch out. It's worth pricing out the cost of those upscale categories, which might beat out the added expense of a second ticket. For example, Virgin Atlantic's Economy Class will give you a 17-inch seat, but Premium Economy can increase your seat width to 21 (depending on the plane) and grant more room with your seat pitch (a.k.a. leg room). Business Class and First Class will bump up those numbers even more. You can check SeatGuru's comparison charts to see just how much added space you'll get for your dollars. Depending on the length of your flight, moving from Basic Economy to Premium can be less than $100.
3. Consider your seat carefully.
You already know to avoid the dreaded middle seat. (It's worth paying extra, if you must, to select your seat in advance and avoid that fate.) Beyond that, the choice becomes window or aisle seat, with pros and cons on both sides. Those on the window side can lean into the plane, and depending on the aircraft's layout, they can get a bit more room between the curved wall and the seat. On the downside, you can get fenced in by other passengers and might struggle to get in and out to go to the bathroom. The aisle seats offer the option to lean out into the negative space of the aisle, though you'll have to straighten up for passing drink carts and scoot out of the way when those in your row need to get up. If you're fairly mobile, we say opt for the aisle. Exit rows or bulkhead seats can also provide more leg room. Use SeatGuru's seat finder to locate those on your aircraft. (Keep in mind that exit rows require you to be able to operate the emergency doors, and bulkhead seats often have armrests fixed in the "down" position.)
4. Check with the gate agent.
Get to the gate early. It never hurts to check in with the gate agent and see if they can lend a hand. If you weren't able to book a second seat for yourself, you can always suss out the flight's availability here. Explain your needs as a passenger of size, and ask them if there's any way you can be moved to a seat that has an empty spot next to it. Yes, this conversation requires a certain level of bravery, but it's easier to have this chat here, out of earshot of your fellow passengers, than when you're on the plane. You might also be able to inquire about any last-minute upgrades, which just might have a price break.
5. Take advantage of pre-boarding.
When you hear the announcement, "We invite those passengers requiring special assistance to begin boarding," take full advantage, especially if you have any mobility issues. You can use that added time to find your seat without a swarm of people around you, stow your luggage, or place your "seat reserved" pass on the seat next to you, if you booked that second seat. This is also a good time to touch base with the flight attendant, if you have any special needs.
6. Sort out the seatbelt extender.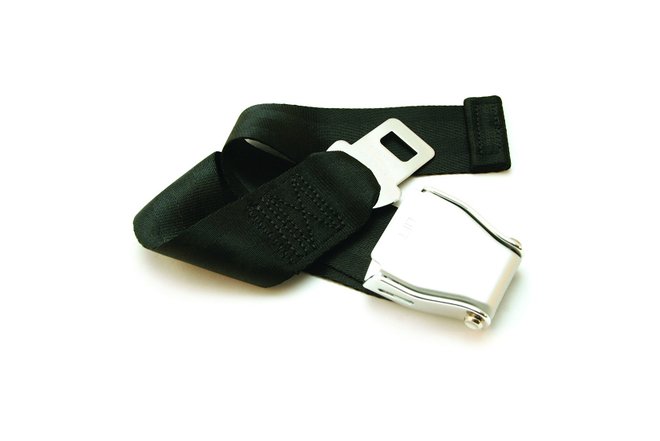 Do you need a seatbelt extender? As you're coming onboard the flight (hopefully during pre-boarding), don't wait to get to your seat and ding for the flight attendant. Feel free to tell the first attendant that greets you as you enter the plane that you'll be needing one. It's a bit more discreet. Tell them your seat number, and they can find one and give it to you on the down-low once you're settled. As an alternative, you can also buy your own extender off Amazon, if you're feeling too shy or embarrassed to ask for one. Just make sure it's compatible with the seatbelts used on the airline you're flying.
7. Negotiate the armrest in advance.
If you do have someone seated next to you, and they seem sympathetic, it might be worth negotiating the armrest situation. A simple "Do you mind if we keep the armrest up? It's more comfortable that way" before you leave the tarmac can save you from having an armrest biting into your side for the entire flight. If you're in the bulkhead area, your armrests might be fixed. If that's a huge discomfort, you'll have to appeal to the flight attendant to swap your seat.
You'll Also Like:
All products are independently selected by our writers and editors. If you buy something through our links, Oyster may earn an affiliate commission.