For true foodies, a vacation that doesn't involve mouth-watering cuisine is hardly worthy of the title. In fact, food can often be a major focus of a trip; it's hardly uncommon for the taste connoisseurs among us to plan a foodcation. And in our opinion, it should all start with your hotel. If you stay somewhere with a truly phenomenal restaurant right on the premises, your foodcation will be off to a wonderful start. Whether you're heading to New York City for its famous fine dining, California wine country for its earthy farm-to-table fare, or Mexico for an elaborate upscale meal on the beach, we've got a first-rate foodie hotel for you. Take a look at the top hotel restaurants we'd travel for in the U.S., Mexico, and Caribbean.
Charlie Palmer's Dry Creek Kitchen is one of the best – and best-known – restaurants in the Sonoma area, and for good reason. The farm-to-table, seasonal menu features items such as California Sea Bass with sweet corn fondue and Sonoma County Liberty Duck with crispy sunchokes. The restaurant's outdoor terrace is situated under a shady arbor.
As a CuisinArt property, the hotel prides itself on its food — and for good reason. On-site dining options include a Japanese restaurant, an Italian restaurant,a poolside cafe, a beach grill, and a lobby bar. The highlight is the Mediterranean restaurant, Le Bistro at Santorini, which is easily the best dining option on the island. Though many foods must be imported to the island, the menus here boast fresh seafood as well as ingredients from the hotel's hydroponic farm — a rare find not only in the Caribbean but at hotels in general. The restaurant decor, like the decor throughout the hotel, feels more island-y than upscale, but contributes to the relaxed atmosphere.
The hotel's focal point is its eponymous bar and restaurant, featuring five separate-but-connected spaces that sprawl along the ground floor. Guests can order cocktails in the cozy, book-lined Library or order brunch in the sun-filled Atrium room. VIP sightings are not uncommon here, and the food is hardly less eye-catching; sample items from seasons past include Suckling Pig with Confit of Pears and Lobster Poached with Salsify, Apple & Brown Butter Bisque.
Sierra Mar serves an eclectic array of California cuisine alongside breathtaking views, and has garnered wide praise for its culinary innovations. Dinner consists of a four-course prix fixe menu that changes daily and uses organic, seasonal fare. An a la carte option is also available. Dishes in the past have included Morro Bay oysters on the half shell, Harissa grilled octopus, and Lone Mountain Wagyu Steak with a crispy potato cake, cambazola and spinach. Diners also have access to the hotel's impressive wine cellar, which has over 13,000 bottles.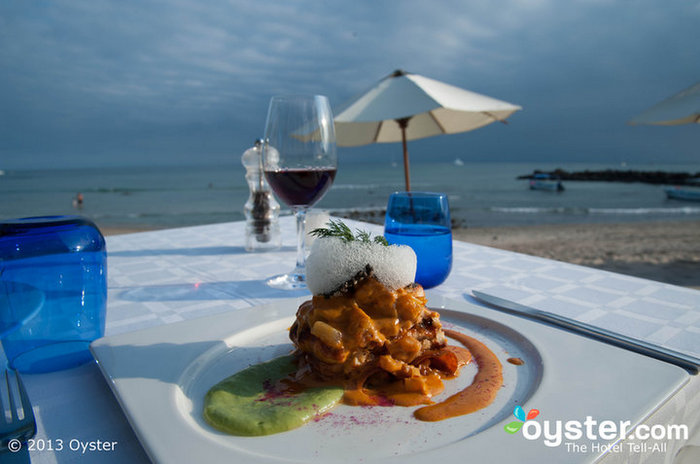 This hotel is home to the renowned Café des Artistes del Mar, operated by chef Thierry Blouet, whose original Café des Artistes in Puerto Vallarta ranks as one of Mexico's finest restaurants. The Punta Mita branch, with its focus on local seafood and produce, has already attained similar status. For gourmands, the presence of this restaurant alone may be enough to warrant a few nights at the hotel.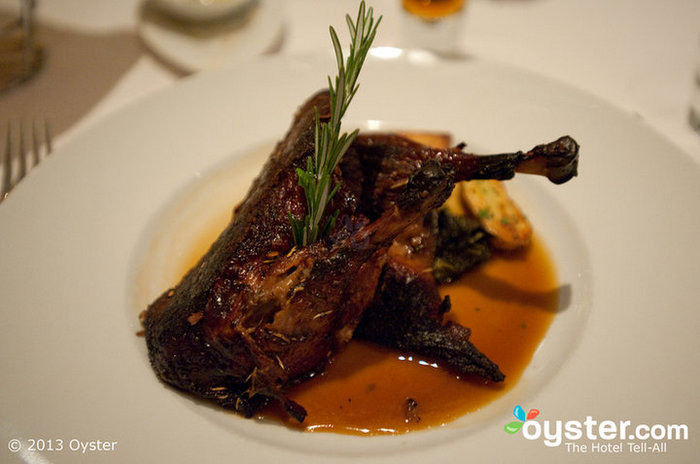 The Charles Hotel in Harvard Square is home to not one, but two, exceptional restaurants. The main restaurant, Henrietta's Table, was named for the chef's late beloved pet pig, and serves regional fare using fresh local ingredients. Rialto is a Cambridge mainstay serving up gourmet Italian fare from James Beard Award Winning Chef Jody Adams.
This Italilan restaurant from chef Scott Conant (who has appeared on Bravo's Top Chef) serves up sophisticated food in a sophisticated atmosphere. The Raw Yellowtail and the Braised Short Ribs of Beef are both standouts.
Rustic Italian restaurant Locanda Verde is co-owned by Robert De Niro (like the hotel), and chef Andrew Carmellini's homestyle Italian dishes have received wide acclaim. For those who would rather indulge in the restaurants' dishes in the comfort of a hotel room, 24-hour room service is available.
RELATED LINKS:
All products are independently selected by our writers and editors. If you buy something through our links, Oyster may earn an affiliate commission.