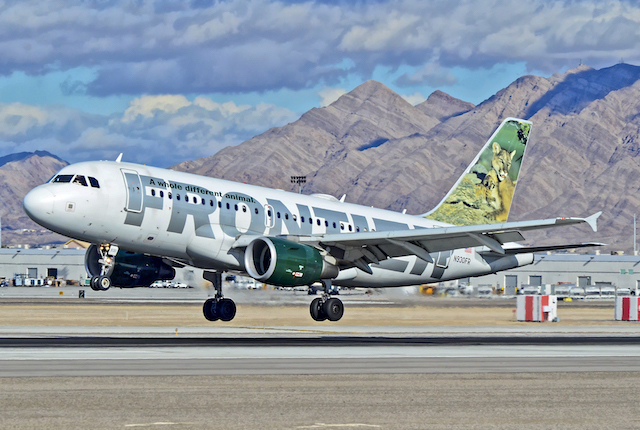 Frontier Airlines is giving new meaning to friendly skies. Effective January 1, passengers on the low-cost carrier will have the option of showing their gratitude by leaving a tip for flight attendants serving them refreshments.
"We appreciate the great work of our flight attendants and know that our customers do as well, so [the payment tablet] gives passengers the option to tip," said Jonathan Freed, Frontier's spokesperson, Bloomberg reports. "It's entirely at the customer's discretion, and many do it." However, it is up to the flight attendants, to an extent, as they can skip the tip screen, if they so choose.
But tipping at 30,000 feet is nothing new. The Denver-based airline introduced optional gratuities three years ago. These tips were split among all the flight attendants, but now, each person will pocket the cash they make.
Sounds nice, right? The Association of Flight Attendants, the world's largest labor union organized by flight attendants, doesn't seem to think so. The organization has been outspoken about the change, criticizing it as an effort to keep in-flight staff wages low. "Management moved forward with a tipping option for passengers in hopes it would dissuade flight attendants from standing together for a fair contract -- and in an effort to shift additional costs to passengers," AFA President Sara Nelson said in a statement.
In a similar vein, Henry Harteveldt, founder of Atmosphere Research Group, said the new policy could even impact onboard service, as staff may favor those who tip well versus passengers who choose not to.
"It was considered inappropriate and undignified and most airlines forbade tipping or soliciting tipping, although of course it did happen now and then," George Hobica, founder of Airfarewatchdog, told CNBC. Flight attendants at United Airlines and American Airlines are still forbidden from accepting tips, while those employed by Southwest Airlines are allowed to accept gratuities if the customer insists, reports MarketWatch. However, experts say that tipping will unlikely spread to other airlines any time soon.
"I think it's just like in a restaurant and, frankly, not an image the airlines want to have," said Harteveldt.
You'll Also Like:
All products are independently selected by our writers and editors. If you buy something through our links, Oyster may earn an affiliate commission.