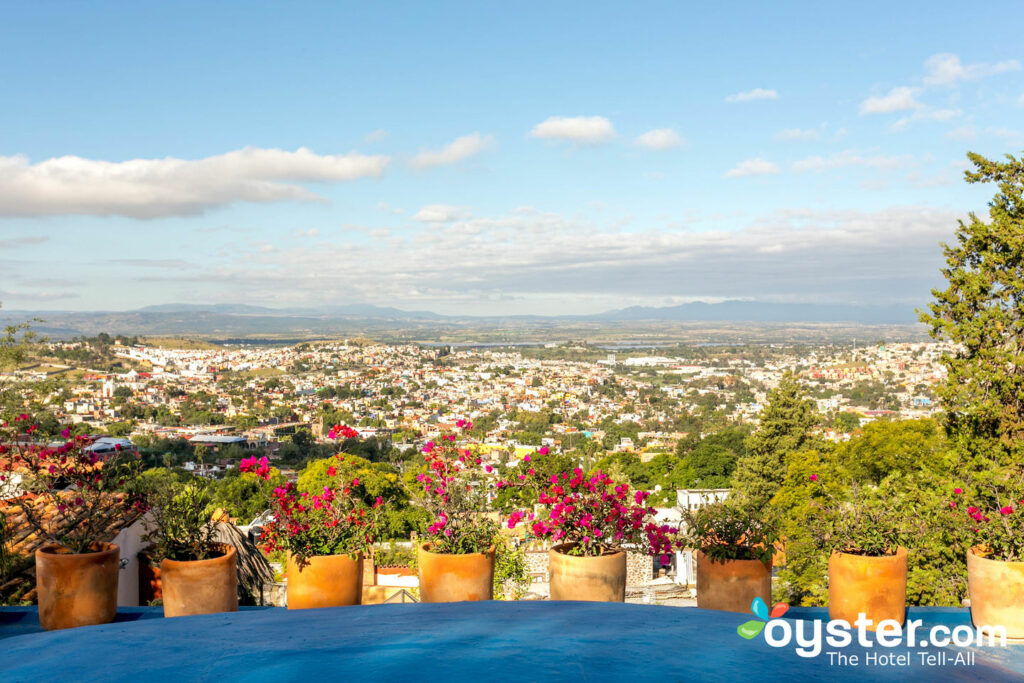 Way up in the central highlands of Mexico sits a little jewel of a town. San Miguel de Allende -- a colonial-era city defined by bright colors, Baroque architecture, and bohemian spirit -- has been inspiring love letters from visitors and expats since the turn of the last century. And more recently -- just this year -- it made our list of the top 10 travel destinations in the world.
The UNESCO World Heritage site is irresistible to romantics, who delight in wandering its winding cobblestone streets; tucking into its cool, quiet courtyards; and making a temporary home of its handsome boutique hotels.
San Miguel de Allende may have Mexican colonial charm for days, but it doesn't feel like a world lost to the past. It's very much alive with an energy as vibrant as its painted stucco facades. How (and why) do we love San Miguel de Allende? Let us count the ways.
1. The swoon-inducing architecture.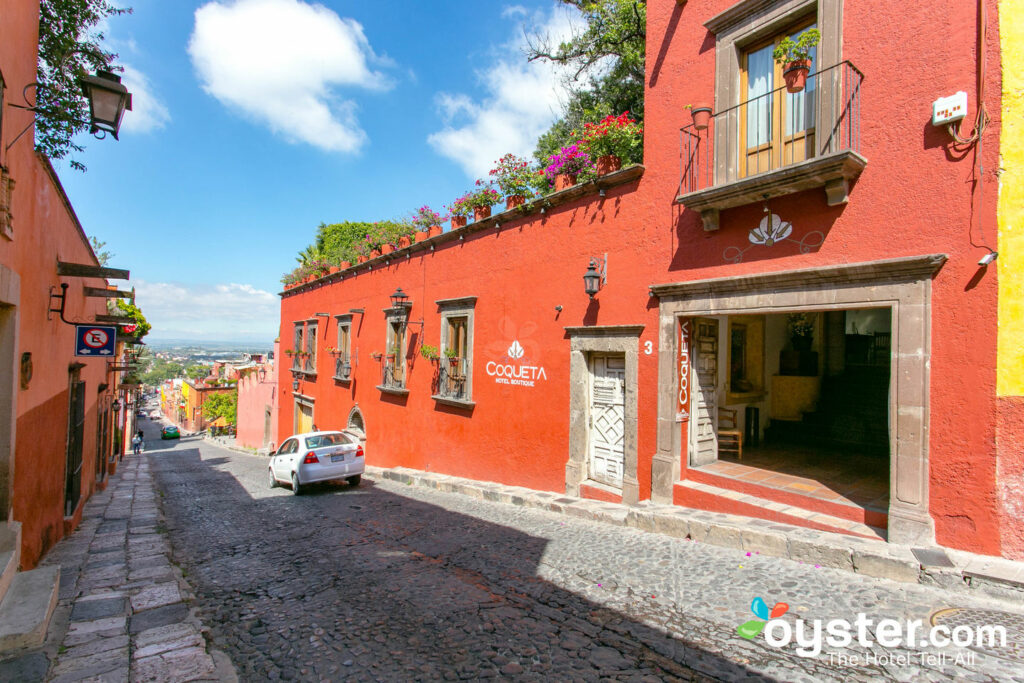 First settled in the mid-1500s, San Miguel de Allende is one of the oldest cities in the New World, and its exquisite historic center is a top attraction. El Centro is wall-to-wall with beautiful examples of Spanish Colonial and Baroque architecture (don't miss the ornate art museum Casa del Mayorazgo de la Canal) and colorful, centuries-old stucco homes. Traditional architectural features such as Moorish arches, stone-floored courtyards, cantera columns, exposed wood-beam ceilings, and fit-for-a-castle front doors are practically standard-issue around these parts.
2. The atmospheric main square.
At the heart of El Centro is Parroquia de San Miguel Arcangel, a neo-Gothic pink-sandstone church built in the 1600s. With its intricate arches, floral motifs, and soaring "wedding cake" steeples, the city landmark looks like the love child of Antoni Gaudi and Walt Disney on drugs. It has a borderline surrealist quality that is quite singular in Mexico.
At its foot of Parroquia de San Miguel Arcangel lies El Jardin, the town's lovely, leafy central plaza where mariachi bands tune their guitars, street vendors sell fresh fruit and roasted corn, and people-watching is at its best. The French-inspired square makes a fantastic date spot: couples can stroll arm-in-arm under the arched walkways or claim one of the wrought-iron benches beneath pristinely trimmed Indian laurel trees and soak up the lively scene. (The peaceful Parque Juarez, a 10-minute walk to the south of the main plaza, offers even more green space, filled with fountains and walking paths.)
About a block east of the main plaza, La Morada Hotel features remarkable views of the cathedral (one of the country's most photographed churches) and surrounding streets, which are lined with well-preserved buildings from 1800s and 1900s.
3. The fairy-tale courtyards and fantastic rooftops.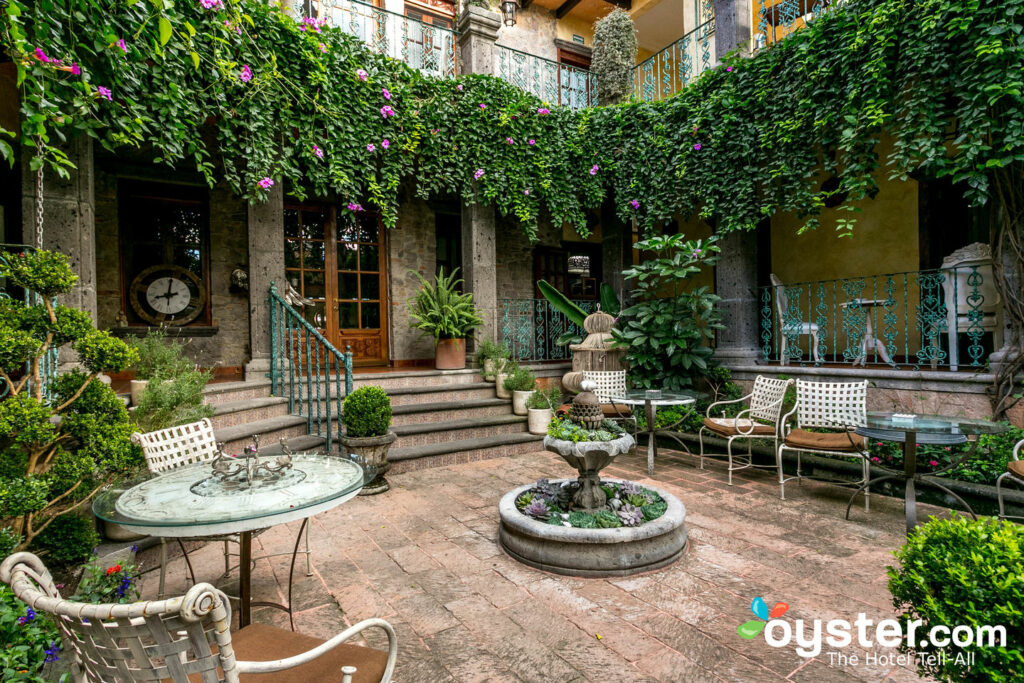 Lovers and architects understand the beguiling power of a courtyard. Where better to while away a languid afternoon or a moonlit evening with a cool mezcal cocktail and your beloved? Well, a rooftop terrace, perhaps — especially one offering superb views of the city. A rooftop's romance factor even surpasses that of a courtyard come sunset, the golden hour when the skyline's colors deepen, streetlights twinkle on, and the cathedral takes on a rosy glow.
Many San Miguel de Allende hotels occupy grand, Old World buildings with romantic interior patios — remnants of the town's colonial heritage — and rooftop areas for lounging, dining, or even swimming. We especially love Hacienda El Santuario, a 33-room boutique hotel housed in a former convent dating back to 1571, for its rooftop vegetable garden and flower-filled central courtyard (where a delicious free Mexican breakfast made from homegrown ingredients is served). And the romantic vibe at Mansion San Miguel is strengthened by its lush courtyard, rooftop space with sweeping views, and adults-only policy.
4. The artsy vibe.
San Miguel de Allende has the aura of another world, but it's no frozen-in-time artifact. Instead, the 500-year-old town thrums with a bohemian vitality that started to stir even before Allen Ginsberg read poetry at Instituto Allende, the town's visual arts and Spanish-language school, in 1960. This has everything to do with its flourishing creative community of artisans, artists, gallery owners, chefs, musicians, students, and expats. (Instituto Allende has for decades drawn Americans and Canadians, many of whom surrender their old lives to San Miguel's spell and take up permanent or seasonal residence.) On every narrow street, it seems, one can now find an art gallery or studio, a boutique selling local clothing and jewelry, or a folk art shop full of traditional handicrafts.
5. The stellar food and drink scene.
Once upon a time, San Miguel's dining and nightlife scene centered around (delicious) workaday Mexican and dark bars filled with men smoking cigars and playing dominoes. Today, old-school taquerias and cantinas neighbor hipster coffee shops, rooftop tapas bars, and DJ-driven cocktail bars, and an influx of young chefs find abundant inspiration in the town's many food markets and regional produce.
One of the most popular spots in town is the Peruvian La Parada, which serves ceviche and tiradito in a stone-walled patio studded with cacti and yucca plants. The lively, divey Mario's Mariscos Frescos provides fresh seafood in a setting that feels like a charmingly makeshift surfer hut. Vegetarians and vegans flock to Nectar for its healthy offerings — and hummingbirds flock there for the many feeders set around its sweet little courtyard.
6. The incredibly romantic hotel rooms.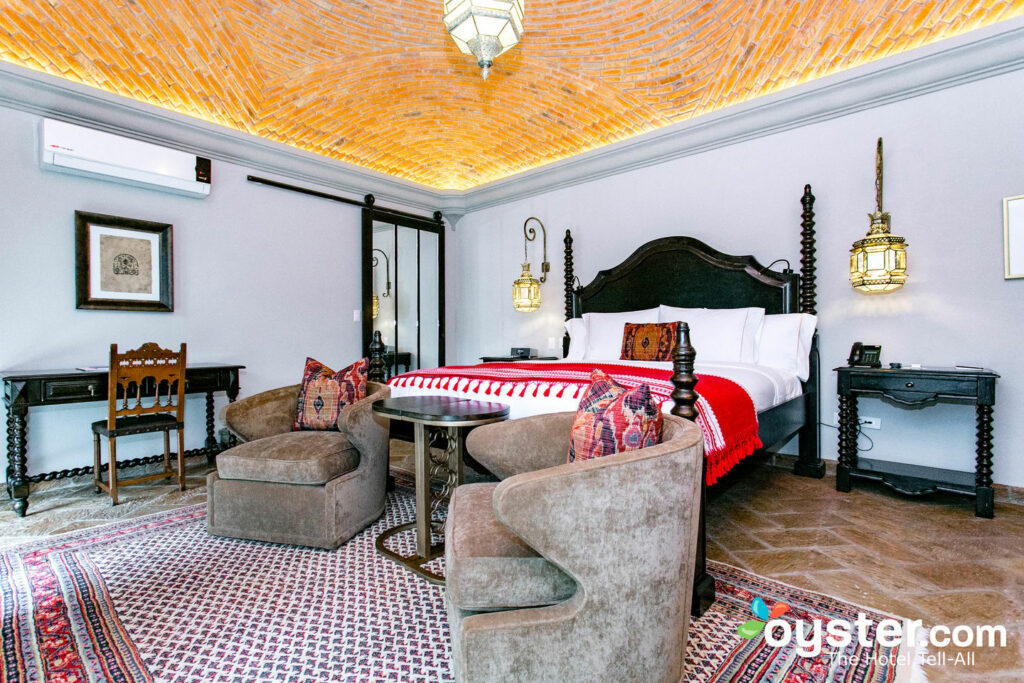 Good luck finding a generic, one-size-fits-all hotel room within the city limits. Rooms here are bursting with character — details like vaulted red-brick ceilings, terra-cotta tile or stone floors, oil paintings, traditional Mexican decor and tile work, and private patios are common. The 10 rooms at the hacienda-style Casa Schuck Boutique Hotel offer a glimpse into 17th-century San Miguel de Allende; they come with features like fireplaces, mahogany doors, and balconies with La Parroquia views. Minimalists might prefer the modern and sleek look of Hotel Matilda's 32 rooms, which are out of the ordinary for the area.
Boutique accommodations are available at several price points. Nightly rates at the luxurious Rosewood San Miguel de Allende (a few steps from Parque Juarez) can veer into the quadruple digits, and rooms at Belmond Casa de Sierra Nevada and Casa 1810 Hotel Boutique can be pricey, but generally, hotel rates are quite reasonable considering the specialness of the rooms. Stays at Hotel Nena, Hacienda El Santuario, and Mansion San Miguel are all very well-priced for what you get, while Villa Mirasol Hotel, Casa Quetzal Hotel, and La Morada Hotel are even more wallet-friendly.
You'll Also Like:
All products are independently selected by our writers and editors. If you buy something through our links, Oyster may earn an affiliate commission.